One billion users by 2023
Crypto.com recently released a report that predicted that the total number of crypto users by the end of 2022 could reach one billion.
This report titled "2021 Crypto Market Sizing Report & 2022 Forecast" was based on a formula that factors deposits, addresses, exchange addresses, addresses per user, and the total market share. While this is some much-needed promising news after weeks of being in the red, there's no doubt that the claim of a ten-digit user base has raised eyebrows.
The specifics about the report
Before we get into the thoughts of the two sides of the community, let's first explore what the report entails. For starters, their prediction was heavily contingent on developing nations following El Salvador's footsteps.
In terms of numbers, we can see highly positive growth over the past several years, with the total amount of crypto owners almost tripling within 2021, from 106 million users to 295 million users. "If we extrapolate a similar rate of increase in 2022, we are on track to reach one billion crypto users by the end of 2022," the report said.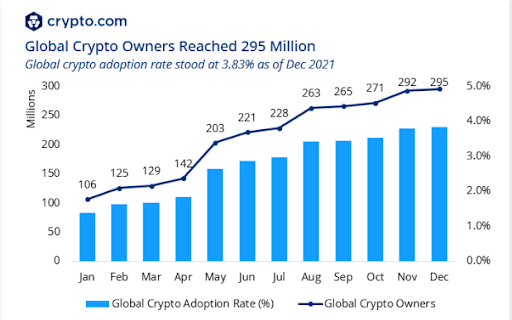 Source: Coin News, Crypto.com
However, given the 50% market price retrenchment from November's peak, the question remains: is 1 billion crypto users really still plausible?
Talk about the positive stance
As mentioned before, we saw the global crypto population nearly triple in 2021 which lays the foundation behind Crypto.com's prediction. Nigel Green (CEO of the deVere Group) agrees wholeheartedly with this estimate, stating the following in an interview:
"There is every reason to believe this could be true, due to a snowball effect of mass adoption and increasing understanding of and interest in digital currencies. It comes down to demographics. Younger people are more likely to embrace crypto than older generations, and we're coming into the Great Transfer of Wealth. This is where Baby Boomers will transfer an estimated $40 trillion–$68 trillion to Millennials."
The projections are also supported by Fidelity analysts, who agree on nation-state adoption whereby more countries follow El Salvador's example to adopt BTC in 2022. In fact, we've already seen this happening to a smaller with Rio de Janeiro's plans to put 1% of their treasury into Bitcoin.
In Summary
While there's plenty of great arguments for the case of crypto reaching 1 billion users, there's also many arguments against the notion that are equally reasonable:
Throughout January 2022, Bitcoin and Ethereum have seen sharp crashes more than once. Just over a week ago, Bitcoin saw a drop that brought the market down by 42%;

Cryptocurrencies aren't yet legal in many places, which is no doubt a hurdle when it comes to a goal of a billion adopters;

Russia and Indonesia are looking to place a ban on crypto mining, and China has already done this. That's a population of 1.4 billion who won't be factored into the one billion crypto users target.
At the same time, Jeffrey Frankel (from Harvard University) believes that "El Salvador's adoption of Bitcoin as legal tender is pure folly".
Yu Xiong (professor of business analytics at the University of Surrey) isn't so convinced a billion is possible, explaining that while 700 million, or even 800 million may be reached, a billion is simply too tall of an order.
Others like Keith Carter (associate professor at the National University of Singapore) believe that more blockchain use cases are necessary before we reach a billion users, along with citing other hurdles like technology accessibility, energy usage and unequal internet accessibility.
If we can see some strong growth for crypto by mid-2022 (preferably half a billion or more), then a billion by December 2022 is possible. Until then, here's to hoping.