If you're a crypto trader or investor or have been active in the crypto space for some time, you've likely heard of Binance. Launched in 'the land Down Under' in July 2020, it is among the world's leading crypto exchanges by trading volume. This review provides all the aspects of Binance's products, services, and features for those considering trading on Binance.
| | |
| --- | --- |
| Name | Binance Australia |
| Website | binance.com |
| Headquarters | Caymen Islands |
| Fiat currencies supported | AUD |
| Listed cryptocurrencies | 370+ |
| Deposit methods | POLI, PayID, Bank transfer, credit card |
| AUD Deposits & Withdrawals | Free |
| Trading fees | 0.1% for both maker and taker |
| Australian-based customer service | Unavailable |
| Mobile App | Yes (Android, iOS) |
Binance Australia Overview
Binance is a crypto exchange founded in July 2017 by Changpeng Zhao. It is the world's largest crypto exchange by trading volume, with over 90 million users as of 2023.
Binance Australia was launched and registered with AUSTRAC on 28 July 2020, enabling Australian users to buy and sell digital currencies using the Australian Dollar (AUD). Using PayID/OSKO, you can deposit and withdraw AUD from your Australian bank account for free.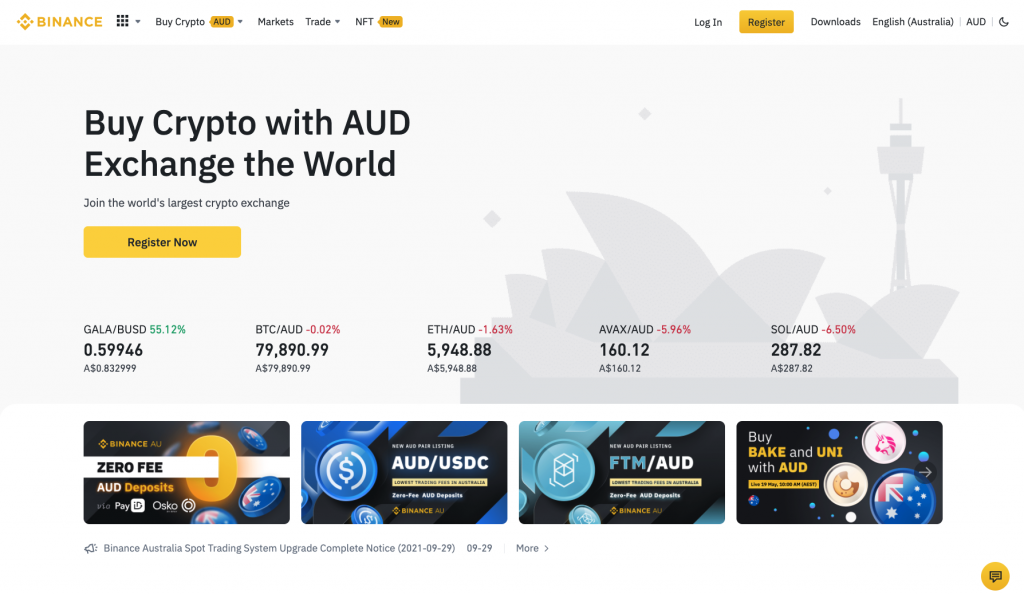 Binance Pros & Cons
It is necessary to consider the advantages and disadvantages to select the most suitable crypto exchange. Below are some highlighting features and downsides of Binance.
Pros
#1 exchange in trading volume and liquidity worldwide
Advanced desktop and mobile platform for charting and trading
Staking, futures, and margin trading are available
All-in-one platform with a vast selection of products and services
Supported in numerous nations globally, including Australia
Cons
Difficult for novice investors and traders to navigate
Binance is facing pressure from regulators in several countries
Customer service is very poor, with slow response times
Security questions were raised regarding the platform's safety
Supported coins
Binance provides a great assortment of digital currencies, over 370 digital assets, as compared to platforms like Swyftx (300+). This wide variety of digital assets is one of the reasons why Binance is so popular. To compare these crypto exchanges, you can read our detailed Swyftx review and CoinSpot review.
Binance naturally lists the most popular cryptos, including Bitcoin, Ethereum, Solana, and USDT. These coins are the most respectable cryptocurrencies due to their substantial market capitalisations, which many individuals prefer to invest in. 
The exchange also supports less popular coins. However, it's worth noting that it  conducts extensive research to guarantee that the listed coins and tokens are from real crypto projects, not "pump and dumps" or "rug pulls."
Deposit Methods
There are several methods to fund a Binance account such as digital tokens or fiat cash before you start trading. Beginners can deposit funds to Binance by sending Bitcoin or Ethereum to the address. It may take a few seconds, minutes, or even hours, depending on the cryptocurrency, for the funds to be put into your Binance wallet.
Binance also supports over sixty-five major currencies and provides distinct deposit alternatives for each regional market. The most prevalent payment methods include bank transfers, credit/debit cards, BPAY, SEPA, and Faster payments.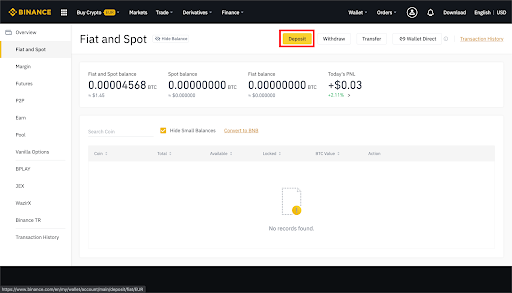 Binance's Fee Structures
Trading Fees
Binance's fee structure is tier-based and depends on trading volume. Adopting a maker-and-taker model, Binance charges a 0.1% fee per transaction (e.g. buy/sell). However, you can reduce the fees further by raising the 30-day trading volume (up to 20% fee discount), keeping Binance Coins (BNB) on the platform (25% fee discount), or participating in the Binance referral program (20% fee discount).
The fees associated with trading Binance futures contracts begin at between 0.02% and 0.04%. Like the spot market, Binance Futures has very low fees compared to other platforms.
Deposit Fees
Binance does not impose a fee for the deposit of cryptocurrency assets. Users can transfer coins from other exchanges or their hardware wallets to Binance for free. Compared to crypto trading platforms such as Coinbase, which charges a deposit fee based on payment method and country, Binance users can save some money due to its minimal fees. Read our Coinbase vs Binance side-by-side comparison to learn more about their fee structure differences.
Withdrawal Fees
Similarly, Binance does not charge fees for transferring digital assets from a Binance wallet to an external website or wallet. The only fee is the blockchain transaction fee, which is set by the network load at the moment of the transaction and not by Binance. 
For instance, an individual who wants to withdraw Bitcoin from Binance via the BTC network will have to pay a fee of 0.0002 BTC. You can visit the Binance Fee Page for a complete list of withdrawal fees for every coin.
Trading Experience
Binance Convert
Binance Convert is the simplest way to trade bitcoin for other digital money. This eliminates using a pricing chart and order entry window, which can be intimidating for novice traders. You can select the digital asset you want to purchase and sell using a simple window to convert in a single go. 
Binance Convert covers the majority of listed coins and provides a quick method for exchanging cryptocurrency. Before completing a transaction, Binance will preview the conversion rate and amount of cryptocurrency to be received.
Binance Spot Trading
Binance's 'Simple' and 'Advanced' user interfaces are designed for intermediate and expert bitcoin traders, respectively. It is connected with TradingView, the leading cryptocurrency charting platform, which provides free charts, real-time data, technical indicators, and sketching tools.
The trading window has traditional instruments such as a price chart, order box, list of trading pairs, transaction history, recent market activity, and open/pending positions. Advanced traders have the ability to browse between currency pairs to locate trading opportunities swiftly.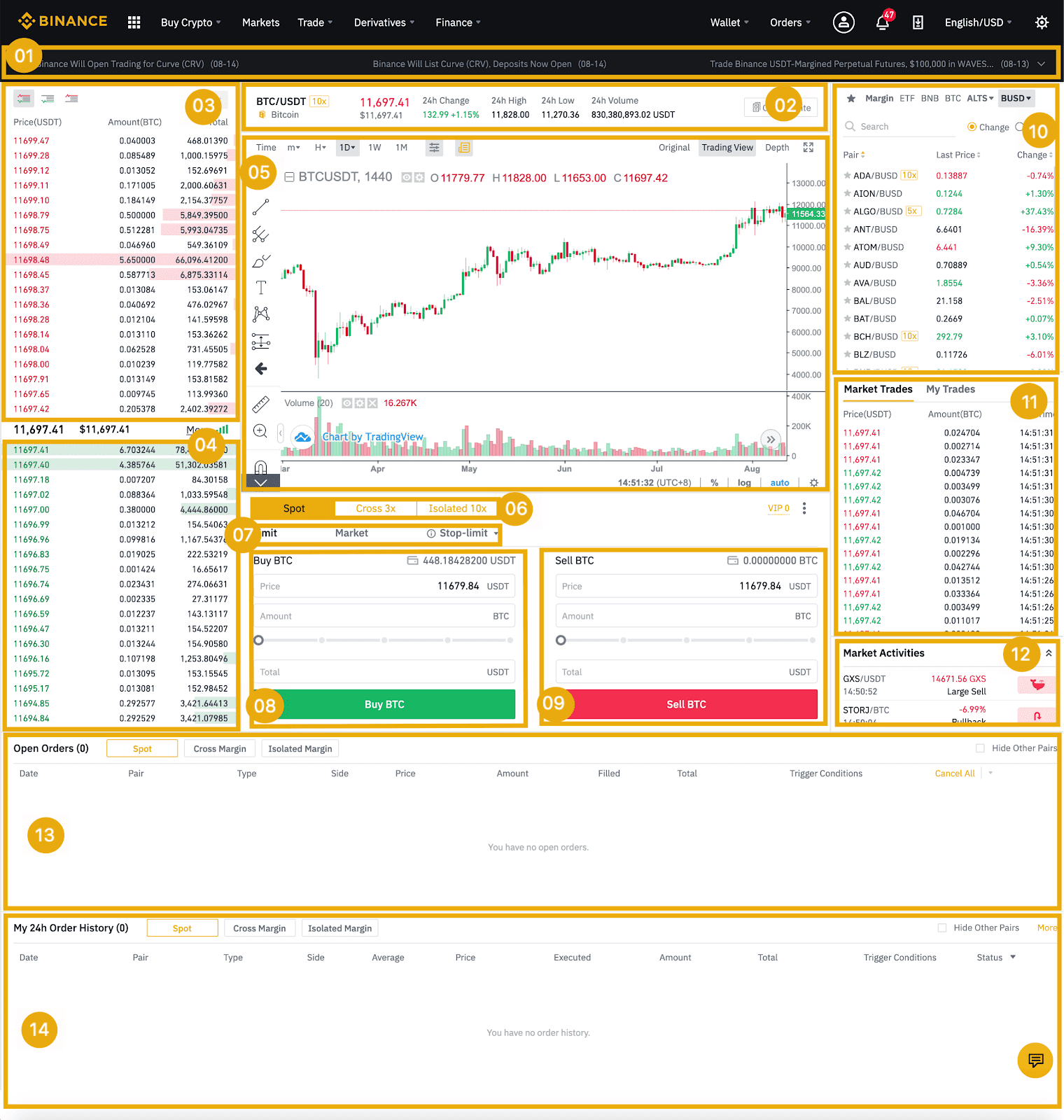 The order window supports limit, market, stop-limit, and One-Cancels-All orders (OCO). OCO is not offered on many exchanges, but it is an important feature that enables traders to place a take-profit and stop-loss order with a single transaction rather than two. If the take profit level is achieved, the stop-loss order is instantly canceled, and vice versa.
Binance Futures
You can activate margin trading or Binance Futures trading to speculate with leverage on digital currencies. This enables expert traders to use borrowed cash to trade a larger position than their capital allows. Funds must be transferred to a Binance margin wallet or the Futures wallet for use as collateral to begin trading with high leverage.
The amount that can be borrowed is proportional to the number of coins in the margin wallet at a set rate of 5:1. (5x). There is an indicator that displays the margin risk estimated on borrowed money (Total Debt) relative to the margin account funds (Total Capital).
Binance Earn Hub
The Earn Hub that Binance offers provides more options to earn crypto rewards than local Australian platforms. Three interest-earning products can create passive income, with "Simple Earn" being the most prevalent.
The "Simple Earn" feature offers an astounding 289 digital currencies that can earn up to 68% annual percentage yield (APY) in interest payments. For each supported asset, Binance offers multiple terms to choose from, ranging from "Flexible," where you can redeem your cryptocurrency anytime, up to 120 days.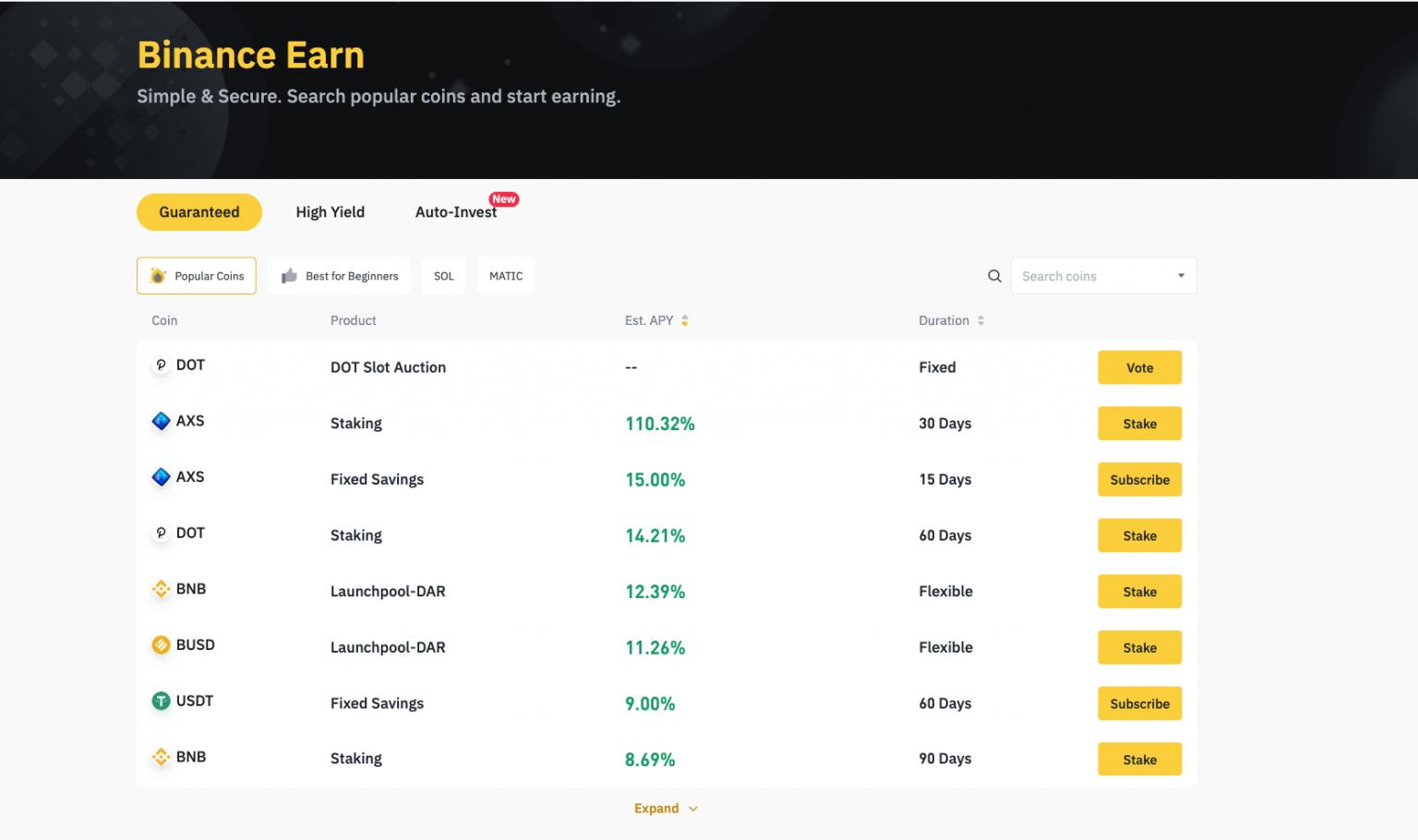 Binance VISA Card
Binance has introduced a cryptocurrency debit card for customers to convert and spend digital currencies like a conventional debit card. The Binance VISA card is accepted at over sixty million merchant locations globally. The card has no administrative or processing fees, and users can earn up to 8% crypto cashback on purchases.
The number of BNB coins invested in a Binance wallet determines the cashback incentives. Beginners who order the card can receive 1% cash back rewards without having to stake any Binance Coins. To earn a maximum 8% cashback on transactions, customers must stake a minimum of 6,000 BNB tokens, which at current rates is equal to $270,000, a considerable investment to obtain 8% cashback.
NFT Marketplace
Binance has entered the market for Non-Fungible Tokens (NFTs) in response to the record-breaking prices of unique works of art, collectibles, and trading cards. Binance users can use the Binance marketplace as buyers or sellers to trade NFTs.
The Binance market intends to unite artists, creators, and crypto fans to buy, mint, and sell NFTs. On the exchange, investors can buy NFTs using a variety of currencies, including BUSD and Ethereum. Transactions incur a minimal 1% processing fee, and creators will receive a 1% royalty on subsequent exchanges.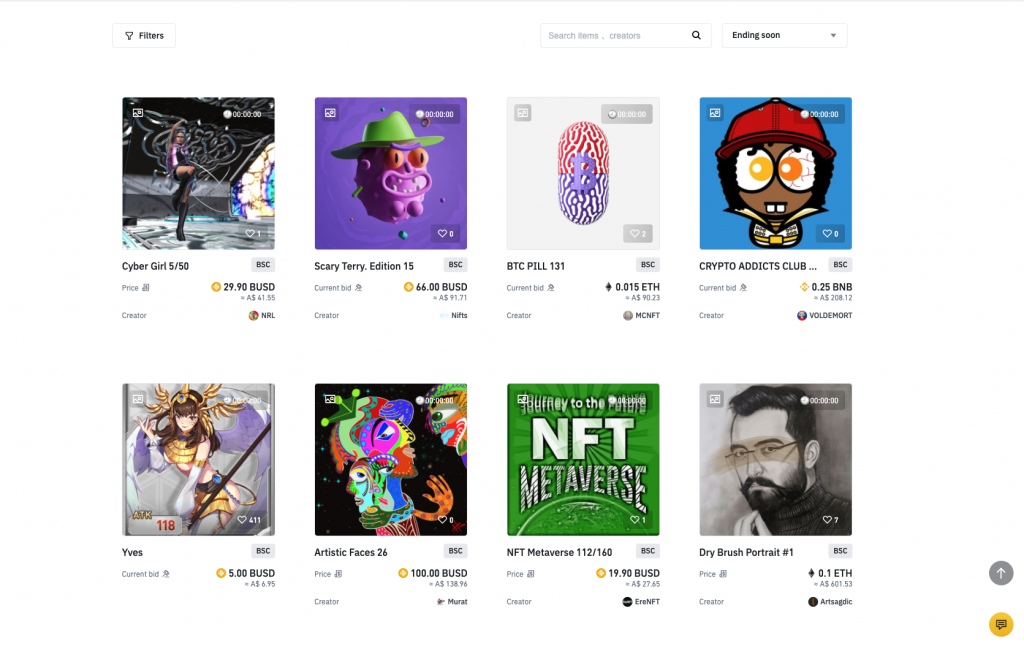 Security Features
Although Binance is among the largest crypto exchanges, its security architecture has been breached in the past. Multiple high-volume accounts kept in Binance's hot wallet suffered a hack in August 2019, resulting in the theft of over 7,000 Bitcoin, valued at over $40 million. 2FA codes and API tokens were also stolen.
After the hack, Binance undertook a comprehensive evaluation of its security systems and data and used its emergency insurance money to repay all lost funds. Currently, Binance's security measures include:
Verification process: Users who solely register for crypto-to-crypto exchanges do not need to be verified. If you intend to use Binance for fiat purchases, access more advanced services and raise withdrawal limits, you must give your identifying details. The verification procedure is relatively simple if the information on your photo ID matches the one you provide. 
Security measures: Besides 2FA, Binance adheres to the highest industry standards for cybersecurity. Most of their funds are stored in cold storage and use multi-signature wallets for added security. The only time Binance was hacked, they replaced all funds from their reserves.
Regulations: Binance Australia is registered with AUSTRAC and authorised by law to offer spot trading between AUD and cryptocurrencies. Binance also complies with local legislation, including Know-Your-Customer (KYC) requirements, to provide these services.
Customer Support
Binance, like many other crypto exchanges, offers limited customer support options. On the Binance Support page, users can send a form or engage in a live chat available 24/7. You cannot phone or email someone directly if you need quick support with your account. However, you can submit your issue via their portal, with a turnaround time of approximately 24 hours.
Users cannot speak to someone directly, so they can refer to the Binance Support page, which contains a comprehensive list of frequently asked questions. This resource may be helpful for people seeking answers to some inquiries.
On third-party sites like Trustpilot, users are overwhelmingly dissatisfied with Binance's services and customer support. Several reviewers have reported problems with trades, deposits, withdrawals, and identification verification. The platform only received a small number of good reviews, with consumers applauding its competitive fees.
FAQs
Where Is Binance located?
Binance was initially headquartered in Shanghai, China but later moved out due to China's crypto regulation. The company and server infrastructure relocated to Malta in late 2017 and was referred to as a 'Malta-based crypto exchange'. The parent company, Binance, is allegedly incorporated in the Cayman Islands. 
Is Binance legit?
Binance seems to be a legal operation and business in numerous global regions. Some reports question if Binance operates unlawfully in some countries and is used for illicit activity and money laundering. These headlines, which assert that Binance is a member of a criminal organisation, appear to be based solely on conjecture.
Is Binance available in Australia?
Binance is accessible to Australian people who wish to purchase, trade, store, or sell cryptocurrencies using Australian Dollars (AUD). Binance Australia is a registered legal entity that complies with AML/CTF laws and regulations in Australia. The fiat-to-crypto exchange enables zero-fee local bank transfers via PayID/Osko to purchase Bitcoin using AUD.
Does Binance have a mobile app?
You can buy and trade cryptocurrencies on the go using the Binance trading app. The app is compatible with both Android and IOS operating systems and has received more than 10 million downloads. With this app, you can trade BTC and multiple cryptocurrencies from any location and anytime.
Does Binance support staking?
Binance provides a variety of coins that can be staked to gain passive rewards. Users can deposit coins on Binance to receive staking incentives. The percentage of stake varies from coin to coin. Tezos, for instance, has an estimated staking field of up to 7%, while Yearn Finance promises an annual percentage yield of up to 2.5%.
Does Binance have a tax calculator?
Binance lacks a financial year summary report and a tax calculator. Therefore, users must use third-party crypto tax software, such as koinly.io or cointracker.io, to import Binance data. You can read our guide on crypto taxes in Australia to learn more.
Can I withdraw money to my bank account?
Yes. You can easily withdraw fiat currency, such as Australian Dollars (AUD), from your Binance wallet to your Australian bank account. Binance does not charge any fees to withdraw fiat money. You only need to select AUD as the asset to withdraw and verify that your bank information is correct and linked.
What are Binance Australia's fees?
Binance Australia charges no fees for AUD deposits and withdrawals but a minimal 0.1% trading fee, which can be reduced by 25% if you pay with their coin (BNB). A network fee will apply to crypto withdrawals from Binance to external wallets.
Conclusion
Binance Australian is a feature-rich platform with many services and tools for investors and traders. However, as Binance has been previously hacked, its security is among the most significant concerns for users. Also, poor customer support is a drawback of this platform. If you are still considering what crypto exchange to choose, you can read our post on the best crypto exchanges in Australia to make an informed decision.
The following review is for informational purposes only and should not be construed as financial or investment advice. It is important to note that cryptocurrency is a highly volatile and speculative market, and there is no guarantee of profit or loss. This review is based on the author's personal experience and research, and individual results may vary. The author is not affiliated with any of the exchanges mentioned in this review and does not receive compensation for their mention. It is recommended that readers conduct their own due diligence and consult with a financial advisor before making any investment decisions.
The information regarding performance may be different from the time of publication. Past performance does not guarantee future results. While we believe that all content was accurate at the time of posting, it is possible that some offers included in the content may no longer be valid.