Last year, the biggest digital asset exchange in Australia, CoinSpot, released the CoinSpot Mastercard to meet the growing demand for crypto payments in the country. This new product allows users to spend any of the 380+ tokens available on the platform for in-store or online purchases, wherever Mastercard is accepted. This CoinSpot Mastercard review will provide information about its features, application process, and how to use it.
What is CoinSpot Mastercard?
The CoinSpot Mastercard is a prepaid debit card that allows you to effortlessly spend your cryptocurrencies online or in-store with any merchant that accepts Mastercard payments. With instantaneous AUD conversion at the most favourable rates, you can use any of the 380 cryptocurrencies accessible on CoinSpot to pay for your debit Mastercard.
We had an opportunity to test the card and were impressed by its capabilities. We spent BTC, USDT, and ETH at over two dozen online and in-person stores without experiencing any problems. Those making significant profits in previous bull runs will love to spend their crypto earnings without converting them back to fiat first.
While many crypto cards are reducing their benefits and adding high new fees, CoinSpot's fee structure is very competitive. Users don't have to pay monthly, annual, or activation fees other than a small 1% conversion fee.
It's crucial to note, however, that there is a daily limit of $4,999 AUD, and exceeding this limit may result in your card being restricted. Additionally, the card is digital only, as CoinSpot has stated that they have no plans to issue plastic cards.
Pros
Compatible with millions of merchants worldwide
Able to use more than 380 coins with great ease
Stay updated with everything from CoinSpot mobile app
Instant conversions with competitive exchange rates
Easy to link with your Apple Pay or Google Pay
Cons
No physical cards are issued at present
Purchases can only be made using crypto
How does CoinSpot Mastercard work?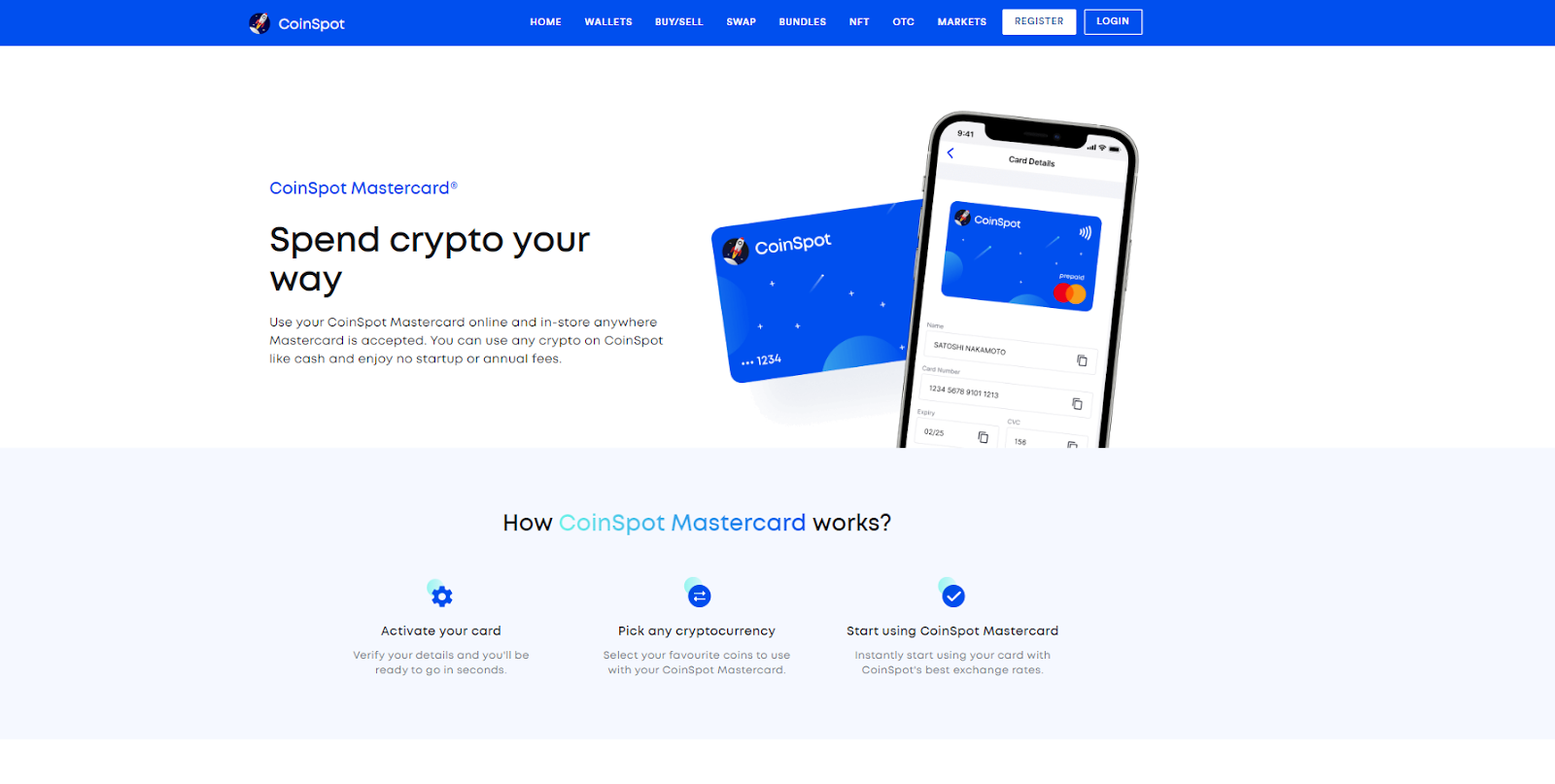 To make purchases using the CoinSpot Mastercard, you can use it just like any other prepaid debit card at any retailer that accepts Mastercard payments. However, instead of using Australian dollars, you can select up to 5 cryptocurrencies as payment options. 
During the setup process, you will be prompted to select your preferred crypto wallets, which will be used automatically in a set order if the balance on your primary wallet is insufficient.
The CoinSpot Mastercard can be topped up with coins such as Bitcoin, Ethereum, USDT, Shib, Doge, XRP, and more. Your cryptocurrency will be instantly converted to Australian dollars at the current exchange rate when making purchases, and the amount will be loaded onto the card for the transaction.
In-app security options are also available to CoinSpot users, including spending limits, the ability to freeze the card, and turning the card 'on' or 'off'. For more information on CoinSpot's services, check out our detailed CoinSpot review.
How safe is CoinSpot Mastercard?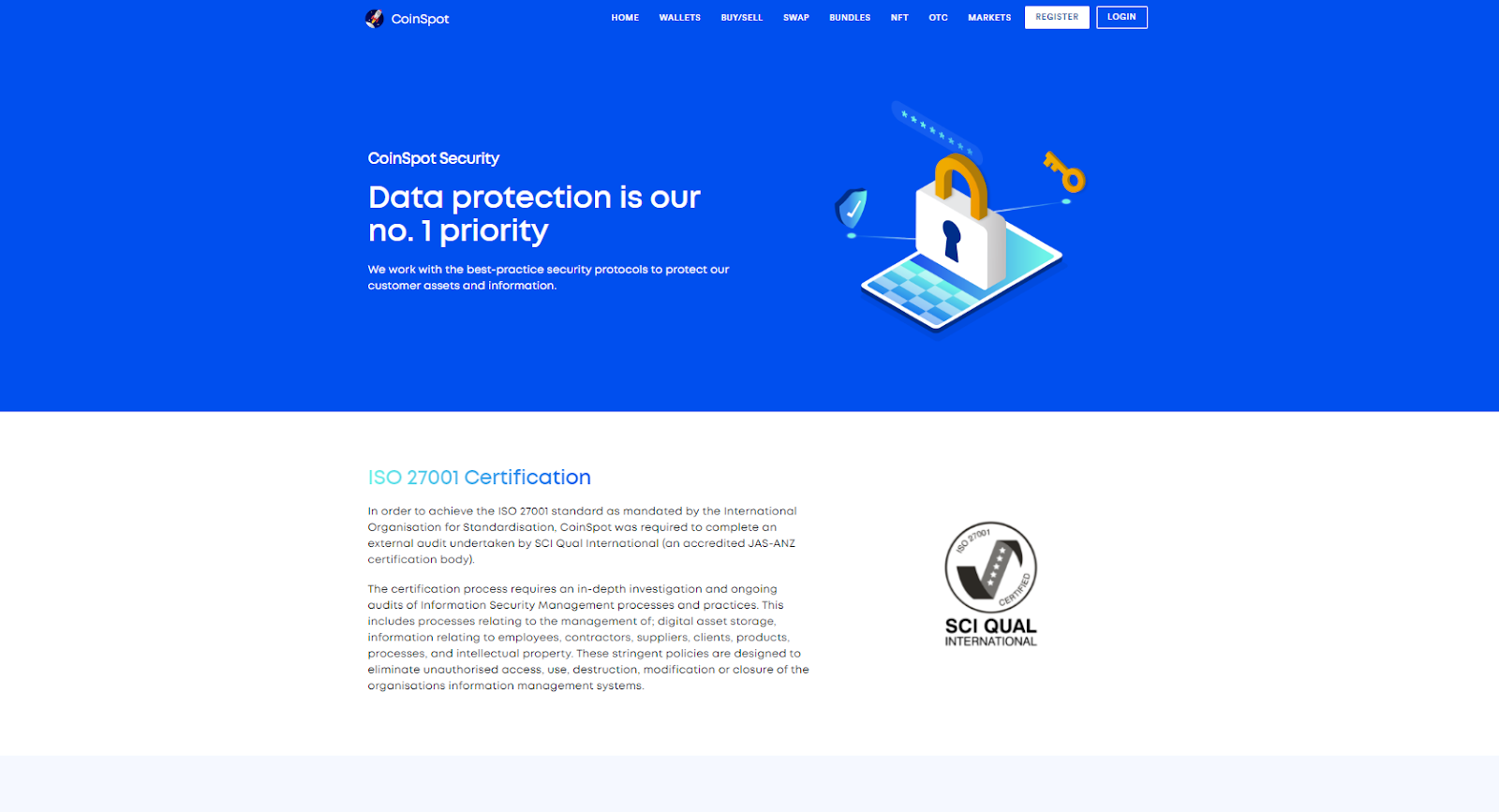 The CoinSpot crypto card is equipped with all the security features offered by Mastercard, including identity theft protection, monitoring, alerts, and top-notch customer support. Keeping your private information safe and secure is crucial to avoid any unexpected situations. Make sure your PIN and card information are kept confidential, and never use them on websites or sources you don't trust.
CoinSpot provides users with several options to secure their accounts. You can set a strong password, enable 2FA, and utilise face ID recognition to prevent unauthorised parties from accessing your account through your mobile device.
How to sign up for the CoinSpot Mastercard?
Applying for the CoinSpot Mastercard is a breeze, and you don't need to meet any credit checks or eligibility criteria other than having a CoinSpot account. To create a CoinSpot account, complete KYC and verify that you're 18 or older. You must send CoinSpot the required documents so that they can confirm your identity and follow the KYC process.
Applying for a CoinSpot Mastercard is easy, and you can do it right through their iOS or Android app. Once you've verified your account, you can top up your CoinSpot account with AUD and purchase any cryptocurrency you want. You can also make direct crypto deposits from external wallets and get started right away.
After purchasing or depositing cryptocurrencies, head to the accounts section of your CoinSpot account and select the Mastercard option. From there, you can manage everything, link your card to Google or Apple Pay, and choose which crypto accounts you want to link to your card.
CoinSpot Mastercard FAQs
Is the CoinSpot Mastercard strictly crypto?
Yes. You can only link cryptocurrencies from your CoinSpot account to the CoinSpot Mastercard. It is impossible to top up the card with Australian dollars as it only accepts cryptocurrency. When you use the card to purchase, the crypto linked to the card will be automatically converted to Australian dollars, and the transaction will be completed using the converted AUD.
How do I know if I'm eligible?
To be eligible for the CoinSpot Mastercard, you must have a fully verified CoinSpot account, be 18 years or older, and have App-Based Two-Factor Authentication enabled. The application process for the CoinSpot Mastercard is completed through the CoinSpot Mobile App.
What coins can I use on the CoinSpot Mastercard?
One of the greatest features of the CoinSpot Mastercard is that it can be used with over 380 cryptocurrencies the exchange provides. At any given time, you can set up up to five crypto accounts on your CoinSpot Mastercard. You can set your preferred crypto account for usage, and if there aren't enough funds in your primary account, the charge will be applied to the next account in your list.
Can I spend staked coins on CoinSpot?
No. Coins currently staked on CoinSpot Earn cannot be spent as they are earning interest and locked in the staking feature. To use them for purchases with the CoinSpot Mastercard, you must first unstake them, which unlocks them for spending. CoinSpot offers flexible staking terms, allowing you to unstake your tokens anytime.
What are CoinSpot Mastercard fees?
CoinSpot Mastercard's fee structure is highly competitive in Australia, featuring no ongoing fees, card ordering fees, or card activation fees. When you buy with your CoinSpot Mastercard, you only have to pay a flat 1% conversion fee. It is important to note that there is a daily limit of AUD 4,999, and exceeding this limit could result in your card being restricted.
What to do if I don't have Apple Pay or Google Pay?
If your mobile device doesn't support Apple Pay or Google Pay, you won't be able to use the CoinSpot Mastercard for in-store purchases. However, you can still use your card details to pay for goods and services online. To find your card details, please refer to the article "CoinSpot Mastercard – How do I see my card details".
Final thoughts
Overall, CoinSpot Mastercard is one of Australia's best crypto debit cards, making CoinSpot now the most feature-rich platform in the country. With this prepaid card, you will have a hassle-free experience by easily spending over 380 cryptocurrencies with low transaction fees through Apple Pay, Google Pay, or in-store. What's more, it's simple and free to receive a CoinSpot Mastercard. All you need to do is enable the security features for your CoinSpot account to ensure the safety of your funds and card.
The following review is for informational purposes only and should not be construed as financial or investment advice. It is important to note that cryptocurrency is a highly volatile and speculative market, and there is no guarantee of profit or loss. This review is based on the author's personal experience and research, and individual results may vary. The author is not affiliated with any of the exchanges mentioned in this review and does not receive compensation for their mention. It is recommended that readers conduct their own due diligence and consult with a financial advisor before making any investment decisions.
The information regarding performance may be different from the time of publication. Past performance does not guarantee future results. While we believe that all content was accurate at the time of posting, it is possible that some offers included in the content may no longer be valid.