Bybit is one of the world's leading exchange platforms that offers 100x leverage on derivatives for more than 600 pairs. In addition to futures, Bybit provides Spot, Margin, Options, Copy trading and superior security and insurance funds. Read this detailed Bybit Australia Review to determine if it suits you.
What is Bybit Australia?
Bybit is a Singapore-based trading platform for crypto derivatives, which are contracts giving you the right to purchase or sell crypto assets at a future date and price. Ben Zhou co-founded Bybit in 2018 after realising the lucrative potential of crypto trading in 2016.
The Bybit platform is currently serving over 1.2 million traders from different countries worldwide.  It's accessible to merchants from Australia, Europe, North America, Russia, South Korea, Japan, and Southeast Asia.
Pros
Margin trading with up to 100x leverage
Derivatives trading and spot trading
Mobile app for iOS and Android
Bybit Earn and Referral program
24/7 customer support via email and livechat
Cons
Crypto derivatives are extremely risky
Your data is shared with third parties for marketing
FIAT deposits and withdrawals aren't supported
Not available for the U.S citizens
Supported Cryptocurrencies
Bybit supports various popular coins, as well as some smaller ones, such as Aave, Bitcoin, Ethereum, Bitcoin Cash, Cardano, Chainlink, Dogecoin, Litecoin, Polkadot, Polygon, Ripple, Solana, SushiSwap, and Uniswap. 
Bybit users can transfer already held cryptocurrencies to their Bybit wallets or buy crypto on the platform to fund their accounts and trade supported crypto derivatives contracts. 
Depending on the derivative product, traders can go long or short on inverse perpetual, USDT perpetual, or inverse futures contracts. Supported cryptocurrencies may vary according to the type of derivatives product.
Inverse Perpetual: BTCUSD, EOSUSD, ETHUSD and XRPUSD.

USDT Perpetual: All supported cryptos/USD pairings.

Inverse Futures: BTCUSD and ETHUSD.
With 100 crypto assets on the spot market and over 180 derivative contracts, Bybit provides traders with a vast selection. The spot market supports the popular pairs below:
BIT/USDT

BTC/USDT

ETH/USDT

XLM/USDT

AAVE/USDT
Deposit/ Withdrawal Methods
ByBit lacks one of the most fundamental components of an exchange, which is FIAT support. As a crypto-only exchange, ByBit has no no fiat gateway for fiat on or off-ramps and doesn't support funding your account using fiat currency.
However, you can convert your fiat currency into Bitcoin on exchanges like CoinSpot, Bitstamp or Kraken.
To deposit crypto, you need to generate a wallet address and initiate a transaction into the wallet. First, head to the "Assets" section in the header to see your wallet balances. Then, select "deposit," and the BTC/ETH address will appear. Once you have the address, you can initiate the transaction, but it will not be instantaneous since it still has to be propagated through the network and confirmed by miners.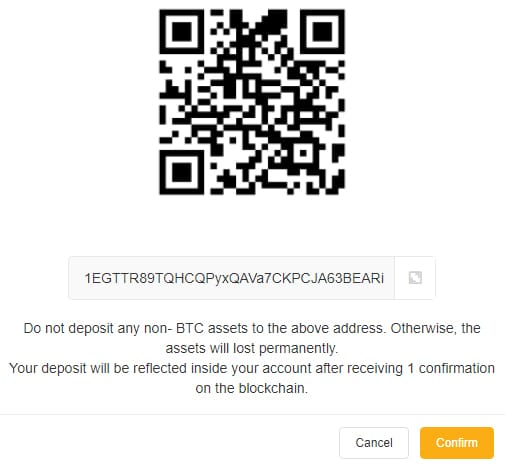 For withdrawals, select the withdrawal button on the applicable asset. It will ask for your wallet address and confirmation through 2FA. You will be given information on the miner fee applied to the transaction. Bybit processes withdrawals thrice daily. While withdrawal limits are set on accounts, these limits are not too restrictive. Below are the min/max limits:
Bitcoin: 0.002BTC / 10BTC

Ethereum: 0.02ETH / 200ETH

Ripple: 20XRP / 100,000XRP

Eos: 0.2EOS / 10,000EOS
Bybit Fee Structures
There are many downsides when it comes to Bybit fee structure.  Bybit does not impose any fees associated with deposits or withdrawals. However, you must pay a minimal mining or "network" fee on the blockchain to withdraw your coins. In addition, you need to pay a modest $5 charge on all Asset exchange orders for spot exchanges of actual cryptocurrency. Indeed, no other exchanges employ such stagnate transaction fees or 'assets exchange' fees.
The funding rate is the other fee incurred when you start a trade, similar to an "overnight" rate. As margin trading is based on "borrowing" positions, you will pay or get a financing charge. However, unlike transaction fees, the funding rate is determined by market conditions and interest rates and is directly exchanged between traders and not through Bybit.
Bybit's trading fees follow a maker-taker model, with maker rebates instead of fees. Providing liquidity to increase market depth gives a maker rebate, while taking liquidity incurs a taker fee. The fees for BTC USD, ETH USD, EOS USD, and XRP USD inverse perpetual contracts are the same as the ones for BTCUSDT USDT perpetual contracts. The maker rebate is -0.25%, and the taker fee is 0.075%. 
| | | | | |
| --- | --- | --- | --- | --- |
| Contract | Maker Rebate | Taker Fees | Funding Rate | Funding Rate Interval |
| BTCUSD | -0.0250% | 0.0750% | -0.0447% | every 8 hours |
| ETHUSD | -0.0250% | 0.0750% | -0.0447% | every 8 hours |
| EOSUSD | -0.0250% | 0.0750% | 0.0100% | every 8 hours |
| XRPUSD | -0.0250% | 0.0750% | 0.0100% | every 8 hours |
| BTCUSDT | -0.0250% | 0.0750% | 0.0100% | every 8 hours |
The withdrawal fee is fixed, and the company pays a standard miner fee. You can find the minimum withdrawal amount and the corresponding fee per coin in the table below.
| | | |
| --- | --- | --- |
| Asset | Minimum Withdrawal Amount | Bybit Withdrawal Fee |
| BTC | 0.001 BTC | 0.0005 BTC |
| ETH | 0.02 ETH | 0.01 ETH |
| EOS | 0.2 EOS | 0.1 EOS |
| XRP | 20 XRP | 0.25 XRP |
| USDT | 10 USDT | 10 USDT |
Bybit's transmission fees are a bit higher than those of other cryptocurrency exchanges, despite being fixed.
In addition, there is a modest $5 fee for Asset exchange orders involving physical crypto exchange at spot. 
Bybit Key Features
Trading Options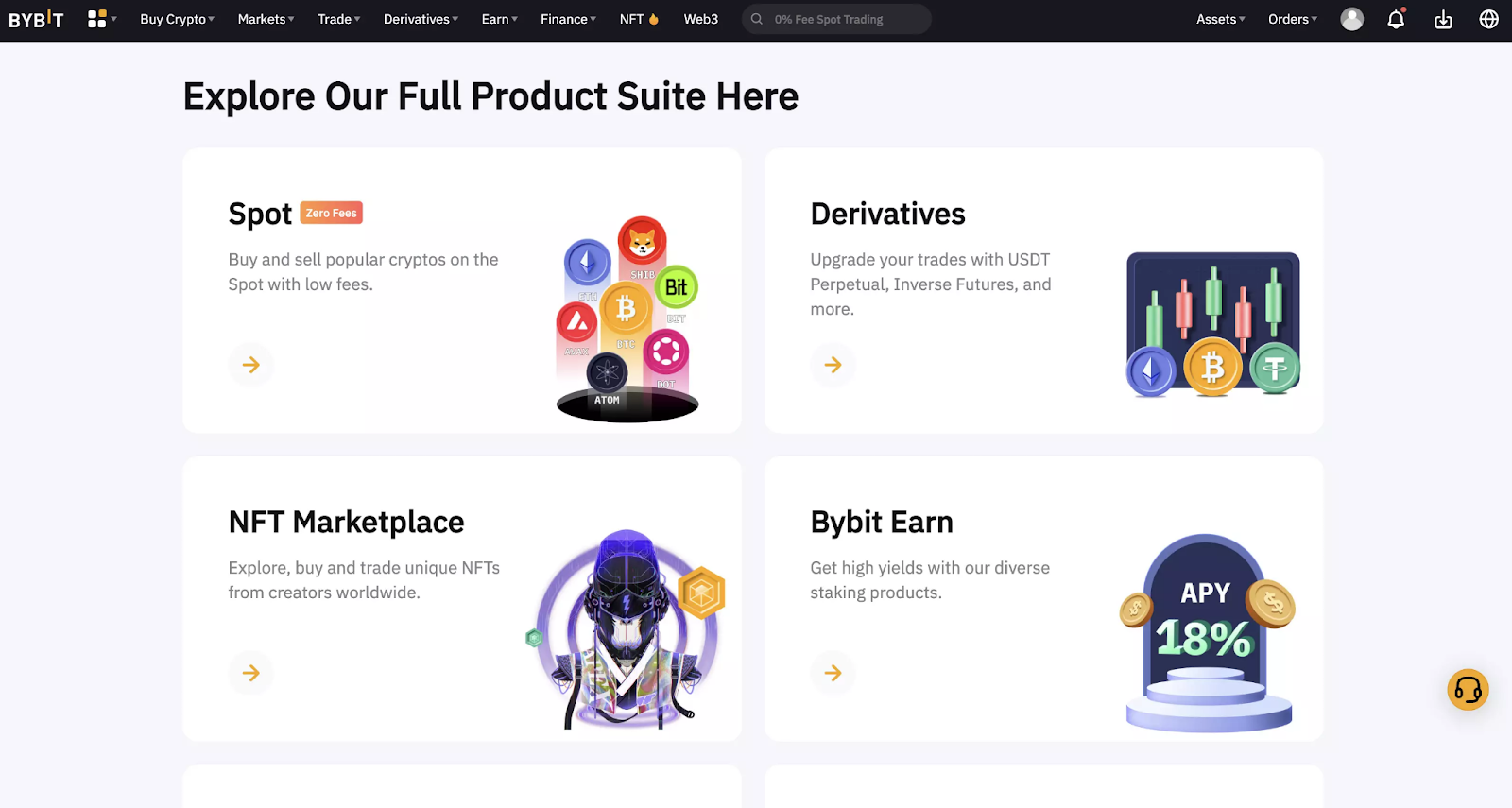 Bybit provides its consumers with an extensive array of trading options, including traditional spot trading, P2P, leveraged trading, and derivatives.
Bybit P2P
In January 2022, Bybit made its P2P service available to all of its customers. Investors on the exchange can post "ads" in which they cite the price of a particular cryptocurrency. This advertisement can be for either purchasing or selling, or both.
If you believe the offer is favourable as a potential customer or vendor, you are free to accept it.
Bybit highlights that with Bybit P2P, you can "complete transactions at lightning speed in a safe and secure trading environment, and at optimal prices agreed upon by you and the merchant."
Derivatives
Derivatives are one of Bybit's most appealing features. A derivative is an instrument whose value is determined by the price of another asset (usually stocks, bonds, commodities, etc.). In the realm of cryptocurrencies, derivatives derive their values from the prices of particular cryptocurrencies.
Bybit, for instance, offers future derivatives, which obligate the derivative's holder to purchase specified tokens at a fixed price in the future.
They also provide trading in perpetual derivatives. Like a future derivative, you buy and sell tokens at an agreed-upon price, but these tokens do not expire. They are growing in prominence and tend to trade closer to the asset's current price than futures.
Margin trading 
Experienced traders who want to increase their potential earnings from profitable deals often turn to margin trading. The trader can increase the return on a modest initial expenditure by borrowing money to trade with. Bybit offers 100x leverage, far more than 5x leverage on most crypto platforms.
However, it's worth noting that even a modest decline in the market price can make them lose more than they initially invested. Margin trading is risky, so you should conduct thorough market research and only invest in what you can afford to lose.
Spot trading
In July 2021, Bybit added Spot trading to its core derivatives offering, initially supporting only four trading pairs: BTC/USDT, ETH/USDT, XRP/USDT, and EOS/USDT, but has since expanded to offer more than 70 trading pairs. Bybit's spot trading is quite pleasant with the standard trading view, and they provide markets for many cryptocurrencies.
Bybit Mobile App
Bybit mobile applications are available for iOS and Android. The latter has over 100,000 downloads on Google Play with an average rating of 4.3 stars. 
The app also provides multiple strategy alert options. You can activate the widget and receive notifications when the Last Traded Price rises or falls above or below your specified alert rate. Besides, you can configure alerts for price surges and drops for your selected trading pairs and the interest rate changes.
You can also set a reminder 30 minutes before funding settlement for your chosen trading pairs with the predicted funding rate.
ByBit Earn Program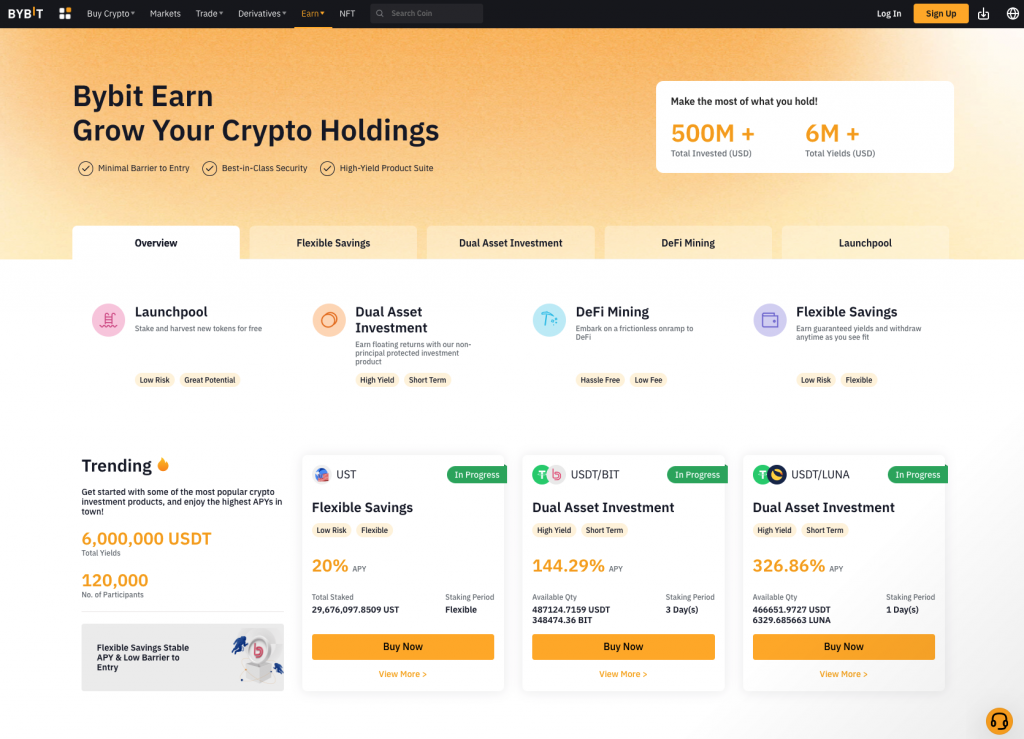 Bybit allows users to generate passive income through various products available on its "Earn" program. 
Bybit's savings program enables users to lock up their assets on the platform for a specific duration to earn interest on their asset. Flexible term savings offer lower interest rates on locked-up assets but allow users to withdraw them anytime.
Meanwhile, fixed-term savings offer relatively higher interest rates but require the user to lock the assets for a fixed period, commonly 1 or 3 months.
Bybit's liquidity mining program enables users to provide liquidity to AMM pools and earn swap fees from users swapping assets in the pool. Liquidity mining generally offers a higher rate of return than the savings program. Users can also add leverage to maximise their yield but bear the liquidation risk.
Users of the Dual Asset program can earn better returns in low-volatility markets by forecasting the movement of a specific cryptocurrency asset, like BTC or ETH, within a predetermined timeframe and depositing their preferred cryptocurrency to lock in the higher yield.
The Bybit launchpool allows users to earn free tokens from partnered projects by staking the exchange's native BIT token during the event. These tokens can be unstaked at any time.
Bybit's Defi mining program enables users to earn yield from various Defi platforms, such as Curve, by staking the assets via Bybit. This allows users to participate in Defi without worrying about wallet management.
Bybit Launchpad
Bybit's launchpad is a platform that grants users early access to pre-listing coins at an attractive introductory price. However, users must complete level 1 KYC verification and maintain a daily average balance of 50 BIT or 100 USDT in their spot wallet for five consecutive days before the subscription period to participate in the launchpad.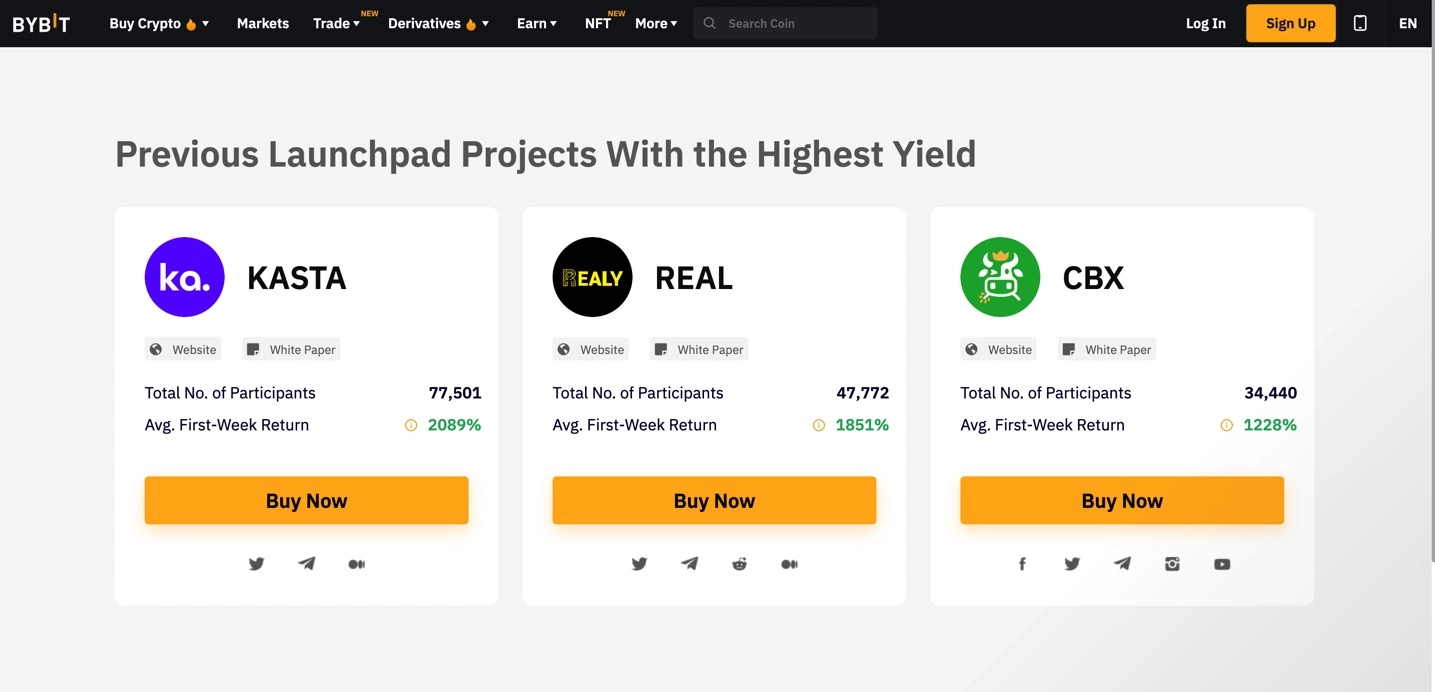 Once you meet these eligibility conditions, you can purchase launchpad tokens in two ways. The first is by staking BIT tokens in the BIT pool, which guarantees an allocation based on the weight of the user's BIT stake. The second is by staking USDT to enter a lottery for an allocation, with one lottery ticket given for every 100 USDT committed. The USDT pool offers a chance to purchase tokens at a lower price than the BIT pool.
Insurance Fund
The Bybit Mutual Insurance is a powerful tool for managing risk in BTCUSD perpetual contracts. It enables users to maximise their profit potential in an uptrend or offset losses without exiting their long or short positions.
The cost of Mutual Insurance comprises the premium and insurance fee (insurance amount x 0.05%). Bybit employs the Black Scholes options pricing model, including several elements: the insurance amount, index price volatility, insured price of long or short position, maximum payoff, insurance duration, and Mutual Insurance Fund balance.
Settlement in BTC can occur in three scenarios: Mutual Insurance expires after 2, 12, or 48 hours; you manually settle at any time during the insured period; or your position is partially or fully liquidated.
When you purchase one or multiple Mutual Insurance coverages, you must transfer BTC funds from your trading account to your insurance account. Purchases can be made when you have an open BTCUSD perpetual contract position.
In isolated margin mode, Bybit automatically deduct from your trading account when your insurance account has insufficient funds to cover the premium.
Referral/Affiliate Program
There are various incentives for first-time depositors for any of the assets supported by the platform. One is the "A Big Deal" coupon worth $50, which can be claimed by depositing 0.1 BTC, 3 ETH, 1,390 EOS, 11800 XRP, or 5000 USDT within 48 hours of signing up.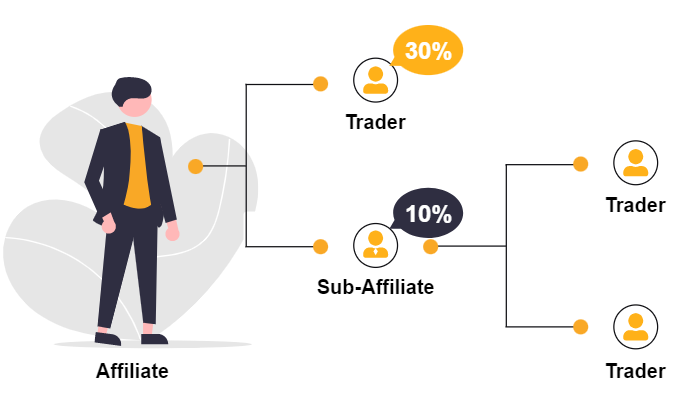 If you fail to deposit within the given timeframe, you can still claim a $10 Bybit welcome bonus if you meet the minimum deposit requirements. The bonus will be given in the corresponding deposit coin.
By making a BTC deposit, you can also claim an additional $5 Bybit bonus and another $5 voucher by following the company on social media. These rewards are not limited to new users, as existing users can participate in flash deals, giveaways, and raffles. To stay updated with the latest promotions, check out the Rewards Hub and Latest Promotions page.
By referring a new user to the platform through Bybit's referral program, you can earn $10, and your referred user will also receive a welcome bonus of $10.
Bybit Security Features
Is bybit safe in Australia? Yes, as the platform offers two-factor authentication to boost account security. While you can access the platform, purchase cryptocurrencies for trading, and log in with just one authentication level, resetting your password, changing security settings, and withdrawing funds require a combination of email or SMS authentication and Google Authentication.
Bybit has implemented a hardware wallet system to store users' funds collectively in cold storage and prevent them from being targeted by malicious actors. Unlike other exchanges that use hot wallets, Bybit assigns cold deposit addresses to traders and uses offline signatures to complete asset consolidation and withdrawals. Withdrawal requests undergo manual review three times a day.
In addition, Bybit employs a zero-trust architecture and follows strict software lifecycle management practices. The company hires cybersecurity experts to conduct penetration testing, and it works with a third-party security auditor while enforcing the segregation of duties. Every Bybit employee must undergo thorough background checks, mandatory security training, and assessment to prevent insider threats.
Bybit Customer Support
Bybit has a chatroom where other users can answer your questions. Still, if you prefer a private conversation, you can chat with a customer care agent using the Bybit iOS or Android app. The response times can be very slow. You can also email them at [email protected] for general customer support or [email protected] for technical issues. Bybit does not offer phone support or a direct live chat 24/7.
If you prefer an exchange with better customer support, you can opt for CoinSpot, one of the best cryptocurrency exchanges in Australia. You can read our detailed CoinSpot review to learn more about its features and services.
Bybit maintains at least eight social media accounts, including Facebook, YouTube, Telegram, Instagram, Reddit, LinkedIn, Twitter, and Medium. You can communicate with the company via any of these channels and even tweet directly to CEO Ben Zhou and receive a response.
Bybit's knowledge base contains a section dedicated to bite-sized articles that answer frequently asked questions from users. The help centre includes FAQ sections on general trade topics and common subjects like API.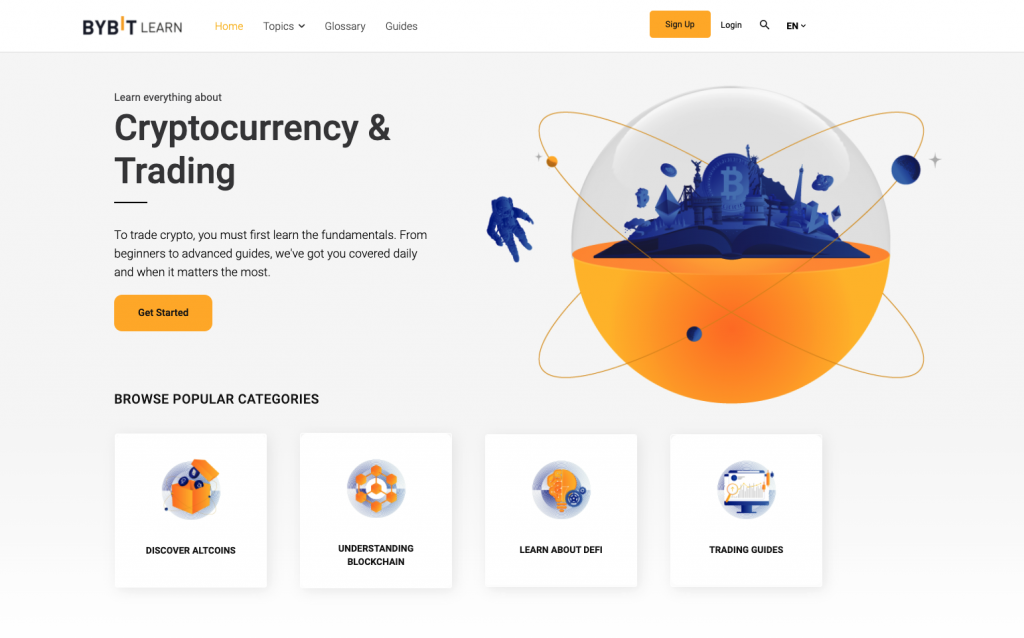 Bybit Review Verdict
Bybit has several notable advantages, such as its user-friendly interface for trading with leverage and managing positions and its multi-signature cold wallet storage. However, it also has some limitations, such as its restricted options for fiat-to-crypto conversion. Additionally, Bybit is not accessible to US residents. If you are a US citizen concerned about the platform's FCA compliance or data-sharing policies, exploring alternative platforms may be more beneficial.
The following review is for informational purposes only and should not be construed as financial or investment advice. It is important to note that cryptocurrency is a highly volatile and speculative market, and there is no guarantee of profit or loss. This review is based on the author's personal experience and research, and individual results may vary. The author is not affiliated with any of the exchanges mentioned in this review and does not receive compensation for their mention. It is recommended that readers conduct their own due diligence and consult with a financial advisor before making any investment decisions. The information regarding performance may be different from the time of publication. Past performance does not guarantee future results. While we believe that all content was accurate at the time of posting, it is possible that some offers included in the content may no longer be valid.