Swyftx is a cryptocurrency exchange in Australia that was founded in 2018. It has registered with AUSTRAC and offers around 320 cryptocurrencies to its users. While Swyftx has relatively low fees compared to other exchanges, you should be aware of certain red flags about this platform. There are countless negative reviews about Swyftx's buggy system, and users have reported being locked out of their accounts when they try to withdraw their funds.
Below is an in-depth analysis of Swyftx, where we have analyzed all of its pros and cons. Want to look into other options instead of Swyftx? Please read our reviews of the best crypto exchanges in Australia here.
Pros
 Industry standard fees.er Australian exchanges
 Supports over 320 cryptocurrencies.
 Accepts multiple payment methods, including debit and credit cards.
 Users are able to report profits from cryptocurrency trades to the ATO.
Cons
 Only supporting fiat currency deposits and withdrawals for AUD
Poorly-designed interface, new investors may find it hard to find the information they need.
It only provides a chatbot with a slow response time. The chatbot can be unresponsive, and when you do get in contact with a real support worker, wait times can be more than 24 hours.


Lack of advanced trading options.

Deposit Methods
Instant payments to your Swyftx account are available via POLi and PayID. While OSKO deposits and bank transfers can take up to one business day to settle. Swyftx began accepting debit and credit cards for deposits in 2021.
The daily withdrawal and deposit limit for accounts on Swyftx is AUD 20,000. If you need to process larger amounts, you'll have to go through more verification steps.
You can deposit AUD into your account at any Australian bank, including Commonwealth Bank, Suncorp, and ANZ Bank.
Fees
Deposit Fees
When you use one of the accepted deposit methods to fund your account, Swyftx doesn't charge you anything. To find out if there would be any costs, it's advisable to check with your bank or financial institution. For deposits via redit cards, a 3.6% fee plus a 4% spread may be applicable. 
Withdrawal Fees
There are no fees when you withdraw AUD from your Swyftx wallet and into a nominated Australian bank account. However, crypto withdrawals are subject to standard network mining fees. This implies that the network fees paid to the miners are the only fees when you withdraw funds from the exchange. This withdrawal charge, or rather the absence of a withdrawal fee, is competitive and below the industry average.
Transaction Fees – The deal breaker
Most crypto exchanges charges a trading fee each time you make an order. The fee often represents a portion of the trade order's value. Many exchanges distinguish between takers and makers in transactions. The people who "take" an existing order from the order book are known as takers. Meanwhile, makers are those making liquidity on the platform by adding orders to the order book.
However, Swyftx charges what are known as flat fees, which means that for spot trading, both takers and makers are charged the same amount, or 0.60%. When you start trading, you'll notice that Swyftx's fee and spread structure is very expensive when compared to other Australian exchanges. When trading in and out of different assets, their wide spreads combined with their 0.6% trading fee result in relatively inefficient execution. 
When you compare their fees to the 0.1% fees offered on CoinSpot, one of the best crypto exchanges in Australia, Swyftx is much higher. While swapping between coins will require 2 trades, incurring a 1.2% fee. As opposed to CoinSpot's swap feature, which allows customers to swap between currencies in one simple trade for a low 1% fee.
Notable Features
Features for Newbie Investors
Cryptocurrency can be a daunting field to enter, and it can be difficult to know where to begin. Swyftx offers multiple services for both newcomers and seasoned pros.
Supported Coins
Swyftx currently offers around 320 cryptocurrencies on its platforms. However, this exchange is not transparent when it comes to price listing. Customers have reported seeing different buy prices for a particular coin, or when the crypto market drops and they want to buy the dips, the system on Swyftx will keep showing errors.
Demo mode
Swyftx is easy to use for new investors, and they even offer a free Demo Mode once you have created an account. You can practice trading cryptocurrency using their risk-free simulation, which provides you with $10,000 in play money. You can gain practical experience without risking your own money. Additionally, the Demo Mode mimics real-world events, such as how the market will react and the impact of investments on your liquid assets.
Articles to help ease your way into the crypto world
The Learn section on their website contains in-depth articles on topics ranging from Bitcoin's market cycles to crypto investment strategies. There is however, only a limited number of articles currently on the platform.
Trade easily with AUD
Another notable feature of Swyftx is the ability to purchase instantly in Australian dollars. As an Australian-based company, they understand how difficult it can be to buy and sell internationally. Their portal doesn't require you to convert your AUD to USD or Euro. In saying this, almost all Australian cryptocurrency exchanges do this too.
Customer Support
Having a live chat available is great for newcomers to cryptocurrency, as it can be extremely confusing at times. Unfortunately, Swyftx offers a chatbot, users are forced to select limited query options until they are potentially connected to a support member. However, usually just directed toward articles that do not completely solve the issue. This pales in comparison to CoinSpot's Support Team who are available 24 hours a day, 7 days a week via live chat, email or even a callback feature.
Mobile app
Swyftx also has a mobile app available for both Android and iOS. Having the app on hand eliminates the need to rush to your computer whenever you notice a change in the crypto world. Trading in any market can be difficult, and success can hinge on having up-to-date information and the ability to act quickly. With the app installed directly on your smart devices, you can act as promptly as you can open your phone.
Staking
Staking is a feature added to Swyftx near the end of 2021. It enables cryptocurrency investors to earn interest coins simply by holding them in their Swyftx account. Available on both Swyftx's mobile app and desktop platform, it allows you to receive rewards on your cryptocurrency, which are paid in the same coin as the one you staked. It's comparable to getting interest in a bank on your fiat dollars. At the moment, Swyftx only has a limited 16 coins offered for staking, compared to CoinSpot's 22 options, all with higher returns.
Features for Experienced Traders
Portfolio Tracking
Their Portfolio Tracking enables you to monitor your profits and losses across all your investments in real-time.
Recurring Orders
Swyftx also offers Recurring Orders if you're into automatic features. Your Swyftx deposits will automatically roll over into the pre-programmed investment purchases by setting your investments to recur.
Tax Reporting
The Australian Taxation Office recently declared that it would be scrutinizing crypto taxpayers. They assert that bitcoin gains are treated similarly to traditional stock market gains. As a result, the ATO requires all Australian cryptocurrency traders to record capital gains when selling, purchasing or exchanging their cryptocurrency for fiat.
Swyftx has Individual Tax Reporting, which allows customers to have a customisable tax report created in AUD. 
Coin Swap
Swyftx's Coin Swap feature allows you to trade any cryptocurrency in your portfolio for another currency on their list. This can speed up and simplify the process of diversifying your portfolio. However, Swyftx charges an exorbitant 1.2% fee to complete any swap transactions.
Real-Time Pricing
Swyftx also includes Real-Time Pricing and an API to help investors track the market movements.
Automatic Buys and Sells
On the Swyftx platform, users can set up Automatic Buys and Sells. Swyftx can be set to buy or sell specific amounts based on a trigger price you specify.
Crypto Bundles
To diversify your crypto holdings, you can Bundle your portfolio purchases with one of seven curated cryptocurrency collections. This is comparable to the traditional method of Index Stocks, in which you can buy a small portion of several companies based on a single index. Swyftx monitors the market to identify bundles that align with your investment objectives. However, if this feature particularly appeals to you, you may want to look into CoinSpot. They offer 12 Bundles, much more diverse than Swyftx.
Self-managed super fund
Swyftx provides users with a retirement savings vehicle and additional tax benefits through this fund. While these funds are frequently difficult to create, Swyftx streamlines the process by partnering with an experienced partner ( New Brighton Capital).
Users who want to set up this fund on their Swyftx account will need a trusted address, a registered trust name, a trust ABN, a trust deed copy, and the trust beneficiaries' information.
It is critical to note that all major beneficiaries of this fund, who hold at least a 25% claim, must have a verified Swyftx account.
While there is some paperwork needed in setting up this account, it will be worthwhile in the long run because it also helps limit any risk associated with future market volatility.
What We Don't Like About Swyftx
No advanced markets
If you are a serious cryptocurrency trader, Swyftx probably does not provide enough advanced trading options. If you want advanced trading tools and more markets, Binance is an ideal alternative. Binance offers a plethora of markets, including futures, margin trading, P2P, and even an NFT marketplace, which Swyftx does not. For Australians, CoinSpot is a much better option than Swyftx if you are interested in dabbling into the NFT world. They offer a great array of digital assets with their in-platform NFT Marketplace.
OTC Desk
Swyftx also provides OTC services and consultations for high volume traders. However, this appears to be quite facetious as limits are at an enormous 100K and fees are still 0.6%, the same as an instant trade of any volume. Their OTC section is very poor compared to CoinSpot, who offers Australia's lowest 0.1% fee on trades valued at 50K or more.
Security
Swyftx employs multiple security measures to protect its customers' personal information, such as JSON Web Tokens, KYC verification, Biometric, and 2FA account authentication and protection. 
However, hundreds of negative reviews on Productreview.com.au show that Swyftx is extremely questionable regarding funding withdrawals. Customers have complained about being unable to withdraw their coins as Swyftx will try to block any withdrawals from their platform. The verification process you have to go through is extremely cumbersome, and even then, they can still find a reason to stop you from transferring funds out of Swyftx.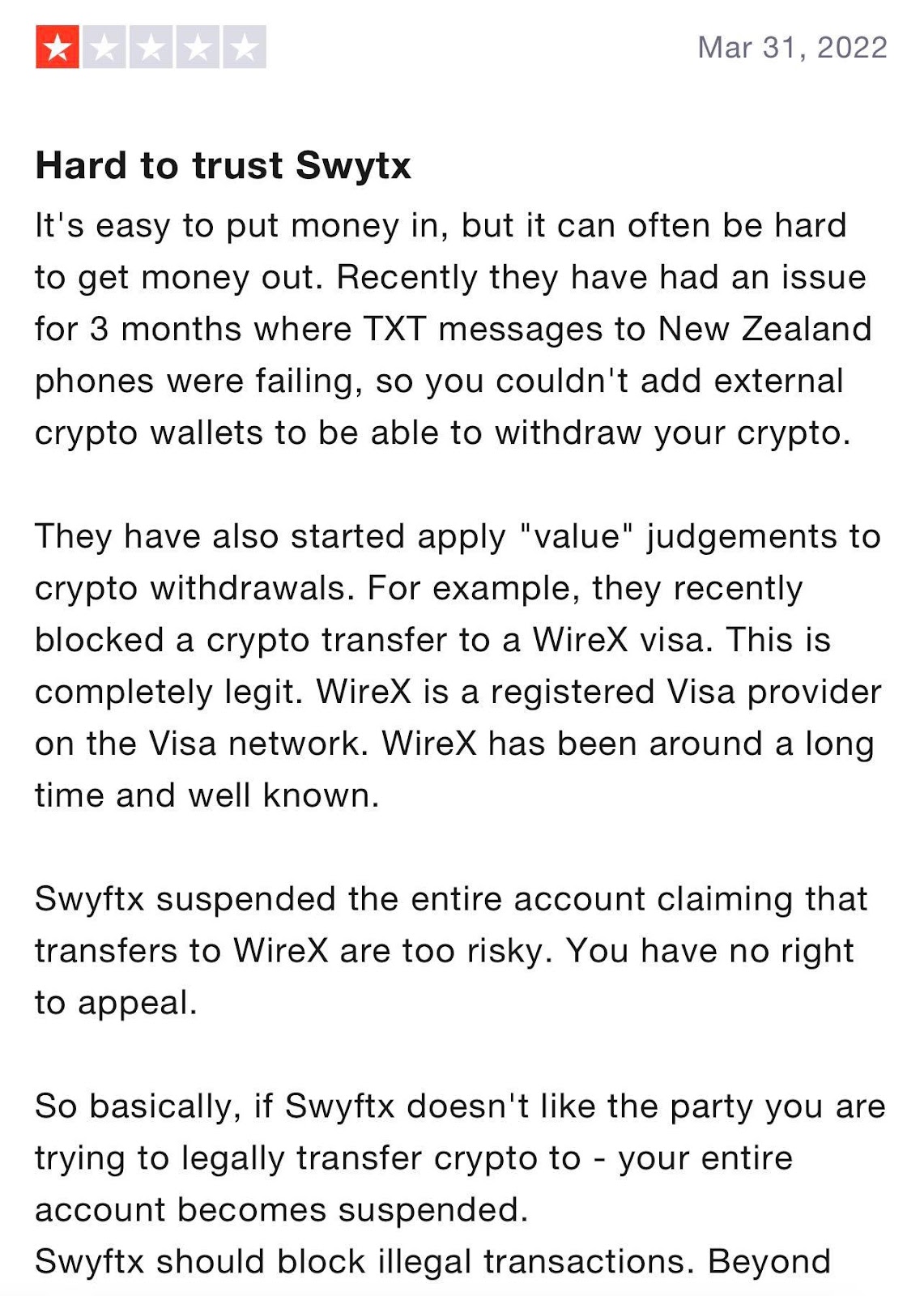 Conclusion
While Swyftx may seem to be a decent option for Australian investors, there are plenty of red flags about this platform. We have received feedback from current users of Swyftx who say that their customer service is terrible. They take days to respond to your emails, and even if you are lucky to get a response, you are not guaranteed to speak to a real support team member. Hundreds of investors have claimed that their accounts are locked when they try to withdraw their funds from Swyftx. In short, while Swyftx is not a bad crypto exchange, there are much better alternatives for Aussie investors. We highly recommend you to check out our CoinSpot Review – currently the most well-established crypto exchange in Australia. 
Frequently Asked Questions
Does Swyftx provide special services for seasoned traders?
Swyftx provides special OTC Consulting for trades worth more than $100,000.
What safeguards are in place for me?
Swyftx is registered with the Australian Transaction Reports and Analysis Centre (AUSTRAC) and adheres to all regulatory agencies to prevent money laundering, fraud, and terrorism funding.
Do I need my crypto wallet for Swyftx?
Swyftx offers wallets for all of the cryptocurrency assets available on their platform. They also use internal wallet systems to store your cryptocurrency. This means you don't need to have your cryptocurrency wallet, and you can use the exchange's built-in wallet.
The following review is for informational purposes only and should not be construed as financial or investment advice. It is important to note that cryptocurrency is a highly volatile and speculative market, and there is no guarantee of profit or loss. This review is based on the author's personal experience and research, and individual results may vary. The author is not affiliated with any of the exchanges mentioned in this review and does not receive compensation for their mention. It is recommended that readers conduct their own due diligence and consult with a financial advisor before making any investment decisions.
The information regarding performance may be different from the time of publication. Past performance does not guarantee future results. While we believe that all content was accurate at the time of posting, it is possible that some offers included in the content may no longer be valid.