As of April 2023, Dogecoin (DOGE) was priced at around $0.09, which marks a reduction of roughly 90% from its all-time high of $0.7376 in May 2021. However, the meme coin remains one of the largest cryptocurrencies, with Elon Musk's Twitter takeover reigniting discussions of #dogecointothemoon. So, what is the current forecast for Dogecoin? Read our Dogecoin price predictions from 2023 to 20230 for more details.
What Is Dogecoin (DOGE)?
Initially launched in 2013 by software engineers Billy Markus and Jackson Palmer, DOGE was the first of the dog-themed meme coins. Markus and Palmer, who worked at IBM and Adobe, respectively, created the coin as a satire on the growing number of altcoins attempting to profit from Bitcoin's success. The popular Doge meme featuring a Shiba Inu dog inspired DOGE's name and logo. 
Despite losing nearly 90% of its value since its all-time high of $0.7376 in May 2021, DOGE remains one of the largest cryptocurrencies. Its popularity is partly due to its widespread adoption and ease of use. The price of DOGE can be highly volatile, often driven by social media communities that create significant spikes in value and subsequent crashes that receive mainstream media coverage.
Dogecoin Price History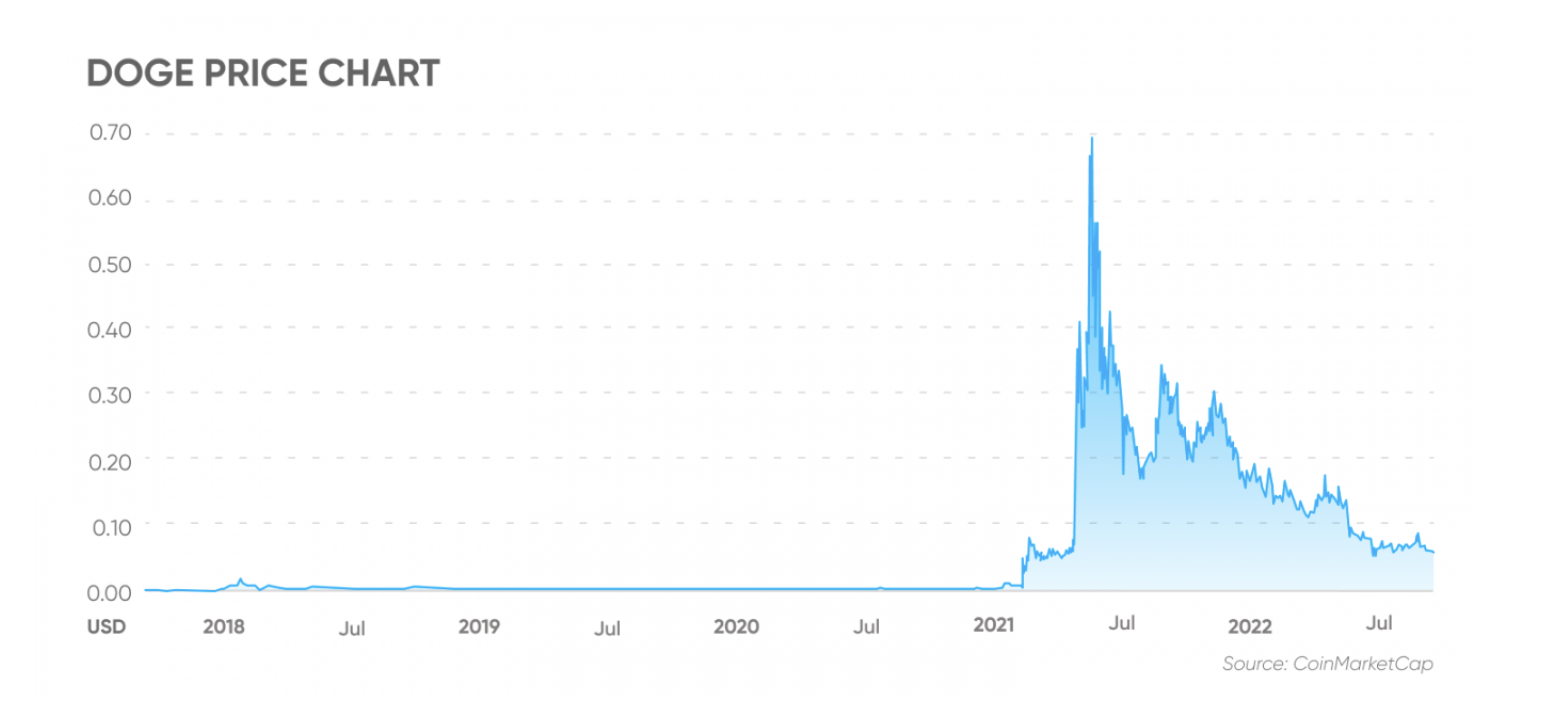 From 2013 until the cryptocurrency markets took off in 2021, the price of DOGE remained relatively stable. However, in 2021, the DOGE price rose from $0.0046 at the start of the year to its all-time high of $0.7376 on May 8, 2021, representing a gain of over 15%. The price quickly dropped in response to Elon Musk referring to dogecoin as a "hustle" during his US Saturday Night Live TV show appearance.
Despite the most bullish dogecoin price predictions, DOGE was trading down around $0.3 by the end of May 2021, and it fell further to $0.16 on July 20th. However, a summer rally brought the price up to $0.35 on August 16th, but it fell again to $0.19 on September 26th before climbing to $0.28 on October 24th. However, it turned bearish into 2022, remaining in a downward trend with lower highs and lower lows.
DOGE started 2022 at $0.17 and moved to $0.2 on January 14th, then sold off to $0.12 on January 24th. The coin rebounded to $0.17 on February 7th but could not hold at that level. DOGE dropped to $0.11 on March 13th before making another attempt at the $0.17 level on April 5th. However, the price plummeted to $0.07 on May 12th as markets reacted to the collapse of the Terra Luna and the US dollar hitting 20-year highs.
With bearish sentiment across the crypto markets, DOGE dropped to $0.049 on June 18th, its lowest level since early 2021. The coin traded in a $0.06-$0.07 range until a rally by retail investors on social media brought the price up to $0.089 on August 16th. But DOGE quickly dropped back to trade at around $0.06 again.
In the wake of Elon Musk's takeover of Twitter, dogecoin price rallied to a high of $0.16 on November 1st before the collapse of the FTX exchange saw it trade at about $0.077 on November 21st. The crypto ended 2022 at $0.07, but it enjoyed a recovery in January, closing the month at $0.096 before sliding down to a low of $0.08 on February 10th. DOGE climbed back to $0.091 on February 19th, but the collapse of the Silvergate bank saw it drop to $0.063 on March 10th.
Dogecoin Price Predictions
Let's examine some Dogecoin price predictions made as of April 20, 2023. It's worth noting that price projections, particularly for cryptocurrencies, which can be highly volatile, frequently turn out to be incorrect. Furthermore, many long-term crypto price predictions are created using an algorithm, meaning they can alter instantly.
The table below shows the potential highs and lows of DOGE from 2023 to 2030, which may form meaningful future support or resistance levels:
| | | |
| --- | --- | --- |
| Year | Potential High | Potential Low |
| 2023 | $0.60 | $0.30 |
| 2024 | $0.65 | $0.62 |
| 2025 | $0.75 | $0.45 |
| 2030 | $1 | $0.5 |
Dogecoin Price Prediction 2023
The recent surge in Dogecoin was triggered by the news that Elon Musk is contemplating incorporating a payment system into Twitter. This led to speculation that the popular meme coin might be integrated into the social media platform. According to the Financial Times report, Twitter has reportedly begun acquiring regulatory licences and developing the necessary software to facilitate payments on the site to diversify its revenue streams.
Buying Twitter is an accelerant to creating X, the everything app

— Elon Musk (@elonmusk) October 4, 2022
When predicting Dogecoin's long-term value, it's crucial to understand that it is underpinned by blockchain technology, although it differs slightly from other major coins. Dogecoin's blockchain, like Litecoin's, is based on Scrypt technology, making mining more complicated than traditional Proof-of-Work chains. Despite this, Dogecoin can still handle more than 40 transactions per second.
The network's average transaction fee is just $0.15, significantly less than the high fees paid on the Ethereum network during periods of congestion. These statistics indicate that although Dogecoin's network isn't the most scalable, it does have a solid foundation to support larger influxes of transactions in the future.
Dogecoin has become increasingly popular as a tipping mechanism online, which is noteworthy. A tipping bot was created and announced on Dogecoin's official subreddit last year, allowing Twitter users to tip other Twitter users. This received much attention, mainly because the fees for transferring DOGE to another individual are relatively low.
DOGE may also be used to pay for the new verification process on Twitter, which requires users to pay $8 per month to keep or gain a blue tick. It is unlikely that major corporations will begin using DOGE due to its meme coin status. As younger generations become more familiar with the crypto market, Dogecoin's "approachable" aesthetic may make it more widely used, opening up further possibilities for advancements in the tipping service.
If this happens, we anticipate increased demand for DOGE from retail investors and internet users. As a result, our Dogecoin price forecast for 2023 predicts that the coin could reach $0.6.
Dogecoin Price Prediction 2024
Dogecoin was the pioneer among all meme coins currently in the market, paving the way for other similar cryptocurrencies like Shiba Inu. Currently, Dogecoin ranks among the top 10 cryptocurrencies in the market.
Looking ahead, Dogecoin's prospects remain positive. Investors' heightened sense of FOMO and Elon Musk's well-known affinity for the coin are two key factors that could contribute to its success in 2024. Additionally, the growing popularity of meme coins could help Dogecoin secure a significant portion of the expanding market share in the coming years.
Dogecoin has a devoted following among its fans and crypto enthusiasts. Its Twitter and Reddit communities boast 3.6 million and 2.4 million members, respectively. The online support of these communities has been instrumental in driving up the coin's value.
As these numbers continue to grow alongside network development activity, Dogecoin's value could peak at $0.65 in 2024. However, depending on market conditions and the amount of greed or fear present, the meme coin could also face significant volatility in the future.
Dogecoin Price Prediction 2025
The best DeFi coins serve as a role model for Dogecoin, and it could take cues from them over the long run. DeFi coins are handy and, as a result, are in high demand among investors, leading to an increase in price over time. Also, as the DeFi space continues to expand rapidly, established coins like DOGE have an opportunity to enter this market.
Dogecoin has already taken steps in this direction. According to a recent report by Yahoo Finance, DOGE can now be purchased on a decentralised exchange for the first time. THORchain, a decentralised liquidity protocol, has connected with Dogecoin's blockchain network, allowing THORchain users to exchange DOGE for BTC and other tokens. Although this may appear minor, it has significant long-term prospects for Dogecoin. DOGE holders can now generate a yield on their investment through "yield farming" without completing KYC checks.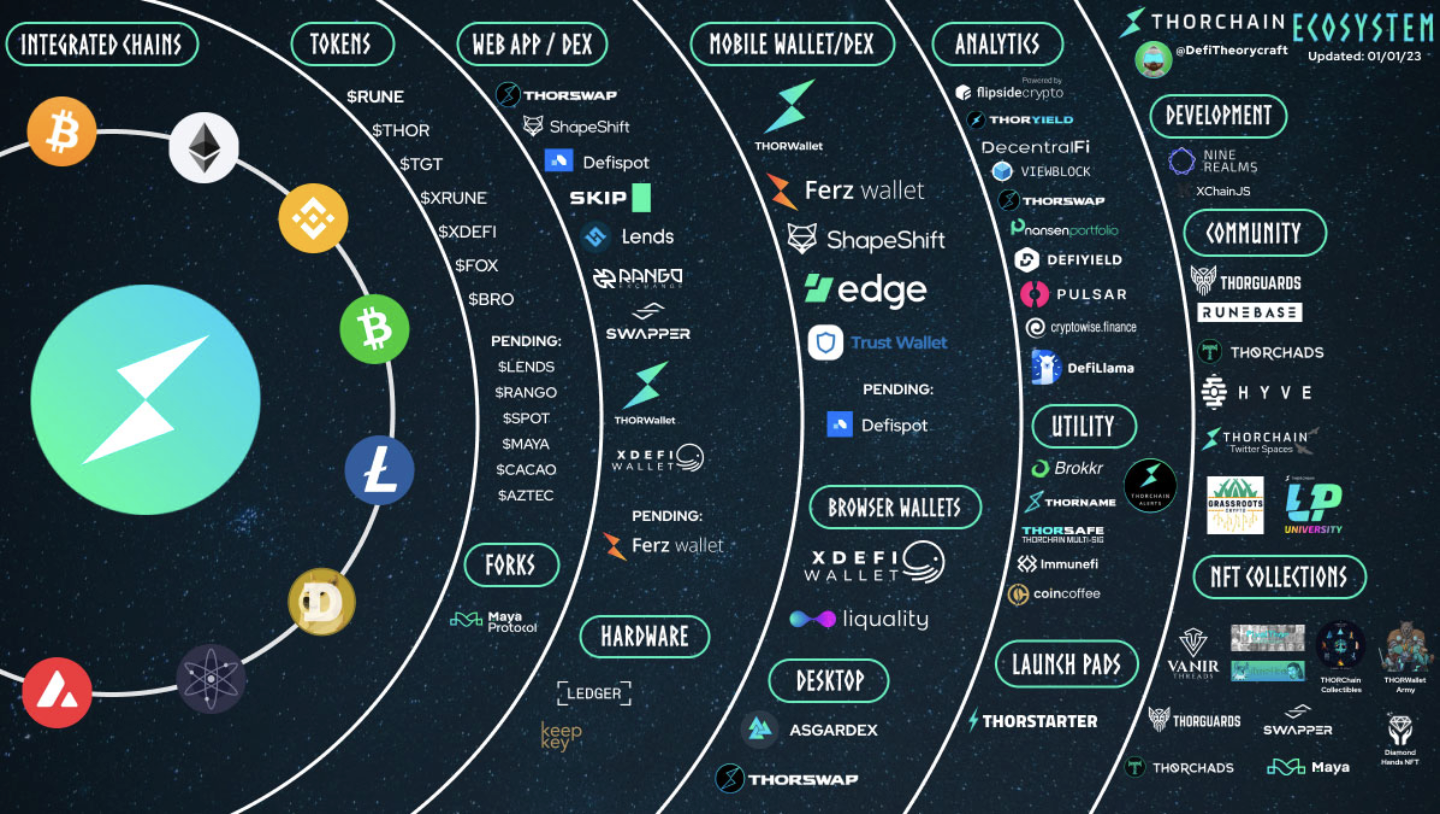 This adds another reason for investors to buy and hold DOGE, which bodes well for Dogecoin's price potential. If Dogecoin can capitalise on this momentum and collaborate with more decentralised entities, it will appeal to investors looking to generate a passive income stream. Based on this assumption, our Dogecoin price prediction for 2025 is that the coin could surpass its all-time high of $0.75 and potentially go even further.
Dogecoin Price Prediction 2030
Let's look at our forecast for the long-term price of Dogecoin. As we've observed, Dogecoin has a substantial following from its community, and Elon Musk's endorsement adds to its potential for long-term growth. 
A few months back, Coinbase teamed up with Google Cloud to promote Web 3.0 projects, which allow customers to use digital currencies like Dogecoin for payment. It's unclear if this will be successful and if other companies will follow suit. The absence of staking rewards and limited adoption of new use cases may also impact DOGE's long-term market performance.
However, Dogecoin has the potential to become an acceptable payment system due to its inflationary property that's similar to traditional currency. More merchants are accepting DOGE for payment so the meme coin may see an increase in demand and usage cases.
Predicting the price of cryptocurrencies is challenging, especially in such a volatile market. Nonetheless, some experts believe that Dogecoin could reach $1 in 2030, and in an optimistic market scenario, it's unlikely to drop below $0.5.
Dogecoin Price FAQs
What are the use cases of Dogecoin?
Dogecoin can be spent with merchants who accept it as a payment option, including companies such as SpaceX and the Dallas Mavericks. Many people also use Dogecoin to tip content creators on social media platforms like Reddit.
What drives the value of Dogecoin?
The value of Dogecoin is primarily influenced by popular culture, celebrity endorsements, and social media hype. However, as an inflationary token with an unlimited supply, Dogecoin has no specific use cases and may lose value over time.
Will Dogecoin (DOGE) reach $1 in 2023?
There have been some positive developments for Dogecoin, but reaching $1 would require specific market conditions. According to our DOGE price forecast for 2025, the meme currency may reach a high of $0.4497 by then, and by the end of 2030, it could reach $1.456 if demand increases.
Is DOGE a good investment?
It is difficult to determine whether DOGE is a good investment. While Elon Musk's tweets have positively impacted the currency, DOGE is known to be volatile. Investors should conduct thorough research and may need to consider the broader cryptocurrency landscape, including BTC price prediction and ETH price prediction, to make informed investment decisions.
Shiba Inu vs Dogecoin: Which is better?
Although both Shiba Inu and Dogecoin have similarities, they are different cryptocurrencies. Dogecoin uses the proof-of-work mining algorithm, while Shiba Inu is an Ethereum-based currency that uses proof-of-stake technology.
Dogecoin Price Prediction – Conclusion
It's essential to keep in mind that crypto markets are highly volatile, making it challenging to predict a coin's price in the short term and even more difficult to provide long-term estimates. Analysts and forecasters who rely on algorithms can be incorrect in their predictions.
If you're considering investing in cryptocurrency, we recommend conducting thorough research. This includes analysing the latest market trends, news, technical and fundamental analysis, and expert opinions. Keep in mind that past performance does not guarantee future returns. Additionally, it's crucial to only trade with funds you can afford to lose.