Updated: 9 September 2022
What is Coinspot?
Founded in 2013 by cyber-security expert Russell Wilson, CoinSpot is presently the best cryptocurrency exchange in Australia. CoinSpot offers their users easy access to over 380 cryptocurrencies, responsive 24/7 customer support, staking service, as well as an in-platform NFT Marketplace. According to many CoinSpot reviews, CoinSpot fees are extremely competitive because of all these excellent features.

Pros
Over 380+ different cryptocurrencies are available for trade, more than any other Australian exchanges.
Various instant free AUD deposit options are available  through POLi, PayID, and Direct Deposit. While BPAY & Cash deposits via BlueShyft incur a small fee.
24/7 live chat support, responsive and competent specialist support team,  and a new request-a-call feature allowing users to schedule a call with support staff.
An NFT marketplace to streamline NFT buying and selling.
Simple-to-use staking feature that requires NO LOCK IN  periods for staked coins, staking rewards are sent directly to users' accounts.
OTC service for larger trades at a low 0.1% fee with no extra costs.
The only AUSTRAC-regulated and ISO certified cryptocurrency exchange in Australia.
Cons
Only accept fiat currency deposits and withdrawals for AUD.
Limited advanced trading options.
Lower deposit limits for accounts that are not fully verified.
CoinSpot Fees Explained
CoinSpot's fees are arguably lower than those of other Australian cryptocurrency exchanges, especially when you consider all the fantastic benefits CoinSpot offers to their users. 
The following are the most common types of CoinSpot fees that users should pay attention to.
Fees for CoinSpot Deposits
Deposits made through POLi, PayID, or Direct Deposit (via OSKO) are free of charge. Meanwhile, BPAY deposits will be subject to a 0.9% deposit fee (which is charged by the provider, not CoinSpot), and physical cash deposits at Blueshyft locations will be charged a 2.5% deposit fee. 
Transaction Fees on CoinSpot
CoinSpot offers a wide range of services for their users; as such, there are a few different transaction fees that you need to be aware of. However, CoinSpot is different from other exchanges in that they are very transparent about the fee structure.  There will be no hidden costs, and you will only pay one flat fee.
Market Trades: 0.1%– All market trades will be subject to a 0.1% fee. Market trades are peer-to-peer, where you set a price at which you want to buy or sell a cryptocurrency, and your order will be filled when another trader places an order at that same price. This means that you could be waiting anywhere from a few minutes to several days depending on the market price you enter. CoinSpot's market trade section features 15 popular options, including major coins, such as BTC, ETH, BNB, XRP, ADA and many others. It's worth mentioning that the CoinSpot fee of 0.1% is the lowest in Australia. 
The trading fee of CoinSpot vs Other Exchanges
Market: 0.1%

Instant buy/sell: 1%
Instant Buy/Sell: 1% fee – If you want to buy cryptocurrency instantly at the current market price, CoinSpot will process your purchase immediately.  Unlike market trades, with "Instant" purchasing, you don't have to worry about price fluctuations while waiting for your order to be filled.  You are able to purchase all 0+ coins available on CoinSpot instantly. This fee is actually very reasonable, as it allows you access to instant liquidity, giving you peace of mind that you won't potentially miss trades due to orders not being filled. 

Assume the BTC price falls to AUD$40,000, and you decide to buy the dip 1 BTC at this price. The issue is that no sellers are willing to sell 1 BTC at this price, so your order cannot be fulfilled. BTC recovers to $42,000 one minute later, but you don't have any BTC to sell. You have a $2,000 loss. However, if you use Instant buy/sell, you will only have to pay a $40 fee and will receive ($42,000 – $40,000) – 40 = $1,960 in return. This is an  example of how you can lose a large sum of money in seconds without easy access to liquidity. 
CoinSpot understands the importance of timing and can assist you in maximising your profits.  Instant buy/sell is the most popular trading option on their platform, as customers are willing to pay for ease of use and time saved. 
OTC Trades: 0.1% fee – Users who conduct high-volume transactions can make the most of CoinSpot's OTC (Over-The-Counter) Trading Desk, which provides instant liquidity, settlement into your account and Australia's lowest 0.1% fee. For transactions of AU$50,000 or more, this is usually the best option. This feature also includes the option to have a CoinSpot Account Manager execute trades on your behalf seven days a week. We highly recommend checking out this feature if you are making bigger trades. 
Advanced Trading Tools: 1% fee – CoinSpot is designed to cater to both newcomers and experienced traders. They provide multiple advanced tools such as Recurring Buy, Take Profit, Stop Loss and Limit Orders at a competitive 1% fee. 
Recurring Buy is your go-to option for customers who want to set an amount of crypto to buy regularly, as the system will automatically purchase crypto for you. This tool appeals to investors who prefer to set and forget their investments. Take Profit is another popular feature because it allows customers to set a price at which they want to sell, and then the CoinSpot system will sell for them even if they are not at their computer or phone. These trading tools will incur the 1% fee as they are instant buy/sell transactions set to trigger at your desired price. You can learn more about the other advanced trading tools here.
CoinSwap: 1% fee – The term "swapping" refers to buying and selling coins instantly from one coin to another. For instance, CoinSpot users may immediately "swap" their Bitcoin (BTC) for Ethereum (ETH) without the need to convert back to AUD. As users are able to swap any currency listed on CoinSpot, this allows for a more varied selection of unique trading pairings than available on other exchanges or platforms; this is one of many features that has helped CoinSpot maintain its position as an industry leader. Many traditional exchanges require users to execute two trades with restricted trading pairs and pay multiple fees. With CoinSpot's CoinSwap feature, you can easily achieve the same result with just one click and one trade, saving yourself time and extra fees. 
Free Services That CoinSpot Offers
Below is a list of services that Coinspot provides at no cost to all members.
Withdrawals in AUD are entirely free. CoinSpot doesn't charge a fee to withdraw AUD to your Australian Bank account, no matter how much you withdraw.
Setting up and maintaining your account is also free. There are no fees to hold your funds in your CoinSpot wallets. 
Other free services include Affiliate and Referral programs as well as EOFY Reports download. 
Trust us when we say you are getting the best deal by investing with CoinSpot!
Security

Ever since their launch in 2013, CoinSpot has never experienced any data breaches. They are the most secure crypto exchange in Australia, being the first and only platform to achieve the ISO 27001 certification – the highest industry standard for security systems. 
Most of the user data is stored in a secure offline location, while the stored online information is heavily encrypted.
CoinSpot also offers additional security features such as two-factor authentication, SSL encryption, and mandatory verification for all fiat currency customers. This is another crucial reason why we believe that CoinSpot fees are incredibly competitive compared to other Australian exchanges. Their security system is heavily fortified, allowing their users peace of mind. However, it is of utmost importance that users take the necessary steps in protecting their own accounts. . 
Two-Factor Authentication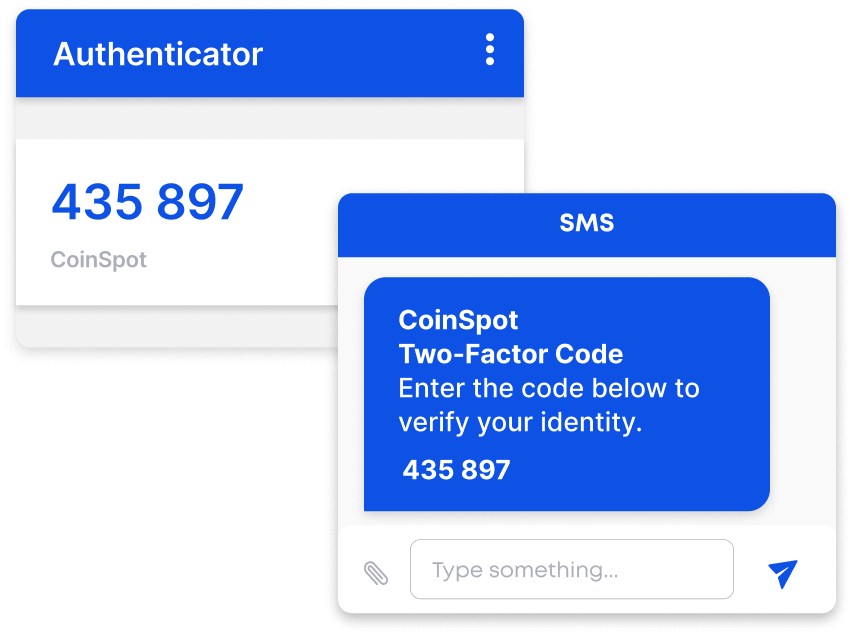 Two-factor authentication is a security measure that aims to prevent hackers from gaining access to your account, even when your password has been compromised. 
With Two-Factor Authentication or 2FA, you will generate a 6-digit code via an Authenticator Application, which you will need to enter each time you log into your account or attempt to send cryptocurrency from your account.
Because the codes are refreshed every 30 seconds, they are impossible to predict. Users will also be able to receive unique 2FA codes to their mobile phone.
Phone Verification Phrase
Coinspot's phone verification phrase allows users to enter any phrase they want. When conducting any security calls, you can use the phrase to confirm your identity. 
Session Timeout
This feature comes in handy when you want to prevent unauthorised access to your CoinSpot account. You can specify the period between when you log in, and the next time you expect to log in to CoinSpot. 
Session Timeout will keep unauthorised users from remaining logged in to your account. 
Anti-phishing Phrase
The goal of the anti-phishing phrase is to spot a fake or phishing website when you log in to your CoinSpot account. Users can choose any phrase they like, and it will show up every time you sign in via 2FA. 
CoinSpot treats the security of their users as their number 1 priority. By providing this anti-phishing phrase, they are helping their customers minimise the risks of interacting with fake websites that are trying to steal their data. 
Geo-lock Login
Users can restrict logins to Australia-based IP addresses only using Coinspot's geo-lock login features; this should reduce or eliminate the possibility of foreign hacking.
Number of Cryptocurrencies
CoinSpot supports over 380+ cryptocurrencies. Source: CoinSpot
CoinSpot undoubtedly has the most impressive selection of cryptocurrencies available in the Australian market. They are supporting over 380 coins, including all major tokens as well as emerging coins that are not available on smaller exchanges. CoinSpot is the best place if you are looking to purchase major coins such as BTC, ETH, ADA, XRP, and BNB and other alt coins.
CoinSpot is also well-known for frequently introducing new cryptocurrencies to their platform. Every month, they will add several new coins/tokens in response to the demand from their customers. Notably, before being added to the CoinSpot list, each coin/token will have to undergo a thorough examination to ensure that the exchange is free of fraudulent projects. 
As a CoinSpot user, you can always store cryptocurrency on your CoinSpot's online wallet and easily monitor it whenever you log in. The Wallets page on their website will show your wallet's balance, the current price, 24hr % change, and the approximate AUD value. This feature is handy for investors who want to stay updated on market movements.
Customer Service
CoinSpot's live chat support. Source: Coinculture
Trading with crypto can be tricky, especially if you are a newcomer. Hence, we believe that customer support is a critical factor that you should look into when you choose a crypto exchange. CoinSpot's support team is the best in the industry. First of all, they provide a Live Chat feature that allows you to get immediate help 24/7. We tested out the feature and were genuinely impressed by how fast it took them to reply to our questions. We were connected to a real agent in 1 minute, significantly faster than any other exchanges. 
While CoinSpot offers Live Chat 24/7, you can also send a message to their Help Desk, which is also open 24 hours a day, seven days a week. They will respond as soon as they are able to process your ticket, which is usually within 24 hours. Their support staff are passionate about helping you succeed as an investor, and you can rest assured that your trading experience is always on the top of their priority list. 
Aside from that, CoinSpot has a comprehensive information centre with tutorials for newcomers and a FAQ section to assist new investors in purchasing Bitcoin and other digital currencies.
CoinSpot's other outstanding serivces
NFT Marketplace
CoinSpot's NFT Marketplace is where you can easily get NFTs in Australia. Their NFT trading systems provide Australian investors with access to the best collections on OpenSea, including Azuki Zen, Bored Ape Yacht Club, Cool Cats NFT, Invisible Friends, and more.
Australian investors can purchase these NFTs using any listed token on the CoinSpot platform. For instance, you can buy BAYC or Azuki on CoinSpot using a non-Ethereum-based token like as Bitcoin, Cardano,  USDT, or any other currency. Unlike OpenSea, CoinSpot NFT platform can save you from exorbitant gas fees. 
The fees for purchasing the CoinSpot NFT bundle are significantly less than those for acquiring an NFT on OpenSea. You don't have to pay any CoinSpot fees for depositing Australian Dollars (AUD) via deposit methods such as PayID or Osko. The only charge to consider is a 1% flat fee for purchasing the NFT Bundle on CoinSpot.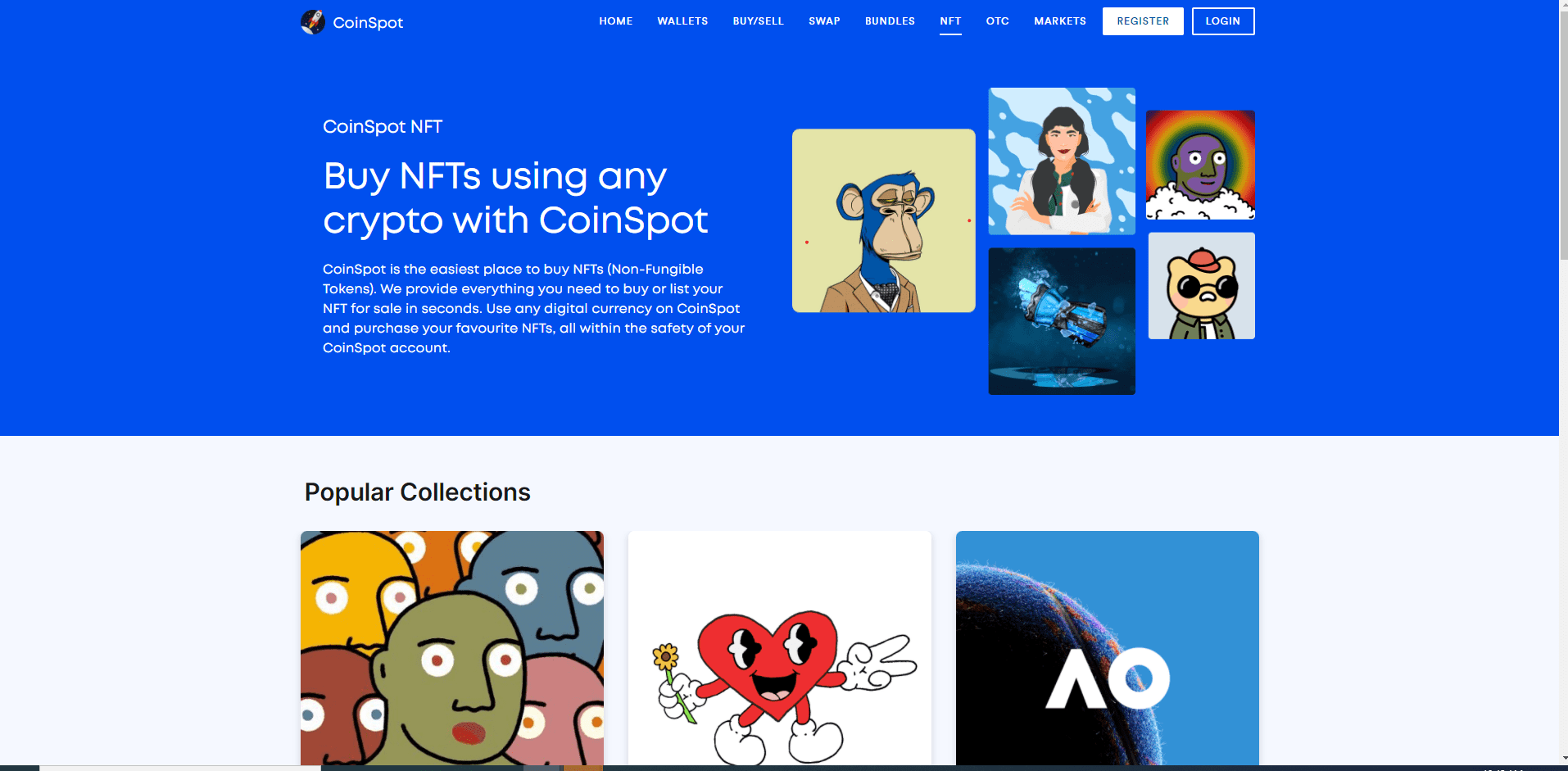 No Subscription Fees
CoinSpot does not charge any subscription fees to maintain your account. This means that you are free to use their bitcoin wallets, secure custody, and even stake digital assets.
Low OTC and SMSF Fees
OTC trading enables customers to purchase and sell more than $50,000 worth of any cryptocurrency with less slippage and lower fees. In line with their fee scheme, the CoinSpot OTC and SMSF fees are only 0.1%.
FAQs
How to withdraw money from CoinSpot?
If you want to withdraw your money (AUD) from CoinSpot, you need to navigate to 'Account', then 'Bank Details,' and then enter the account number where you would like your funds to be sent.
Does CoinSpot have a wallet?
CoinSpot does not currently have a desktop or mobile wallet, but you can store your cryptocurrency on their online wallet and access it anytime you login. However, it is never recommended to store large amounts of crypto on any cryptocurrency exchange. An offline/hardware wallet is among the safest solutions.
How long do CoinSpot withdrawals take?
Crypto withdrawals are processed instantly, but the time it takes for the funds to arrive at the recipient's address is determined by a variety of factors, including network congestion. This can result in a wait time ranging from a few minutes to several hours or more. If you make the money withdrawal before midday, your money will be in your bank account the next day.
How to send cryptocurrencies to external wallets?
The 'send' function on CoinSpot makes it exceedingly simple to transfer your coins to anybody in the globe. Once you have purchased your coins, click on Wallets from the top menu, then open the wallet from which you send the coins. Once you have opened the wallet, enter the quantity of coins you intend to transfer, then enter the address you wish to send to. Next, enter your 2FA code if you have it enabled, and click Send. You need to approve the transaction via an email that CoinSpot sends you — this is a security measure to guarantee that you are performing the transaction.
Has CoinSpot been hacked?
In these days when overseas exchanges are frequently hacked, it's reassuring to know that CoinSpot has never been hacked due to their stringent security standards.