Gemini is one of the few platforms accessible in the United States. This includes New York, which needs more presence of crypto exchanges. Gemini makes it simple to begin trading cryptocurrencies, but you should be aware of its limited assets and relatively high fees. So why are Gemini fees so high? Is Gemini available in all U.S. states? Can Gemini be trusted? Read this Gemini review to figure it out!
Gemini Overview
Legally known as Gemini Trust Company, LLC, Gemini is a crypto exchange providing individuals and institutions with trading and storage options. Gemini, founded in 2014 by Cameron and Tyler Winklevoss, claims to adhere to a "security-first" mentality and the belief that permission, not forgiveness, should be sought.
Pros
Available in all 50 states, including New York
Crypto-to-crypto trading supported for certain coins
Gemini Earn offers 7.4% APY on crypto holdings
Gemini Pay allows purchases using cryptocurrency
Cons
Fees are relatively high and complicated
Some popular coins aren't supported
Margin selling and short selling are unavailable
Limited and poorly-rated customer service
Supported Assets
At its launch, there was only one asset available, so Gemini was referred to as the Gemini Bitcoin exchange. Eventually, Ethereum was introduced as a supported second cryptocurrency network.
Gemini currently supports a smaller selection of cryptocurrencies than other main exchanges, with approximately 100 assets available. It's worth noting that some popular coins, such as Cardano, aren't available on Gemini.
There are currently 33 trading pairs on the exchange, including Bitcoin, Ethereum, Chainlink, Basic Attention Token, Orchid, Litecoin, Bitcoin Cash, Zcash, and Dai.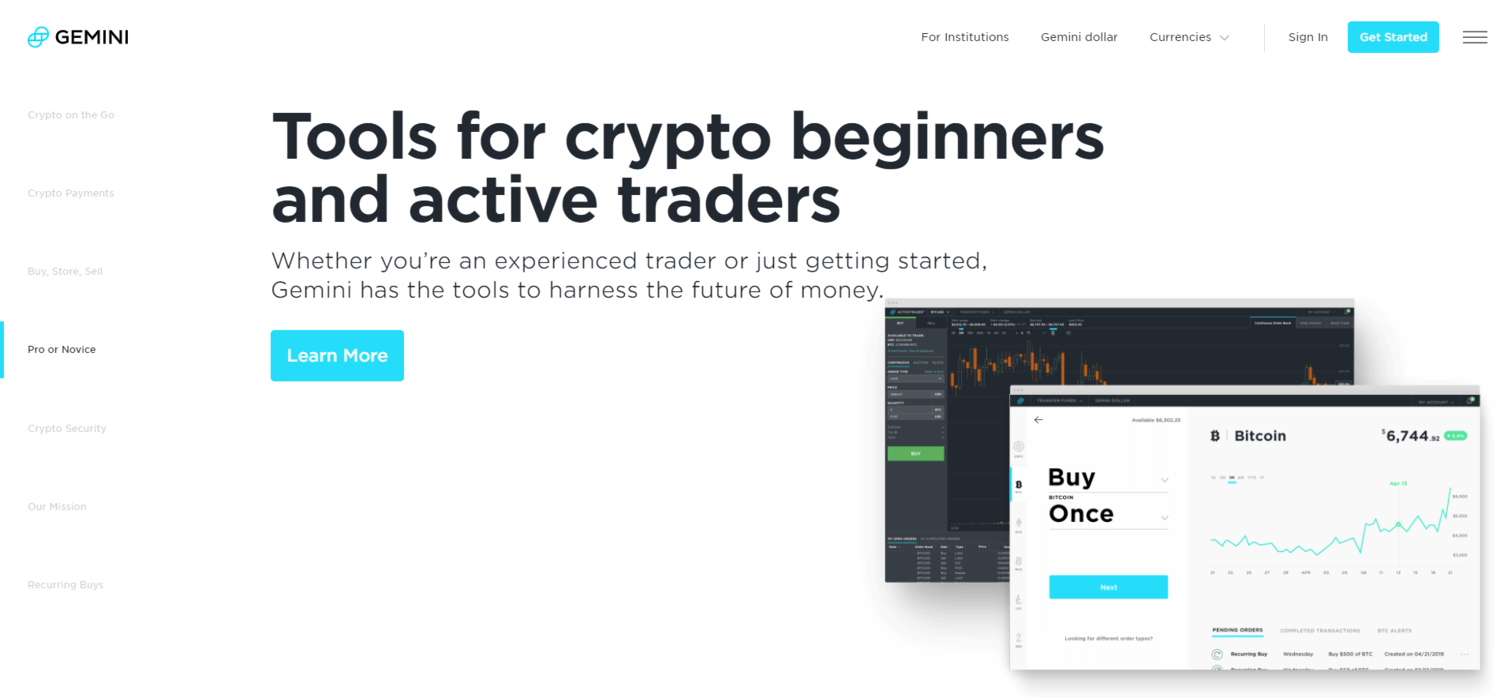 Gemini Fee Structures
Using a debit card incurs a 3.49% fee for fiat currency deposits. Withdrawals via ACH and wire transfer are free. Crypto deposits are free of transaction expenses. Withdrawals of cryptocurrencies are also free if you do not exceed your withdrawal limit.
Deposit & withdrawal fees
Transaction type

Fee

Deposit funds

Crypto deposit: Free

Bank transfer (ACH): Free, but bank fees may apply

Wire Transfer: Decided by your bank

Debit Card: 3.49% + trading fees

Paypal: 2.50% of total deposit amount + trading fees

Withdraw funds

Crypto: Free (for maximum 10 withdrawals per month)

Others: Free (for maximum 10 withdrawals per month)
Funds sent by wire transfer before 3 p.m. ET arrive at your account the same or the following business day, depending on the bank. Bank Transfer (ACH) deposits are made promptly available for trading.
However, they are not entirely deposited into your Gemini account and can only be withdrawn after four to five business days have passed. The processing periods for cryptocurrency deposits and withdrawals depend on network congestion.
Gemini's trading fees are complex. In addition to various fees for using the mobile app and the desktop site, an ActiveTrader configuration can be enabled. Activating ActiveTrader reduces fees to 0%–0.25% for makers and 0%–0.35% for takers, as opposed to the predetermined quantities. The only method to use ActiveTrader on a mobile device is to access the exchange via a web browser with the appropriate configuration enabled. 
Gemini trading fees
| | | |
| --- | --- | --- |
| 30-day trading volume in u.s.dollars | Taker fee | Maker fee |
| Under $10,000 | 0.40% | 0.20% |
| $10,000 to $50,000 | 0.30% | 0.10% |
| $50,000 to $100,000 | 0.25% | 0.10% |
| $100,000 to $1,000,000 | 0.20% | 0.08% |
| $1,000,000 to $5,000,000 | 0.15% | 0.05% |
| $5,000,000 to $10,000,000 | 0.10% | 0.03% |
| $10,000,000 to $50,000,000 | 0.08% | 0.02% |
| $50,000,000 to $100,000,000 | 0.05% | 0.00% |
| $100,000,000 to $500,000,000 | 0.04% | 0.00% |
| $500,000,000 or more | 0.03% | 0.00% |
Staking & Rewards
Gemini Earn allows you to receive up to an annual percentage yield (APY) of 8.05% on a portion of your crypto holdings. However, in November of 2022, the company announced it had to postpone withdrawals from this program after the demise of rival exchange FTX. (Gemini stated that the platform's other assets are secure.)
Some centralised businesses, such as exchanges, have been accused of offering unregistered securities in connection with their staking programs, which have come under regulatory scrutiny. In this fast-paced industry, a company's outlook can change rapidly, so it is possible for an exchange to discontinue its program and unstake your tokens without your consent or knowledge.
Gemini Pay
This feature enables purchases using crypto at approximately 30,000 US retailers. The Gemini mobile app allows users to make these purchases quickly and safely.  On the Gemini website, click the play button at the bottom of the screen. After selecting the items you wish to buy, you can proceed to the checkout page.
Gemini Mobile App
Gemini provides a mobile application version of its web platform, downloadable on iOS and Android devices. The Gemini app on the Apple App Store has received 4.8 stars out of 93K ratings. It has a rating of 4.5 stars on the Google Play Store based on 45K reviews. Most reviews praise the user-friendly interface of the Gemini mobile app.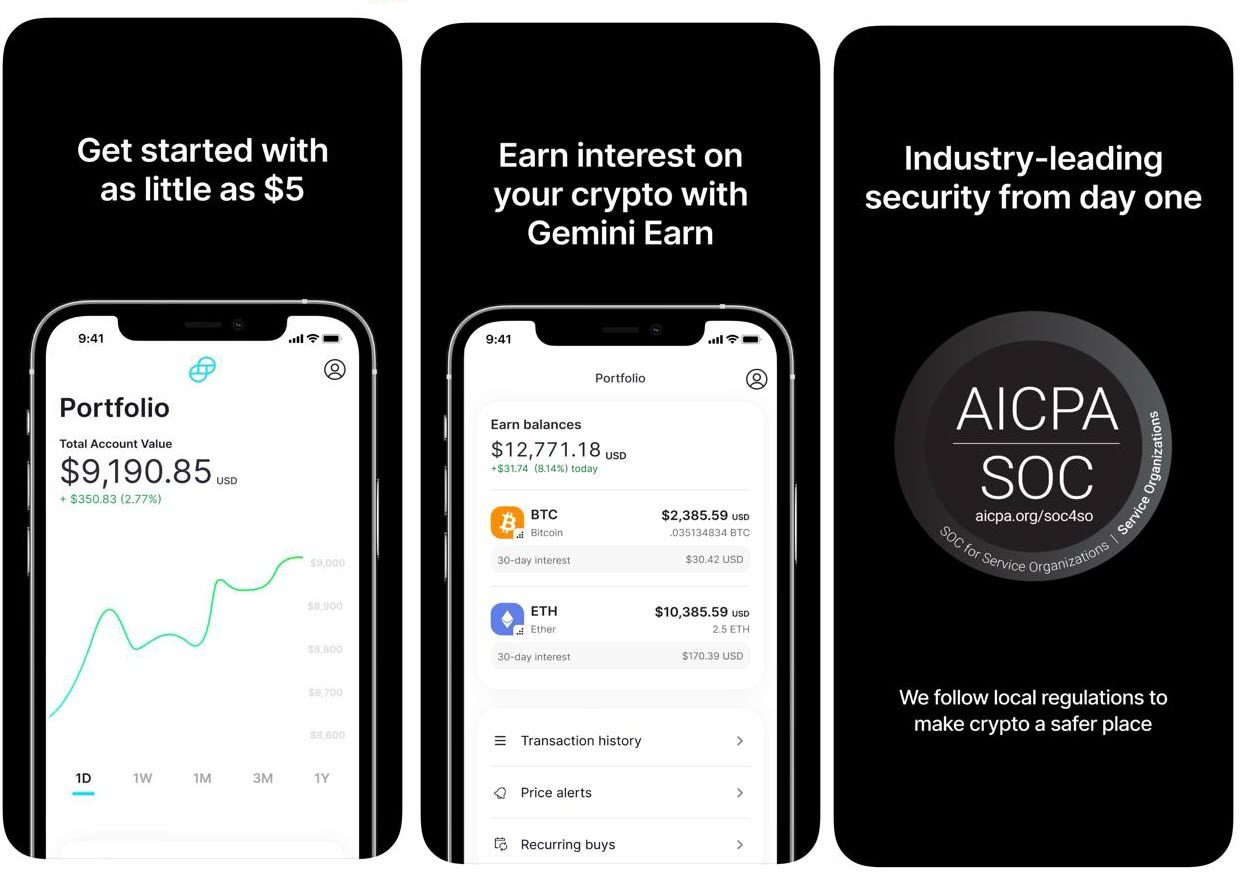 You can monitor dozens of currencies, execute transactions, and even set price alerts through the app. However, you must use a desktop or mobile browser to achieve the same professional experience as Gemini's ActiveTrader platform.
Crypto Credit Card
The Gemini Crypto card is a revolutionary new crypto credit card that enables the seamless interchange of fiat currency for digital currencies such as Bitcoin and Ethereum. With the Gemini Crypto Card, you can acquire your preferred digital currencies from any merchant accepting credit card payments.
The Gemini Crypto Card makes it simple to pay with crypto anywhere and anytime. In addition, the Gemini Crypto Card's advanced security features help you safeguard your funds against fraud and theft. It has variable APRs of 16.74% to 28.74% for purchases, 29.74% for cash advances, and 33.74% for penalties.
Gemini Dollar (GUSD)
Gemini Trust Company technically issues Gemini Dollar (GUSD) as an ERC-20 token on the Ethereum blockchain. This stablecoin enables using U.S. dollars in Ethereum smart contracts and decentralised applications. It also enables users to send US dollar-denominated payments in a manner analogous to how Ether is sent on the Ethereum network.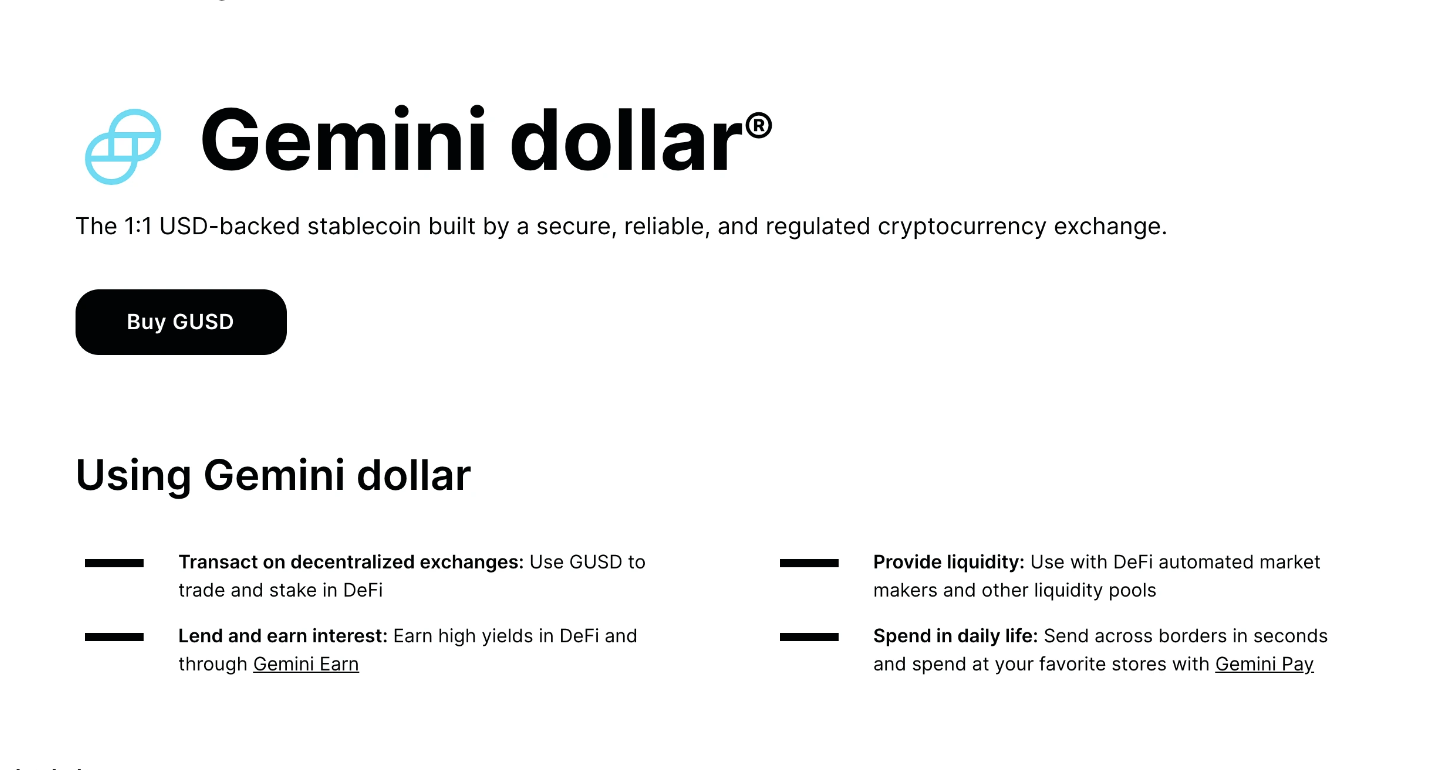 The GUSD stablecoin lacks the same degree of opaqueness as other stablecoin offerings. However, stablecoins are vastly distinct from cryptocurrencies such as Bitcoin. With Bitcoin, there is no collateral risk associated with the custody and transmission of funds, while a stablecoin like GUSD still has a centralised point of failure in the form of the issuer, who is also an obvious target for regulators.
Gemini Wallet
Gemini Wallet lets you store cryptocurrency credentials on an underwriter-insured online storage system. Gemini may therefore reimburse users if a security breach or attack, fraudulent transfer, or employee theft occurs.
This distinguishes Gemini Wallet from other popular wallets on the market, such as Coinbase Wallet, by providing a higher level of security. Gemini Wallet is unquestionably one of the secure online wallets, although investors with large quantities of cryptocurrency may prefer to store their keys offline.
Safety & Security
Is Gemini safe? Yes, Gemini's exchange is secure. The platform stores the preponderance of cryptocurrencies in its offline cold storage system. Since cold storage servers are not connected to the internet, they cannot be hacked.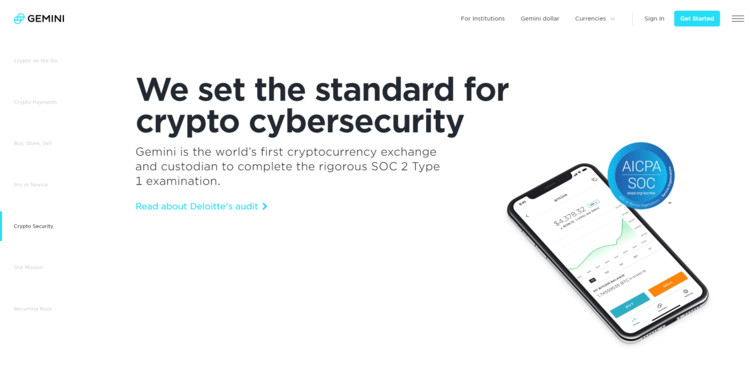 Gemini stores a tiny amount of cryptocurrency in an online hot wallet, which is also insured. As they are held online, the cryptocurrencies stored in the hot wallet are promptly accessible. The assets of Hot Wallet are covered against losses resulting from security breaches, fraudulent bank transfers, employee embezzlement, etc.  
Two-factor authentication (2FA) provides security for the Gemini account. Customers must authenticate when logging into their accounts and withdrawing cryptocurrency. Gemini supports web authentication with hardware security credentials. Certain operations are limited to prevent attacks. The platform employs encryption to protect sensitive data. 
Gemini platform is an authorised New York trust company with a reputation for its security. The New York Department of Financial Services conducts cyber security audits regularly. It is the first cryptocurrency exchange to be certified SOC 1 Type 2 and SOC 2 Type 2. Additionally, Gemini Exchange obtained ISO 27001 certification.
Customer Support
Customers can communicate with Gemini's support personnel through two distinct channels.
By message. Fill out a request form on the Gemini website to send a message to the company's customer service department. Please include the email address associated with your Gemini account so that we may respond to your inquiry as promptly and completely as feasible.
Via telephone. Dial the number and speak with a representative from Gemini.
Although Gemini's platform is user-friendly, consumer feedback has been negative. The exchange has only a 1.1-star rating out of 849 reviews on Trustpilot. Users report issues with inactive accounts, cumbersome verification processes, subpar customer support, and the inability to redeem earnings from the now-suspended Genesis Premier earn program. 
The Better Business Bureau has assigned Gemini a grade of F. The BBB's grades range from A+ to F, and according to its website, Gemini has received an "F" due to numerous unresolved consumer complaints. There have been 1,183 complaints against Gemini, most of which were filed after January 2021 and alleged that Gemini account holders could not access their assets.
Educational Resources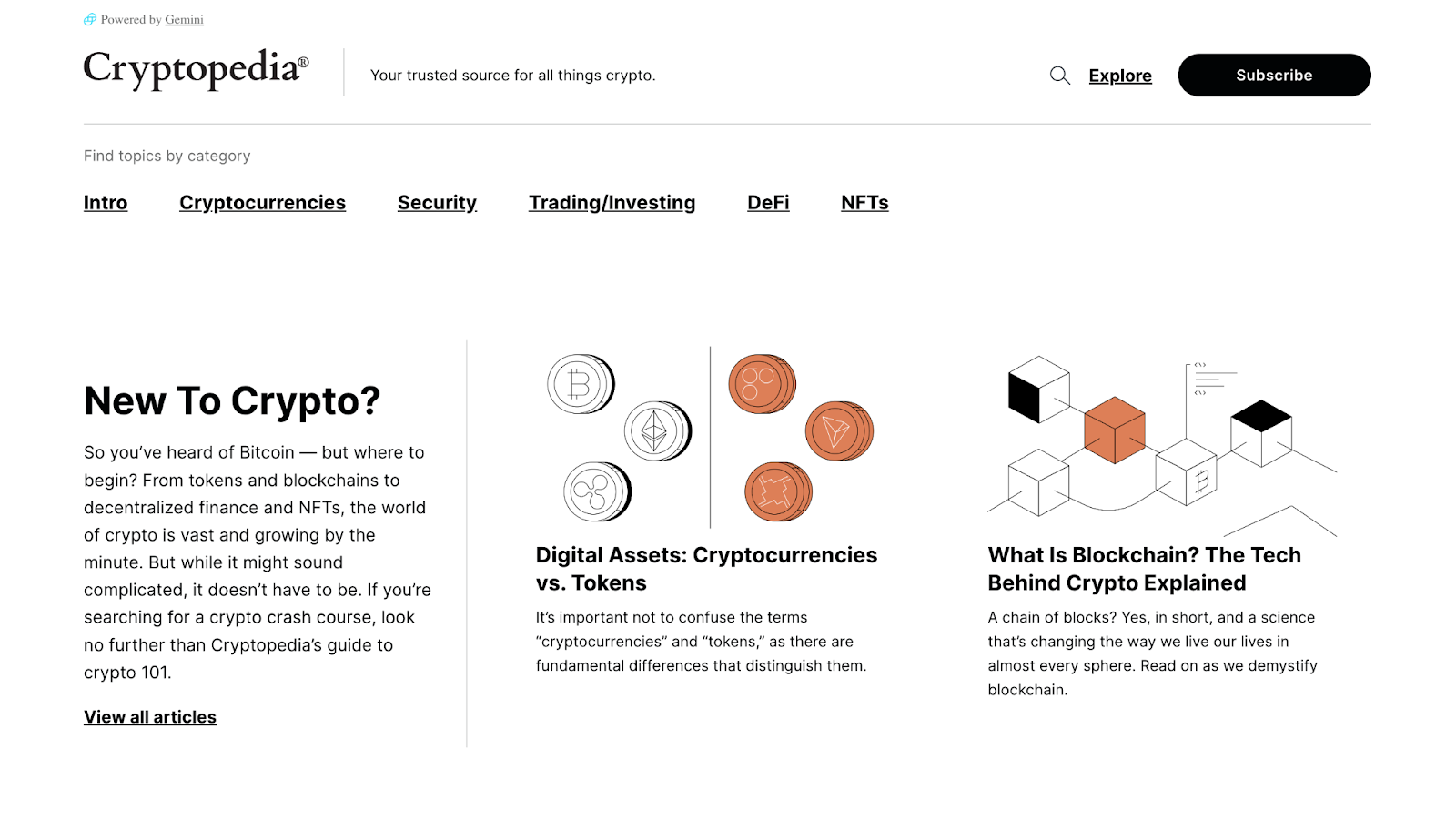 Gemini also stands out for its online educational resources. You can find answers to fundamental problems commonly faced by novice and experienced cryptocurrency traders on its support site. You can also refer to Cryptopedia, Gemini's cryptocurrency education website. Cryptopedia has a wealth of information regarding cryptocurrency trading and security, the decentralised finance ecosystem, and even NFTs. 
FAQs
Does Mark Zuckerberg own Gemini?
Mark Zuckerberg is not the owner of Gemini. The fact that the Winklevoss Twins founded the Gemini exchange may contribute to its ownership ambiguity. In the early days of Facebook, they sued Zuckerberg for allegedly stealing their concept for a similar website. Notably, Zuckerberg is working on his digital currency initiative, Libra, which would operate very differently than Bitcoin.
Why are Gemini fees so high?
Gemini's fees are comparable to those of other exchanges on the market, such as Coinbase, Kraken, and CEX.io. Gemini has the best trading fees for retail customers, which is unsurprising given that the Winklevoss twins have been marketing the exchange to large institutions. Zero-fee crypto trading by CFD brokers is, if anything, the exception. Rather than trading fees, these brokers frequently charge a modest buy-and-sell spread.
Does Gemini have a cold storage wallet?
Non-custodial cold storage is not available on Gemini. While client funds are offline, users do not have complete control over their assets. Cold storage requires private key management. However, you may use Gemini as a trading platform and then move your cash to a Trezor or Ledger wallet when not trading. If you're comfortable, it's best to manage your private keys using a cold storage solution.
Is Gemini available in all U.S. states?
Gemini is accessible in 50 U.S. states. The exchange works with the New York Department of Financial Services, which has tight cryptocurrency rules, so New Yorkers may use it. Gemini is also available in Hawaii, which can be restrictive regarding cryptocurrency exchanges.
Can Gemini be trusted?
Gemini has been in operation since 2015. However, Gemini is not accredited by the Better Business Bureau and has received an F grade due to numerous issues, including a pattern of complaints and customer service issues. The SEC filed a complaint against Gemini and its primary lending partner, Genesis, for offering and selling unregistered crypto asset securities via Gemini Earn..
Final Thoughts
Despite its prohibitively expensive fees and questionable safety, Gemini is a popular cryptocurrency exchange for U.S. residents. We recommend using CoinSpot, a global multi-asset investing platform with over 380 assets supported if you wish to invest in cryptocurrencies.