On Thursday, Ether (ETH) surged above $2,000 following Ethereum's successful completion of the highly anticipated upgrade. The world's second-largest cryptocurrency by market capitalisation has increased over 5% in the last 24 hours, trading at $2,015. 
This upgrade, known as the Shapella upgrade or the Ethereum Shanghai hard fork, marks another step in the network's transition from a proof-of-work (PoW) to a more energy-efficient proof-of-stake (PoS) consensus mechanism. Some analysts predicted that ETH's price would decline due to selling pressure, while others anticipated little impact or even a price increase.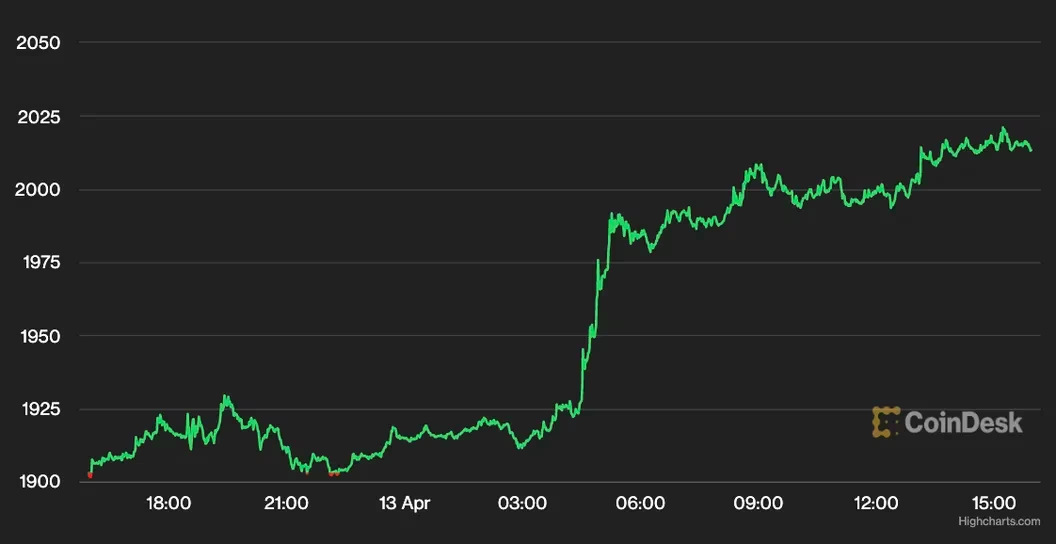 However, Diogo Monica, President and Co-Founder of Anchorage Digital, believes investors will be more confident in locking in ETH, leading to decreased supply, and demand will increase with every successful Ethereum network upgrade. As a result, the price is unlikely to drop massively. 
Monica also stated that institutional investors would remain on the sidelines and refrain from staking for the time being, but the exit queue's behaviour in the coming weeks and the subsequent potential move of EIP-4844 are currently on their minds. The performance of ETH around the Shanghai fork will depend more on risk appetite than technical analysis, according to a report from Coinbase Research before the upgrade.
Elsewhere in markets
Bitcoin (BTC) experienced a 1.8% increase in value, reaching around $30,375 on Thursday afternoon. According to Mike Belshe, CEO of BitGo, the question for institutional investors has been whether BTC is an uncorrelated asset. 
Belshe noted that recent market events have demonstrated that BTC is uncorrelated, particularly when the Federal Reserve stops manipulating markets with an infinite money supply. Despite regulatory challenges, institutional adoption of BTC is expected to accelerate. The CoinDesk Market Index rose 3% for the day.
Several digital assets have been rallying, including liquid staking derivatives' token prices, such as Lido DAO's LDO, Rocket Pool's RPL, and Stader's S.D., which have all experienced significant increases in value. ARB, the Arbitrum Ethereum scaling system token, has risen 15% over the last 24 hours to approximately $1.37.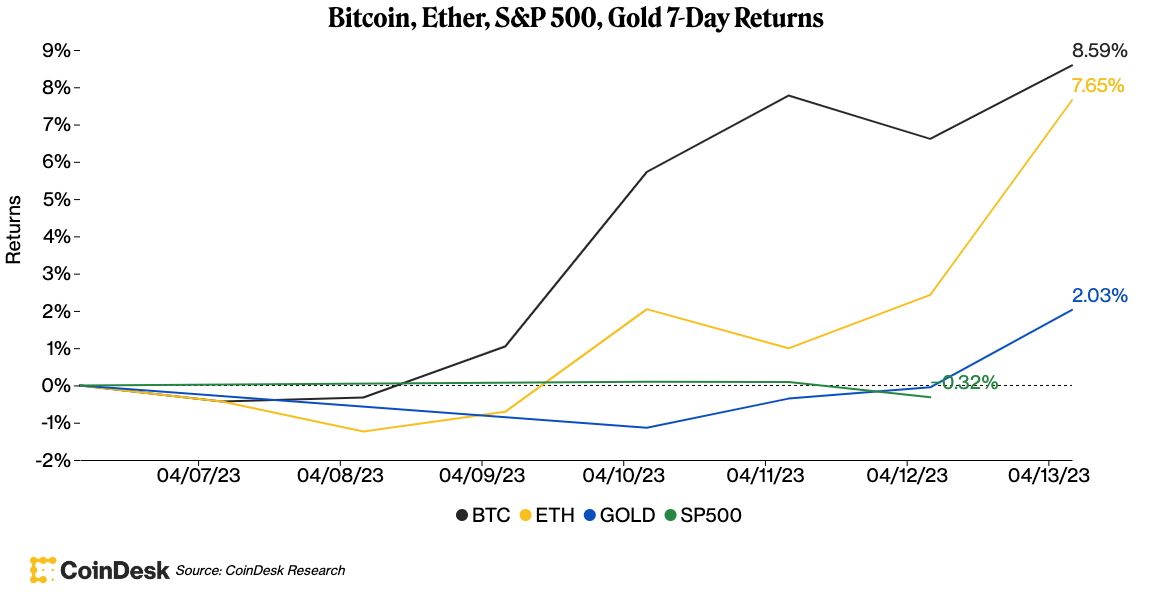 The CoinDesk Market Index has risen 3% for the day. Equities have also risen, with the S&P 500 and the tech-heavy Nasdaq increasing by 1.2% and 1.9%, respectively. The Dow Jones Industrial Average (DJIA) increased by 1%. Gold rose above $2,050, approaching its record high, as investors prefer assets that retain their value. 
According to the CME FedWatch tool, 66% of traders anticipate the U.S. Federal Reserve raising interest rates by 25 basis points at the next Federal Open Market Committee (FOMC) meeting on May 3.