CommSec and SelfWealth are among the best share trading platforms in Australia, highly reputed for competitive trading fees, asset offerings, and trading resources. However, when compared against SelfWealth, CommSec is the superior one. CommSec boasts a broader spectrum of assets and more favourable overall fees. Its association with Australia's largest bank further bolsters its credibility and security.
SelfWealth vs. CommSec Overview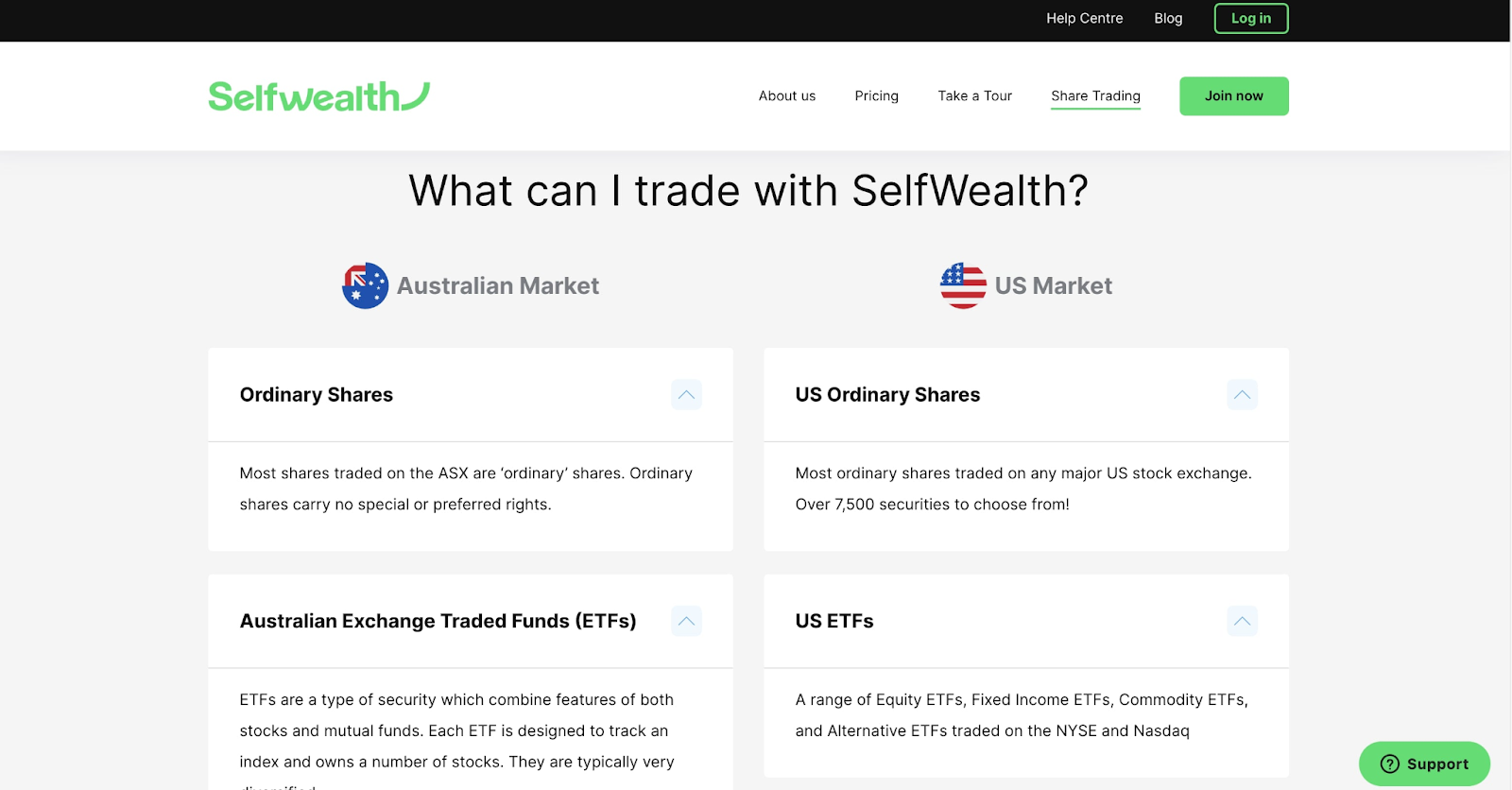 Founded in 2012, SelfWealth prides itself on its ownership and operation in Australia. Known for its straightforward fee system for Australian, US, and Hong Kong shares, SelfWealth is actively shaping its market identity beyond that of a conventional share broker. It aspires to become a one-stop online investment place, providing online tools and markets for investors.
Pros
A wide range of US & ASX Markets
User-friendly iOS/Android mobile app
Low trading fee brokerage in Australia
Secure platform regulated by AUSTRAC
Cons
Doesn't offer cryptocurrencies
Selfwealth Premium account is not free
Limited to Australia, Hong Kong, and the US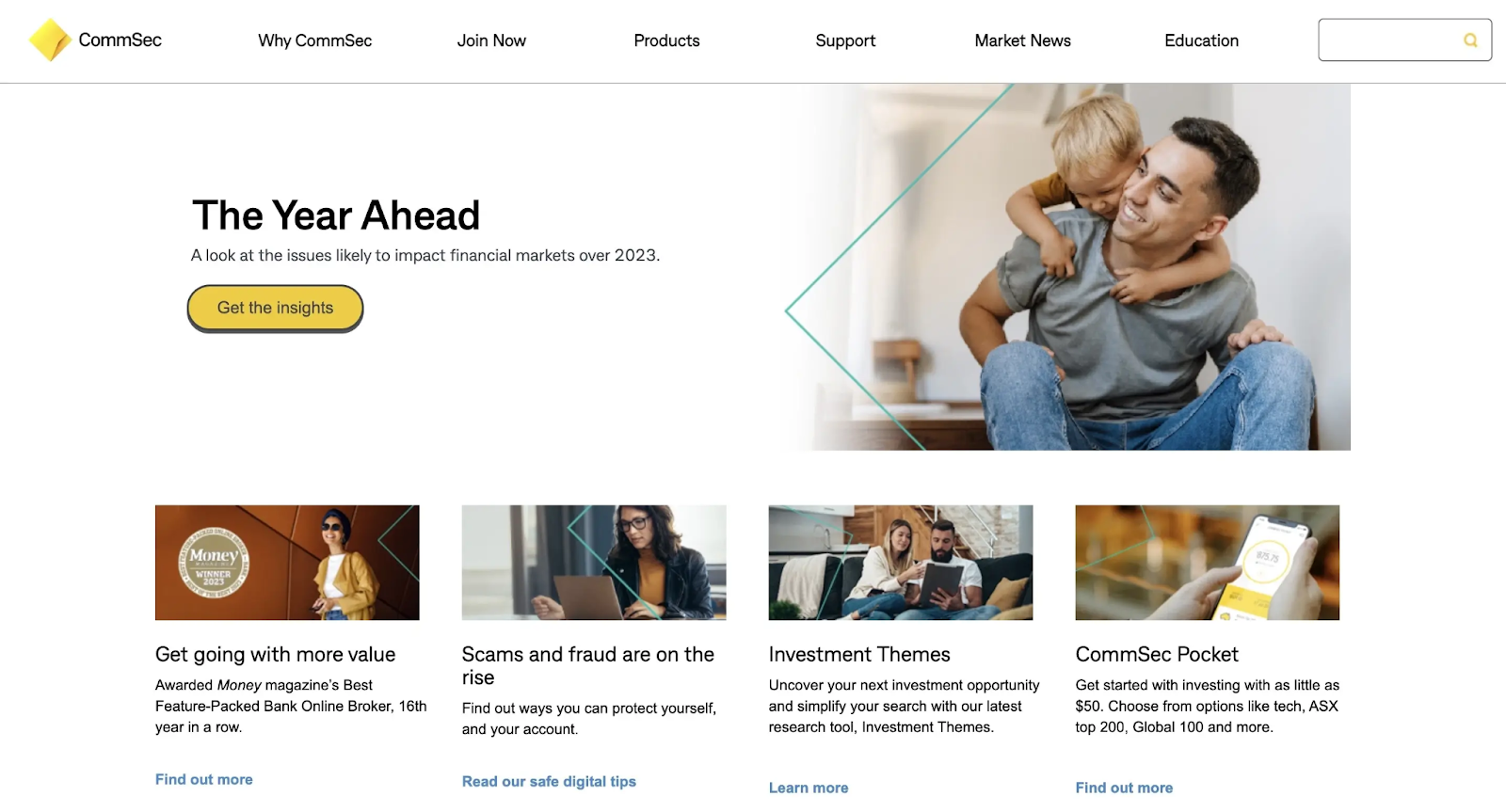 Introduced in 1995, CommSec is one of Australia's best share trading platforms for individual investors. As one of the nation's premier and recognisable online brokerage platforms, it supports trading in domestic and international shares and provides options for Exchange Traded Funds (ETFs) and Self Managed Super Fund (SMSF) accounts.
Pros
An automated interface, ideal for beginners
Lower entry barrier with just $50
A flat fee of $0.20 for trades under $1,000
Abundant educational resources
Great support and customer service
Cons
It can't be used for direct stock investments like IPOs.
Withdrawal process may be sluggish
It only supports seven specialised ETFs.
WebIRESS charting isn't free
SelfWealth vs. CommSec: Key Features
Catering to a diverse array of investors, SelfWealth and CommSec offer users a spectrum of features and advantages. Below is an overview of their key features.
SelfWealth Features
User-Friendly Interface:

SelfWealth features an intuitive online interface designed to accommodate even novice investors. The platform equips users with a comprehensive toolkit and essential information for well-informed investment choices.

CHESS-Sponsored Shares:

All Australian shares procured via SelfWealth are CHESS-sponsored, ensuring secure ownership directly by the investor and avoiding custody-related entanglements.

Versatile Order Options:

Investors and traders can flexibly place purchase orders at specific prices and set a "good until end date." This feature enhances hassle-free trade execution once the market aligns with the desired buy price, alleviating the need for constant price monitoring and mitigating the stress of achieving favourable execution prices.

Insights & Benchmarking Tools:

SelfWealth Premium members can create target portfolios based on strategies employed by top investors. The brokerage platform enables anonymous monitoring of other members' portfolio performances, offering a valuable learning opportunity.

Tailored Assistance:

SelfWealth extends personalised support to all clients, irrespective of their investment experience. This includes individual consultations, educational materials, and more.
CommSec Features
Intuitive User Interface:

CommSec boasts a user-friendly interface that simplifies online stock trading, catering to seasoned traders and newcomers alike.

Robust Trading Tools:

CommSec has various trading tools, including advanced charting, customisable watchlists, real-time prices, comprehensive research data, portfolio evaluations, margin and trading utilities, and stock recommendations.

ASX CHESS-Sponsored Shares:

CommSec automatically confers CHESS sponsorship to newly established share trading accounts. Operating under the Clearing House Electronic Subregister System (CHESS), it empowers account holders with a unique HIN, fostering direct share ownership.

Educational Resources:

CommSec enriches the knowledge base of investors with an assortment of resources, spanning webinars, tutorials, and more, offering insights into market dynamics and trading strategies.

24/7 Customer Support:

CommSec stands out for its 24/7 customer support accessibility via phone, email, and live chat, ensuring assistance is available whenever needed.
SelfWealth vs. CommSec Markets
When evaluating trading platforms, such as SelfWealth and CommSec, you need to consider the range of markets they provide access to. Both platforms offer diverse opportunities, each with its advantages.
SelfWealth's Markets
Australian Shares:

Referred to as "ordinary shares," are stocks traded on the ASX, allowing investors to engage in local market activities.

US Shares:

Investors can explore the United States stock market, trading shares listed on US exchanges via SelfWealth.

Australian-Listed Property Shares:

Through Australian real estate investment trusts (A-REITs), investors can gain exposure to property assets, enhancing portfolio diversification.

Australian-Listed Investment Company Shares (LICs)

: LICs grant traders access to a diversified range of underlying shares listed on the ASX, streamlining trading within a single transaction.

Australian-Listed Debt Securities

: These securities provide a fixed income return at a specific interest rate, serving as a reliable avenue for investors seeking stable returns.

Australian Exchange Traded Funds (ETFs)

: Similar to LICs, ETFs offer a convenient way to track the performance of various stocks through a single trade.
CommSec's Markets
Australian Shares

: CommSec enables trading shares from domestic companies listed on the ASX, allowing investors to engage in the local market.

International Shares

: Through an international account, investors can tap into the global landscape, trading shares listed on prominent international exchanges such as NYSE, NASDAQ, LSE, and TYO.

Options Trading

: CommSec facilitates trading Australian exchange traded options, offering a dynamic element to traders' portfolios through margin accounts.

ETFs

: CommSec users can easily buy and sell a variety of listed funds, including ETFs and other exchange-traded products available on the ASX.
SelfWealth vs. CommSec Fees
Both SelfWealth and CommSec have distinct fee structures that can significantly impact an investor's bottom line. Let's delve into the fee comparisons for each platform.
SelfWealth Fees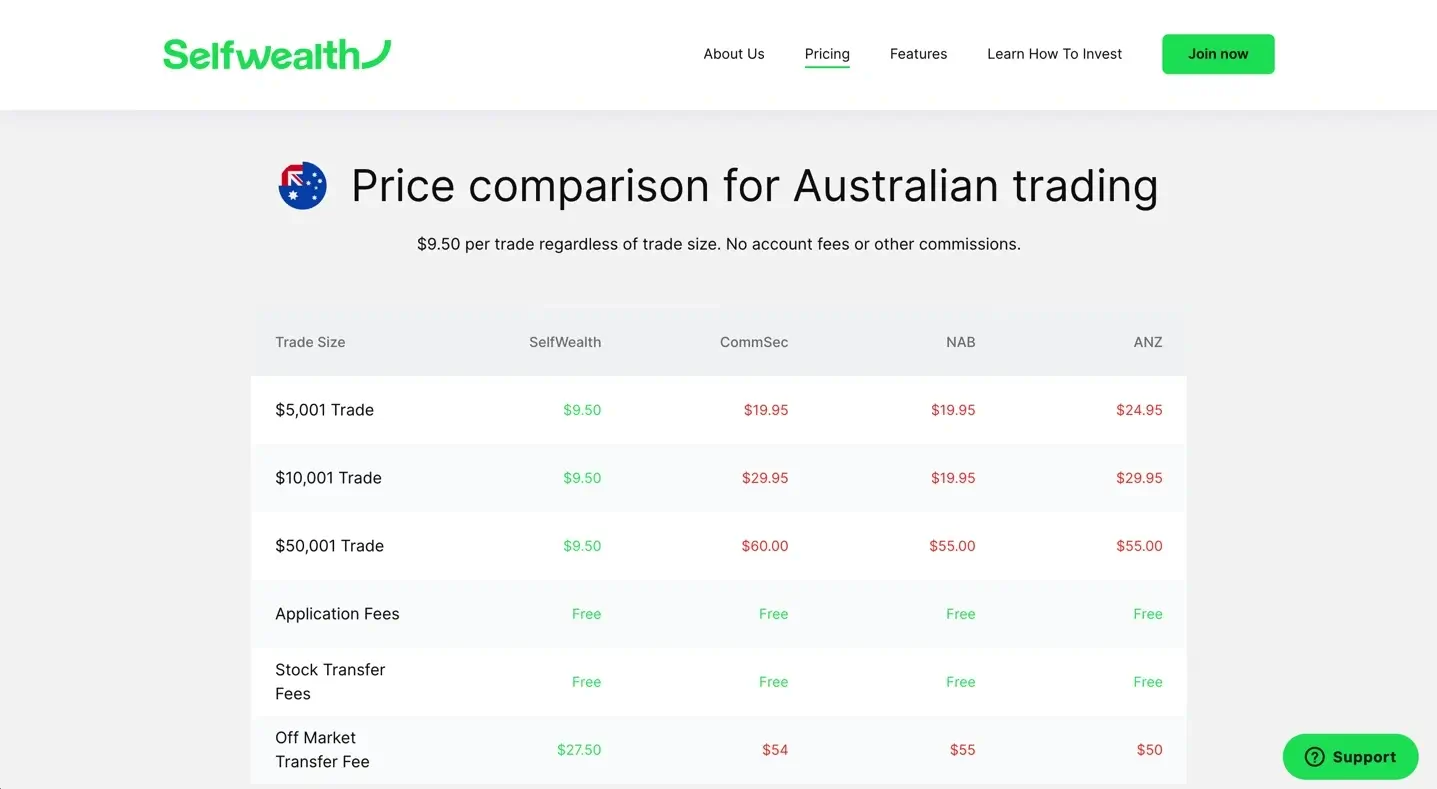 SelfWealth takes pride in its straightforward fee system that offers cost-effective brokerage rates:
Brokerage Fees

: SelfWealth's flat brokerage fee is $9.50 per trade, regardless of the trade volume. Whether you're trading shares worth $500 or $50,000, the fee is the same for Australian and US stocks. For Hong Kong shares, it charges a flat fee of $88 per trade and a $50 FX transfer fee for trades of $1,000.

SelfWealth Premium

: Access to the SelfWealth community, which allows mirroring top investors' strategies, comes through a premium subscription. The initial 90 days are free, followed by a $29 monthly fee or an annual subscription of $240.
CommSec Fees
CommSec offers a more complex fee structure with variations based on trading amount, settlement method, and market:
Brokerage Fees

: The brokerage fees at CommSec are tiered based on trading amount and settlement methods:
Trades through a CDIA cash settlement account:

Ranging from $5 for trades up to $1,000 to 0.12% for trades over $25,000.

Trades through a non-CDIA cash settlement account:

Starting at $29.95 for trades up to $10,000 and increasing to 0.31% for trades over $10,000.

International equities:

Fees vary based on the country where the shares are listed. For example, US shares start from US$5.00, and shares on the London Stock Exchange entail GBP£12.00.

Phone fees:

Brokerage fees for phone-settled trades can be much higher, reaching $59.95 for transactions up to $10,000.
Ongoing Account Fees

: CommSec does not charge monthly account-keeping or inactivity fees for Australian accounts, providing flexibility for users.
SelfWealth vs. CommSec Mobile App
Both SelfWealth and CommSec provide options for investors to manage their portfolios on the go. Here's a detailed comparison of their respective mobile applications:
SelfWealth Mobile App
SelfWealth offers a mobile app for download on iOS and Android devices. Like its parent platform, the app embodies an intuitive and user-friendly interface. It also provides a comprehensive stock research tool, safeguarding well-informed decisions and simplifying the task of keeping a vigilant watch over one's portfolio.
Until now, the SelfWealth mobile app ranks #175 within the Finance category. However, it has garnered a rating of 2.2 stars based on 400 reviews on the Apple app store.
CommSec Mobile App
CommSec has a mobile trading app called CommSec Pocket to support clients with seamless trading while on the move. The app enjoys a notable standing in the Apple app store, securing the #30 position within the Finance category. Impressively, it boasts a solid rating of 4.4 stars and over 4.5K reviews. The app maintains a rating of 3.2 stars from around 2.7K reviews on the Google Play store.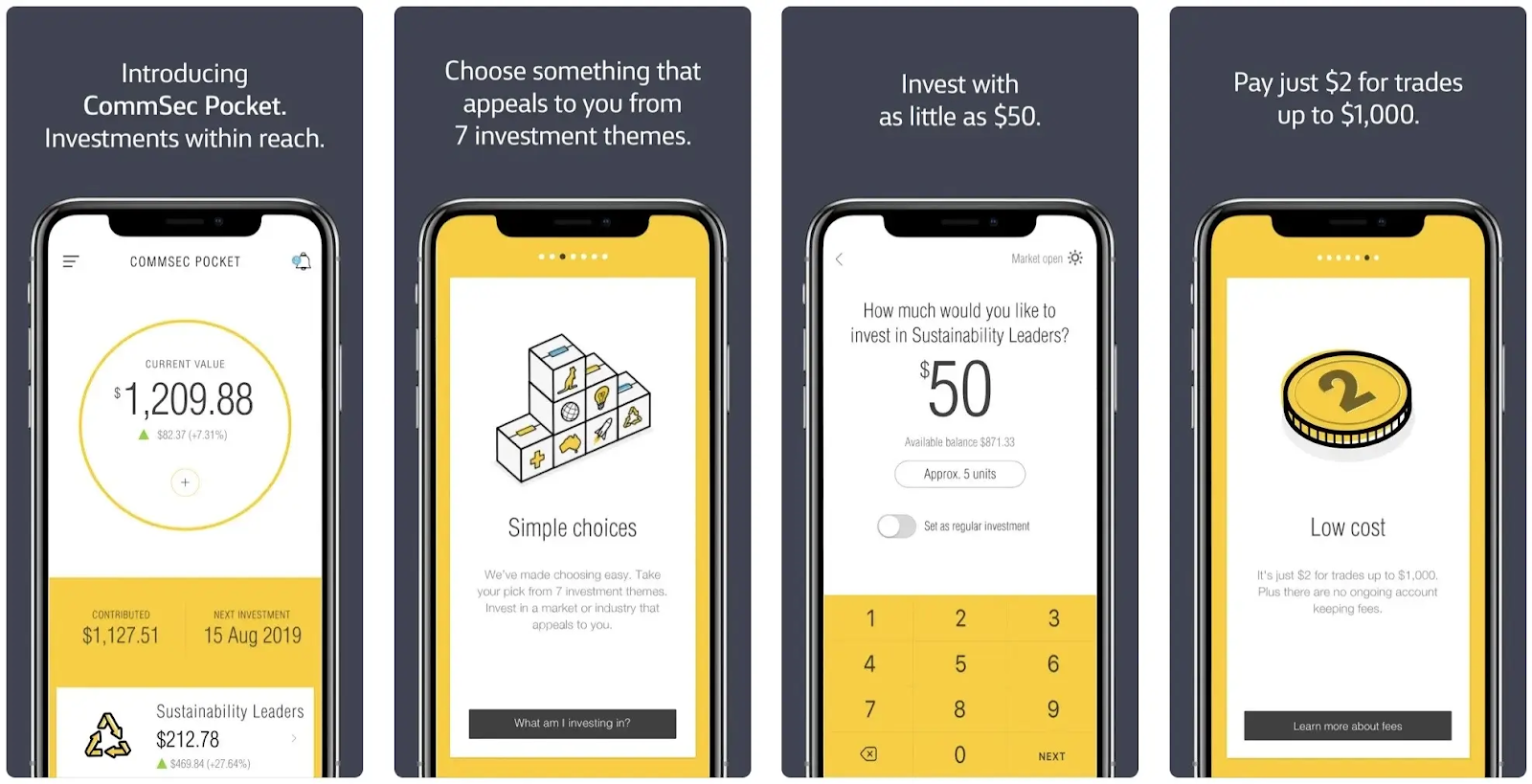 CommSec generally takes the lead with a higher ranking, particularly in the Apple app store's Finance category. The substantial 4.4-star rating on the Apple app store underscores the app's user-friendliness and effectiveness. By contrast, SelfWealth's lower ranking and rating suggest room for improvement in user experience.
SelfWealth vs. CommSec Security
SelfWealth and CommSec prioritise safeguarding their users' sensitive information. Let's delve into the security measures employed by each platform:
SelfWealth Security
Security holds paramount importance for SelfWealth, resulting in the adoption of robust protective strategies:
Information Safeguarding

: SelfWealth shows an unwavering commitment to the security of personal and financial information. Leveraging industry-leading standards, the platform uses Amazon Web Services for hosting, meticulously aligning its app design with Amazon Virtual Private Cloud User Guide recommendations for internet-facing applications.

Account Access Security

: SelfWealth implements a stringent two-factor authentication process fortified by 256-bit SSL encryption. It maintains vigilant monitoring of account activities and proactively alerts users about any irregularities.
CommSec Security
CommSec, while not an unequivocal subsidiary of the Commonwealth Bank of Australia, adheres to stringent security protocols:
Operational Integrity

: CommSec maintains the stature of a market member within the Australian Stock Exchange (ASX) and Cboe AU. The platform operates strictly with Australia's privacy regulations, solidifying its credibility.

Multi-Layered Security

: CommSec's multi-layered security measures include password protection, security questions, I-PIN authentication on registered mobile numbers, and more. These robust protocols bolster the security of trading and linked bank accounts.

Credibility and Scale

: Being a part of the Commonwealth Bank of Australia, CommSec benefits from its reputation as Australia's largest and most secure banking institution. This factor inherently contributes to CommSec's credibility in terms of security.
While both prioritise security, CommSec has a more multifaceted security framework. CommSec's affiliation with a leading banking institution contributes to its credibility and overall security stance. Together with the multi-layered security in their accounts, this factor provides users with a robust safeguarding environment.
SelfWealth vs. CommSec Customer Support
Both SelfWealth and CommSec offer assistance to their users, although their approaches and effectiveness differ. Let's delve into a detailed comparison of their customer support services:
SelfWealth Customer Support
SelfWealth's customer support is primarily conducted through email and live chat. However, there are certain limitations and delays. Users have reported a delay of up to 4 business days to receive a response to simple queries via email, which can be frustrating for those seeking prompt assistance.
SelfWealth's preference for traditional paper-based documentation contrasts with more digitised competitors like Stake, potentially slowing down communication and processes.
Besides, tasks requiring contact with SelfWealth can result in slow interactions, with activities such as consolidating holdings, updating bank details, or changing addresses sometimes taking up to a month.
CommSec Customer Support
CommSec, operating on a larger scale, offers a more multi-faceted approach to customer support:
CommSec has a comprehensive Frequently Asked Questions (FAQ) page, which provides informative responses to common queries. They also direct users to Product Disclosure Statements and informational guides for further guidance.
Although CommSec's customer support team may be smaller in size, their knowledge and assistance are noteworthy. They provide guided walk-throughs and helpful guidance during the sign-up process.
All in all, SelfWealth's support, is characterised by delays in responsiveness and a traditional documentation approach, potentially leading to slower interactions and communication. By contrast, CommSec offers a more varied approach with a multi-tiered support structure, informative FAQs, and knowledgeable assistance.
SelfWealth vs. CommSec: Final Verdict
After weighing all aspects, we recommend CommSec as the optimal choice to initiate your investment journey encompassing stocks and various assets. CommSec stands out for its versatility, catering to both extensive investors seeking diverse assets and avenues to explore global markets and smaller investors who benefit from the affordability and convenience of CommSec Pocket, particularly tailored for newcomers to the investment landscape.