SelfWealth is one of the prominent online share brokerage platforms in Australia. The platform has earned a great reputation due to its economical trading fees and contemporary user interface. Since its establishment, SelfWealth has experienced substantial growth, amassing a user base of thousands of people. But is SelfWealth Australia safe? How to sign up for SelfWealth? What can you trade on Selfwealth? Read our SelfWealth review for further insights.
SelfWealth Overview
SelfWealth is an Australian online brokerage platform offering diverse investment features and services to its clientele. Since its establishment, the platform announced a remarkable 75% surge in active traders, totalling 117,674 users, during the six months leading up to December 31, 2021. This growth propels SelfWealth to be Australia's second-largest online broker, trailing only behind eToro.
Established in 2012 by Andrew Ward, a former director of wealth at Commonwealth Bank, SelfWealth emerged from Ward's dissatisfaction with the conflicts of interest prevalent in major banks' multifaceted customer services. To empower Australians to invest in stocks and ETFs while evading the exorbitant fees imposed by banks, SelfWealth was brought to life
Pros
Wide range of US & ASX Markets.
User-friendly iOS/Android mobile app.
Low trading fee brokerage in Australia.
Secure platform regulated by AUSTRAC.
Cons
Doesn't offer cryptocurrencies
Selfwealth Premium account is not free
Limited to Australia, Hong Kong, and the US
SelfWealth Products
SelfWealth offers two primary options: SelfWealth INTELLIGENCE and SelfWealth TRADING.
The SelfWealth TRADING product, as its name suggests, centres on share trading. Within this offering, investors gain access to competitive pricing. A fixed brokerage fee structure is in place, enabling traders to engage in larger volume transactions without being burdened by excessive charges.
On the other hand, SelfWealth INTELLIGENCE streamlines the portfolio construction process for investors. Through this tool, you can effortlessly assess your portfolio's performance benchmarked against other investors. Furthermore, it facilitates evaluating your portfolio's comparative performance and associated risks.
How SelfWealth Works
Let's break down the SelfWealth product offerings.
SelfWealth TRADING
Upon establishing a trading account with SelfWealth, you gain entry to the following markets:
Australian Shares:

These are ordinary shares within SelfWealth, encompassing shares traded on the ASX.

Australian Listed Property Shares:

Investors can explore property assets through Australian Real Estate Investment Trusts.

Australian Listed Investment Company Shares:

This avenue provides access to diverse underlying shares on the ASX through a single trade.

Australian Listed Debt Securities:

Offering fixed-income securities.

Australian Exchange Traded Funds:

These enable tracking the performance of various stocks accessible via a single trade.
SelfWealth INTELLIGENCE
Here's what INTELLIGENCE brings to the table:
Benchmark Performance:

Facilitating comparisons of your portfolio with fellow members based on performance, valuation, and diversification. Additionally, you can opt to follow akin investors for insights.

SafetyRating:

Evaluating the extent of diversification in your portfolio, with higher diversification yielding a greater score.

WealthCheck Score:

Tailored for those interested in wealth trading, this feature assesses your portfolio's health at different junctures.

Research Tools:

Offering access to an array of stock data.
SelfWealth Account Types
Tailoring to your existing status and trading preferences, five distinct trading accounts are available:
Individual Account:

Designed for those embarking on solo investment journeys under their name.

Joint Account:

This option permits the inclusion of up to three individuals for collaborative investment endeavours.

Company Account:

Geared towards investments carried out under a business or company entity.

Trust Account (Individual Trustee):

Typically utilised for Family Trusts or Self Managed Super Funds (SMSFs) where individual trustees are involved.

Trust Account (Corporate Trustee):

Aimed at Family Trusts or SMSFs, but distinguished by incorporating a corporate entity as the trustee.
SelfWealth Features
Highlighted here are the key features affiliated with SelfWealth:
Share Trading Platform
SelfWealth boasts an award-winning trading platform celebrated for its user-friendliness and efficiency. This translates to seamless trade execution, minimising errors. It caters equally to beginners and experienced traders.
Versatile Order Types
Distinguishing itself from simplified platforms like Stake, SelfWealth empowers investors and traders to establish 'good until end date' orders. You can order a share at a specific price, leaving it open until your chosen date. This functionality facilitates the placement of set-and-forget orders, allowing patient dip buying.
SelfWealth Premium
Upon creating your account, SelfWealth grants complimentary access to their Premium service for the initial 90 days. It provides live pricing data, stock analysis, comprehensive reports, and more. Beyond the 90 days, SelfWealth Premium entails a monthly subscription fee of $20.
Access to Market Data
Information is a formidable asset in trading and investing. SelfWealth equips you with stock performance and unit prices, updated every 20 minutes via ASX data. The stock analysis tool, powered by Thomson Reuters, also offers insights into individual shares.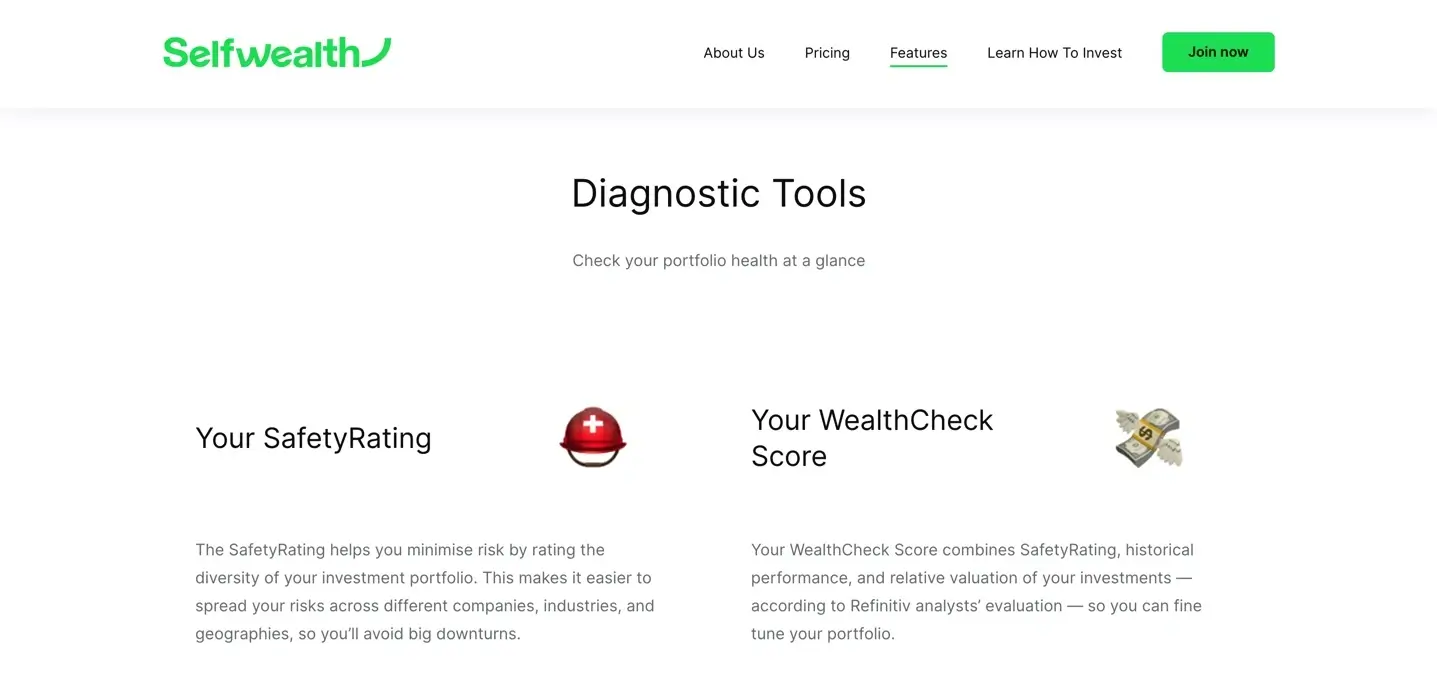 Funds in ANZ Accounts
Upon registration, a trading account with SelfWealth comes with a dedicated cash account at ANZ banks. Thus, your funds from other clients and SelfWealth's finances are segregated, enhancing protection in insolvency or financial issues.
Rigorous Fund Management
All Australian Dollar deposits on SelfWealth are securely held within ANZ Bank accounts. Hence, in the event of SelfWealth's insolvency, customers can retrieve their funds, as they are held in a closed trust within Australia and New Zealand Banking Group accounts.
CHESS Sponsored Shares
All shares procured through SelfWealth are CHESS sponsored and executed by OpenMarkets. This translates to full ownership by you, safeguarding against custody-related concerns.
Investor Community Insights
Upgrading to a premium account grants access to the investor community insight. You can observe or emulate seasoned investors' trading decisions. You can follow multiple individuals while maintaining their privacy, obtaining only the pertinent trade information.
SelfWealth Fees
For Australian share trading, SelfWealth emerges as a cost-effective choice, showcasing the lowest fees among major trading platforms rooted in Australia. Their fee system maintains simplicity, featuring a flat rate of $9.95 per trade. That positions them at half the cost of other prominent brokerages such as CommSec, NAB Trade, and ANZ Share Investing.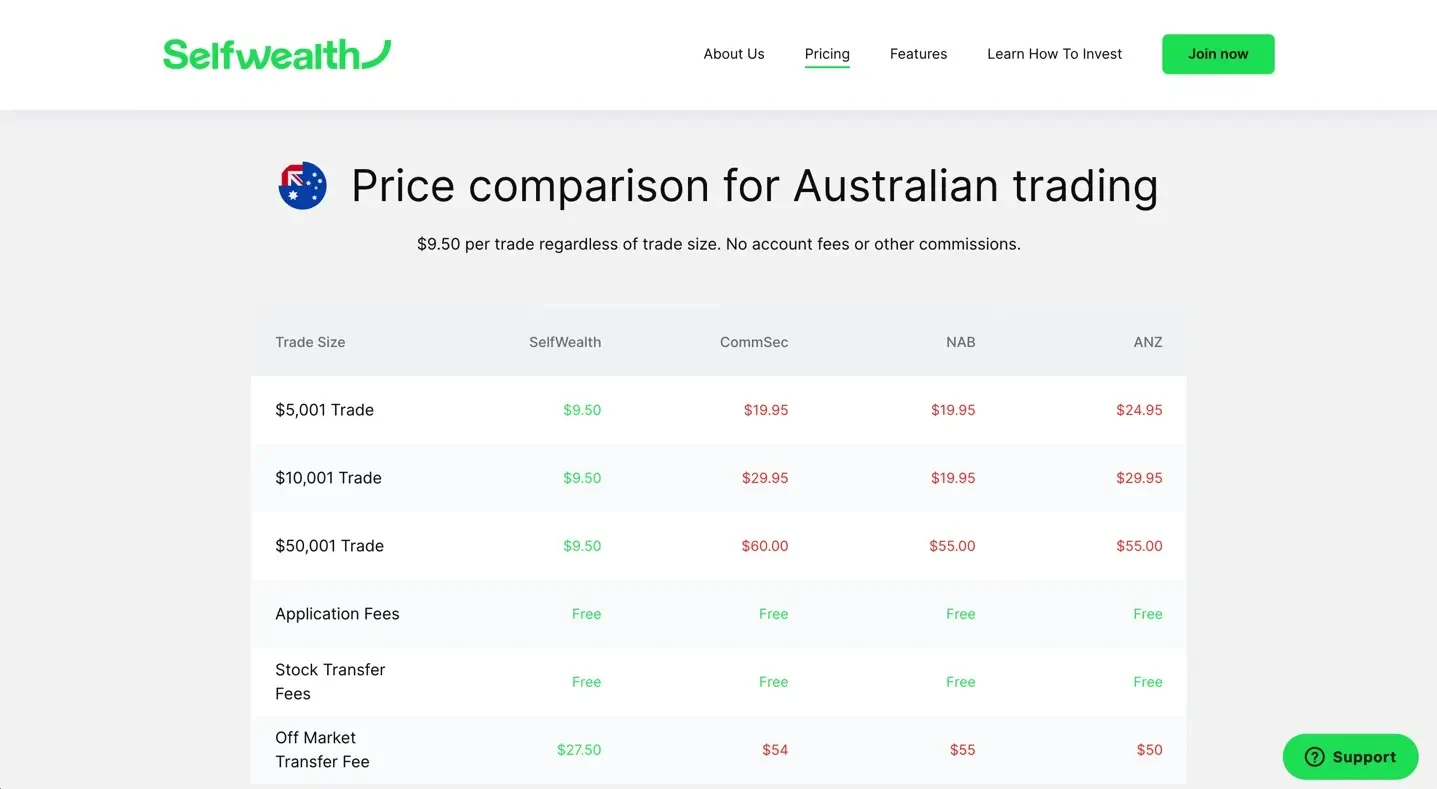 The sole multi-asset brokerage that outpaces SelfWealth in affordability is eToro, which imposes no upfront fees but does levy a minor charge through the spread mechanism.
The brokerage fee is similarly fixed at $9.50 for those engaging in international share trading, albeit in USD currency. However, this international trading scenario introduces an additional element: currency conversion. As a result, a foreign currency exchange (FX) fee comes into play.
The FX fee is at 60 basis points. A basis point signifies one ten-thousandth, translating to 0.60%. While one might assume this applies to the transferred amount, SelfWealth deviates from this expectation.
SelfWealth App
One of the SelfWealth app's key benefits lies in its facilitation of trading on the move, enabling traders to execute transactions seamlessly. The app also provides a comprehensive stock research tool, safeguarding well-informed decision-making. It simplifies the task of keeping a vigilant watch over one's portfolio.
It emerges favourably when assessing the SelfWealth app against well-established counterparts like the Westpac share trading app. Like its parent platform, the app embodies an intuitive and user-friendly interface. In light of these attributes, the SelfWealth app is a robust contender in trading applications.
Security Features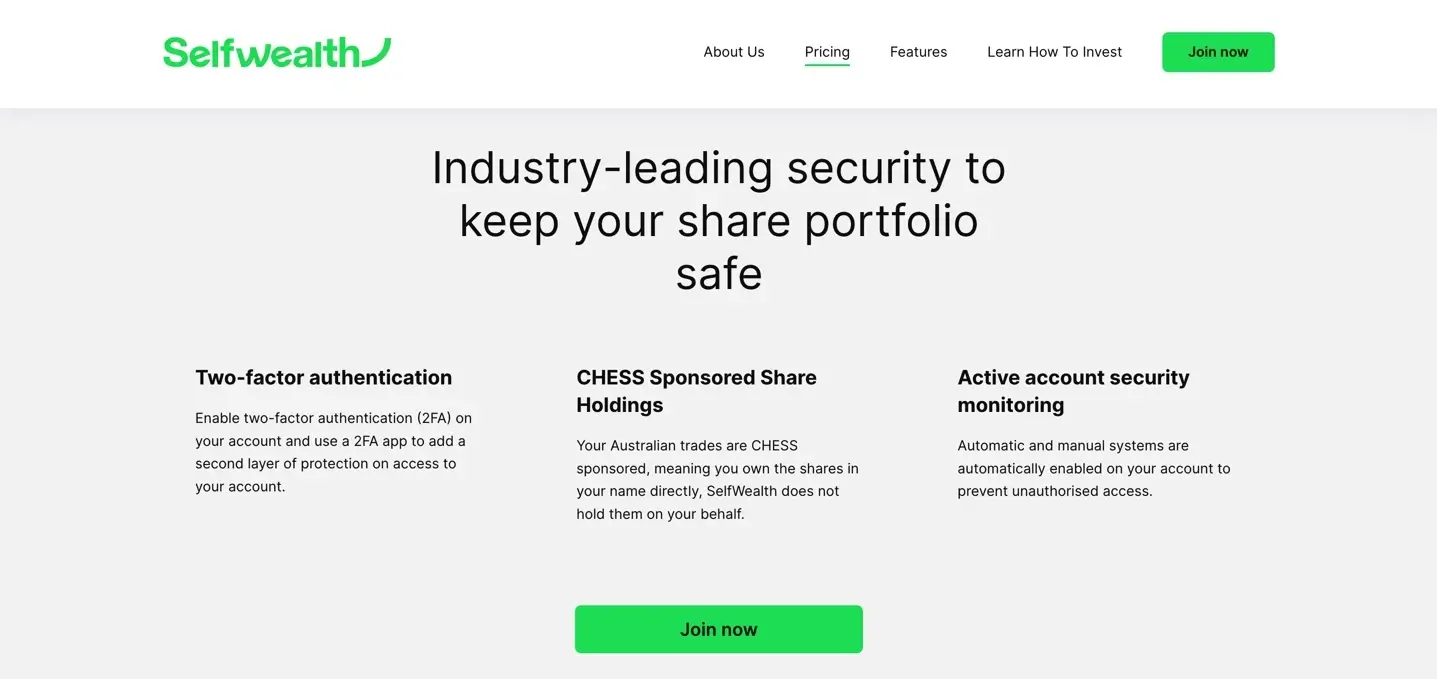 Security remains a paramount concern for SelfWealth, leading to the implementation of robust protective measures. These safeguards include:
Primarily, the company holds a steadfast commitment to safeguarding all information, be it personal or financial. Employing industry-leading standards, SelfWealth employs Amazon Web Services for hosting, aligning its application design with the guidelines laid out in the Amazon Virtual Private Cloud User Guide for internet-facing applications.
Regarding account access, SelfWealth employs a stringent two-factor authentication process bolstered by 256-bit SSL encryption. The company diligently monitors account activities and promptly notifies users of any irregularities. To prevent any inadvertent lapses, all SelfWealth staff members undergo comprehensive security awareness training.
Customer Service
In terms of customer support, SelfWealth exclusively offers assistance through email and live chat. However, it took a substantial 4 business days to receive a reply to a simple query via email. Worse still, the preference for traditional paper-based documentation is evident, a contrast to some contemporaries like Stake that embrace full digitisation.
Consequently, tasks requiring communication with SelfWealth can be frustratingly sluggish. While straightforward processes typically unfold easily, endeavours like consolidating holdings, altering bank details, or updating addresses can elongate to a month of interaction.
Furthermore, establishing a new CHESS holder ID for trading takes 2 business days to configure. In contrast, platforms like Stake are fully digitised and offer a near-instantaneous experience. Once your account is funded, you can trade in the markets within minutes.
SelfWealth FAQs
Is SelfWealth Australia safe?
Yes. SelfWealth operates under the oversight of the Australian ASIC and is a publicly listed entity with complete financial transparency. With SelfWealth's cash account framework, the security of user funds is assured 100%. Their Australian Financial Services Licence (AFSL) number, 421789, validates their compliance with ASIC regulations and governance, guaranteeing the security of their operations.
Who is Selfwealth designed for?
SelfWealth caters primarily to investors familiar with trading shares and diverse assets. This target audience tends to oppose the substantial commission fees often levied by conventional and online brokers as a percentage of the trade value. Yet, even individuals with limited experience in the stock market realm can extract value from the SelfWealth Community feature.
How to sign up for SelfWealth?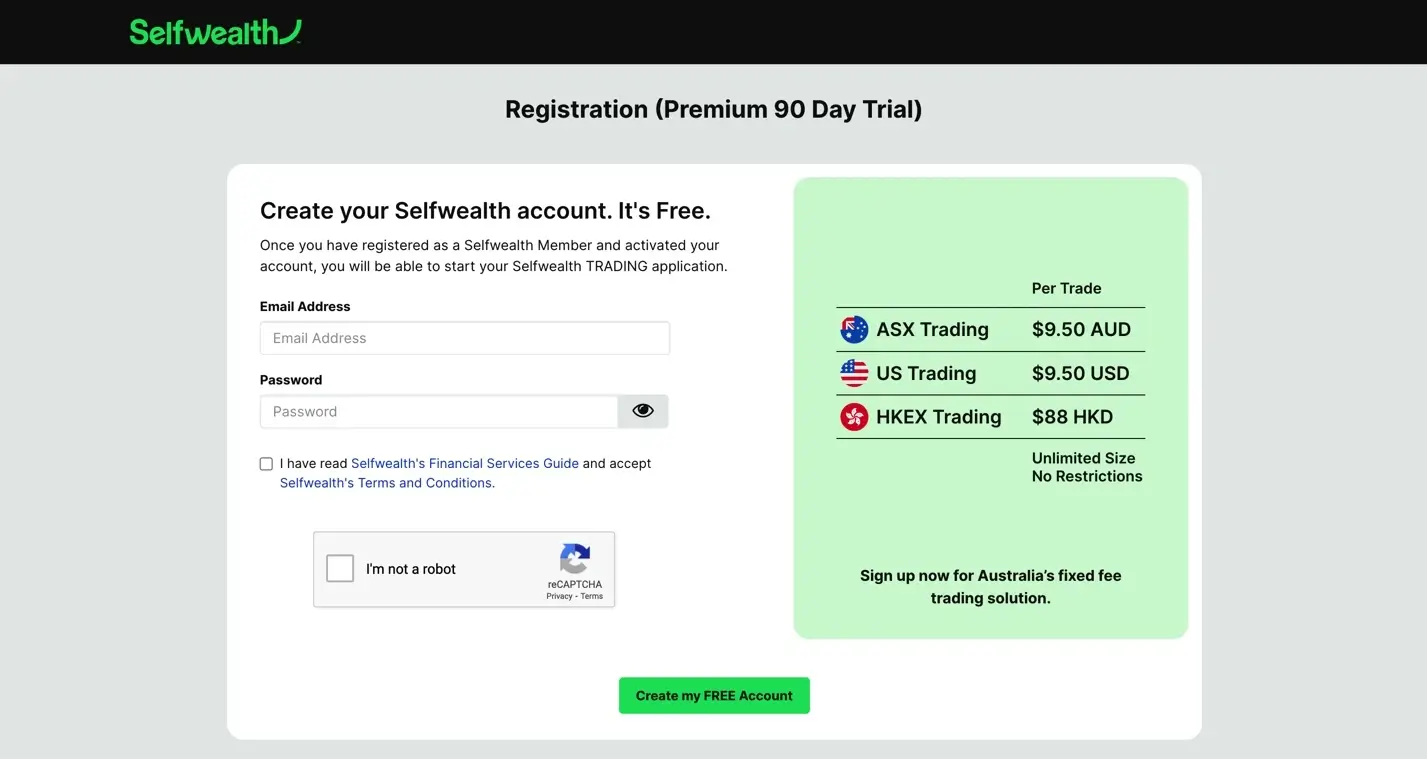 Register for new SelfWealth accounts and gain trading access within a day. This guide below walks you through the sign-up process on the SelfWealth platform.
Account Creation: Establish a free account tailored to your specific category – personal, company, SMSF, or trust.
Funds Transfer: Facilitate the transfer of Australian Dollars via either Bank Transfer or BPAY.
Market and Stock Selection: Handpick the market you wish to engage in and choose the specific stocks you intend to purchase.
Inaugural Investment: Once you've executed your initial investment, take charge of your portfolio by diligently monitoring its progress.
What can you trade on Selfwealth?
You can trade a diverse array of Australian investments (ASX-listed shares, ETFs, property company shares, investment company shares, and fixed-income debt securities) and US investments (major US exchanges, including NYSE and NASDAQ). SelfWealth also introduced the Hong Kong Stock Exchange in early 2022, broadening investment opportunities to include Chinese brands like Tencent and Baidu.
SelfWealth Review: Final Verdict
For those seeking budget-friendly share trading, it's a good idea to enlist with SelfWealth. SelfWealth's standout attribute lies in its ability to deliver exceptional services sans hefty costs, optimising investment returns. The transparency in their operations further establishes their credibility.
If your focus revolves around Australian share trading, SelfWealth is a premier contender. It accommodates newcomers exploring trading and adeptly caters to seasoned traders. This platform effectively marries user-friendliness with comprehensive features, ensuring both novice and professional traders find satisfaction.