Coinspot is without a doubt one of the world's premier trading platforms, thanks to its support of over 360 different currencies, a robust security system, and very user-friendly design. KuCoin, on the other hand, is a HongKong-based exchange that was founded in 2017. It has more than 600+ coins and many special features such as margin trading or trading bots.
Our analysis below will help you find out which exchange you should choose as an Australian investor. 
CoinSpot vs KuCoin Comparison Table
| | | | | | |
| --- | --- | --- | --- | --- | --- |
| | | | | | |
| Fiat Currencies | AUD, USD, NZD, SGD | AUD | AUD | AUD, USD, GBP, EUR & 11 more | AUD, NZD |
| Cryptocurrencies | BTC, ETH, LTC, XRP, BCH, ADA & 20 more | BTC, ETH, LTC, XRP, BCH, ADA & 350+ more | BTC, ETH, BNB, ADA, XRP & 300+ more | BTC, ETH, BCH, XRP, LTC, ADA & 24 more | BTC, BTG, BCH, ADA, ETH, ETC & 310+ more |
| Deposit Methods | Bank Transfer or PayID/Osko | Bank transfer, BPAY, Cash, POLi, PayID, Cryptocurrency | PayID, POLi, OSKO, Cryptocurrency | Bank Transfer, Credit card, Debit card, PayPal, POLi | POLi, PayID, OSKO, Bank transfer, Credit card, Cryptocurrency |
| Trading Fees | 0.5% | Market order: 0.1%, Instant buy: 1% | Market order: starts from 0.5%, Instant buy: 0.5% | Included in spreads | 0.6% |
CoinSpot vs KuCoin: Overview
CoinSpot Overview
CoinSpot is a cryptocurrency exchange based in Australia that first opened its doors in 2013. Founded by cyber-security expert Russell Wilson, CoinSpot has risen to be among the most secure crypto exchanges for Australians.
For the last 9 years, CoinSpot has built a reputation for having the highest level of security certifications in Australia. It is AUSTRAC-registered and the only one in Australia with ISO 27001 accreditation, a globally recognised standard for information security management systems (ISMS).
Moreover, CoinSpot is a certified exchange with Blockchain Australia (not just a basic member), meaning they have proven that they are following best practice standards. 
CoinSpot's mission is to create a safe and secure environment for Aussies to trade crypto under the protection of Australia's regulatory framework. 
KuCoin Overview
Launched in 2017, KuCoin is a crypto exchange headquartered in Seychelles. The platform provides margin, futures, and peer-to-peer (P2P) trading in addition to basic trading options. Users can also earn rewards by staking or lending their cryptocurrency.
KuCoin has a tiered maker/taker fee structure, with trading fees ranging from 0.0125 % to 0.1% depending on your tier level. Its fees are relatively low in comparison to competitors, and users can also receive discounts on trading fees based on their KuCoin Token (KCS) balance. However, customers should be aware that this exchange is unregulated and it has faced allegations of market manipulation from its previous users.
While CoinSpot has over 360 listed cryptocurrencies, Swyftx currently has around 600 coin offerings. 
Pros
Superior security system – the first and only crypto platform in Australia to receive SO 27001 certification, the highest industry level for information security
Over 360 cryptocurrencies offered, including BTC, ETH, LTC, ADA
OTC services for high volume traders
Live Chat support 24/7
NFT marketplace to streamline transaction process
Cryptocurrency staking for Proof-of-Stake coins like Solana, Cardano, Fantom
Cons
Only supporting fiat currency deposits and withdrawals for AUD
Credit and debit card payments are not supported
Pros
Low trading fees
 Over 600+ cryptocurrencies
Network of over 11 million users
Cons
Costly to buy cryptocurrency with AUD (3-12% transaction fee)
Hard to use interface
Poor customer service
Withdrawal charges vary by asset, subject to fluctuations based on market performance.
No fiat deposits/withdrawals
CoinSpot vs Kucoin: Fee Structure
Kucoin Fee Structure
Kucoin has a pretty simple trading fee structure. The platform charges 0.1% to both market makers and market takers, making it one of the most affordable cryptocurrency exchanges available online. If you have the platform's native Kucoin Shares tokens, you can further reduce your fees.
CoinSpot Fee Structure
CoinSpot fees are transparent, starting at 0.1% for market orders and OTC. For Instant Buy, Sell, Swap orders as well as recurring orders, they only charge a 1% fee. Take Profit, Stop, and Limit Orders also attract a 1% fee.
If you prefer to make large volume trades, CoinSpot is your most ideal option. With the minimum deposit being $50,000 AUD, CoinSpot users receive first-class service at an incredibly competitive charge of 0.1%.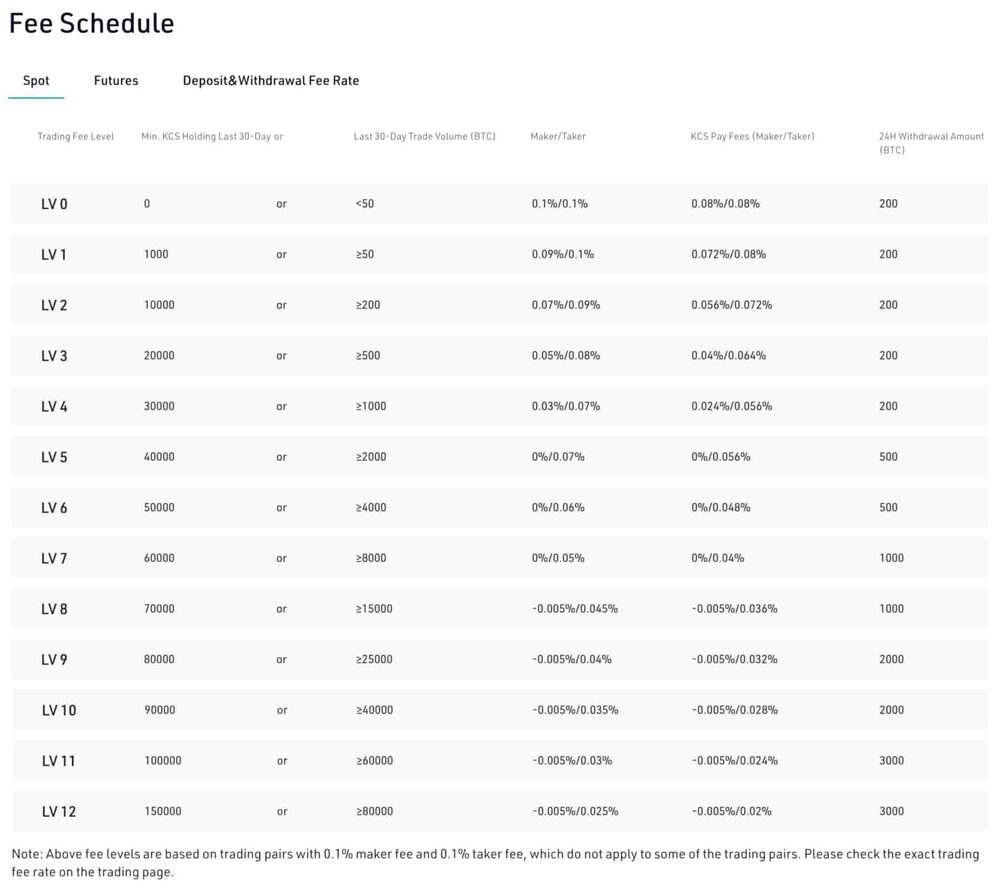 Winner:  CoinSpot
KuCoin has low trading fees, but it doesn't allow fiat deposits and withdrawals. Especially for investors in Australia, buying coins on KuCoin means they have to pay extremely high transaction fees. CoinSpot offers more options for investors and also has competitive fees.
CoinSpot vs Kucoin: 
Deposit & Withdrawal Methods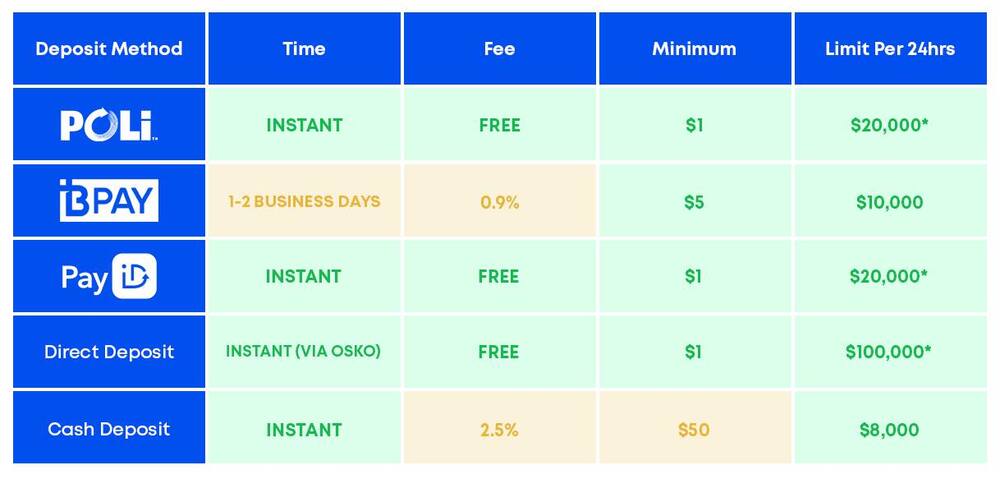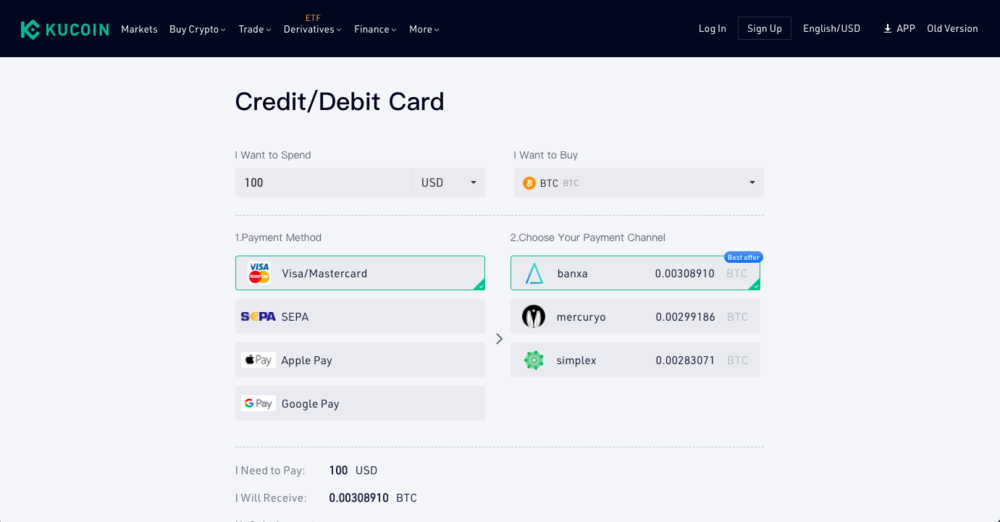 CoinSpot accepts deposits from three major Australian payment institutions: POli, BPAY, and PayID. POli payments are free and instant, whereas BPAY is an e-wallet system that can process transactions in as little as 24 hours. PayID is an instant bank transfer deposit method that offers free deposits. CoinSpot also accepts cash deposits via Blueshyft at major retail outlets throughout Australia.
On the contrary, KuCoin only accepts credit cards, debit cards and Apple Pay. Users can't deposit fiat into their accounts on KuCoin, but they may use it to buy coins. Fees could range from 3-12%, depending on which payment provider you choose.
Winner:  CoinSpot
CoinSpot, unlike KuCoin, is an established exchange in Australia with partnerships with top-tier payment firms in the country. Users on CoinSpot have more options in terms of deposit payments with extremely competitive fees.
CoinSpot vs Kucoin: Verification Speed
It can take several business days for KuCoin to verify your account information, this is much slower when compared to CoinSpot, where users only have to go through a simple 3-step verification process. They may deposit up to $2000. For higher trading volumes, additional information will be required but this process is still extremely fast.
Winner:  CoinSpot
CoinSpot offers a simple KYC verification process so their users can start trading within minutes. This is one of the reasons why CoinSpot has remained the best exchange for Australian investors.
CoinSpot vs Kucoin: Customer Support
CoinSpot Customer Support
CoinSpot's Live Chat feature is one of the many things that set CoinSpot apart from other competitors. Customers have access to a highly competent and professional specialist team 24 hours a day, 7 days a week. If you run into any problems when trading on CoinSpot, you will be immediately connected to a real human agent who is always ready to resolve your concerns. 
In addition to that, CoinSpot also provides Help Desk and a request-a-call-back feature where you can set up a call with one of their team members. We tested out this feature and had a very pleasant experience with the professional agent at CoinSpot. 
To help new investors navigate through the world of crypto, CoinSpot has built a robust knowledge centre with informative and comprehensive tutorials and a frequently asked questions section. 
Kucoin Customer Support
Kucoin's customer support team is available 24/7. However, while live chat is available, waiting times are extremely long. They don't offer phone support either, so your best bet is contacting customer service via email. Be mindful though, as KuCoin has received numerous complaints from users about difficulties withdrawing funds and cumbersome trading processes. When users tried to express their concerns, they have received little response from the KuCoin team.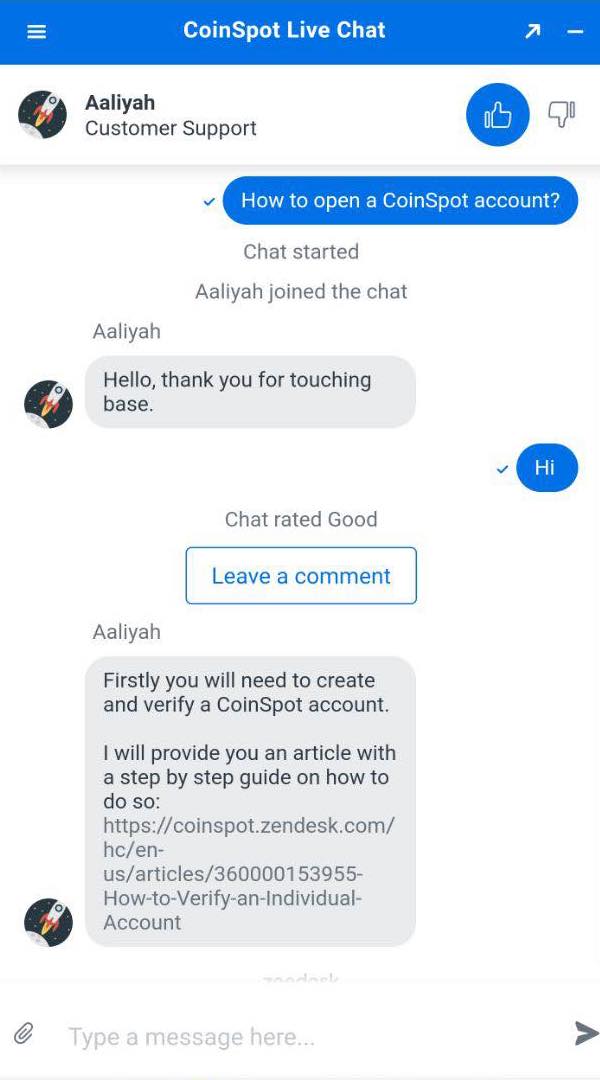 Winner:  CoinSpot
What distinguishes CoinSpot from other exchanges is its 24-hour live chat support. Any question from users is guaranteed to be answered right away. KuCoin users, on the other hand, are extremely dissatisfied with the company's poor customer service.
CoinSpot vs Kucoin: Security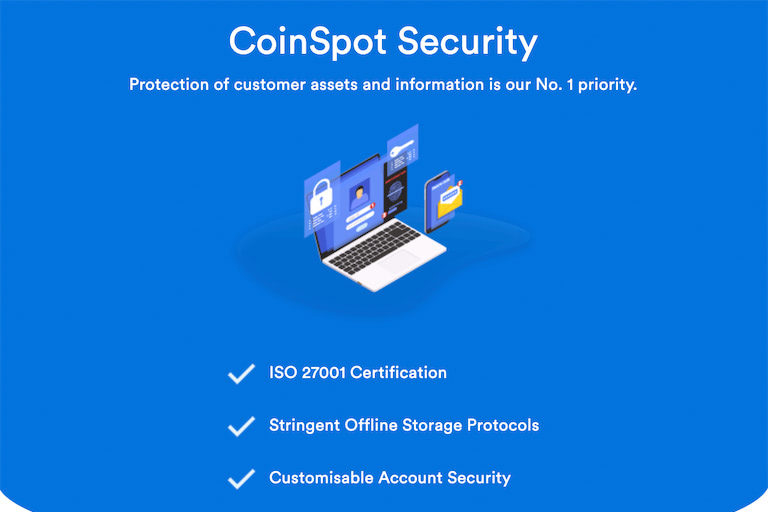 CoinSpot Security
In terms of security, CoinSpot is truly unrivalled in the industry. It has maintained an impeccable security record ever since it was founded in 2013. To this day, CoinSpot is the first and only exchange in Australia to own SO 27001 certification, the highest industry standard for an information security management system. The standard was originally developed by the International Organisation for Standardisation and the International Electrotechnical Commission.
CoinSpot ensures its customers' security by storing their digital assets offline in cold wallets. This technique is excellent for ensuring that cyber-attacks cause minimal damage. It has also gained recognition from Blockchain Australia as an official provider of digital currency.
The platform also offers a wide variety of security and customer protection features such as two-factor authentication, biometric security features such as face and fingerprint ID, an anti-phishing phrase, geo-lock logins, session timeout, and disabling unauthorised withdrawals.
Kucoin Security
KuCoin also employs a number of security measures to protect their customers' funds, including industry-level multilayer encryption, micro-withdrawal wallets, and dynamic multi-factor authentication. Unfortunately, KuCoin went through a major hackin 2020, leading to over $150 million being stolen.
On Trustpilot, users have also complained about losing thousands of dollars on KuCoin and they couldn't get any help from the support team. Many claimed their accounts got hacked and KuCoin refused to take responsibility. 
Winner:  CoinSpot
CoinSpot is currently the safest, most secure exchange in Australia. Thanks to its superior security system, it has never reported any data breaches ever since its inception. Its effort has been widely recognised by reputable organisations.
CoinSpot vs Kucoin: Notable Features
KuCoin Notable Features
With KuCoin, you can earn interest on your cryptocurrency investment by buying and holding KuCoin tokens (KCS). When you own more than 6 KCS, the platform will pay you daily interest at an estimated 22% APR.
Another notable feature of KuCoin is the ability to lend cryptocurrency to other users. This feature is available on more than 160 cryptocurrencies, and you can choose a loan term of 7, 14, or 28 days.  Interest rates and term lengths differ depending on the coin. Of course, there are risks associated with crypto lending. While the loans are collateralized and the recipient is required to keep a certain balance, price drops can result in unexpected losses. If a recipient's account falls below 97% of their borrowed balance, KuCoin automatically initiates margin calls to replenish your loaned coins. If they are unable to fully repay you, KuCoin's insurance will cover the difference, though the platform warns in the terms that this is not guaranteed to cover all losses.
KuCoin also offers free trading bots to help traders with their trading plans. You define the bot's rules and have it execute trades automatically when certain benchmarks are met. This can be used for anything, from rebalancing your portfolio when your asset allocation is skewed to programming guardrails to take advantage of price fluctuations while you are away.

CoinSpot Notable Features
If you are a newbie and are not too familiar with crypto trading, CoinSpot's bundles will be an immense help. CoinSpot's website features a total of 12 bundles, like DeFi bundle, NFT bundle, Green bundle, Social Bundle, AI Bundle and the Top Ten Market Cap Bundle. You can take advantage of this feature and purchase a variety of assets in a single transaction, hence saving transaction costs and spreading the risk. 
Another really cool feature on CoinSpot is their referral programme. Customers can share a unique referral code with their friends or family and earn  $10 in Bitcoin after their referrees register a CoinSpot account, are verified, and make their first AUD deposit.
This March marked the official launch of CoinSpot's in-platform NFT Marketplace. It is the first Australian-based exchange to allow users buy NFT projects straight from their accounts. Worry about choosing a trustworthy NFT project? CoinSpot marketplace has a hand-picked selection of NFT projects for you to choose. Need to sell your NFT artwork? CoinSpot helps you streamline the transaction process. It doesn't matter whether you are a buyer or a seller, CoinSpot guarantees to give you a smooth and convenient trading experience. 
Other than the newly available NFT Marketplace, CoinSpot also introduced coin staking services, allowing users to use their CoinSpot wallet to store and grow Proof of Stake (PoS) coins. At the moment, the exchange supports staking on 22 different cryptocurrencies, with new ones being added on a regular basis. CoinSpot's staking service is completely free; there are no minimum or maximum stake amounts, and no lock-up period required.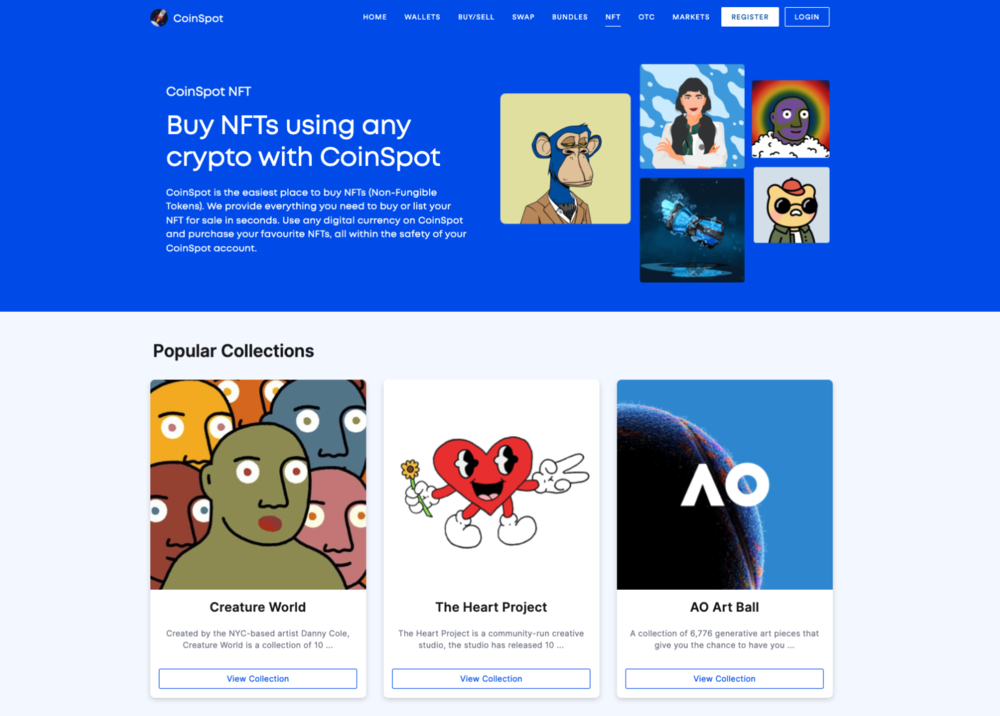 Winner:  CoinSpot
CoinSpot and KuCoin both offer special features that greatly benefit their users. For Australian investors, however, CoinSpot is a better option than KuCoin with their NFT marketplace, CoinSpot's Bundles and coin staking feature.
CoinSpot vs Kucoin: Supported
 Cryptocurrencies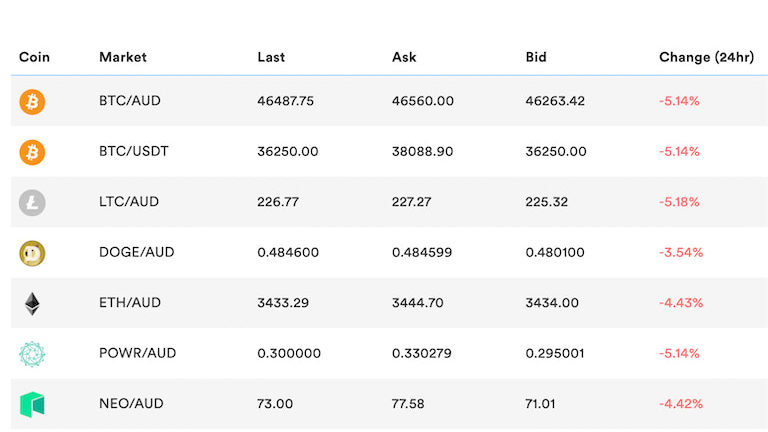 At first glance, Kucoin might seem to be a great trading option with their massive selection of over 600+ coins. However, the majority of Kucoin users agree that this exchange is quite shady. Some claim Kucoin have been stealing their coins since the the coins never arrived at their wallets even after making deposits. Others say they are blocked out of their accounts without any reasons. 
On the contrary, CoinSpot also boasts an impressive selection of over 360+ coins, and they are known for being the safest, most transparent exchange in Australia. With a fee as low as 0.1%, customers can begin trading, swapping more than 360 cryptocurrencies with a community of over 2 million users. 
Winner:  CoinSpot
While Kucoin outnumbers CoinSpot in terms of supported cryptocurrencies, we decide to choose CoinSpot as a winner because they are a reliable and trustworthy exchange.
Overall winner – CoinSpot
We highly recommend CoinSpot for investors in Australia. The team at CoinSpot has built an exceptionally user-friendly interface that even the most inexperienced user can navigate. If clients require assistance during a transaction, they can always use the live chat function to speak with a real agent. It also offers a varied selection of coins, making it an excellent choice for those wishing to diversify their holdings. Most significantly, CoinSpot is Australia's most reliable and safe cryptocurrency exchange, having been recognized by a variety of renowned organisations. Especially, it has registered with AUSTRAC to combat terrorism financing and money laundering.
FAQS
Is CoinSpot or KuCoin better?
CoinSpot is superior to Kucoin, especially in terms of security system and customer service. CoinSpot also offers more payment options with extremely low fees.
Why is there a price difference between CoinSpot and KuCoin?
Transaction fees on CoinSpot and KuCoin don't have much difference. However, prices on KuCoin are subject to market fluctuations and its cost structure can get quite complicated as it has different fees for different coins. CoinSpot has a top-notch information system and unlike users on Kucoin, investors using CoinSpot can be sure their accounts will never be hacked and lose their money.
Is CoinSpot the same as KuCoin?
No. CoinSpot is an Australian-based exchange, founded in 2013. KuCoin is a HongKong platform that was established in 2017. CoinSpot has seen tremendous growth ever since its inception and now has a customer base of more than 2 million users, boasting more than 360 cryptocurrencies. Meanwhile, KuCoin has over 600 coins and a network of over 11 million users. CoinSpot also put more effort into advancing its security system, ensuring every client will have the best experience when trading on its exchange. CoinSpot's effort has been widely recognized by leading organisations in the industry, like AUSTRAC. Emphasis on customer services is also another thing that sets CoinSpot apart from KuCoin.
The following review is for informational purposes only and should not be construed as financial or investment advice. It is important to note that cryptocurrency is a highly volatile and speculative market, and there is no guarantee of profit or loss. This review is based on the author's personal experience and research, and individual results may vary. The author is not affiliated with any of the exchanges mentioned in this review and does not receive compensation for their mention. It is recommended that readers conduct their own due diligence and consult with a financial advisor before making any investment decisions.
The information regarding performance may be different from the time of publication. Past performance does not guarantee future results. While we believe that all content was accurate at the time of posting, it is possible that some offers included in the content may no longer be valid.