The Australian Treasury has proposed to regulate the digital asset sector, focusing on cryptocurrency exchanges rather than individual tokens. The government is contemplating mandating financial services licences the local financial regulators provide for cryptocurrency exchanges.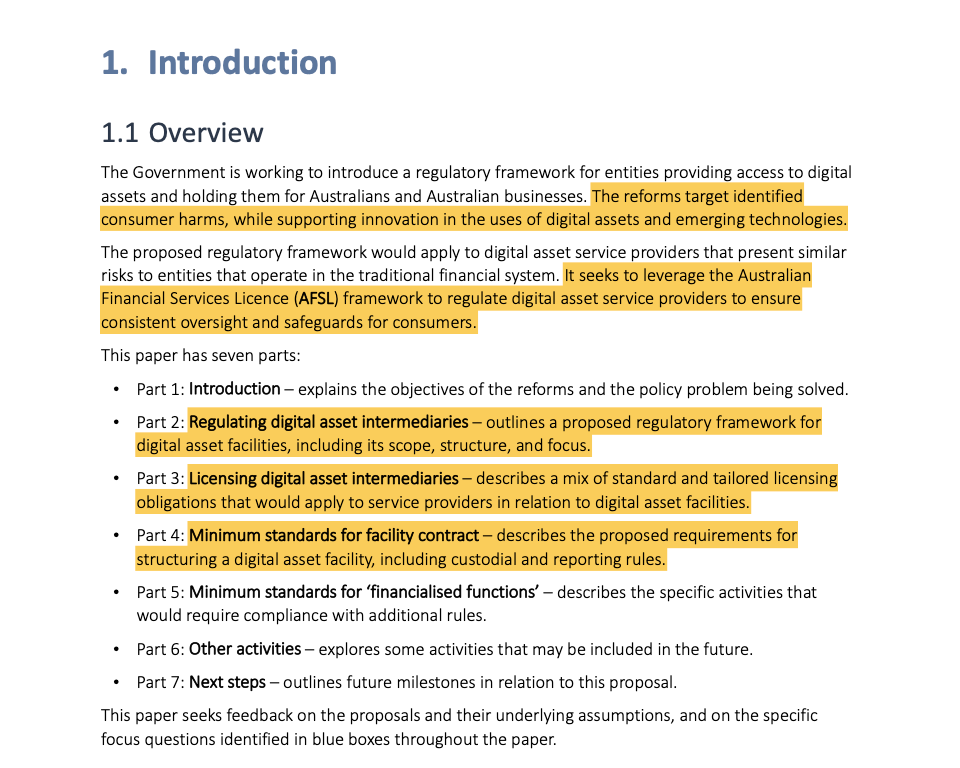 Outlined in the "Regulating digital asset platforms" consultation paper released on October 16, the regulatory framework aims to address potential consumer harms while ensuring innovation development within the digital asset sector. Notably, the emphasis is on regulating exchanges and service providers rather than individual cryptocurrencies or tokens. The regulator also noted prioritising utilising existing financial services laws instead of creating new, crypto-specific rules.
Specifically, according to the new proposed regulations, for any cryptocurrency exchange with assets exceeding $3.2 million or $946 per individual, a licence from the Australian Securities and Investment Commission (ASIC) is a must. 

This proposal has elicited mixed attitudes from Australian crypto exchanges. There are controversies and endorsements at the same time. 
Adam Percy, general counsel at Swyftx, reckons the proposition "thoughtful" and emphasises the significance of ensuring cryptocurrency users have access to blockchain technology with proper protections, allowing room for innovation. On the other hand, Jonathon Miller, Director of Kraken Australia, expresses his disappointment, characterising the approach as attempting to fit crypto into existing financial services regulation. He states that Australia is lagging behind its global counterparts in implementing a comprehensive crypto framework: "We're behind our global peers when it comes to implementing a crypto framework, so I appreciate the need to have something in place locally to provide certainty to platforms like ours."
Liam Hennessy, a partner at international law firm Clyde & Co, shows his worry: "I'm hopeful that we can work collaboratively with the Government to make sure we don't snuff out the benefits of future innovations in crypto that might fall outside the conventional 'financial services' box". Liam highlights that the Treasury grapples with different token types and service providers. He also emphasises that the suggestions are not legally binding; the government is not obligated to adopt them. More thoroughly, Hennessy points out that the paper may not adequately address urgent issues facing the crypto industry in Australia, such as de-banking challenges faced by licensed digital asset exchanges.
However, the Treasury underlined that the consultation paper's purpose is to solicit feedback on the proposed regulations and questions, and stakeholders are encouraged to submit their feedback by December 1, 2023.