The French Financial Markets Authority (AMF) is considering a "fast track" option for licensed crypto firms to comply with the forthcoming Markets in Crypto-Assets (MiCA) laws.
In a statement released on April 21, the AMF outlined how French regulation will proceed over the next 18 months during the transitory period. One of the main focuses of the AMF will be assisting French providers of digital asset services (PSANs) with the transition to MiCA regulation. The AMF is reviewing "fast track" options for these firms to ensure they comply with MiCA regulations as soon as possible.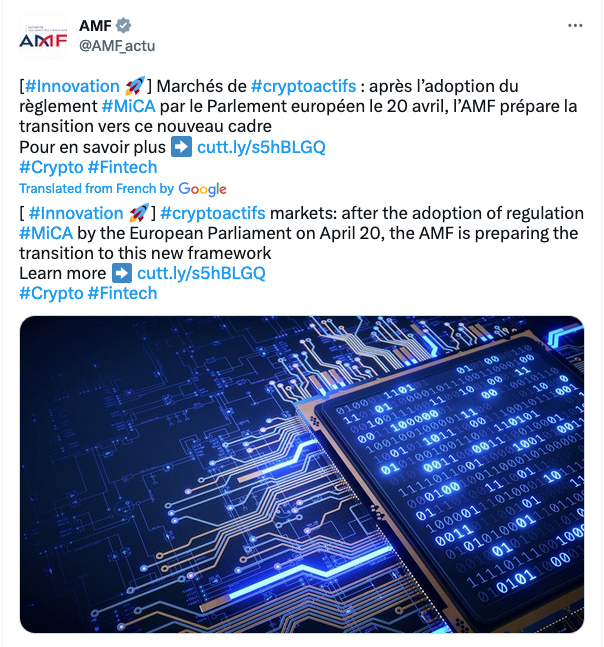 Regarding MiCA compliance, the AMF is looking to address gaps such as fund provision regulations of crypto firms, conflict of interest policies, and the alignment of requested documents required under AMF and MiCA regulations.
The European Parliament approved the MiCA regulatory package on April 20, to the delight of the crypto industry. The regulation will now require approval from the European Council in July to be officially adopted as regulation. Tentatively, it will come into effect from the beginning of 2025 and establish a clear and consistent regulatory framework for crypto assets among European Union (EU) member states.
Crypto firms in France have two licensing options: a simple option with relaxed requirements and a more stringent enhanced option favoured by the government and reported to be closely aligned with MiCA regulations. The stricter option includes more controls surrounding anti-money laundering rules, customer asset custody, reporting to regulators, and providing detailed risk and conflict of interest disclosures to strengthen consumer protection. 
All 60 AMF-registered crypto firms in France are currently regulated under the relaxed option and will remain so until they are ported over to MiCA regulation. The AMF previously stated that any crypto firm registering after January 2024 must do so under the more stringent option.
Additionally, the AMF pointed out that any company regulated under either category can only offer its services in France until they are ported over to MiCA. During this period, "these actors will be able to continue to offer their services to the French public only," the statement reads. It added that "service providers who are approved under the MiCA regulation will be able to benefit from the European passport and provide their services in all EU countries."