To the market's expectations, the Federal Open Market Committee (FOMC) of the Federal Reserve raised its benchmark federal funds rate by 25 basis points, bringing it to a range of 4.5–4.75%.
The bitcoin (BTC) price stayed at $23,000 shortly after the announcement, where it has been trading for the last few days.
With the rate rise of 25 basis points already included in prices, investors were looking to the central bank's policy statement to see if it might slow down its monetary tightening cycle. The FOMC has indicated that "ongoing rises" in rates will be required; thus, it seems unlikely that this will occur very soon.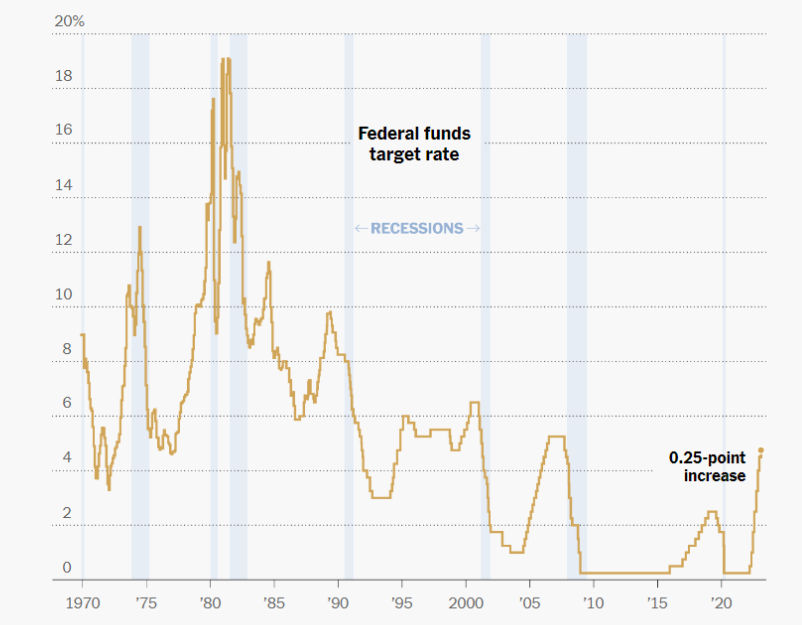 Currently, interest rate futures markets are pricing in a terminal fed funds rate of 4.94%, which indicates the Fed has room for one or two further rate rises of 25 basis points before slowing down.
At 2:30 p.m. ET, Federal Reserve Chairman Jay Powell will deliver a news conference after the conclusion of the Fed's monetary policy meeting.
As Powell talks, Bitcoin prices are rising as investors react favourably to his statement that the disinflationary process has started. Powell also seemed to imply that the end of the rate-hike era was considered at today's meeting. Bitcoin's recent surge above $23,450 has been accompanied by gains in other cryptocurrencies, as well as in the stock market and the price of gold, while interest rates and the dollar value have fallen.