The unexpected interest in chatbots powered by artificial intelligence (AI) has boosted the value of AI and big data tokens. Microsoft has relaunched Bing with ChatGPT integrated, and Google is advertising its Bard bot.
Gains in the value of crypto assets related to artificial intelligence and large data sets have been spectacular. According to CoinGecko, the native token of a new decentralised data marketplace called Big Data Protocol (BDP) has surged 1,400% in the past week to a current price of about $0.48.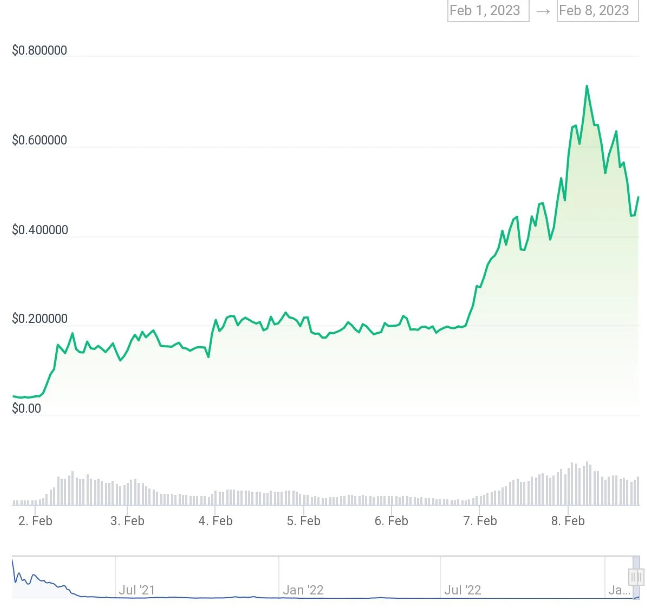 SingularityDAO (SDAO) and SingularityNET (AGIX), two tokens focused on artificial intelligence, trail it by a hair, with increases of 170%-200%. Other prominent winners in the AI and data intelligence sector include Fetch.ai (FET), matrix AI network (MAN), measurable data (MDT), oraichain (ORAI), deep-brain chain (DBC), and Vectorspace AI (VXV), with increases ranging from 75% to 95%.
Speculative rallies for crypto projects in the niche have been spurred by the recent attention paid to text and picture generation models like ChatGPT, StableDiffusion, and DALL-E.
Numerous projects provide blockchain-based data analytics and a decentralised platform to power AI and data science models built on the cloud.
Users are incentivised through SingularityNET to share information to train proprietary AI models. Tokens are then distributed to the users as compensation. By pooling user contributions of data and processing power across a distributed network, projects like DeepBrain Chain reduce the price of training AI models.
While investors buy these tokens in droves, not everyone is on board.
Andre Cronje, the principal developer at Fanton, said, "Blockchain and AI are not complementary, and (for now) anyone that jumps on the 'AI' bandwagon is simply doing so for pump & dump reasons."
The creator of Yearn Finance claimed that projects that try to "pivot" towards AI are likely out of ideas and "dead in the water."
While he conceded that seeing neural networks on the blockchain was theoretically possible, he questioned the motivation for doing so. "Blockchains don't improve AI, and AI doesn't improve blockchain."