2022 was a watershed moment in the history of pay-to-play (P2P) video games. The market is still reeling from the sudden rush of cash and users, followed by a steep drop in the prices of tokens in blockchain games and a subsequent fall in participants. 
And with the repercussions of the FTX tragedy being felt across the sector, the future of play-to-earn games is gloomy. However, the data paint a different picture: robust financing this year has laid the groundwork for significant building in 2023.
For months, the market has been steadily bolstered by a steady stream of substantial increases for Web3 gaming firms. The Web3 gaming industry raised roughly $750 million in August, with $24 million coming from UnCaged studios. Revolving Games raised $25 million in September, then Odyssey Interactive, Stardust, and SkyWeaver raised $19 million, $30 million, and $40 million in October, continuing the upward trend. As of last November, Thirdverse had amassed $15 million for use in developing Web3 and VR games.
The falling asset values and player excitement for the Web3 gaming area are in stark contrast to these figures. Despite the struggles of players and tokens, many VCs still believe in the long-term potential of blockchain-based video games. In the following year, which studios will emerge victorious? How come?
VCs bet on experience
Most studios obtaining investment in recent months need to hold seed or pre-seed rounds. They are, instead, stockpiling Series A shares.
However, there are always exceptions to any rule. Several studios have completed the seed and pre-seed stages. But their founding teams have extensive gaming experience even if they don't. For instance, Ruckus Games was founded by Gearbox and Riot Games ex-members and has already secured $5.5 million in venture investment. This is a change from the early days of Web3 gaming when VCs weren't as interested in established firms with a track record in the industry.
3 gaming startups obtained large amounts of money despite needing a solid plan for getting their goods to market or creating teams with sufficient track records to succeed. The funded studios of today have already established track records of success in developing Web3 games. In the past, venture capitalists would only look at the next year or two, but now they can see as far as five or 10 years ahead.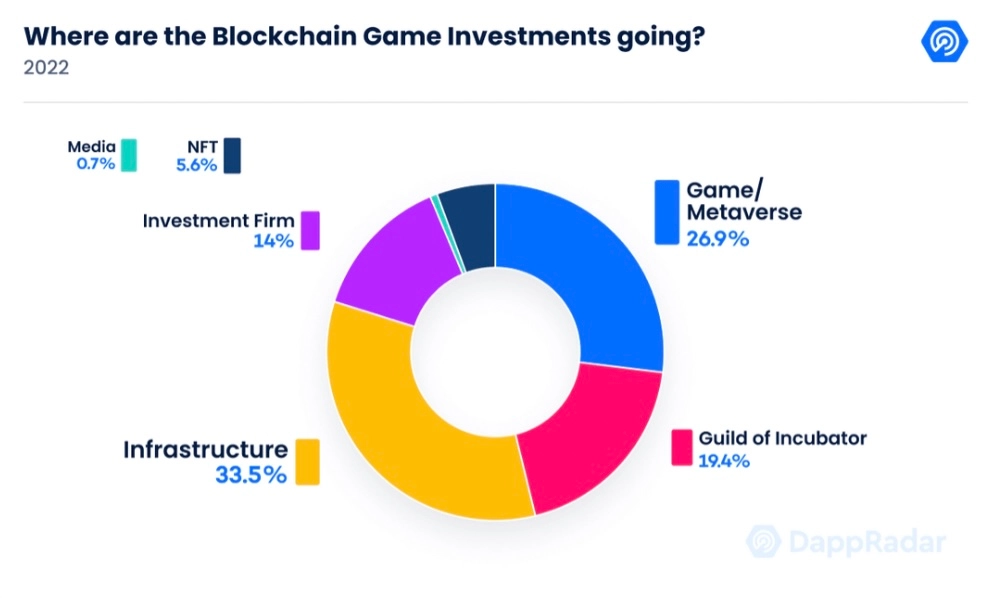 This timeline may seem like an eon for those immersed in crypto, but it's parred for the course for studios working on the more traditional side of the game industry. Long-term planning demonstrates how studios realise that games have limited lifespans and that putting money into the companies that create them rather than individual titles is better.
Crypto gaming to evolve
When we consider these increases with longer-term tendencies in Web3 gaming, we can begin to make some predictions about the sector. In that case, how would the cumulative effect of these wage increase manifest itself in a few years?
Mobile gaming is almost guaranteed to take centre stage. Hyper-casual mobile blockchain games reportedly drew over 1.7 million people from Web2 into Web3 gaming in only one week in September, according to DappRadar.
The current trends indicate that Web3 gaming will become mainstream over the next five years and that studio with significant blockchain features will be included in the worldwide index of the top 100 gaming studios.
Here's to the long game
It's likely that the massive funding rounds in the Web3 game industry over the past several months are still ongoing. The "buidl" phase has begun, and the Web3 gaming hype cycle is officially over. Investors are looking for studios that are in it for the long haul.
In 2023, the P2E market will see new dynamics and possibilities due to this shift in emphasis and the massive swings in the broader blockchain technology business. Players and investors will be able to distinguish themselves from one another due to increased standards. 
After 2023, quality will be prioritised over quantity. Those who can produce the most impressive games will emerge victorious. The stage is set; the game must begin.