Ethereum (ETH) is one of the leading cryptocurrencies besides Bitcoin (BTC). Yet, another iteration of Ethereum asserts its authenticity, namely Ethereum Classic (ETC). Ethereum Classic remained loyal to the original blockchain following a hard fork triggered by network breaches in 2016. This article delves into Ethereum Classic (ETC) and Ethereum Classic (ETC) price predictions for 2023-2030.
What is Ethereum Classic (ETC)?
Ethereum Classic (ETC) emerged in 2016 as a cryptocurrency through a hard fork, a permanent split, originating from Ethereum (ETH). Like the Ethereum network, the Ethereum Classic blockchain can support smart contracts and decentralised applications, and it upholds its distinct Ethereum Classic tokens.
The fork from Ethereum to Ethereum Classic was prompted by a significant hacking incident, an uncommon yet not unprecedented occurrence in crypto blockchains. This breach resulted in the loss of 3.6 million Ethereum tokens. The primary Ethereum blockchain responded by implementing updates to rectify the erroneous transactions. However, a segment of the original Ethereum community disagreed with this approach, leading to the creation of Ethereum Classic. It was built using the unmodified Ethereum ledger, which included the transactions from the hack.
Ethereum Classic stands apart because it preserves the original Ethereum blockchain. It employs the proof-of-work protocol to validate transactions, demanding substantial computational resources for ETC mining. While Ethereum Classic and Ethereum currently use the proof-of-work method, Ethereum is concurrently transitioning to a different consensus mechanism known as proof of stake.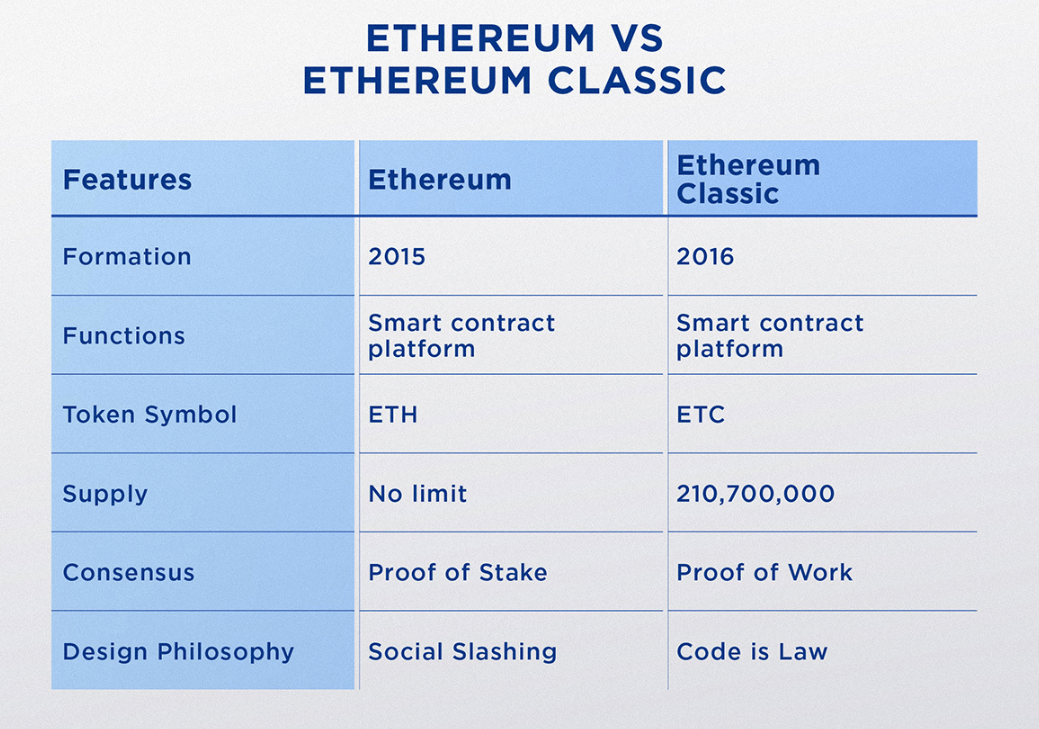 Ethereum Classic's native token is also named Ether, which can create confusion. However, their distinction lies in their ticker symbols: the new Ether is denoted as ETH, while Ethereum Classic's token is represented as ETC. ETC has a circulating supply of 143,002,842 tokens, with a maximum supply of 230,000,000. Miners can earn ETC tokens by upholding and securing the network's operations.
Ethereum Classic (ETC) Price History
Now, let's take a closer look at the price history of ETC. Note that while past performance should not be relied upon as an indicator of future outcomes, understanding the coin's historical trends provides valuable context for making or interpreting Ethereum Classic price predictions.
ETC initially traded at $2.08 when the blockchain split in July 2016. Subsequently, its price declined to a low of $0.75 in November 2016. But it then embarked on a significant rally, reaching $46 by December 2017. After this surge, the price experienced a downturn, falling to $3.76 by December 2018.
In February 2020, ETC saw a resurgence, reaching $12.34, its highest level since 2018. The price dipped to $4.51 in March 2020 due to market anxiety related to the COVID-19 pandemic. Throughout the rest of the year, ETC traded within a range of $4 to $6.
The beginning of 2021 marked a favourable period for the crypto market, and ETC capitalised on increased participation. It achieved an all-time high of $176.16 on May 6, 2021, followed by a sharp decline during the market crash. ETC hit a low of $32.51 on June 22.
On August 15, 2021, Ethereum Classic reached $76.94, its highest level since the May decline. It reached $77.07 on September 6 but subsequently retreated, closing the year at $34.12.
In 2022, the crypto market faced various challenges, impacting ETC's performance. It hovered around the $30 mark in January but rebounded to $52.17 in March. Subsequent market crashes led to a low of $12.60 on June 18. ETC then stabilised between $20 and $30 for several months. The collapse of the FTX exchange caused another market crash, with ETC reaching a low of $14.89 on December 19.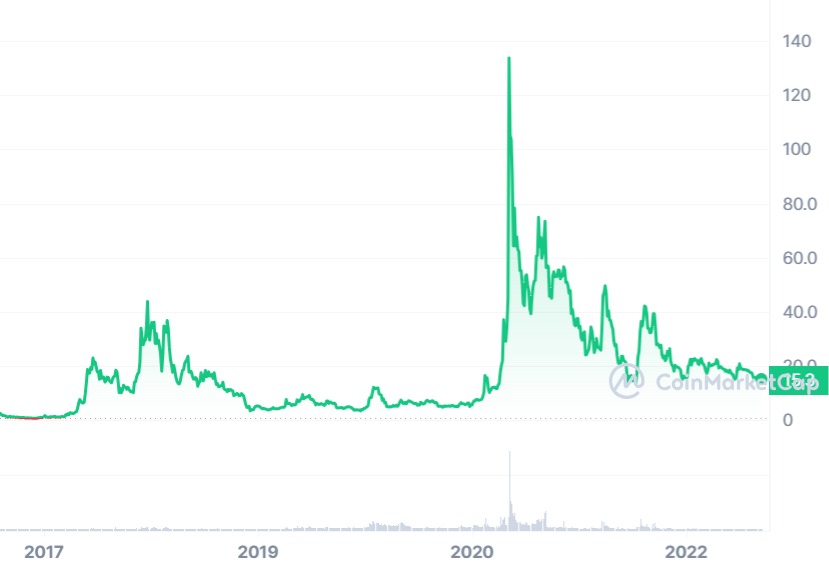 By year-end, it had recovered to $15.69, representing an annual decline of nearly 55%. Despite the losses, ETC outperformed the broader crypto market, which experienced a roughly 65% drop in 2022.
So far in 2023, the crypto market has seen some positive momentum, ETC has witnessed a price increase. Its peak occurred on February 4, with a high of $24.79. A subsequent decline, exacerbated by the Silvergate Bank's collapse, caused ETC to drop to $16.25 on March 10. The crypto recovered partly due to growing interest in ETH driven by a new hard fork. As of April 13, Ethereum Classic was valued at approximately $22.55.
During this period, just over 140.4 million ETC were in circulation out of a total supply of 210.7 billion. This gave the coin a market capitalisation of approximately $3.1 billion, ranking it the 23rd largest cryptocurrency by market cap.
Ethereum Classic Price Forecasts by Experts
Before delving into Ethereum Classic price predictions, note that price forecasts, especially for the inherently volatile cryptocurrency market, often prove inaccurate. Long-term crypto price predictions typically rely on algorithms that can swiftly change.
Coincodex presents an optimistic short-term outlook for Ethereum Classic's price, projecting a rise to $16.29 by September 9, 2023, marking a potential 6.48% increase from its current value. Their analysis is rooted in technical indicators, reflecting a bearish sentiment alongside a Fear & Greed index standing at 40. Coincodex's projections suggest a substantial price surge to $36.25 in 2024. However, subsequent years may bring corrections, leading to a market price of $23.99 in 2025, followed by $16.83 in 2030, and a long-term estimate of $13.69 by 2040.
Read more: CAKE Price Predictions 2023-2050: Is CAKE Token Worth Buying?
Wallet Investor adopts a pessimistic perspective on Ethereum Classic (ETC) as a long-term investment. According to their projections, ETC's price could drop to $1.430 by 2024, indicating a substantial decline of approximately 90.69%.
DigitalCoinPrice offers a bullish Ethereum Classic price forecast, envisioning ETC's value reaching $33.69 by the end of 2023, representing a significant 119.19% surge from its current valuation. Their prediction is grounded in a comprehensive analysis of market dynamics and technical metrics, all pointing towards robust bullish tendencies for ETC. Digitalcoin Price further indicates that this bullish trajectory may persist over the long term, with maximum price targets of $69.93 in 2026, $115.05 in 2029, and an impressive $208.60 in 2032.
Gov Capital's ETC price prediction places the coin's price at approximately $52.95 on April 13th of the following year, with a subsequent rise to $225.01 in five years.
Forex Trading on YouTube highlights a crucial weekly support range for Ethereum Classic, with a lower boundary around $11.50 and an upper boundary near $14.50. The trader suggests that a breach of this support area could lead to a significant decline, potentially down to $8.
Ethereum Classic (ETC) Price Predictions 2023-2030
Though Ethereum Classic price prediction had to make a tremendous effort to fork out of its origin and compete long and hard with its rival cryptocurrencies, it was not long before it would outperform during the last year. According to the technical analysis, most of Ethereum Classic's competitors did not mesmerise the traders either. Let us check the data for the Ethereum Classic price forecast from 2023 to 2030.
Ethereum Classic Price Prediction 2023
According to the ETC price prediction for 2023, Ethereum Classic's price might exceed $30. By the end of the year, Ethereum Classic is expected to reach a minimum price level of $18.18. And the ETC coin can get a maximum level of $44.16.
Ethereum Classic Price Forecast 2024
Stating that a jaw-dropping possibility does not exist and that bulls will ride the crypto market, it is once again expected that the ETC coin will rule the crypto industry with an average price pegged around $44.67. This shows Ethereum Classic has the full potential to sustain and consistently grow even in adverse conditions.
Ethereum Classic Price Prediction 2025
2025 might mark the benchmark year as the ETC price is predicted to surpass $50 by all means. Based on the ETC price prediction for 2025, the coin is estimated to reach the minimum price of $46.64 and the maximum price of $67.14 by the end of 2025.
ETC Token Price Prediction 2026
According to the ETC price prediction 2026, the currency will remain bullish. Moreover, future innovations and integration might affect positive trends in the overall growth of the ETC ecosystem. By 2026, the price of the Ethereum Classic forecast may hit the max price of $85.83. On the other hand, based on Ethereum Classic predictions, it may correct towards $59.62.
Ethereum Classic Predictions 2027
Ethereum Classic might continue to trade across $90 over 2027 as per the Ethereum Classic price predictions. By the end of the year, the price of ETC is predicted to reach a minimum price level of $76.29. On the upside, the ETC coin might hit the maximum price level of $109.82.
Read more: ONE Price Predictions 2023-2030: Will Harmony Hit $1?
ETC Coin Price Prediction 2028
As per the ETC forecast 2028, Ethereum Classic might trade at around $110 during 2028. By the end of the year, the price of Ethereum Classic is estimated to reach a minimum price level of $97.83. And on the upside, the ETC coin might get the maximum price level of $140.83.
Ethereum Classic Price Forecast 2029
Based on ETC price prediction 2029, Ethereum Classic might hover around $150.90 during 2029. The price of Ethereum Classic might reach a minimum price level of $123.71. And on the positive side, the ETC price might reach the maximum level of $178.09.
Ethereum Classic Price Prediction 2030
According to our Ethereum Classic price prediction 2030, the minimum price of ETC might achieve a significant height of $150 with an average price of Ethereum of $183.38. The maximum price of Ethereum Classic will be around $216.43, which is much more than the current price level, by the end of the year.
Is Ethereum Classic (ETC) a Good Investment?
The distinction is quite evident when comparing the Ethereum blockchain to the Ethereum Classic blockchain. Ethereum has outperformed Ethereum Classic regarding price performance in recent years. Its strong price performance has driven increased user adoption, prompting merchants and service providers to expand their accepted deposit methods to include Ethereum. Some price predictions even suggest that Ethereum may surpass Bitcoin in terms of usage in gaming deals. So, should you consider selling Ethereum Classic and acquiring Ethereum instead?
On the other hand, Ethereum Classic has faced challenges, particularly as the optimism surrounding Bitcoin's potential rise to $100K has given way to concerns about stability around $40K. Previously, the growth of Bitcoin was expected to bring stability to other cryptocurrencies, including Ethereum Classic, but this scenario has not materialised. Hence, many coins, including Ethereum Classic, have experienced a sustained decline.
Despite the ongoing market difficulties, there remains the possibility of a market resurgence. Buying during market dips may present an opportunity for Ethereum Classic investors. As Bitcoin continues to make gains, there is a chance that Ethereum Classic could also surpass the $50 mark. However, the rise of this cryptocurrency is contingent on a rally in the market and stability in its value.
Read more: BTT Price Predictions 2023-2030: Is BitTorrent a Good Investment?
Ethereum Classic (ETC) Price FAQs
Is Ethereum Classic superior to Ethereum?
It's challenging to compare definitively as both have strengths and weaknesses. Ethereum Classic can support smart contracts and dApps. In contrast, Ethereum enjoys more excellent investor support, and its functionality is more robust on the newer ETC blockchain. Both are prominent cryptocurrencies in the crypto world. It's akin to asking whether wine or whiskey is better!
Does Ethereum Classic have a future?
Indeed, there is potential. Based on historical data and past bullish price trends, we anticipate a bright future. This is particularly true because Ethereum, a pioneer of Smart Contracts, can benefit Ethereum Classic's price prediction through established systems and partnerships.
Could Ethereum Classic (ETC) face failure?
The fate of Ethereum Classic largely depends on the future average price of the ETC token. It's crucial to conduct your due diligence. Financial resources, security, miner interest, and team stability can impact its stability. Mass adoption and prevailing market sentiments significantly influence the project's longevity.
Can the ETC token reach $1000?
No, according to our prediction model, there is no foreseeable scenario where the Ethereum Classic (ETC) token hits $1000 in the future. While ETC's price may experience notable upward movements, achieving such a substantial milestone appears unlikely based on available data and prevailing market conditions.