If you're in Australia and seeking a leading online stockbroker that offers excellent crypto bargains and no commission on stock purchases, keep reading this review. We will provide you with all the essential information about eToro Australia, one of the best crypto exchanges in Australia and the world.
eToro Australia Overview
eToro was launched in 2007 by David Ring and the Assia Brothers Ronen Assia and Yoni Assia. It then quickly became a worldwide online financial trading platform and multi-asset broker. Over 20 million active traders from 140 countries are particularly interested in eToro CopyTraderTM and Smart Portfolios investment methods. 
The platform's headquarters are in London, United Kingdom, and it has several locations internationally. Through eToro, you can trade or invest in crypto assets, fiat currencies, NASDAQ stock trading, and a variety of commodities, in addition to FX and cryptocurrency trading via CFDs.
Pros
Low minimum to open an account and start investing
Copy trading to match the actions of other traders
eToro delivers user-friendly web and mobile platforms
eToro supports fractional shares trading unlike other brokers
Cons
No crypto-to-crypto trading pairs
Limited ETF selection with only about 200 ETFs
General lack of advanced trading features
Customer support should be improved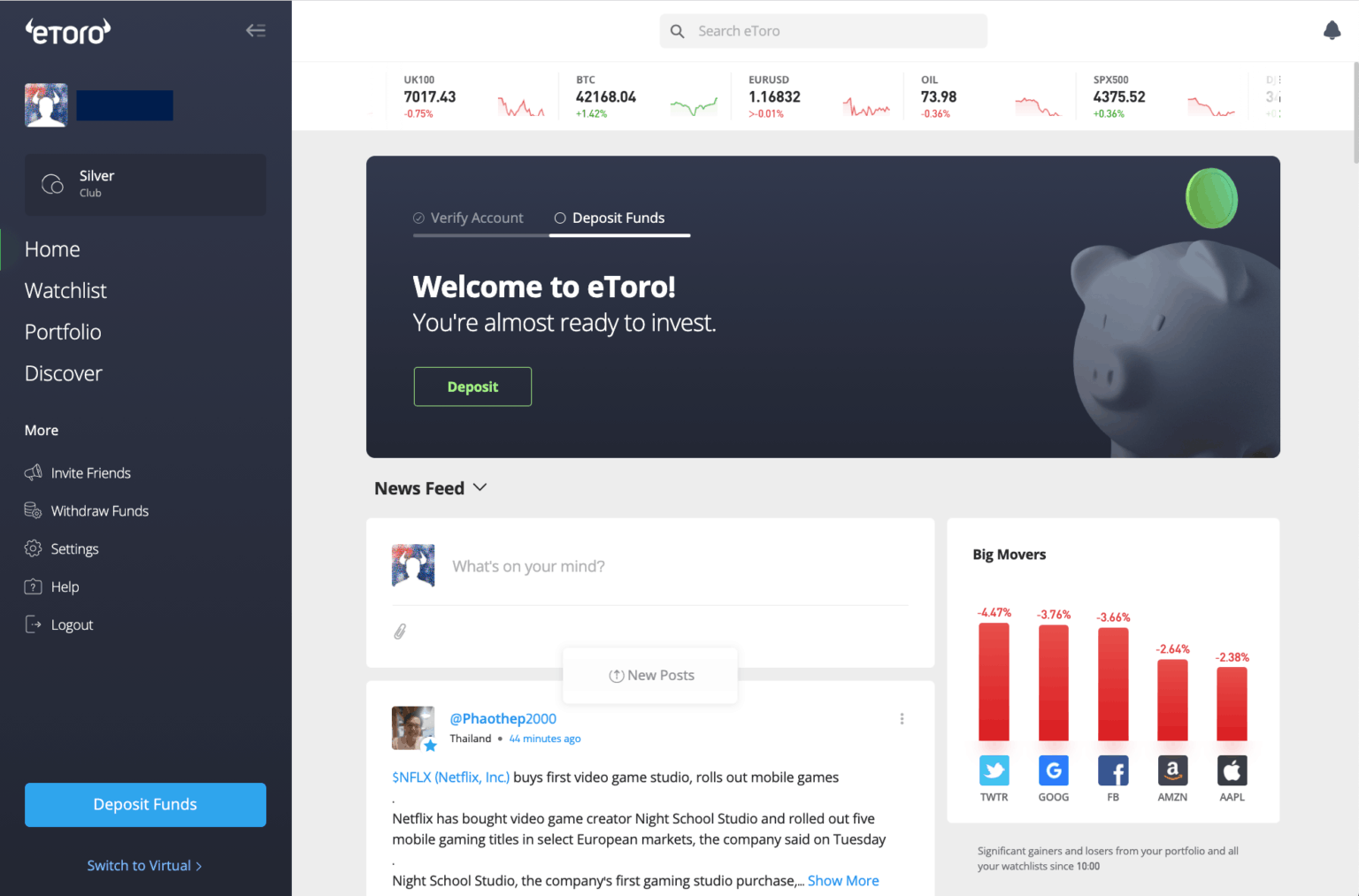 Deposit & Payment Methods
Simply click the blue symbol in the lower-right corner of the dashboard to fund your account. This action will trigger a pop-up widget in which you may enter the desired deposit amount and pick your chosen fiat currency (USD, EUR, GBP, or AUD) from a drop-down menu.
Next, select a payment method. eToro supports payments through credit card or debit cards (provided by Visa, Maestro, or Mastercard), bank accounts, and major payment processors like PayPal, Skrill, and Neteller. Check your personal information on the card and then click the 'Deposit' button to finalise the transaction.
The only fiat currency you may use to finance your eToro account is the US dollar (USD). eToro's minimum deposit requirement is USD 50. eToro charges a 0.5% fee for bank transfers and a 1% fee for all other deposit methods to cover currency conversion expenses.
eToro Australia's Tradable Assets
In this eToro Australia review, we delve into eToro's stocks, crypto, ETFs, FX, commodities, and indices.
Buying Stocks
eToro supports almost 3000 stocks for you to trade:
1145 stocks on the New York Stock Exchange

854 on the NASDAQ

900+ on exchanges in London, Frankfurt, Amsterdam, Hong Kong, Zurich, Paris, Madrid, Milan and Stockholm.
Stock market sectors that eToro supports include Energy, Software, Technology, Retail, Durable Goods, Financial Services, Medical Technology, Entertainment, Media Services, Consumables, and Transportation.
Observing the Daily Movers on your eToro interface is an excellent way to get a feel for the variety of available stocks. You can also check Trending Stocks, Popular Picks and TipRanks's market analysis.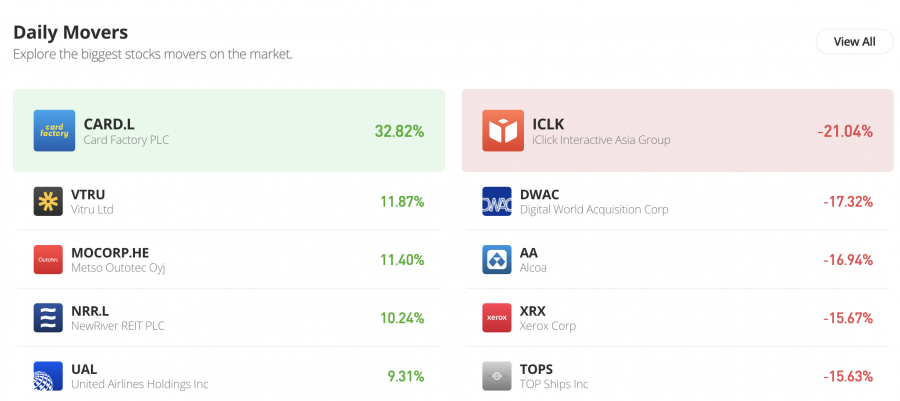 When you click on a stock's logo, its homepage will load. Here, you can see all recent stock references by other investors. This is a fantastic location to get ideas, but don't believe everything from other investors!
Click "Stats" for a complete statistical analysis of the stock's performance. Click 'Research' to learn what professional analysts say about the stock. You can also grasp how recent hedge fund activity has influenced the stock price.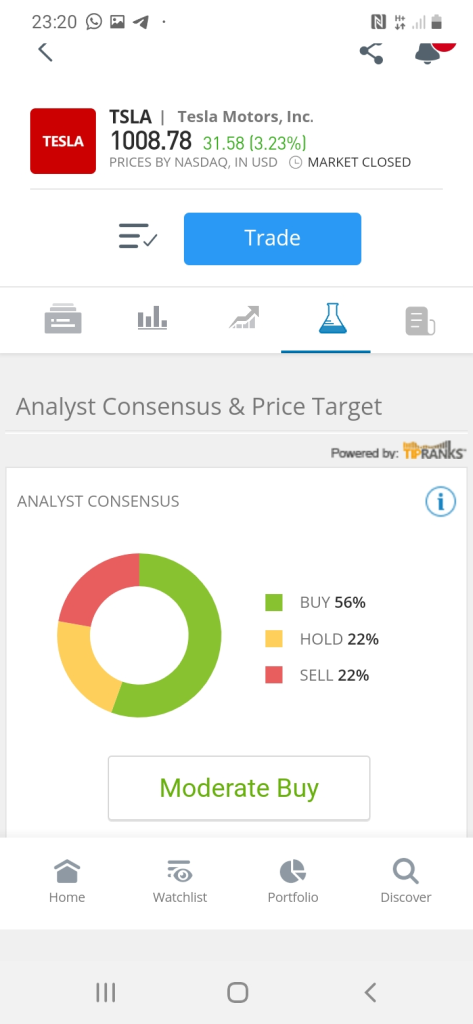 Click the 'Chart' button to view a price chart for the stock in question. This chart is highly customisable and provides access to robust technical charting capabilities. When you're ready to buy, click the "Trade" option.
Trading Crypto
There are several methods for purchasing bitcoin in Australia. eToro is a licensed provider, as well as a growing suite of over 60 major cryptocurrencies, including:
Key blockchains such as Bitcoin (BTC),

Ripple (XRP)

, Ethereum (ETH), Solana (SOL), Cosmos (ATOM),

Cardano (ADA)

and Tron (TRX)

Key store-of-value coins such as Bitcoin Cash (BTC), Litecoin (LTC) and Ethereum Classic (ETC)

Key DeFi tokens such as Curve (CRV), Maker (MKR), Uniswap (UNI), Yearn Finance (YFI) and Algorand (ALGO)

Meme coins such as Dogecoin (DOGE) and Shiba Inu (SHIB)

Metaverse tokens as Sandbox (SAND), Decentraland (MANA) and Enjin (ENJ).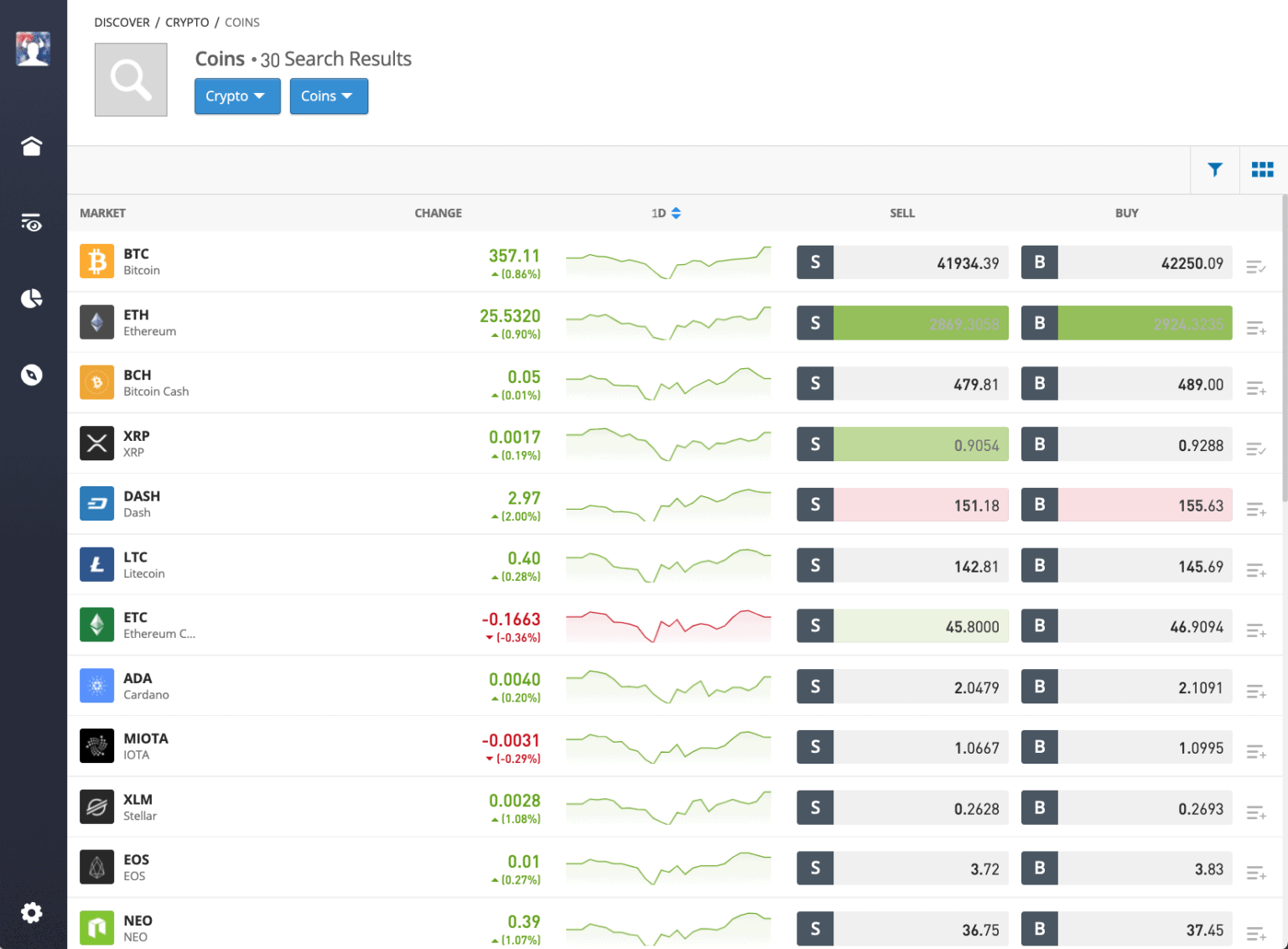 eToro also supports three main POS cryptocurrencies, 14 crypto crosses and 63 currency crosses for trading, such as the ETH/EOS pair and BTC/EUR pair.
In some nations, including Australia, you can use Contracts-For-Difference (CFDs) to orient your trades and go short on crypto.
Exploring CFDs
The eToro interface allows you to familiarise yourself with the available crypto stocks. Click on "Discover" on the left toolbar, then select "Crypto" from the resulting menu. You can obtain an overview of the most prominent coins accessible, organised by Daily Movers and Trending Crypto.
You can also view the available crypto CopyTraders and Smart Crypto Portfolios. There are over 600 crypto traders for you to follow and 8 crypto portfolios to invest in.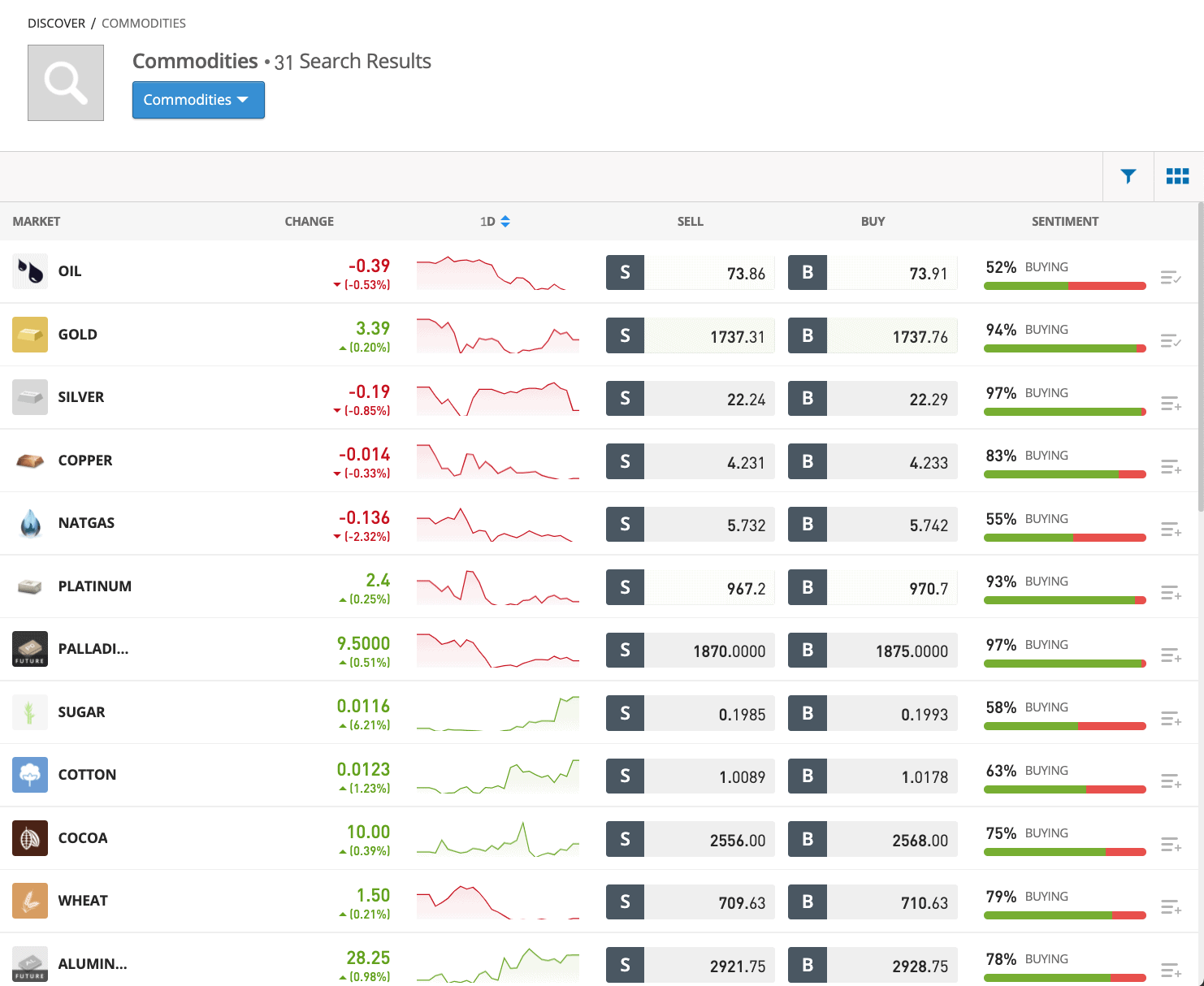 To review a specific asset, click its logo, and you will see a chat feed, statistics, graphing tools, research, and news, much more with eToro stocks. To enter the purchase dialogue, click the blue 'Trade' button.
ETFs:

264 exchange-traded funds (ETFs) are available for trading on eToro, including SPDR S&P 500 (SPY), the largest and oldest ETF that follows 500 US stocks.

Forex:

If you are an ardent forex trader, you will be thrilled to find that eToro allows you to trade 49 FX pairs. AUD pairs consist of AUD/JPY, AUD/USD, and AUD/CAD.

Commodities:

There are 32 available commodities, including gold, oil, and gas. Investing in commodities helps reduce the volatility of your diversified portfolio and hedge against the risk of inflations.

Indices:

13 indexes are supported, including the US Nasdaq 100, the UK FTSE 100 and the GER40.
eToro Australia Fees Explained
eToro tends to charge lower fees than traditional brokerages. This is primarily due to the scalability of online brokerages' businesses. Since they don't charge each customer as much as traditional brokerages, whether they have 200 or 10,000 clients doesn't make much difference.
This does not mean, however, that they do not charge any costs. They generate revenue by charging you various fees at various events. Typically, you must be aware of the following fees:
eToro Trading Fees
A trading fee is the fee incurred when you execute a trade. The amount you are charged is either a commission, a financing rate or a spread. eToro Australia, like many other brokerages, uses all of these.
The commission is either fixed or based on your trade.

Financing rate is charged when you hold your leveraged positions for over one day.

A spread is the difference between the buy and sell prices.
| | | | |
| --- | --- | --- | --- |
| Asset | Spread Fee | Buy Fee | Sell Fee |
| Stocks | Varies by stock | zero | zero |
| Crypto | Varies by crypto | 1% | 1% |
| ETFs | Varies by ETF | zero | zero |
| Forex | From 1 pip; depends on forex pair | zero | zero |
| Commodities | From 2 pips; depending on commodity | zero | zero |
| Indices | From 1 point; depends on index | zero | zero |
eToro Non-trading Fees
eToro non-trading fees include fees for withdrawals and deposits. In certain circumstances, if you don't trade for more than 12 months at eToro, you are charged an inactivity fee. 
Deposit fees may incur when you transfer funds from your bank account to your trading account. Typically, brokers do not impose a fee for this, and eToro is no exception: you will see the same amount on your brokerage account regardless of whatever deposit method you use.
However, eToro Australia charges a $5 bank transfer withdrawal fee. You must pay this fee when transferring funds back to your bank account. It is up to you to determine if this is a large sum, depending on your transferred amount.
After one year of inactivity, you have to pay $10 per month as an inactivity fee. Inactivity indicates that you do not access your account. This necessitates a systematic approach to trading to avoid incurring fees after an extended period of inactivity. The fact that eToro Australia imposes an inactivity fee reduces the platform's suitability for buy-and-hold investors.
eToro Copy Trader
The eToro Copy Trader allows you to copy trades for free! You can search through tens of thousands of other investors using a highly effective filter option. The CopyTrader tool will then automatically replicate their transactions in real-time using the funds you have allocated. A percentage of your allotted funds will be used to execute the same transaction on your behalf for every trade they perform.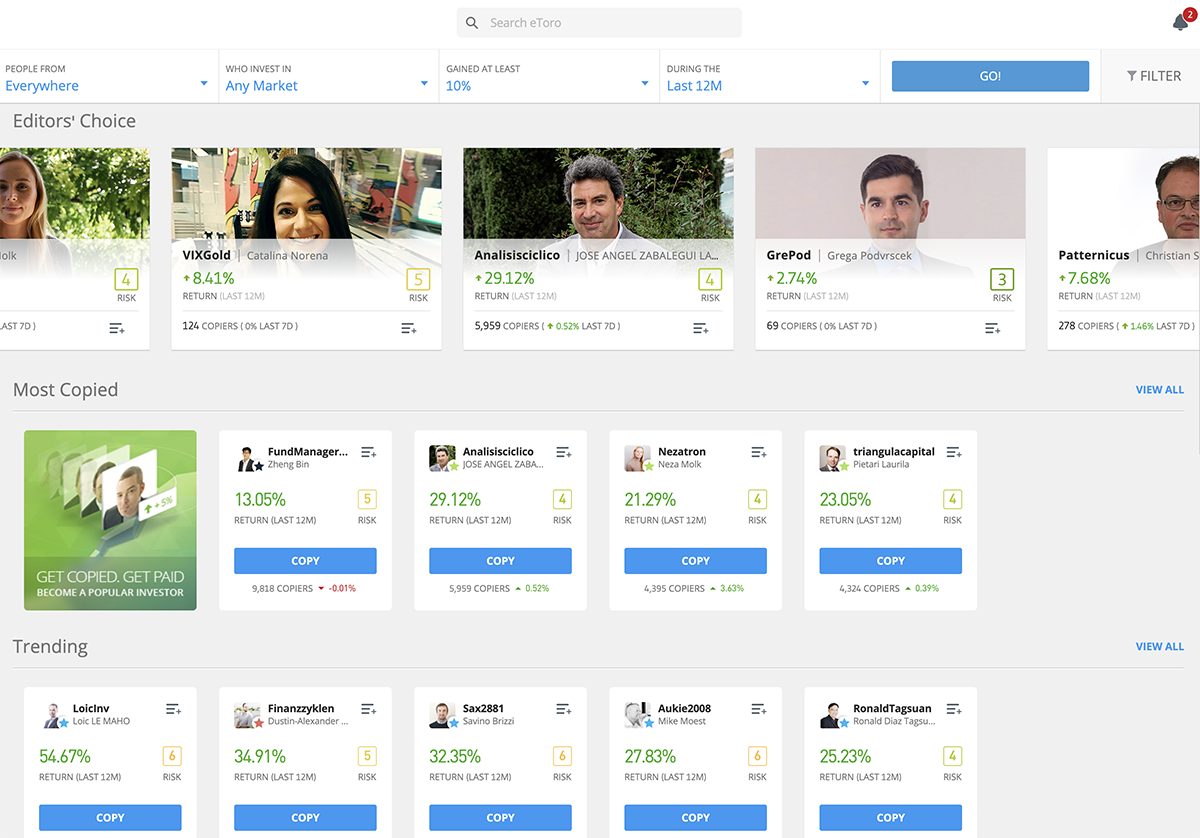 Although there is no price for copying, trade fees apply. You can evaluate traders based on their location, the market in which they invest, their average returns over the past year, and their risk rating.
Consider the case of Nezatron. The focus of this trader is on value stocks and ETFs. She has nearly 4000 copiers, a risk rating of 4/8, and a 21.29% return.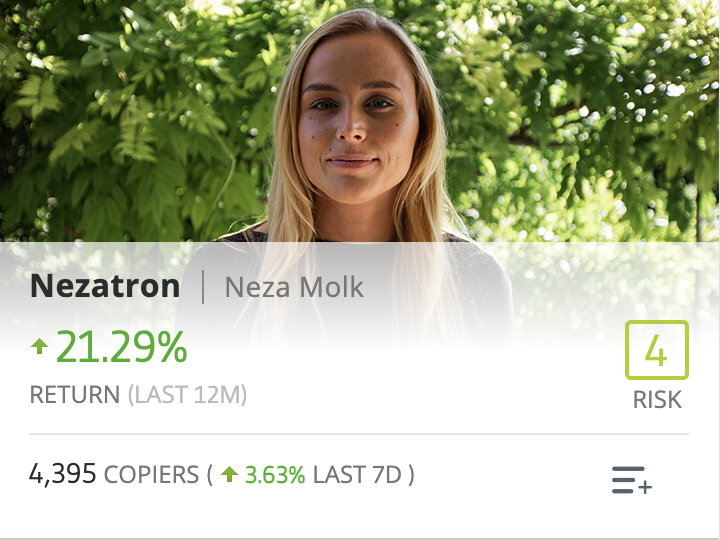 $200 is the minimum amount necessary to replicate another trader. Each duplicated slot must be at least $1.
eToro Smart Portfolios
There are 67 Smart Portfolios., each of which is a diversified portfolio of stocks or cryptocurrencies. The figure below demonstrates that the top 10 Smart Portfolios have generated exceptional returns over the past year.
For instance, the top Smart Portfolio, Napoleon-X, has generated a 48.17% return through algorithmic crypto trading. By investing in gold and energy equities, the GoldenEnergy portfolio has nearly reached a 12-month return of 47,56 %.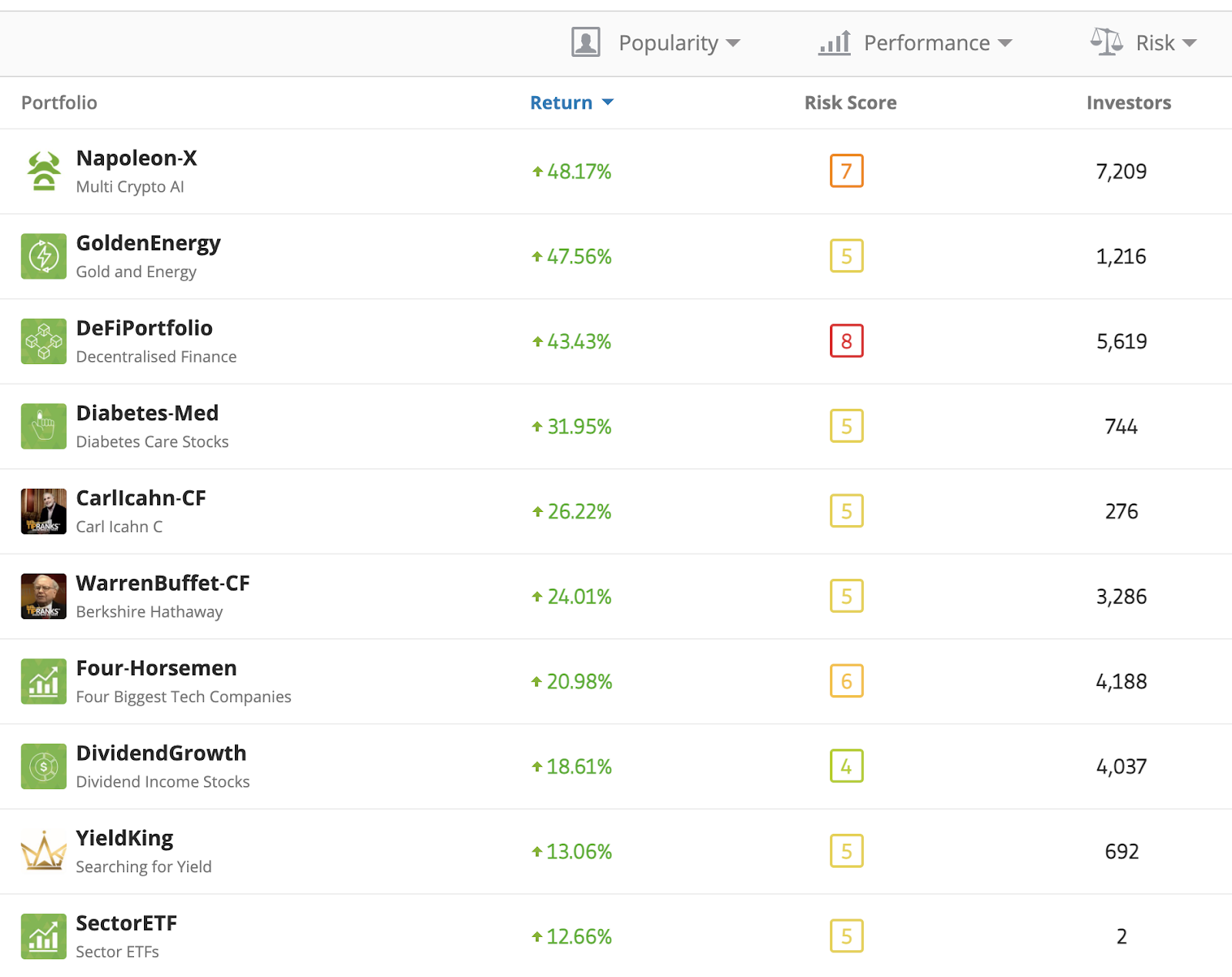 Investors can purchase one of these assets with a $500 minimum commitment. When you contribute funds to a smart portfolio, proportionate transactions will be executed to distribute your allocation among the assets in the portfolio.
eToro Australia ProCharts
On both the eToro desktop and mobile platforms, charting tools are accessible. You can select the type of chart you wish to view (line, mountain, candlestick, etc.) and choose to display Bollinger Bands, Moving Average, MACD, RSI, and Stochastics on the mobile app.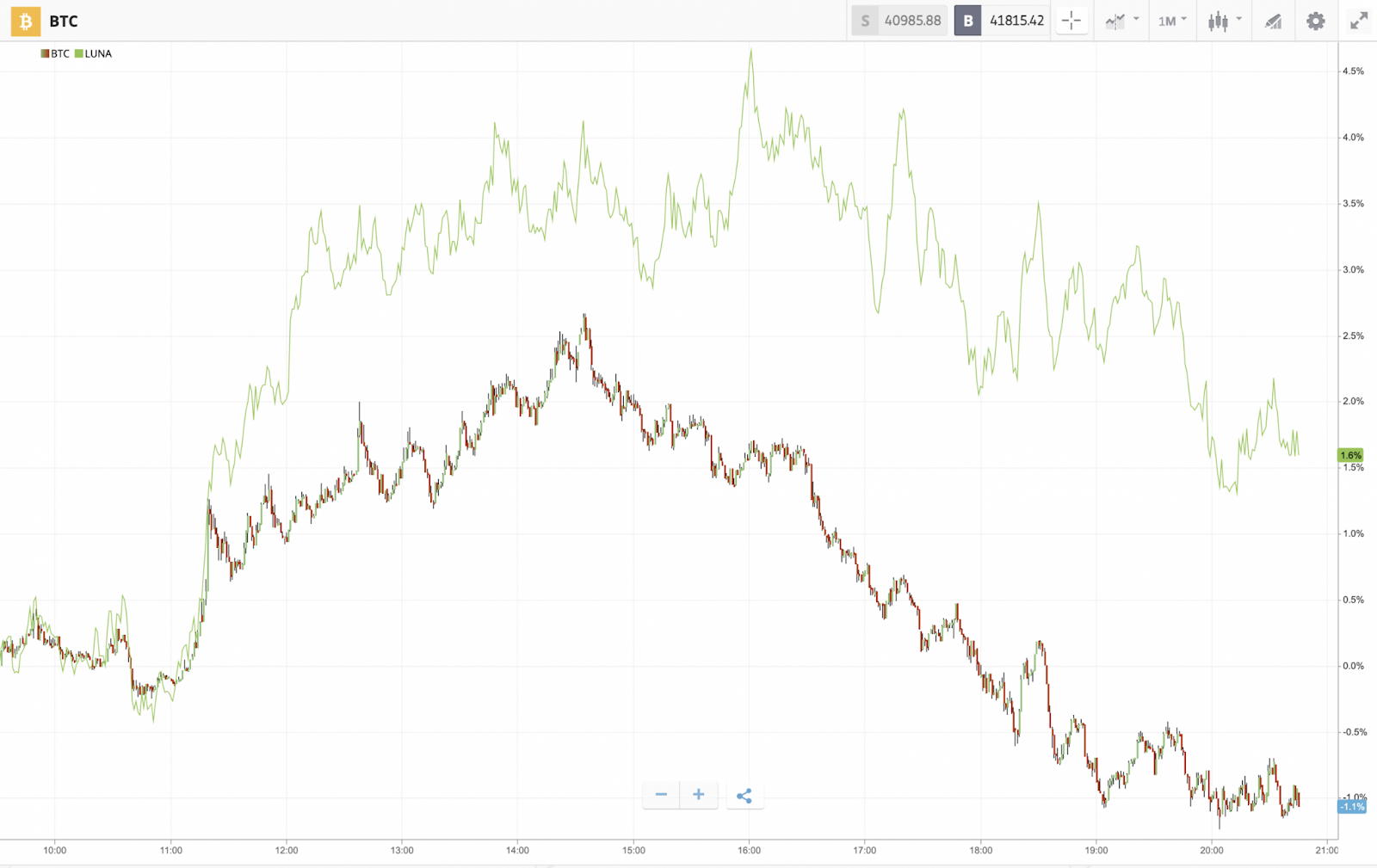 Using the line, bar, and candle charts provided by ProCharts, you can study an asset's historical performance. It's also possible to display many charts on the same screen, allowing you to compare their performance. Users of ProChart can filter data by time interval or price. Fibonacci retracement and accumulative swing index are two more complex tools accessible from the chart's panel. 
A significant disadvantage, however, is that eToro's charting software doesn't support volume analysis, a crucial component of technical market analysis.
eToro Account Types
There are 3 primary kinds of eToro Australia accounts:
Retail investor – that means you and me!.

Professional investor – requires special accreditation.

Virtual account – this is a demo account that allows you to practise trading with $100,000.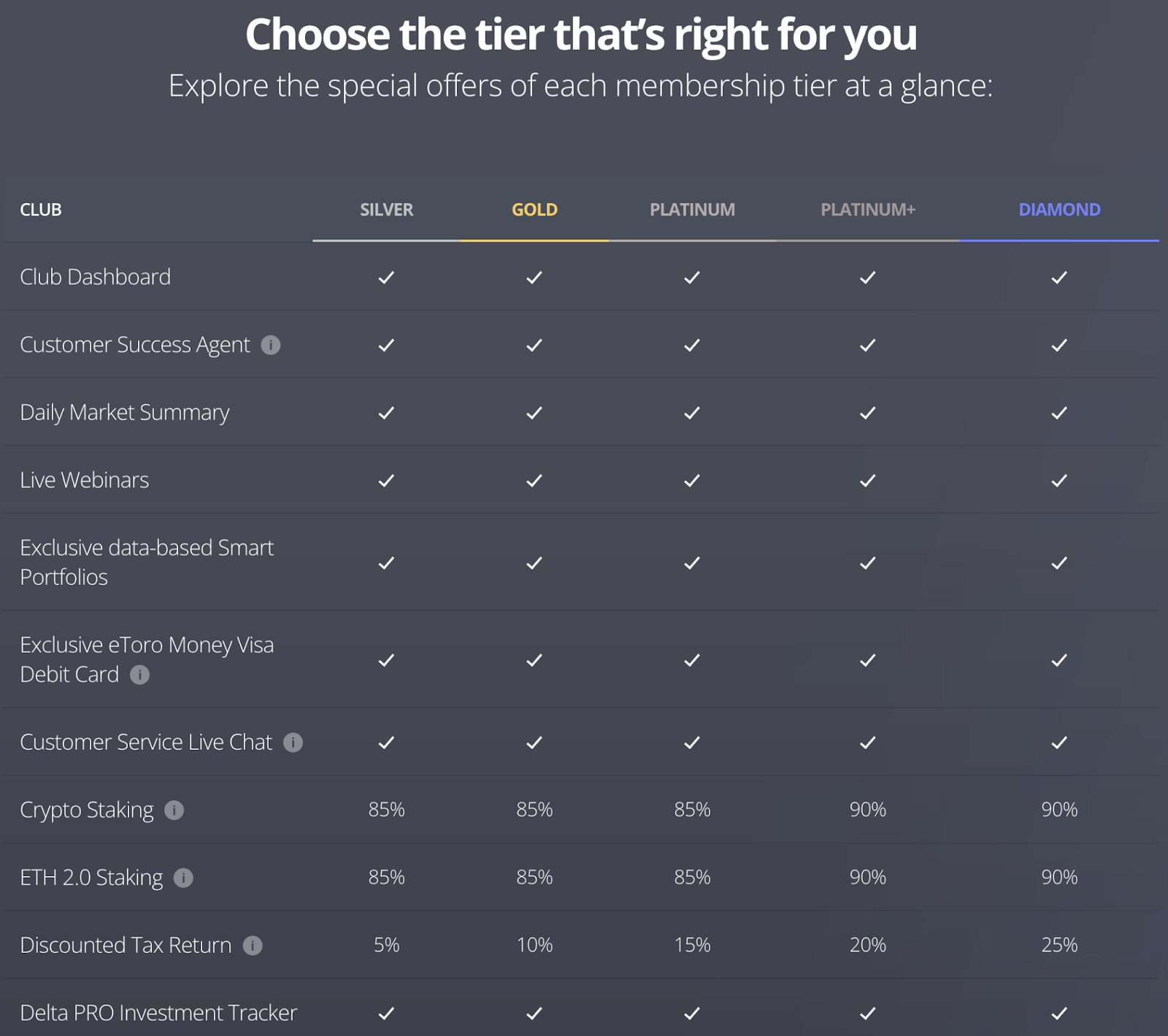 In addition, investors can access a variety of levels by joining the eToro Club. These tiers range from Silver (the lowest level) to Diamond (the highest level). Each tier grants certain advantages. All new investors are initially assigned a Bronze-tier account.
You immediately join a tier when your equity reaches a specified threshold:
Silver: $5,000

Gold: $10,000

Platinum: $25,000

Platinum+: $50,000

Diamond: $250,000
eToro Australia Mobile App
The eToro smartphone app enables investors to do all desktop software functions while on the go. With the eToro Australia mobile app, you can buy and sell, monitor hot assets using your watchlist, and access social trading options.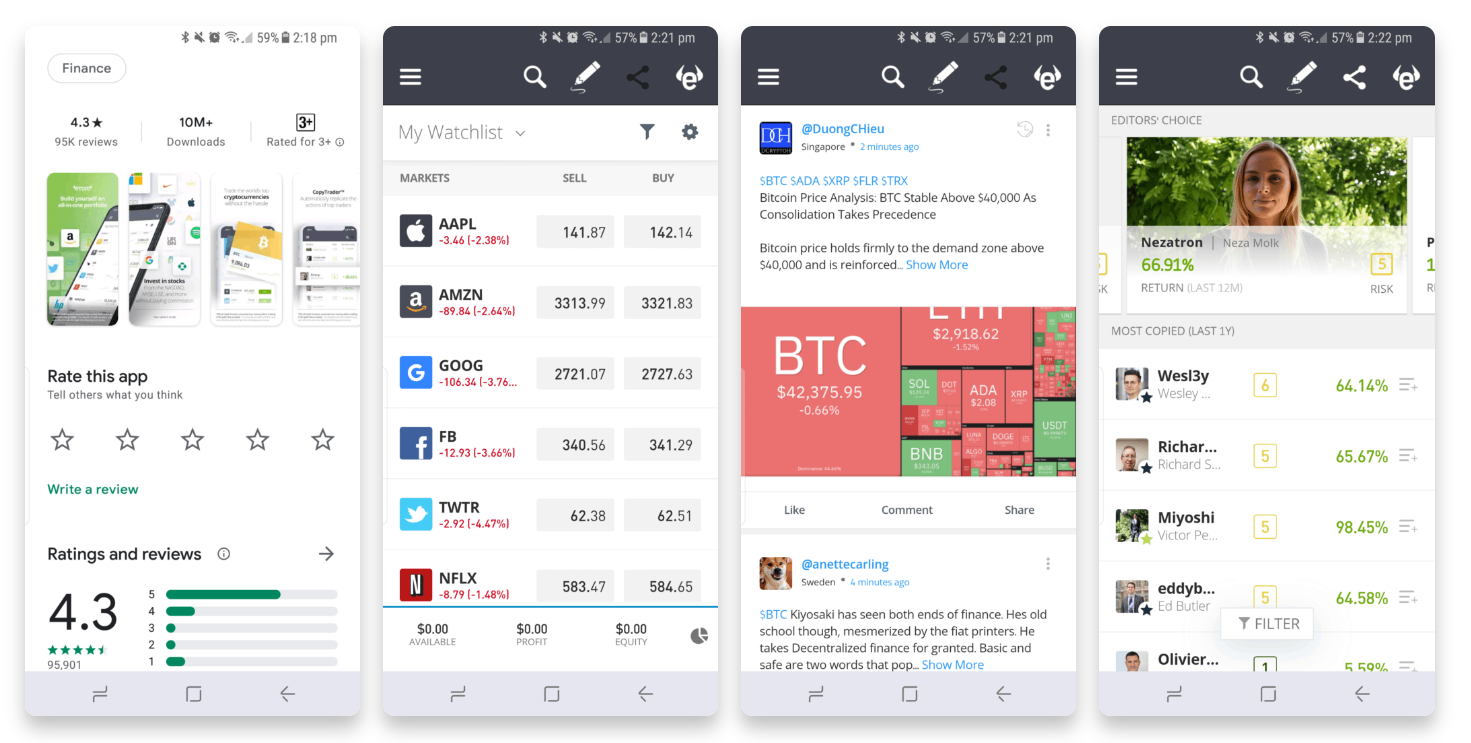 The eToro mobile application is perfect for novices because of its simplistic design. Due to the simplicity of the design, it might be difficult to locate various features. However, this is a limitation shared by all online brokerage apps: smartphone screens are just too tiny to display everything simultaneously.
The app on Google Play has an average rating of 4.2 stars out of 5 from 116k reviews. On the App Store, the app has an average rating of 3.75 stars out of five from around 7000 reviews.
eToro Australia Security
When conducting business online, you must ensure that you work with a reputable company. eToro is governed by different regulators covering the financial laws of numerous nations.
Financial Conduct Authority (FCA/UK);

Financial Industry Regulatory Authority (FINRA/USA);

Financial Services Authority Seychelles (FSAS);

Cyprus Securities Exchange Commission (CySec/Europe).
eToro is also registered with the Australian Securities and Investments Commission (ASIC/Australia) as eToro AUS Capital Pty Ltd.
In addition to complying with the above severe laws, this social trading platform incorporates stringent security measures. Two-factor authentication (2FA), data security technologies, firewalls, and encryption techniques are included in these security procedures.
In addition, only top-tier financial institutions are used by eToro to handle customer funds. This trading platform never shares unencrypted sensitive customer data with other parties for advertising purposes.
However, the eToro wallet stores your private key. Therefore, you must place your faith in the trading platform to safeguard your assets. That said, it does hold its customers' funds separate from its business bank accounts.
eToro Customer Support
eToro features a Help Center with many FAQ articles that answer various customer queries. Outside of this self-serve option, more typical customer service options are restricted, allowing either email contact or a support ticket option. So if customer support is your priority when choosing a trading platform, other well-rated exchanges, such as CoinSpot, are a more sensible choice. You can read our CoinSpot review to learn more about its fees, services and more!
EToro Club members can also obtain customer service through live chat and phone, but these methods are exclusive to club members. Only members at the silver level and above — which needs equity of $5,000 or more — can contact to talk to a representative directly.
Frequently Asked Questions
Is eToro Australia secure?
eToro is regulated by many global financial authorities, making it secure against fraud and insolvency. In Australia, the Australian Securities & Investments Commission regulates eToro (ASIC). Since its inception in 2007, eToro has focused on regulation and security and has never been hacked.
How long do eToro withdrawals take?
It varies. You may have to allow up to 10 days for withdrawals through bank transfer and credit/debit card and two days for Neteller and Skrill. Notably, deposits and withdrawals between eToro Money (eToro's crypto and personal finance wallet) and the brokerage are quicker.
Is eToro free in Australia?
Yes. eToro is available for Australian investors and traders. This platform does not charge account administration fees but trading and non-trading fees. See our eToro Australia review above for more information.
How to open a demo trading account on eToro?
The eToro demo trading account allows you to manage a virtual portfolio, test different risk levels using leverage, Stop Loss, and Take Profit, engage with professional traders globally, and imitate their trading strategies. 
To create a demo trading account on eToro, log in to the eToro platform and search for the Virtual Portfolio icon under your user name on the dashboard to access your demo account and try various strategies without risking real money.
Does eToro Support Mobile Trading?
Yes. The platform comes with an app for mobile with a user-friendly UI. Users can trade digital assets and link their user accounts to bank accounts. The mobile application is available for download via Google Play and the Apple App Store.
Does eToro Have a Crypto Wallet?
Yes. The trading platform can include a crypto wallet for storing and depositing crypto assets. You can put cryptocurrency straight into their wallets via credit card transactions.
Is eToro Australia suitable for you?
eToro's social investing platform is enticing for investors who want to follow the trades of professional crypto traders. With 25 cryptocurrencies available, eToro offers a broader range than other U.S.-based crypto brokerages. Users can also opt for stocks, exchange-traded funds (ETFs) and many other assets.
Conclusion
eToro's emphasis on CopyTrade dynamic, stock and ETF trading with eToro Smart Portfolios are the main attractions for investors and traders. However, the platform lacks financial calculators, research tools, and some advanced trading features, which impede the execution of a diversified investment portfolio. These considerable constraints exclude a lot of potential traders from using eToro Australia.
The following review is for informational purposes only and should not be construed as financial or investment advice. It is important to note that cryptocurrency is a highly volatile and speculative market, and there is no guarantee of profit or loss. This review is based on the author's personal experience and research, and individual results may vary. The author is not affiliated with any of the exchanges mentioned in this review and does not receive compensation for their mention. It is recommended that readers conduct their own due diligence and consult with a financial advisor before making any investment decisions.
The information regarding performance may be different from the time of publication. Past performance does not guarantee future results. While we believe that all content was accurate at the time of posting, it is possible that some offers included in the content may no longer be valid.