Finding a cryptocurrency exchange that fits your trading profile is difficult, as many options exist with their own pros and cons. For instance, Digital Surge, one of the Australian cryptocurrency exchanges, has some great features but more drawbacks. Those who are considering trading on this platform can read this Digital Surge review to determine if their deposit methods, trading costs, security, customer service, etc, meet your needs.
Digital Surge Overview
| | |
| --- | --- |
| Exchange Name | Digital Surge |
| Website | digitalsurge.com.au |
| Coins supported | 300+ |
| Payment Type | POLI, PayID, Bank transfer  |
| Trading Fee | 0.5% |
| AUD Deposit Fee | $2 to $3.30 for POLI |
| AUD Withdrawal Fee | None |
| Mobile App | Available for both iOS and Android |
Digital Surge is a Brisbane-based crypto exchange allows users to purchase and sell coins via AUD easily. It's a user-friendly trading website for Australians new to crypto assets with an average rating of 4.8/5 stars based on only 354 user reviews.
Pros
AUSTRAC regulated and ASIC-licenced crypto exchange
Modern and intuitive design for investors of all levels
Instant AUD deposits and withdrawals from bank account
Excellent crypto HODL option for everyday investors
Cons
Higher fee compared to Digital Surge fee of 0.5%
Takes some time to become familiar with its interface
Lack of high security and trust
No advanced markets for seasoned traders
Customer support using automated bots
Supported Cryptocurrencies
Digital Surge supports more than 300 kinds of digital assets, which is enough for novice investors. It supports the most prominent coins, such as Bitcoin (BTC), Ethereum (ETH), Cardano (ADA), and meme coins Dogecoin (DOGE), RobotEra (TARO), and Shiba Inu (SHIB) so that you can choose the one with the potential to invest.
However, it's worth noticing that major stablecoins like Dai (DAI) and Binance USD (BUSD) are not supported. Cryptocurrency exchanges such as CoinSpot or Binance offer more digital assets than Digital Surge.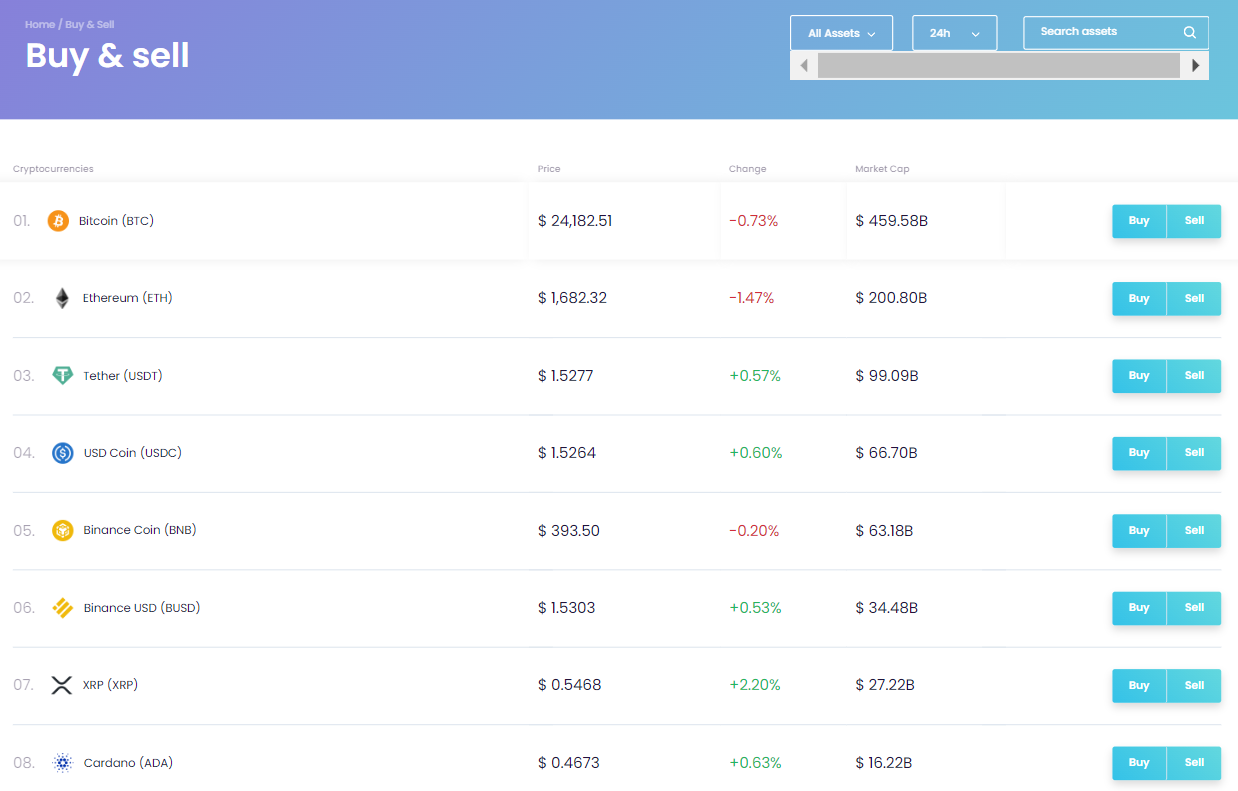 Deposit Methods
Digital Surge offers popular deposit methods, such as bank transfers, POLi, and PayID, and allows users to fund their accounts with coins from external wallets. While other methods are free, POLi payments incur a $2.00 – $3.30 fee and have a limit of $8,000. For small-volume investors, it is advisable to deposit larger amounts to minimize the fee.
Unfortunately, Digital Surge doesn't support crypto purchases via credit cards. In addition, due to the recent problems with FTX, Digital Surge has temporarily banned deposits and withdrawals until further notice. Thus, Digital Surge cannot accept new customers at this time, though existing users can still trade assets as usual. Thus, you choose other exchanges such as CoinSpot, Binance, or Swftx.
Digital Surge Fees & Charges
Deposit & Withdrawal Fees
Except for POLi payments, Digital Surge doesn't charge fees to fund your account with cash. All other payment options are free, including AUD withdrawal from your account and deposit into the bank account of your choice. Sending funds to an external wallet incurs a regular network transaction fee, which varies according to the type of coin and the network.
Trading Fees
The trading fee for instant buy and sell market orders is 0.5%. The fee for trading cryptocurrencies is based on your 30-day trade volume. Essentially, the greater your 30-day trade volume, the lower your fees will be. Regardless of your trade volume, the maximum fee is 0.5%, which is lower than other Australian exchanges such as Swyftx. Additional information can be found in the image below.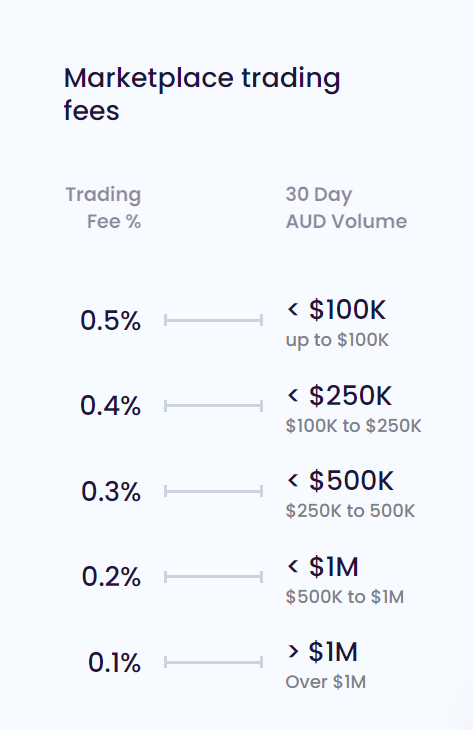 Digital Surge's Notable Features
Platform Interface
Digital Surge has made it simple for users to begin trading in under two minutes. In crypto trading, circumstances might change rapidly. The exchange keeps you at the forefront of this change. You don't want to miss out on a crypto market shift because you could not access your account in time.
As said previously, investments might sometimes be risky due to the market's volatility. This is true for every market, but more so for the cryptocurrency industry. By streamlining its interface, Digital Surge ensures that you are not fumbling around on your dashboard attempting to figure out how to purchase the next hot coin or unload a failing one.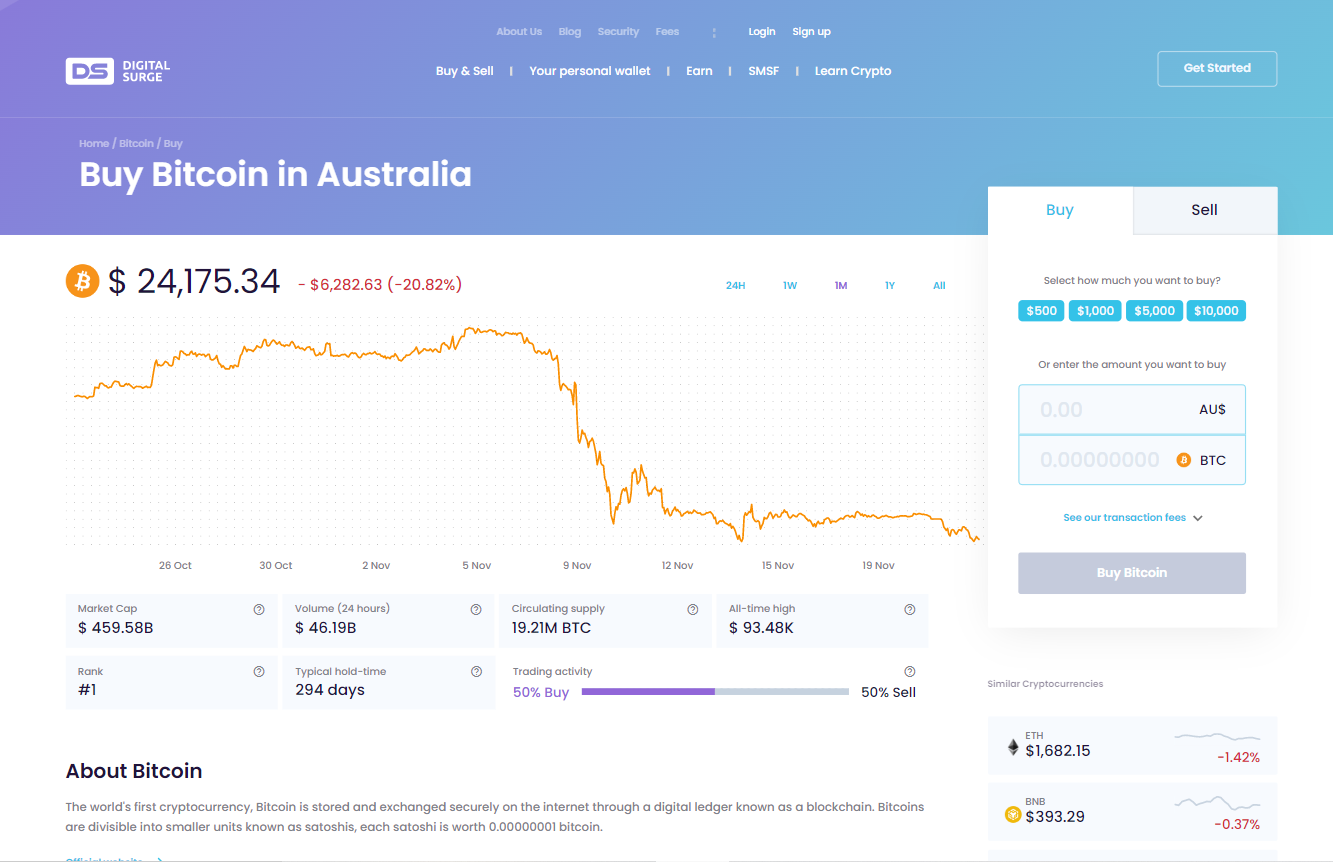 Buy & Sell at Digital Surge
The Bitcoin exchange's trading section provides two alternatives for users. The first is Markets, where clients can exchange Bitcoin or Ethereum with other users. Buy & Sell provides an instant purchasing experience.
While other exchanges demand a greater fee for instant transactions, Digital Surge's quick Buy & Sell is distinguished by its steady 0.5% costs. Depending on the traded volume and spreads, consumers can avail of similar costs for both options.
Traders should use the fast buying opportunity because the alternative is low-volume trading. Without limit orders and with its website functioning as a PWA, traders can select from various cryptocurrencies, including Bitcoin. 
Bill Payment Via Crypto
The exchange modernizes BPAY with Bitcoin, the future digital money that fully eliminates the need for a bank or third party. Their bill payment system is supported by a comprehensive exchange and order book, allowing currency transactions to be handled in-house without the need for third-party outsourcing. 
After signing in to your Digital Surge account, you can choose from three payment options, namely Paying to Credit Card, Paying BPAY bill, and Paying to Bank Account. By paying any Australian bill with Bitcoin, you don't need to exchange crypto for fiat currency, thus saving you time.
Earning On Your Crypto
The Receive function of Digital Surge enables users to earn a % return on their crypto portfolio and SMSF. With Digital Surge Earn, users can add coins to their Earn Wallet to accumulate prizes.
Rewards are compounded regularly and sent into your account monthly (similar to a traditional bank) or when you choose to redeem your Earn amount. This is to limit the number of transactions in your Earn wallet and facilitate tax preparation.
There are currently no limits on the number of assets on which you can earn percentage incentives. Earn prizes are not based on tiers, but rather on the total balance.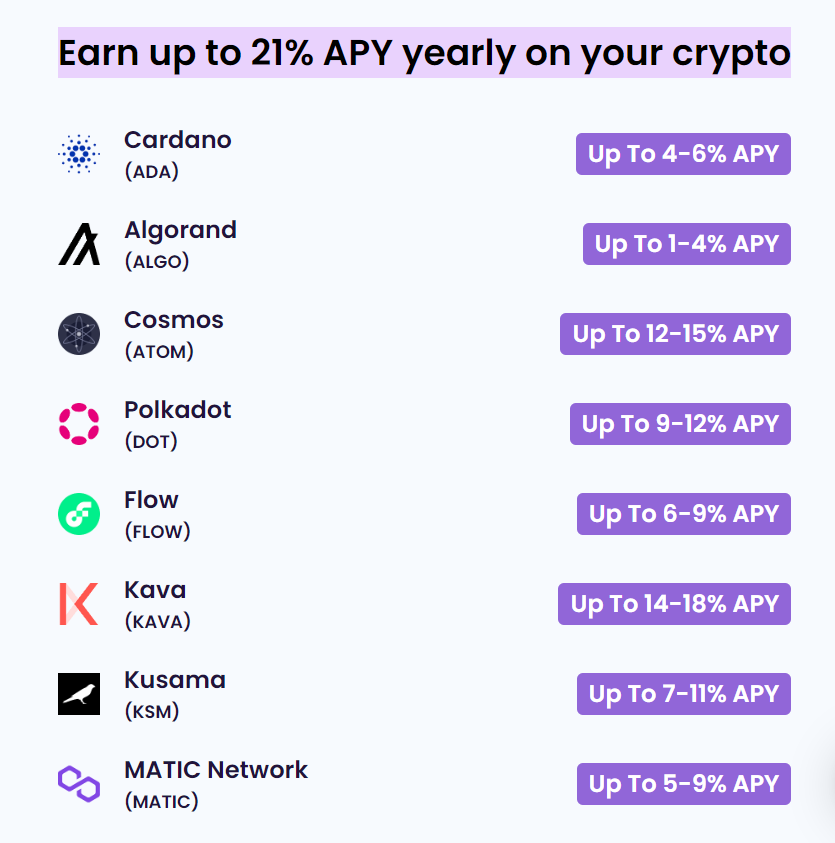 Crypto Tax Reporting Tools
Digital Surge has partnered with popular crypto tax tools to simplify End-of-Financial-Year (EOFY) reporting procedures. CryptoTaxCalculator, Accointing, and Koinly are among the examples.
To connect your Digital Surge account to any of these service providers, you must download a .csv file of your Digital Surge transactions for the financial period and upload them into the tools. Afterward, you need to use an API connection.
Attractive Affiliate Program
Digital Surge Corporate Affiliate Program connects with Industry experts in several industries, like Accounting, Finance, SMSF, and others, to give Cryptocurrency Exchange solutions to their users. The platform has one of the most attractive affiliate programs, with up to 50% of all fees from your referrals. This is a fantastic way to generate passive income, but you must be a verified user. 
Security Measures
Australia is one of the few countries where crypto trading is fully regulated. AUSTRAC compliance is required for all crypto-providing services operating in Australia. Digital Surge is not an outlier.
Digital Surge is a reliable and secure crypto trading platform that employs top-tier security procedures to safeguard your savings and valuables. Digital Surge maintains only 2% of its cash online, with the remainder stored in offline wallets to secure your valuables from hackers. Other security precautions include encrypting all user data and implementing automatic verification processes to safeguard your accounts.
Digital Surge has taken multiple security measures to strengthen the protection of user payments and accounts. Two-factor authentication for account logins and withdrawals is among the established security methods to prevent unauthorised access. 
In addition, to maintain the highest levels of internal security, Digital Surge does criminal background checks on its workers.
Customer Support
Digital Surge's customer service is among the most responsive in Australia. The customer support team can be reached by email or live chat. The average response time for email tickets is a bit long. They provide a large FAQ section with useful recommendations and directions.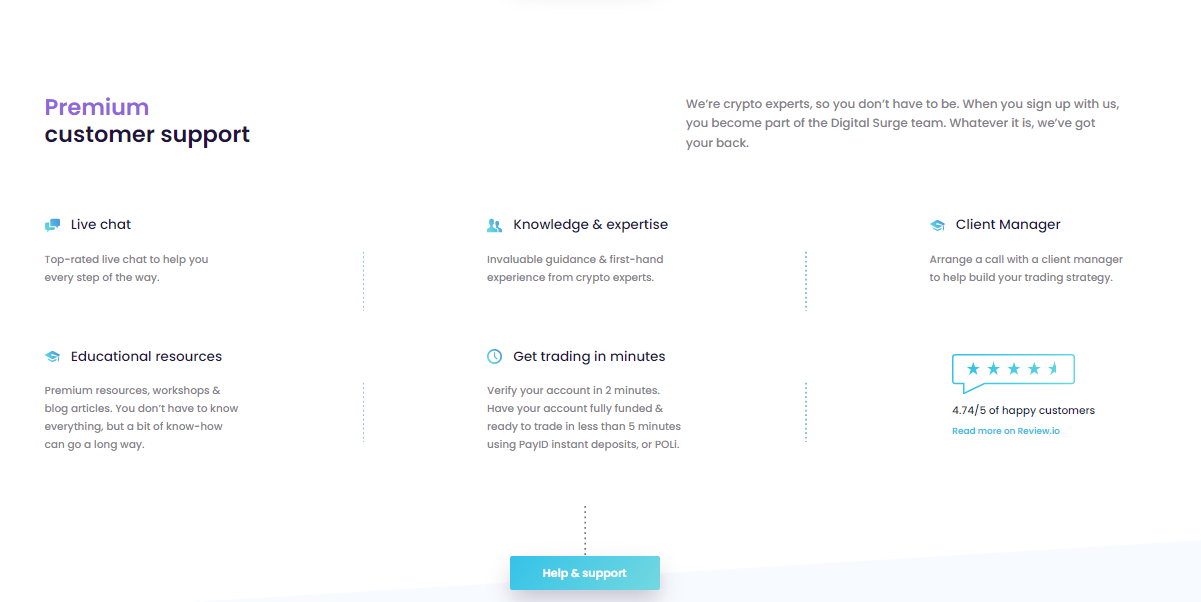 The majority of Digital surge's customer testimonials emphasize how helpful their customer support staff is. While email responses take longer, they are still timely and all live chat inquiries are answered within one hour. Digital Surge's reviews on Trustpilot and Review.io average more than 4.5 stars.
Digital Surge Alternatives 
Coinspot: Coinspot is Australia's largest and most trusted crypto trading platform, with over 2 million users. Despite its increased trading fees, the platform is user-friendly and has many advanced features. You can read our detailed CoinSpot review to know more about its features.
Binance: By trading volume, Binance is the largest exchange in the world. It offers a vast array of advanced services, including lending, borrowing, staking, margin trading, and more, and its low costs (0.01%) make it the cheapest among the exchanges listed here.
Coinbase: Coinbase is the largest cryptocurrency exchange in the United States, supporting over 150 coins. However, Coinbase's fees can be perplexing and more expensive than many competitors. Although Coinbase provides enticing advantages, bitcoin (BTC) trading is highly volatile.
Swyftx: Swyftx is an Australian cryptocurrency exchange that provides over 320+ cryptocurrencies, is AUSTRAC-registered, compatible with KYC/AML requirements, has low fees, and allows you to earn interest on 20 coins. However, many Swyftx reviews show that its fee is very high, and customer support is not good.
Crypto.com: Crypto.com is a famous international exchange that has acquired extensive recognition because of its highly publicised sponsorships of athletic events. The platform offers interest-earning capabilities, and users can also obtain a Visa card, allowing them to make everyday purchases with cryptocurrency.
Frequently Asked Questions
Is Digital Surge registered with AUSTRAC?
Digital Surge is an AUSTRAC-registered Australian cryptocurrency exchange that strictly adheres to all government regulations and requirements.
Is Digital Surge better than Swyftx?
Digital Surge is considerably superior to Swyftx because of its superior customer service and user-friendly trading platform. However, Digital Surge does not yet support staking, so users cannot make passive income from the coins they possess.
Does Digital Surge offer tax reporting?
You can monitor your tax reporting by linking your Digital Surge account to Koinly. Koinly is a software that provides thorough tax reporting on crypto assets.
Can I send crypto to another wallet?
Yes! Digital Surge offers both deposits and withdrawals in cryptocurrencies. If you wish to withdraw cryptocurrency from your Digital Surge account, you can do so through the withdraw tab in your app.
How many coins are on offer?
Digital Surge lists more than 310 coins for purchase and sale. In addition to covering prominent coins such as BTC, ETH, ADA, SHIB, and SOL, they list hundreds of other coins with smaller market values.
Our Verdict
Digital Surge is a cryptocurrency brokerage platform where you can purchase and sell various digital currencies using your funds. The platform's design is for novice investors who may be purchasing their first cryptocurrency. Digital Surge is a good option for those who wish to buy and hold assets because of its low trading costs, wide crypto variety, and simple account management procedures.
Since Digital Surge is designed for novices, it is not surprising that experienced traders will feel left out by its lack of advanced features. The interest-earning wallet seems appealing, but seasoned traders will find a greater value on other platforms, particularly global exchanges.
Disclaimer: This article is intended to be used and must be used for informational purposes only. It's important to understand that digital assets are highly risky. You should always research before making any decisions related to any of the products or services above. This article is not intended as, and shall not be regarded as, financial or investment advice.