Having trustworthy and simple-to-operate crypto wallets on hand should be your first step before purchasing cryptocurrency. This will ensure that your coins are kept safe and facilitate the crypto transfer. We've conducted comprehensive research to determine the best crypto wallets in Australia, what they do for you, and how they keep your coins secure.
What is a Crypto Wallet? 
Crypto wallets serve as a storage system for your private keys. The passwords to the accounts that hold your cryptocurrencies are referred to as "private keys."
These crypto wallets can be digital or physical. You can have a browser-based crypto wallet or, if you prefer, a physical memory stick that loads a password-storing application.
The most important thing to remember here is that your cryptocurrency is not technically stored in the crypto wallet. It saves the information that entitles you to that currency. It's not a suitcase full of cash; rather, it's a suitcase full of high-value bonds.
What do crypto wallets offer you?
Security
It is extremely difficult to steal a crypto key, but it is still possible. Crypto wallets ensure that your crypto keys remain yours even if they are compromised. 
Certainty 
A lot of people think of password storage in old-fashioned ways. They usually memorise their passwords and rely on memory to recall them. To be safe, they will write them on a note and keep them near their computer.
But that notepad isn't yours. Anyone who looks at it gets your Bitcoins. And memory isn't always dependable, especially when most cryptocurrencies have long keys. Thus,  crypto wallets is a better choice to keep your digital assets.
Convenience
It can still be challenging to use your cryptocurrency at this time. Because it is all done online, very few retailers will have a point of sale that is compatible with it. Crypto wallets aim to strike a balance between security and convenience, allowing you to keep your currency secure while still using it easily.
Hot vs Cold Wallets
There are two main types of crypto wallets: hot wallets and cold wallets.
Hot wallets are crypto wallets that are in some way connected to the internet. Desktop, mobile, and online wallets are all examples of software or soft wallets.
Cold wallets are physical crypto wallets that are not connected to the internet, making them more secure. Cold wallets, also known as hardware or hard wallets, resemble and function similarly to a USB flash drive. Paper wallets are another type of cold wallet that is not commonly used today.
Read more: 10 Best Crypto Hard Wallet: A Curated List 2023
What type of crypto wallet should I use?
The first step in selecting a crypto wallet is deciding whether to use a hot or cold wallet. While hot wallets offer greater convenience, they are less secure than cold wallets. Because hot crypto wallets are digital, it is simple to access your funds; if you have a mobile wallet, you can access your funds as long as you have your phone with you. However, hackers may be able to gain access to crypto wallets and steal your cryptocurrency if it is easily accessible online.
Because cold wallets are not linked to the internet, they cannot be hacked. You only lose access to your cryptocurrency when someone physically steals your hardware crypto wallet. While it is more secure, it is inconvenient if you need to access your funds quickly.
Different types of cryptocurrency wallets
Online crypto wallets
Most cryptocurrency exchanges provide you with an online wallet when you make your first purchase. For example, if you sign up for CoinSpot, Australia's best crypto exchange, and purchase $100 in Bitcoin, your Bitcoin will be stored in an online wallet on the CoinSpot exchange. You can then sell it, keep it, or transfer it to another wallet. Because your crypto wallet is online,  you will need to take more care of your password. If your account is jeopardised you will not be able to access your funds, just like a social media account.
One of the benefits of online crypto wallets is that they are easily accessible if you have internet access, even if you are not using your own devices, because all of the information is stored online. You don't have to be concerned about your device crashing or being stolen. It is important to note that many online wallets will require you to verify your identity as part of the setup process.
Pros
Online crypto wallets are accessible via internet
Setup is automatic with most Bitcoin exchanges.
Quickly sell crypto from your online wallet.
Not compromised if your phone/computer is broken or lost
Cons
Virtual crypto wallets can be compromised.
You may lose your funds if the crypto exchange that hosts your crypto wallet is hacked. So your best option is to go with the most secure crypto exchange.
Identity verification is frequently required.
Desktop crypto wallets
When comparing with online crypto wallets, investors may think that desktop wallets are a more secure option but this is not true. Desktop wallets are programmes that you download onto your computer and then use to generate a data file that contains your keys. 
Although desktop crypto wallets are not directly connected to the internet, you can still become a victim of a hacker if your computer is infected with viruses or malware. Installing anti-virus software, only visiting trusted websites, and regularly scanning for viruses and malware are highly recommended to keep your computer safe.
You'll also need a backup method to access your crypto wallet if you forget your password or your laptop crashes or is stolen. A recovery seed phrase is usually 12 random words generated when you set up your wallet in a desktop wallet. If your computer fails or you lose it, you can regain access to your wallet with this recovery seed. To access your crypto wallet again, simply download the desktop wallet on a different computer and enter the 12 words in the correct order.
Pros
It is free and simple to use.
Desktop crypto wallets are only accessible via computer.
In the event that you forget your password or your computer is lost or damaged, you can use the recovery seed phrase.
Cons
If you have malware or viruses, your cryptocurrency is at risk.
Your computer could be stolen or destroyed.
Mobile crypto wallets
Mobile wallets and desktop wallets are very similar. They are free applications that can be downloaded onto your phone and are not directly linked to the internet, making them safer than online wallets. They are the most convenient crypto wallets option because you always have your mobile device with you, allowing you to access your crypto wherever you are. They can also be used to scan QR codes of wallet addresses for simple transfer.
However, just like desktop wallets, you must ensure that your phone is free of malware and viruses, or else your crypto wallet may be compromised. Furthermore, because you carry your phone with you, you must take extra precautions to ensure that it is not lost, stolen, or broken.
When you create your mobile crypto wallet, you'll be provided with a recovery seed phrase, which is typically 12 randomly generated words. If you lose your phone or it no longer works, the wallet app can be accessed on a new phone by entering the 12-word recovery seed phrase in the correct order.
Pros
Because there is no direct connection to the internet, it is more secure than online wallets.
It's among the top free and simple to use crypto wallets.
Convenient access to funds, with the ability to send and receive cryptocurrency by scanning QR codes
Your mobile phone is the only way to access your wallet.
In case you forget your password or your phone is lost or broken, you can use the recovery seed.
Cons
Cryptocurrency is at risk if your computer is infected with malware or viruses.
Theft or loss of your phone
Unsecured, as phones are easier to take than computers.
Hardware crypto wallets
Hardware crypto wallets are the most secure method of storing cryptocurrency, as they store your keys entirely offline on a physical device rather than utilising the software. You can access your wallet by plugging it into any computer that has a USB port.
A PIN and password protect your private keys stored on the hardware wallet. If you lose your hardware wallet, it will be nearly impossible for anyone to recover your keys. When you create transactions, your private keys never leave the physical hardware device and are never exposed to the internet, making them impossible to steal. The hardware device requests transaction details and then validates the data, ensuring the security of your keys.
The disadvantages of hardware crypto wallets are that they must be purchased and that they are not as convenient as mobile apps for accessing your funds. To be able to make any transactions with crypto, you must have your hardware device as well as a computer. This kind of crypto wallets is best suited to those who have a large amount of cryptocurrency or investors who have been holding for a long time and do not require immediate access to their assets.
Pros
Keys are stored completely offline, making them more secure than hot wallets.
Private keys are never removed from the physical device and thus cannot be stolen.
It is nearly impossible to extract keys from your device if it is stolen.
You can use a USB drive to access your wallet from any computer.
In the event that you forget your password or your device is lost or damaged, you can use the recovery seed.
Cons
You must buy a hardware wallet.
Transactions are less convenient.
If you forget the recovery seed, there is no way you could access your cryptocurrencies. There is also no option to recover that recovery seed.
Paper crypto wallets
Paper crypto wallets are cold wallets that store the private key and address on paper. While it appears to be incredibly secure, as it is stored on paper and not connected to the internet, it is no longer used because it is deemed unsafe and obsolete.
To set up this kind of crypto wallet, your computer must be set up with trusted software and hardware, and to ensure optimum security, a de-minimis operating system and software stack are required, which 99.9% of users would be unable to create.  Paper wallets are obsolete technology because they only use a single private key and a single address. We do not recommend storing cryptocurrency in paper wallets.
Pros
Because there is no internet connection, the system is not vulnerable to hacking.
Cons
Single private key and single address
The computer and software that were used to create the wallet may pose a security risk.
The printer used to make the wallet may pose a security risk.
Paper wallets can be misplaced, damaged by water, or destroyed.
Inconvenient when trying to access funds
Top Crypto Online Wallets in Australia
Which wallets are the best crypto wallets in Australia? Below is a curated list of the most popular crypto wallets for you to select.
CoinSpot – Best online crypto wallet for Australians
CoinSpot is currently considered the safest trading platform in Australia, never having been hacked ever since it was first launched in 2013. Aside from having the highly coveted ISO 27001 certification, CoinSpot is also compliant with the International Organisation for Standardisation's requirements and has passed an external audit conducted by  SCI Qual International (an accredited JAS-ANZ certification body).
The ISO27001 certification process is extremely stringent as it requires an in-depth examination of an organisation's Information Security Management systems and practices. This includes the management of digital asset storage, employee, contractor, supplier, and client information, as well as the administration of products, processes, and intellectual property.
CoinSpot has also registered with Blockchain Australia, the Australian Digital Commerce Association and AUSTRAC to combat scams and financial crimes.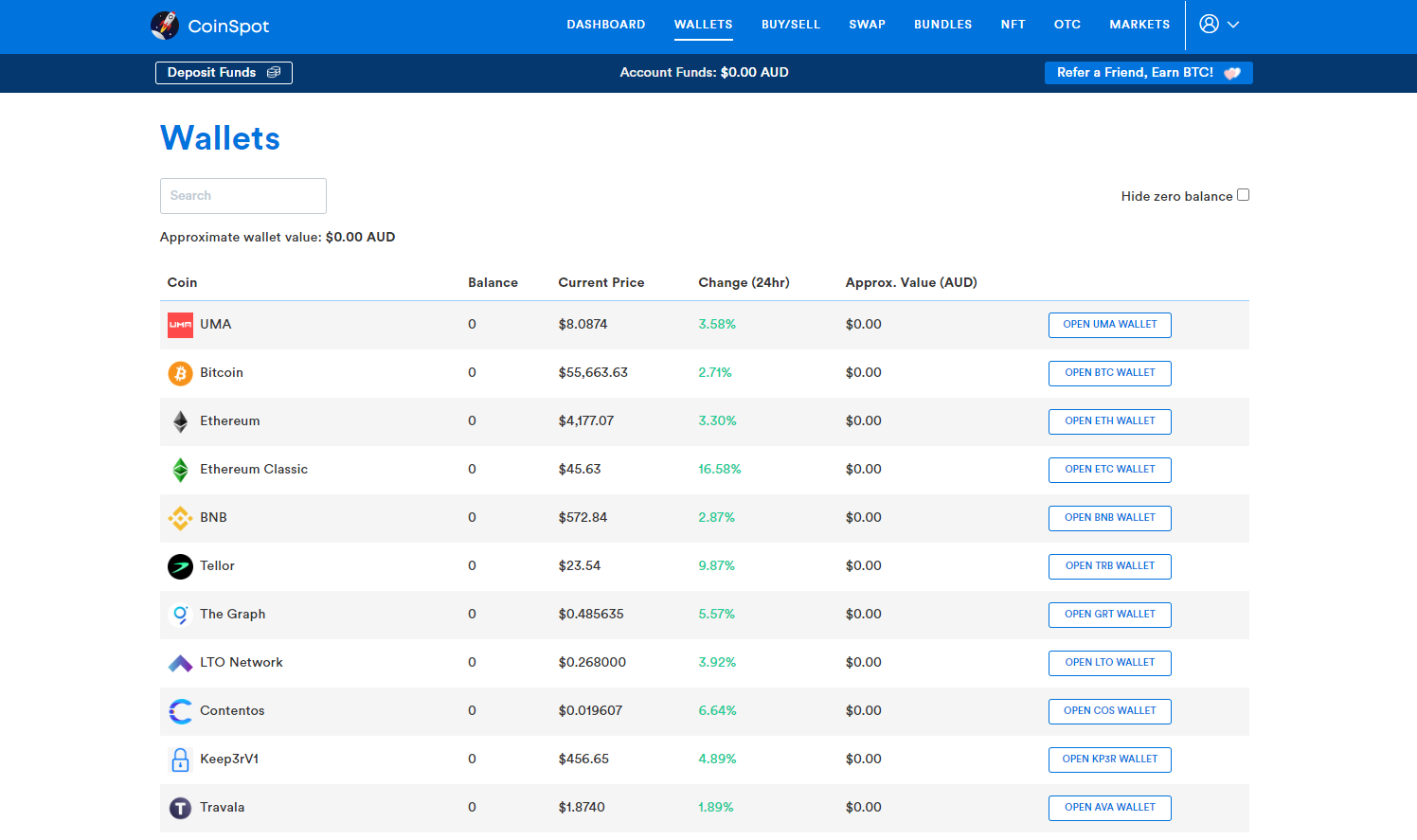 Users of the CoinSpot online crypto wallet will be able to store, buy and sell instantly over 350+ different coins. It is easy to use and you can even swap cryptocurrency in your wallet for a different one. As an example, say you have some Dogecoin (DOGE) that you want to swap for Solana (SOL), it is easy to do so straight from your CoinSpot wallet.
Pros
Secure and convenient
Trade directly from your wallet
Reliable and well-established
Based in Australia
Free
Store over 370 cryptocurrencies in your crypto wallet.
Cons
You must verify your identity to get a wallet.
Top Crypto Desktop Wallets in Australia
Exodus Desktop Wallet – A good crypto wallet for Aussie investors
Exodus is available for download on Windows, Mac, and Linux, and it can be paired with the Exodus mobile app (iOS and Android) to allow you to access funds across both devices. Exodus is compatible with the Trezor hardware wallet, which is ideal for investors who want to use a combination of cold and hot wallets for added security.
Exodus desktop wallet is among the best multi-currency crypto wallets in Australia that supports over 100 different cryptocurrencies and does much more than simply store your coins. Exodus offers cryptocurrency trading within the wallet, staking of specific coins (e.g. Solana, Cardano), and an app explorer where you can add crypto apps for earning interest, betting and more.
If you have any problems, Exodus has excellent customer service, making it among the best crypto wallets in Australia. However, there is one significant drawback of the wallet: it is not open source. This may raise security concerns because the code is not visible to everyone, and the developers may insert malicious code into the software without your knowledge. 
To put it another way, you must trust Exodus with your cryptocurrency. If you're only storing a small amount in a hot wallet, you shouldn't be too concerned – you can use Exodus with confidence. For larger amounts of cryptocurrency, it's advisable to use hardware crypto wallets for the highest level of security.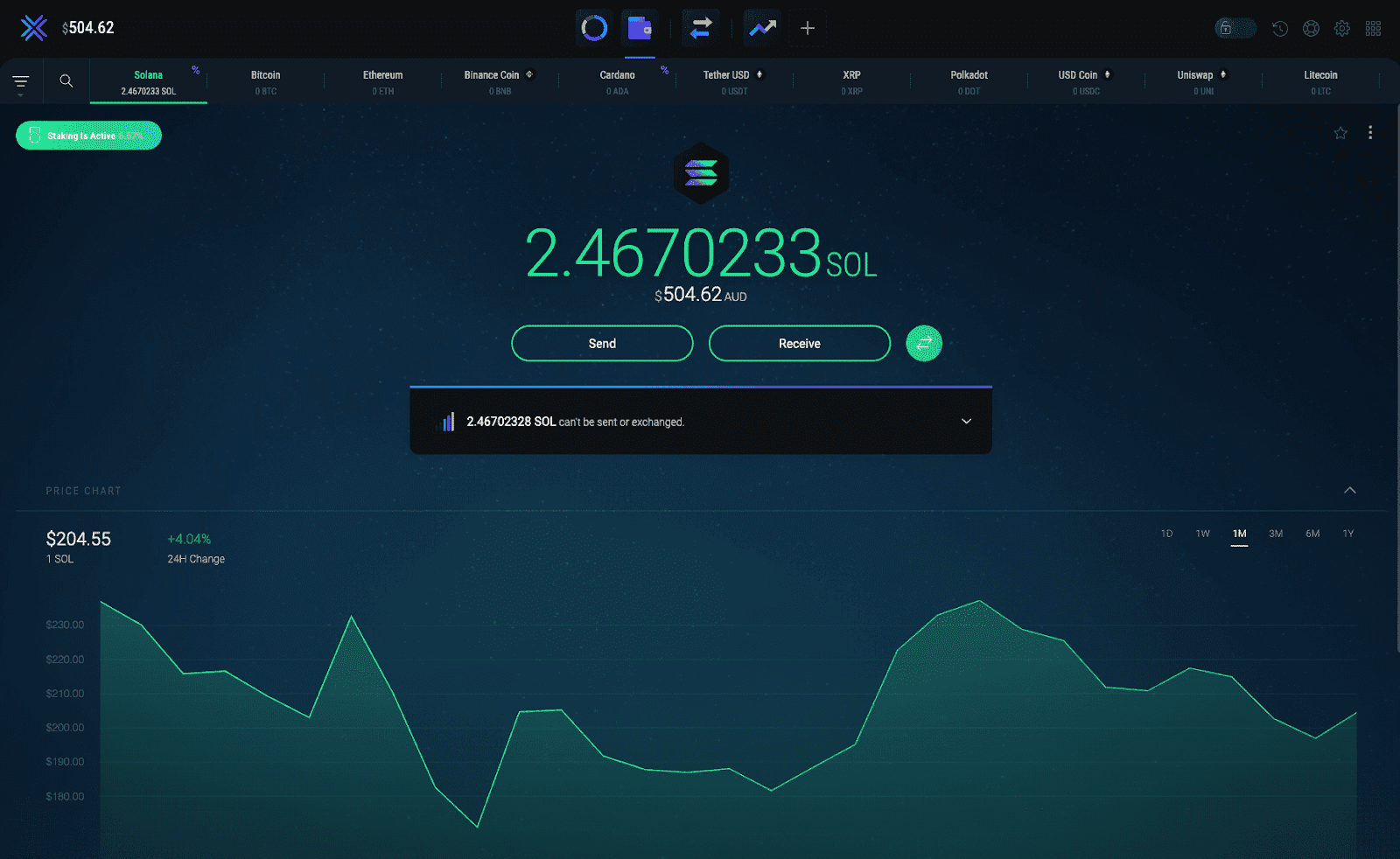 Pros
The interface that is simple to use and excellent customer support
Store and exchange over 100 different cryptocurrencies..
Staking is an option for earning interest on your coins.
Compatible with Trezor hardware wallet
Ledger Live Desktop Wallet – Most secure for users who own Ledger hard wallet
Ledger Live is the most secure desktop wallet option, but you must purchase a Ledger hardware wallet to use it. Ledger Live is a fantastic choice for people who wish to combine hard and soft wallets for added security. We strongly advise against using a soft wallet if you have a big quantity of cryptocurrency, as soft crypto wallets are insecure for large amounts.
The Ledger Live desktop wallet features industry-leading security, made possible by Ledger's hardware wallets, the Ledger Nano X and Ledger Nano S. Both of these gadgets make use of a Secure Element (SE) — the most secure chip available, specifically engineered to withstand attacks. When you use a Ledger device, your private keys are never removed from the Secure element, making them impenetrable to online hackers.
Your Ledger hardware wallet secures every activity you take on Ledger Live. Everything is verified and authenticated, from transaction to delegation. By confirming all transactions on your crypto wallets, you ensure that the information displayed on your computer corresponds to the data that your Ledger device is attempting to process.
The Ledger Live desktop wallet supports 28 different coins, including Bitcoin, Ethereum, and Ripple, in addition to storing and managing over 1800 different tokens. The app allows staking and lending, allowing you to earn interest on your investments while simultaneously gaining access to and interacting with decentralised applications. Cryptocurrency purchases and exchanges are available directly from the app, with coins being delivered directly to your wallet.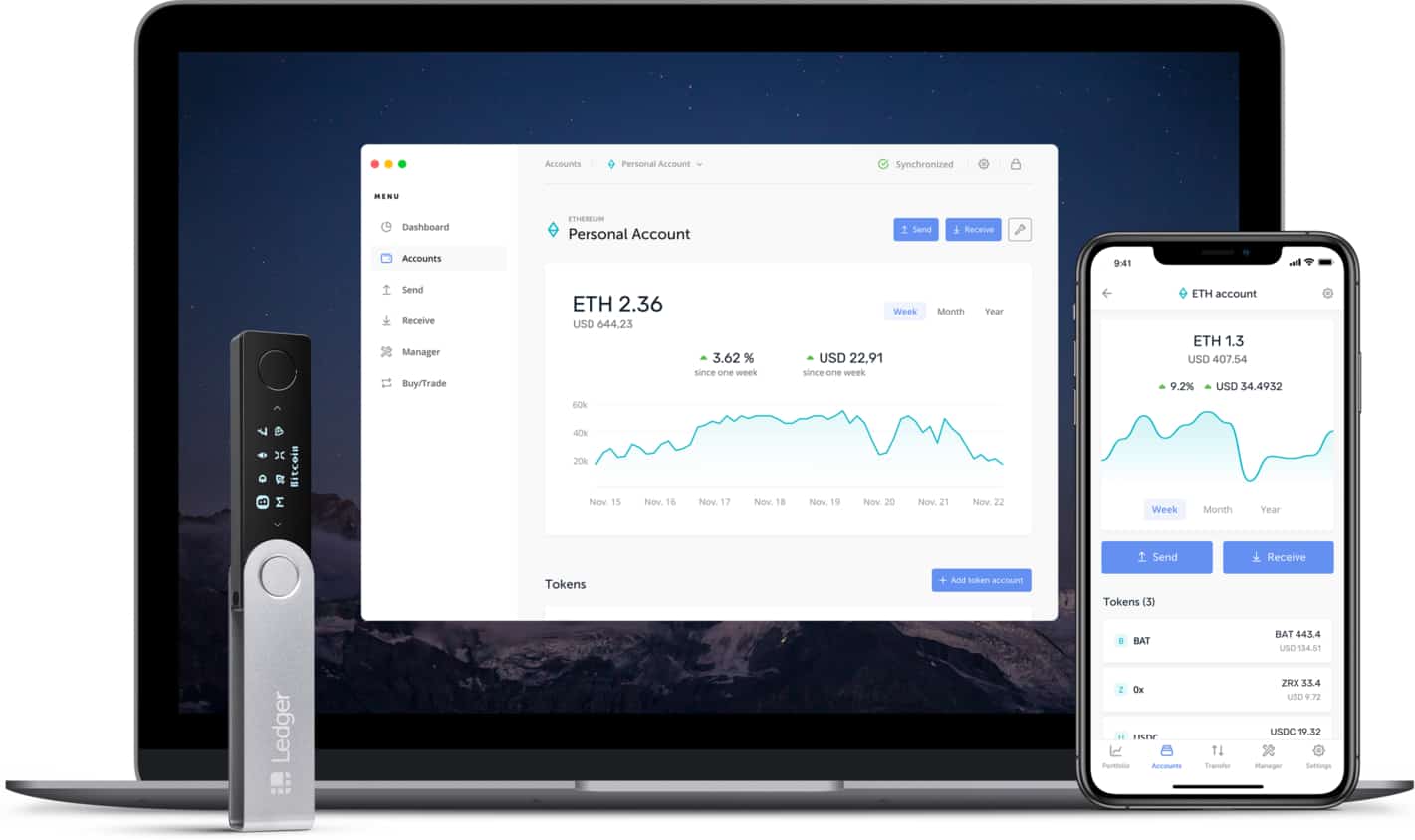 Pros
The most secure desktop wallet option
Over 1800 coins and tokens are supported.
Staking and lending are available to earn interest on your crypto
Access and interact with dApps
Electrum Desktop Wallet – Best crypto wallet for advanced Bitcoin users
Electrum, which was founded in 2011, is one of the oldest and most trusted desktop wallets. It is an excellent choice for experienced users who are well-versed in Bitcoin. The app has an out-of-date interface and only supports Bitcoin, but it has more security and customisation options than many other desktop wallets.
Because Electrum is open source, many people have reviewed and composed the code, reducing the possibility of malicious code in the software to almost zero. Electrum allows you to set custom transaction fees and choose between legacy Bitcoin and Segwit. You can also select the level of security for your crypto wallets in Australia. You can create a standard wallet, a wallet with 2FA (2-factor authentication), or a multi-signature wallet, for example. Custom words can be added to your recovery seed phrase to increase security even further.
Address tagging, fee adjustment, wallet encryption, and signing/verifying messages are some of the other features available in Electrum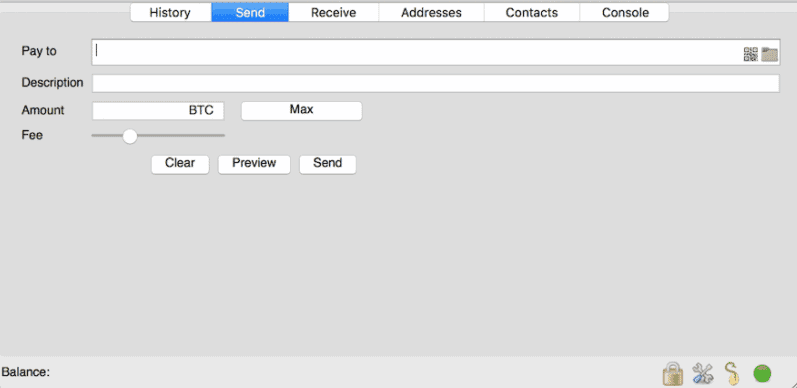 Pros
Very robust and secure
Open source code
Customisable security level and recovery seed phrase
Advanced features such as address tagging, fee adjustment, wallet encryption and signing/verifying messages
Top Crypto Mobile Wallets in Australia
Trust Wallet – A good mobile crypto wallet for Australians
Trust Wallet is open-source, user-friendly and supports over 160,000 different coins. The private key is stored on your phone rather than on servers, and you can set up your wallet anonymously without revealing any personal information.
You can also use Trust Wallet to buy, sell, and swap directly from the wallet. Staking and lending are popular options to earn passive income on your investment while you HODL. Trust Wallet can also be used to play blockchain games, access the most recent DApps and DeFi platforms, and store your NFTs.
A major disadvantage of crypto wallets like Trust Wallet is that it is not compatible with any hardware wallets and lacks a desktop version.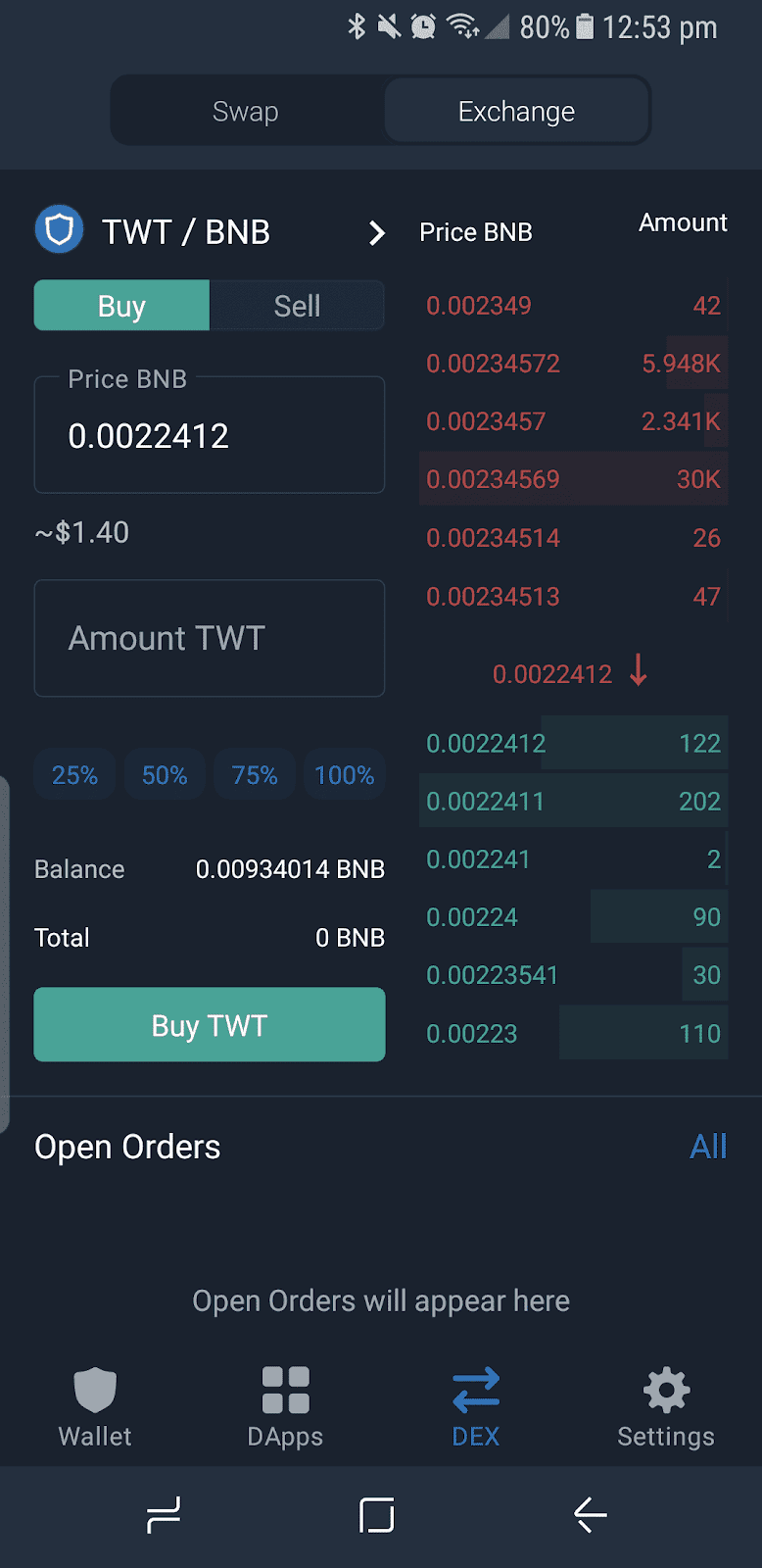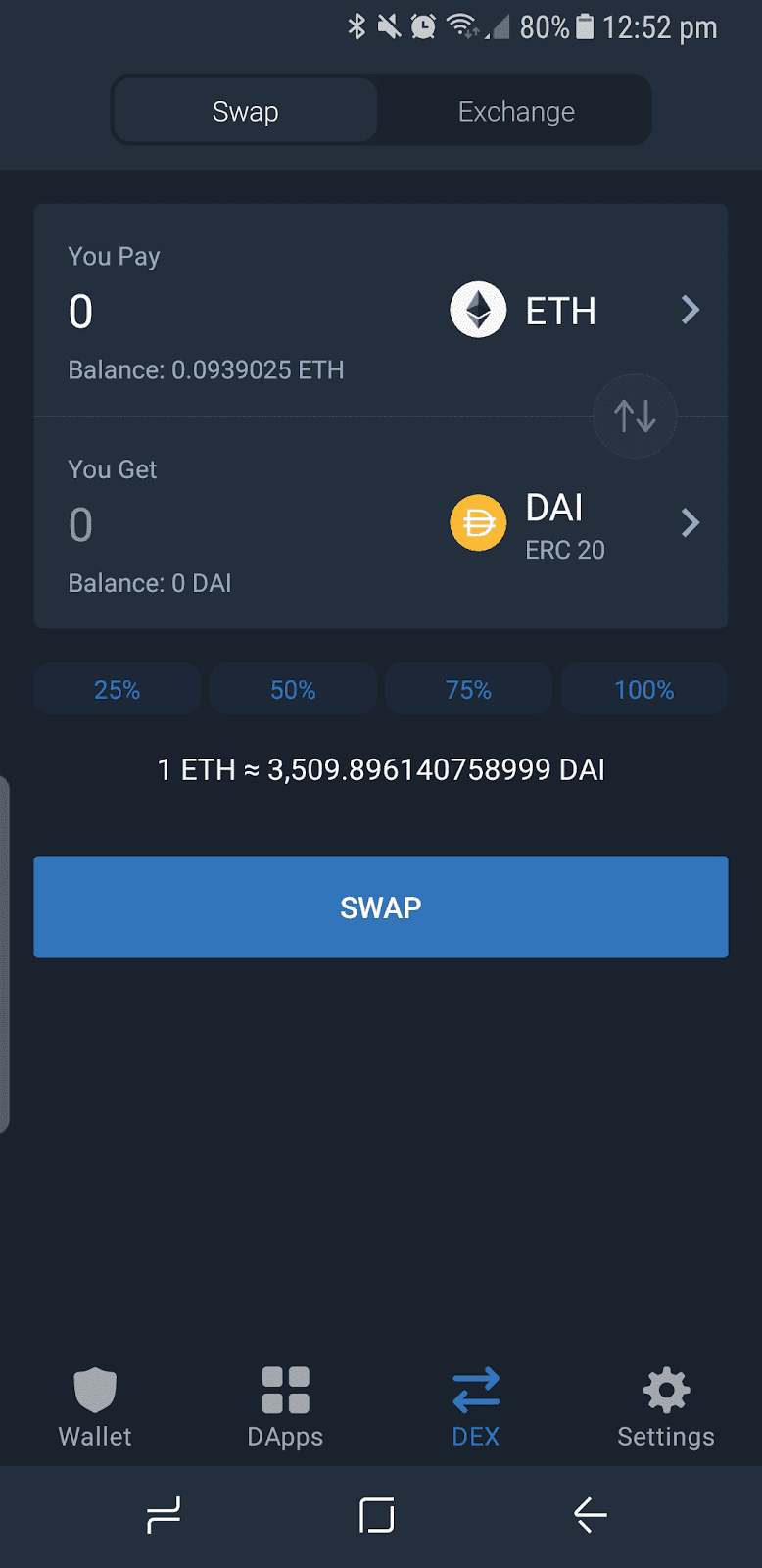 Pros
An easy-to-use interface that is ideal for beginners
Supports approximately 160 000 coins
Open source code
Buy, sell, swap, stake and lend crypto within this crypto wallet
Mycelium mobile wallet – Best for hardware wallet support
Mycelium is one of the best choices for cryptocurrency investors seeking hardware crypto wallets besides mobile wallets. If you have a large amount of cryptocurrency, this is recommended because hot wallets (such as mobile wallets) are not as secure as cold storage offline. Mycelium is compatible with the hardware wallets Ledger, Trezor, and KeepKey, and you can use it to send coins that are stored offline in those devices.
Because Mycelium is completely open-source and non-custodial, your private keys and PIN are only accessible to you. This crypto wallet allows you to customise transaction fees, has transaction QR codes, and you can buy and sell Bitcoin directly from the wallet.
Mycelium's main disadvantage is that it only supports Bitcoin, Ethereum, and ERC-20 tokens such as Tether USD, USD Coin, and Binance USD.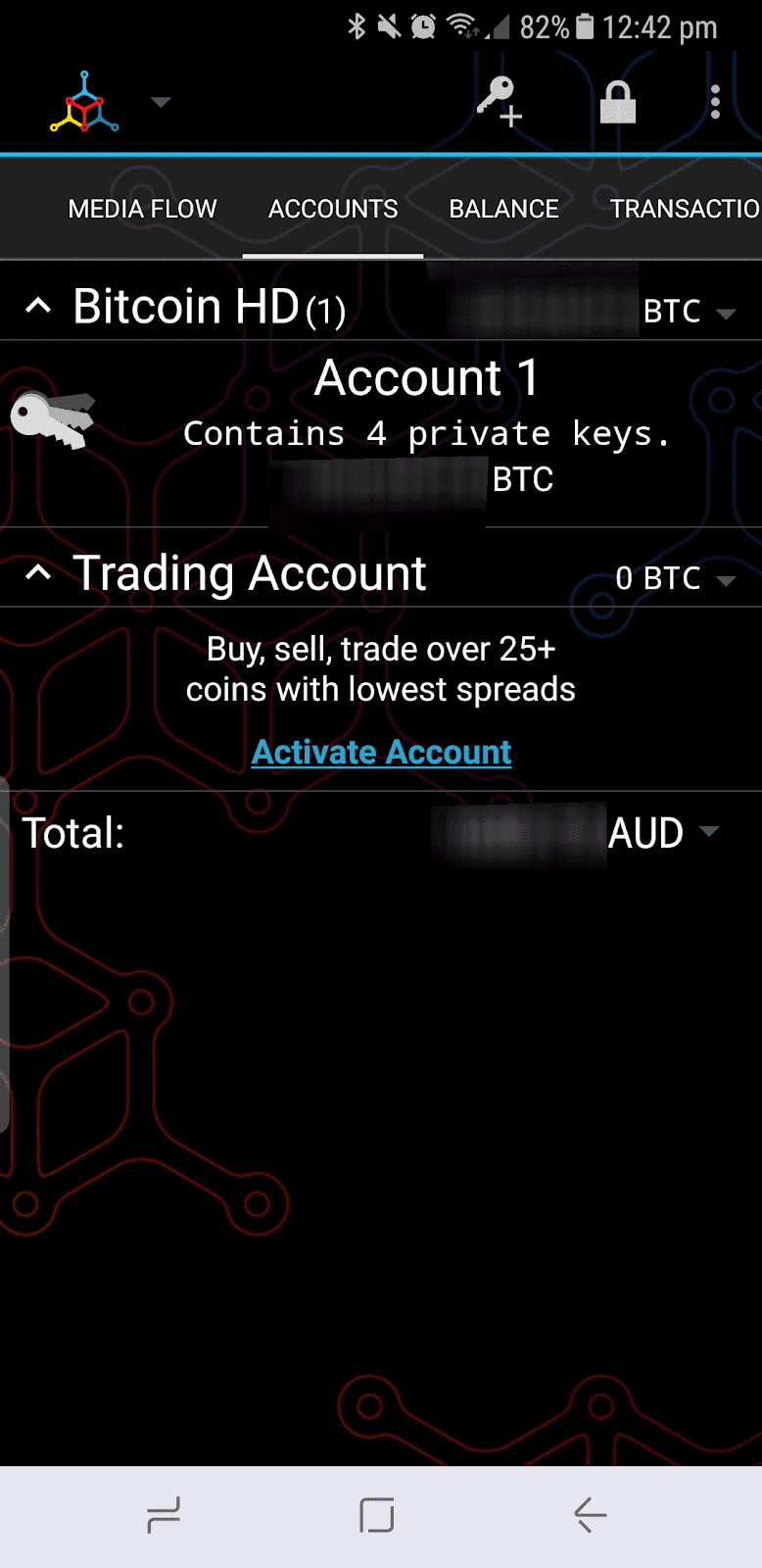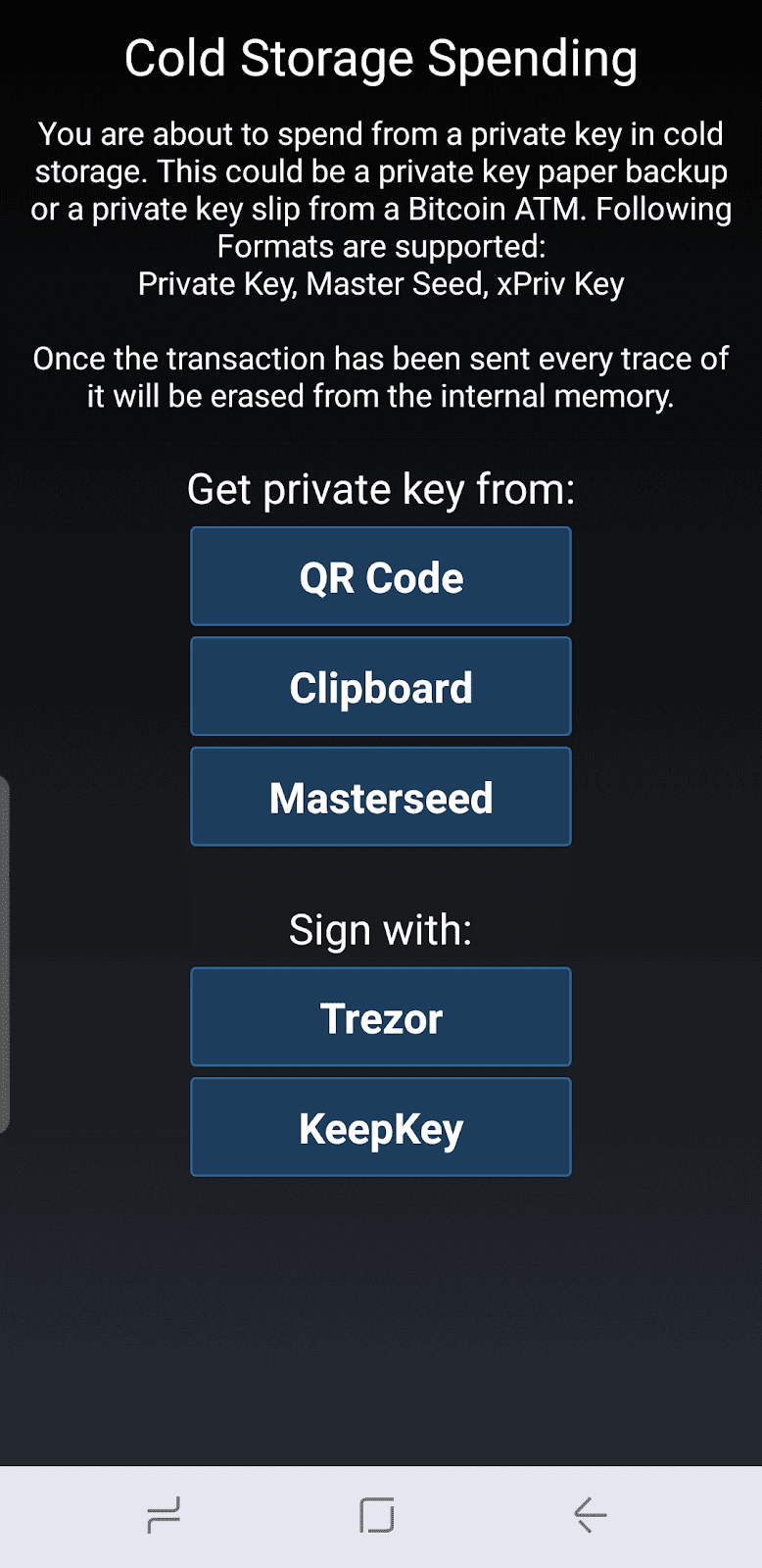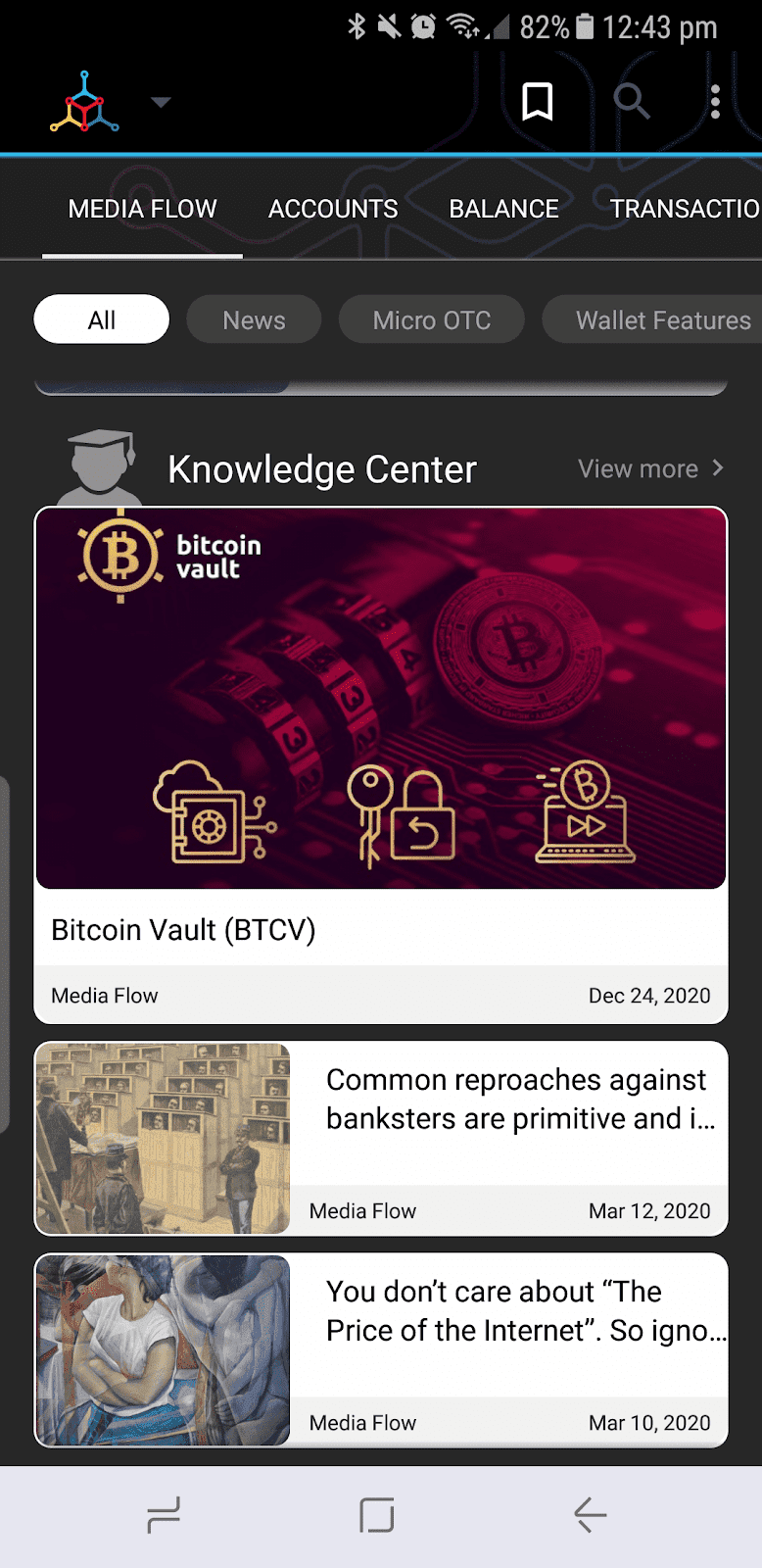 Pros
Compatible with Ledger, Trezor, and KeepKey hardware wallets
Entirely open-source
Bitcoins can be purchased and sold immediately from the wallet.
Scan QR codes to send and receive cryptocurrency
Top Hardware Crypto Wallets in Australia
ZenGo mobile wallet – Best crypto wallet or security features
ZenGo is a newer mobile wallet available since 2018, but it has quickly become one of the most popular crypto wallets due to its unique security features. For Keyless security, ZenGo has abandoned the traditional private key in favour of two independently created mathematical secret shares. The first share is stored on your phone, while the second is stored on the ZenGo server. With no single point of failure, even if one of the shares fails, your crypto will remain secure.
Most crypto users are familiar with 2FA authentication; ZenGo takes it a step further by implementing 3FA: 3-factor authentication. Email, a backup file, and a 3D biometric face map are the three factors that keep users safe. ZenGo's backup and restore options are much simpler than having to keep a recovery seed phrase safely stored. If your phone is broken, lost, or stolen, simply scan your face to match the 3D biometric face map and your account will be restored.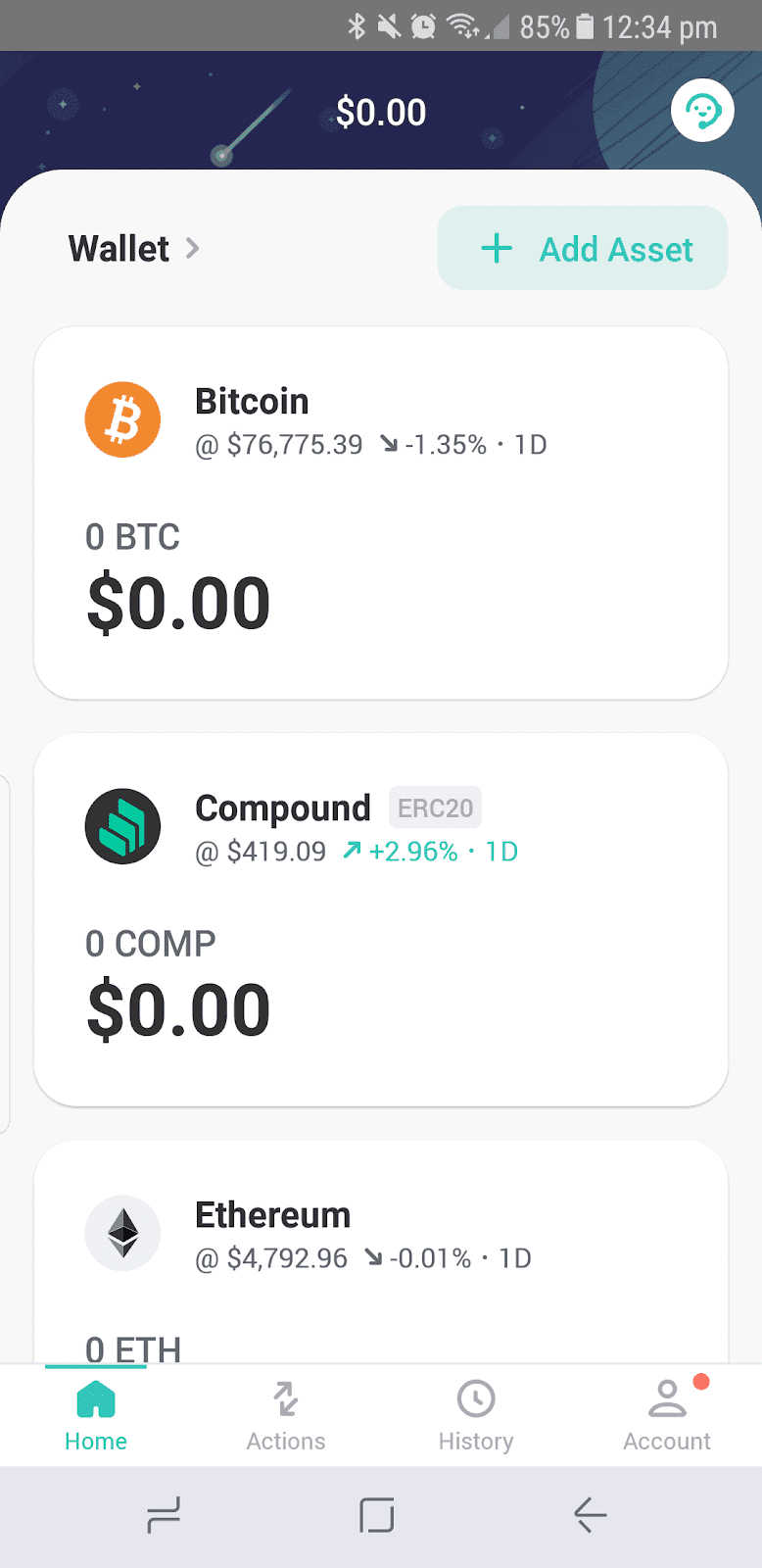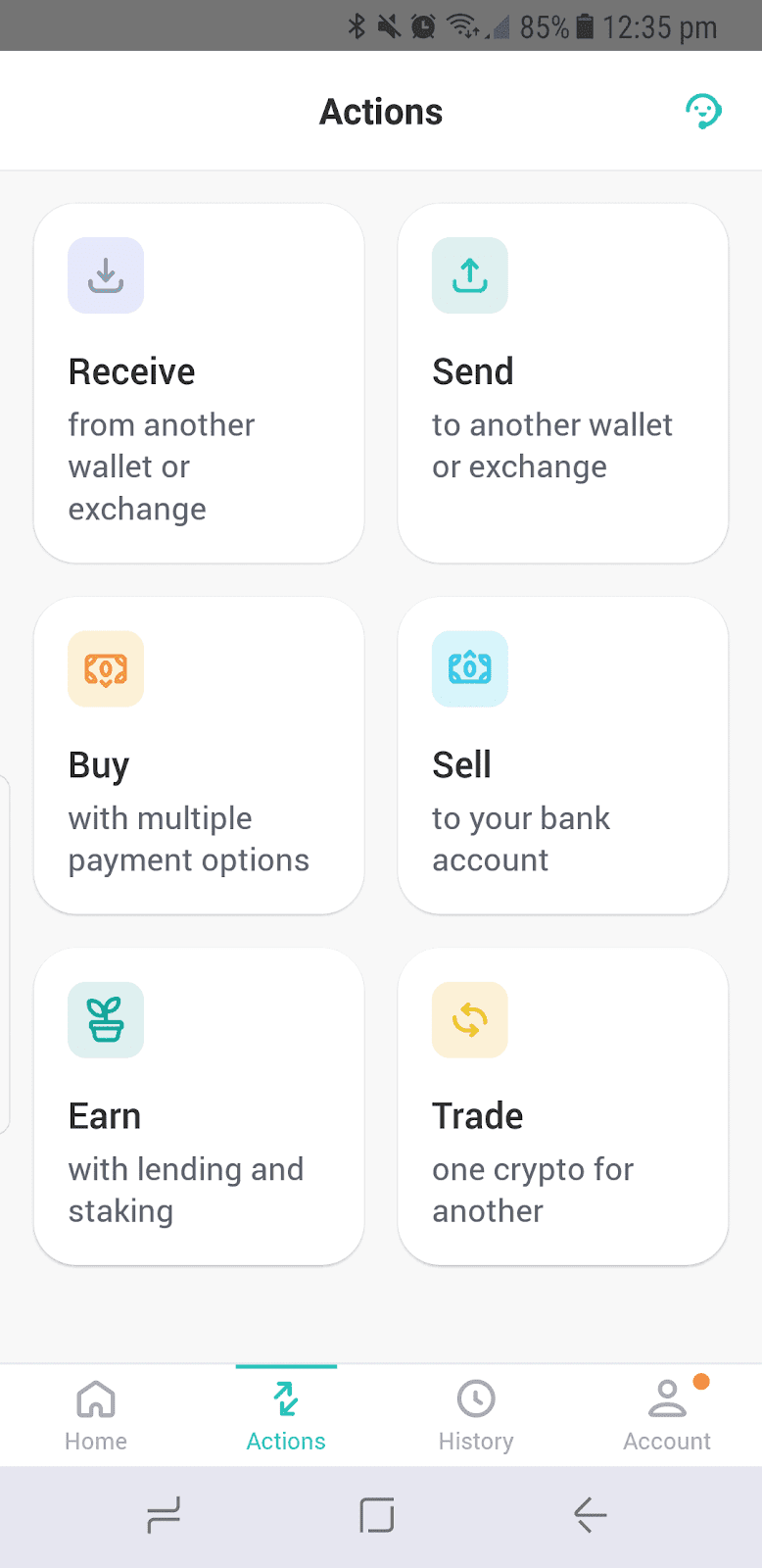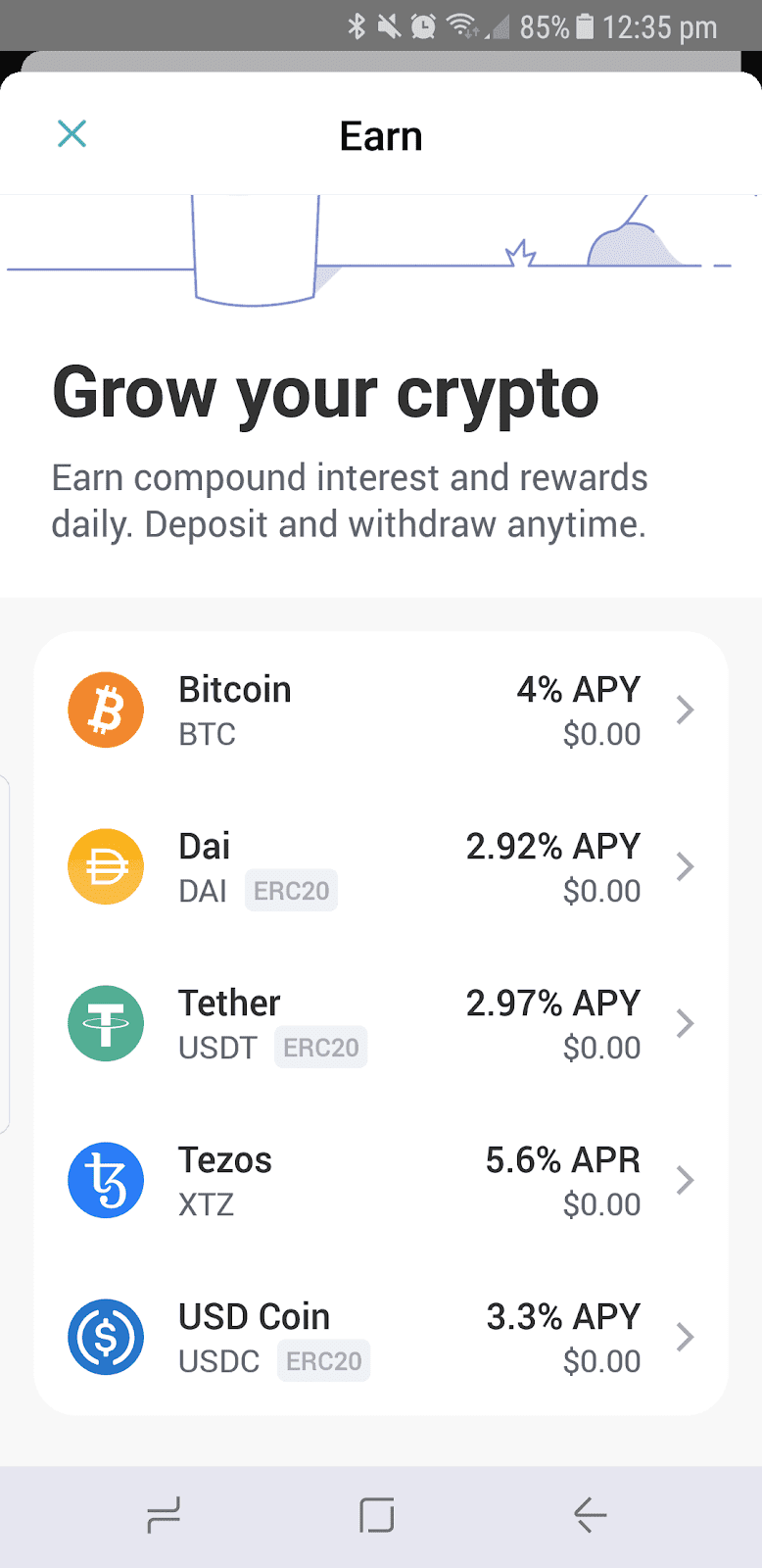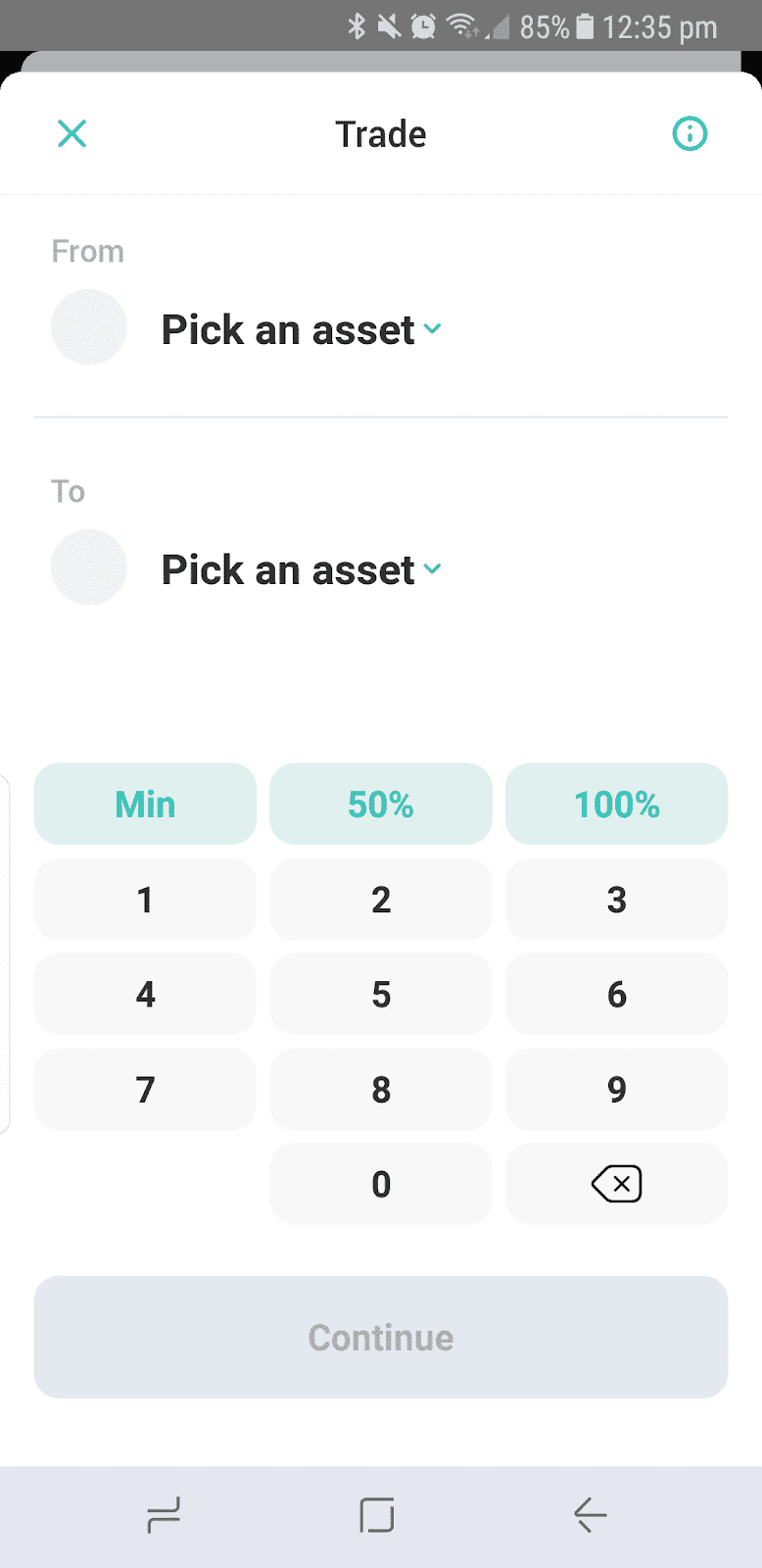 Pros
Keyless security and no need for recovery seed phrase
Earn interest on crypto within the wallet
3D biometric face map to restore wallet access
One of the leading open source crypto wallets
Ledger Nano X – Best hardware wallet for Australians
Ledger has been developing hardware wallets since 2014. The Ledger Nano X is the second generation of their hardware crypto wallets, and it costs $249 (free shipping).
The Ledger Nano X appears to be a USB flash drive, which is ideal for discretion, and it connects to your device via USB or Bluetooth, allowing you to use either a mobile or a computer. The Ledger Nano X employs a secure element chip to ensure that the private key and information never leave the chip, even if the device is hacked via USB or Bluetooth. Ledger confirms that only public data is transmitted via Bluetooth and USB, ensuring that your coins are always secure.
The Ledger Nano X is fully compatible with the Ledger Live desktop or mobile app, which allows you to manage over 1800 coins and tokens. You can install up to 100 apps on the device at once (you must download the app for each coin you want to add), which is a significant improvement over the previous model's limit of three apps.
One disadvantage is that the Bluetooth connectivity is poor, and it can be difficult to read the text in direct sunlight. Some may consider the $249 price tag to be a bit steep, but we believe it is reasonable for the security of your valuable crypto assets. If you're looking for lower-priced crypto wallets in Australia, the Ledger Nano S costs $109 and has similar functionality, but it can only hold three apps at once and lacks Bluetooth connectivity.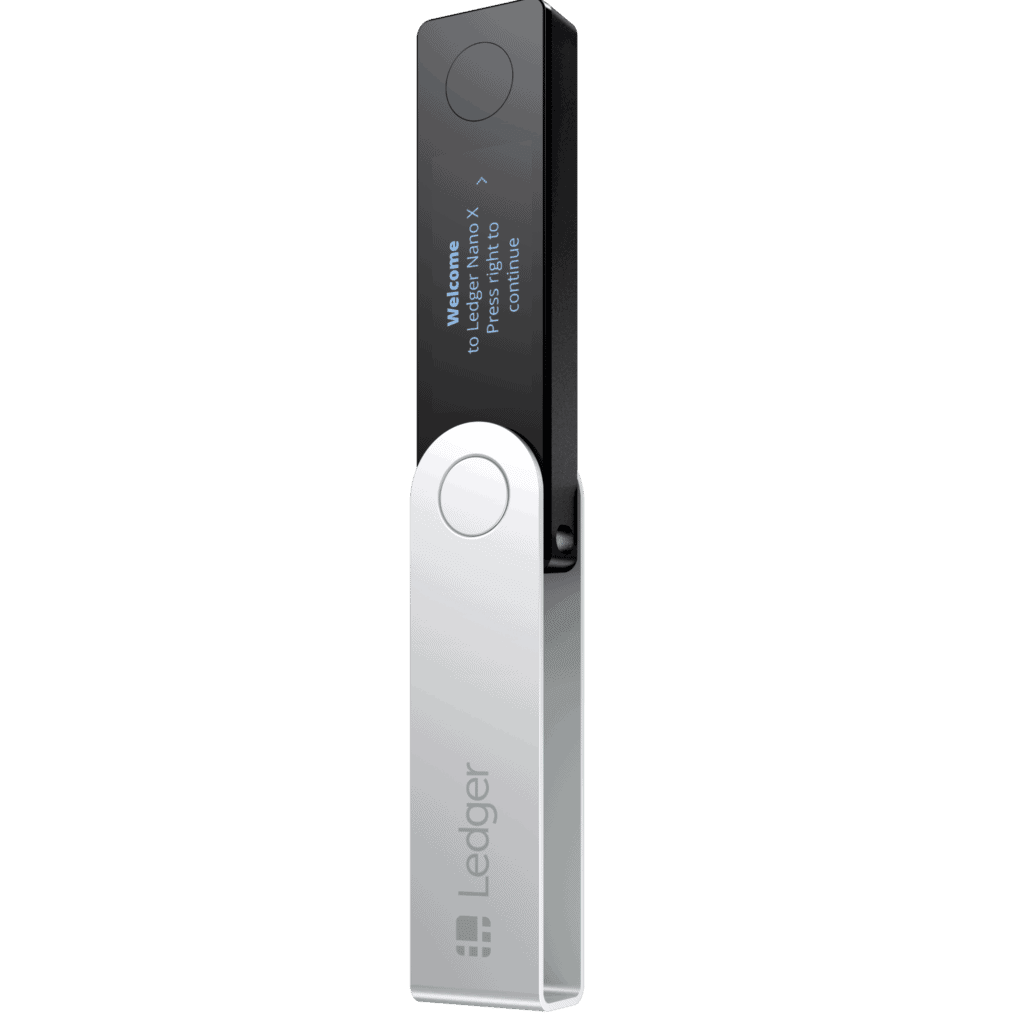 Pros
Extremely secure hardware wallet
Support up to 100 apps simultaneously
USB and bluetooth connectivity
Compatible with the secure Ledger Live desktop and mobile apps
Trezor Model T – Best hardware wallet for ease of use
Trezor is another well-known hardware crypto wallets, having been the first to develop legitimate and secure Bitcoin hard wallets. The Model T is the company's second generation of wallets, and it costs €189 ($298) plus €21 ($33) for shipping. This brings the total price to around $331, nearly $90 more than the Ledger Nano X.
The Trezor Model T is a small shield-shaped device with a front-facing square touchscreen. It connects to your computer or Android phone via USB or WebUSB, but not to iPhones or Windows phones. The screen is 240p x 240p, which is significantly larger than the Ledger Nano X's 128p x 64p screen. This makes the Trezor easier to use because it can show details like wallet addresses more clearly than the Ledger.
Trezor Model T crypto wallets can store over 1200 coins, and your keys never leave the device, keeping them safe from online threats. Users are safeguarded by using the touchscreen to verify and approve all operations, allowing you to see exactly what data is being sent.
However, this model of crypto wallet is quite expensive, and the design is not as discreet as the Ledger Nano X. While the Ledger looks like a USB stick, the Trezor does not appear to be a device that the average person would carry around. You can own a significant amount of cryptocurrency (enough to invest in a cold wallet), putting you at risk of being targeted in a physical attack or theft.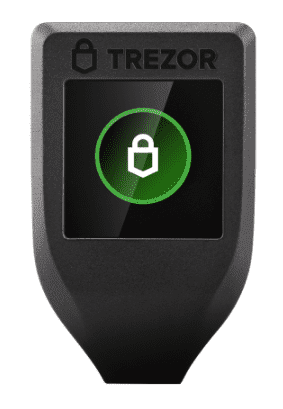 Pros
Extremely secure hardware wallet
USB connectivity to computer and Android phones
Touchscreen to verify and approve all operations
Ellipal Titan – Best hardware crypto wallet for phone compatibility
The Ellipal Titan differs from the Ledger and Trezor in that it does not connect via USB or Bluetooth. This wallet is well-known for its air-gapped security, which means it is physically, electromagnetically, and electronically isolated from any networks.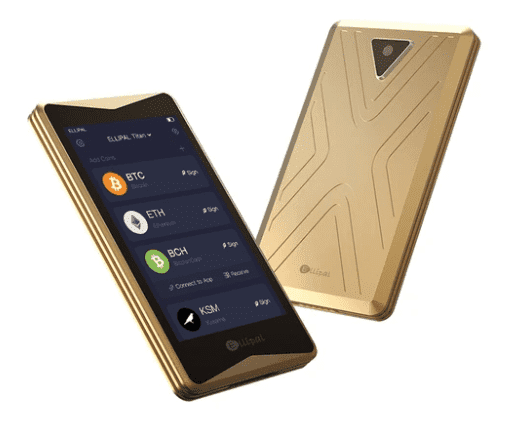 To sign transactions, the Ellipal Titan only uses QR codes and does not connect via USB, WiFi, or Bluetooth, ensuring that it is always completely disconnected and air-gapped. Anti-tamper protection is also built into the device to protect it from physical attacks. The full metal case is dust, water, and crushing resistant, and if the device detects a forceful breach from someone attempting to open it, all data is automatically deleted.
The Ellipal Titan, which supports 40 blockchains and over 10,000 tokens, costs USD139 (down from USD169) plus shipping. This is roughly equivalent to AUD190 plus shipping. The Ellipal Titan's main disadvantage is that, due to its air-gapped state and reliance on QR codes, it is only compatible with mobile phones and not computers.
Pros
Extremely secure with air-gapped security
4-inch touchscreen and camera for QR scanning
If a forceful breach is detected, the data will self-destruct.
FAQs About Crypto Wallets
What if I forget my crypto wallet password?
If you've forgotten your online wallet's password, you may be able to reset it via the website. The cryptocurrency exchange will send you an email with instructions on how to reset your password. You can restore PC, mobile, and hardware wallets if you know the recovery seed phrase.
What is a recovery seed phrase?
A recovery seed phrase is a string of random words generated when you set up your wallet (usually 12, 18, or 24). If users forget their wallet password or lose their mobile, computer, or hardware wallet, they can use this phrase to recover their crypto wallets.
How do I use a recovery seed phrase?
If you have forgotten your password, you can retrieve your funds by selecting Restore Wallet and then entering the recovery seed phrase in the correct order.
If you have lost or damaged your computer or phone, you can download the crypto wallet on a new computer or phone, download the wallet app, and look for the option to Restore Wallet. Then, in the correct order, type in the recovery seed phrase. If your device has been lost or stolen, it is a good idea to transfer your funds to a new crypto wallet once it has been recovered. This will also generate a new recovery seed phrase, which you should write down and keep somewhere safe.
If you've misplaced your hardware crypto wallet or it's no longer functional, you need to purchase a new one and enter the recovery seed phrase in the correct order to restore your old wallet. If your old hardware wallet device was stolen or lost, it is a good idea to generate a new wallet and transfer all of your funds after you have restored your old wallet. Remember that this will generate a new recovery seed phrase, so write it down and keep it safe.
Can I use the Ledger wallet besides other crypto wallets?
Yes. The Ledger wallet is frequently used along with other Bitcoin wallets, such as exchange wallets and smartphone wallets. It is recommended to use both a hardware wallet and a smartphone wallet since this keeps your private keys offline and secure from malicious hackers. You can trade online while maintaining control over your private keys.
Can I use the CoinSpot crypto wallet on my mobile phone?
Yes. CoinSpot has over 2 million users and many of them access CoinSpot through their smartphones. Ease of use, convenience, strong security and intuitive interface all make CoinSpot crypto wallet superior to Exodus wallet.
Is the Ledger Nano S or Ledger Nano X better? 
Both are decent Bitcoin wallets. While Nano S is the more affordable option and has a longer track record of reliability, Nano X has extra features that may appeal to advanced traders. 
Is it legal to buy Bitcoin in Australia? 
Buying, selling, and trading cryptocurrency is completely legal in Australia. The Reserve Bank of Australia, the Australian Tax Office and other government organisations have made it clear that Australians are allowed to buy and sell Bitcoin.
Where to buy Bitcoin?
You should purchase Bitcoin on a reputable cryptocurrency exchange such as CoinSpot. All you have to do is open an account on the exchange, verify your ID, and deposit funds before you can buy Bitcoin.
It is preferable to choose an Australian exchange because they are regulated by AUSTRAC, an Australian Government agency charged with protecting the community within the financial system. Hundreds of other cryptocurrencies, such as Ethereum, Dogecoin, and Solana, are also available for purchase and sale.
What is the best way to sell Bitcoin from your Bitcoin wallet?
With exchange crypto wallets, you can easily sell your Bitcoin with a few clicks. If you use an offline wallet, such as the Ledger Nano S, you must first transfer your funds to an exchange wallet before selling them.
How do I safely store my recovery seed phrase?
It is critical to write down the recovery seed phrase in the correct order and keep it somewhere safe in case you need it in an emergency. It is best to keep it on paper rather than electronically, as otherwise it may be stolen. 
Extra safe storage of recovery seed
If you want to be extra safe, you can buy accessories that protect your recovery seed phrase. Ledger sells a solid steel capsule that is fire, water, and impact resistant for $158. A solid steel case (also $158) made of marine grade 316 stainless steel that is fire, water, and impact resistant and can withstand shocks of a million volts is also available.
What is the most secure way to store Bitcoin?
Because they allow you to self-custody your Bitcoin, hardware crypto wallets are regarded as the safest way to store it. That means you have complete control over your Bitcoin. Because only you have access to your private keys, you are the only person who can send Bitcoin from your wallet. 
However, the ability to exercise self-custody entails additional responsibility. You must ensure that both your Ledger and its recovery phrase are kept completely secure. 
Final Thoughts
Choosing the right crypto wallets is mostly a matter of knowing what you are trying to do.
When selecting a cryptocurrency wallet platform, three factors should be considered: what you intend to do with your Bitcoin, how anonymous you wish to be, and how quickly you wish to do it. 
If all you need is a crypto wallet in Australia, it's easy to choose because Almost any wallet will work.
However, if you're looking for a more convenient way to spend your currency, consider an online or phone app wallet. If you're looking for more than just a wallet, but also a trading platform, consider the type of market you're interested in as well as your expertise level.