Due to the steep rise of collections such as Bored Ape Yacht Club and Crypto Punks, the NFT market has recently transformed dramatically. Midway through 2022, the benchmark price of these NFTs jumped to a crazy AUD 250,000, which sparked a speculative frenzy and brought more investors and artists into the space. In 2023, the NFT market will be the world's most liquid market for trading digital assets.
If you are an Australian seeking to investigate this fascinating world, you must select the ideal NFT market. This article will examine the top Australian NFT marketplaces where you can buy and sell digital art, Metaverse Land, GameFi assets, and more.
What is NFT Marketplace?
A non-fungible token (NFT) marketplace is designed to facilitate the buying and selling of NFTs. Users can list their NFTs for potential auctions or bidders; some marketplaces even allow users to create their NFTs.
All NFT marketplaces operate on blockchain technology to authenticate asset ownership, with some supporting multiple blockchains. Although Ethereum is the most widely used blockchain for NFTs, Binance Smart Chain, Polygon, Cardano, and Solana blockchains are also gaining popularity.
Universal art-focused platforms are the most popular NFT marketplaces. However, smaller and more unique NFT marketplaces also cater to specific asset types, such as sports cards, music, and video games. These niche marketplaces provide a space for digital asset trading and a community for individuals with similar interests.
How to Select the Best NFT Marketplaces
Various NFT marketplaces are available for purchasing NFTs using different types of cryptocurrencies. These marketplaces are not limited to any particular location, meaning that individuals from any part of the world can use any NFT marketplace, irrespective of location.
When selecting an NFT marketplace, it is essential to consider the available NFT types, the audience, transaction fees, payment methods, and others.
Target audience
It is essential to consider both the scale of the NFT marketplace's visitor base and the type of audience that it attracts. The large user base means more people to sell to and purchase from, but you should determine if they want to purchase the products.
Collection size
When selecting the best NFT marketplaces, it is essential to consider the quantity of the inventories or the amount of stock a marketplace has. Stock attracts customers because it provides them with something to purchase. People who want to buy might like a bigger collection because of its variety.
Payment methods
Some NFT marketplaces support only a few cryptocurrencies, while others are compatible with hundreds. To make NFT purchases and trading more accessible, some marketplaces now allow users to pay using a credit or debit card during checkout. 
To complete the transaction, the payment server converts the fiat currency into the default cryptocurrency used by the NFT marketplace. But there may be fees for processing and converting credit cards, depending on the bank and the market.
When using Ethereum (ETH), users may also incur gas fees, which are paid to transact on the Ethereum blockchain. Gas prices fluctuate based on network congestion.
Regardless of the payment method chosen, a crypto wallet is required to store NFT purchases. It is recommended to select an NFT marketplace compatible with your existing crypto wallet if you have one.
NFT Marketplace Fees
In addition to the gas fees, many NFT marketplaces impose additional costs on users, including service and transaction fees, subscription prices, and royalties paid to the original artist. These expenses differ based on the NFT market, with transaction fees typically hovering around 2.5%.
Ease of Use
Acknowledging the significant differences in usability and complexity among NFT marketplaces is crucial. No matter how much someone knows about NFT trading, they should look for a platform that makes trading easy and doesn't cause too many problems.
However, for many, mainly those new to the world of cryptocurrencies and NFTs, the initial experience can be daunting. This is made worse because you must sign up and learn how to use multiple platforms to manage your wallet, trade, and look at NFTs.
Therefore, it's a good idea to consider platforms that integrate all NFT marketplace services in one place. A unified platform offers greater convenience, minimises the potential for user errors, and provides easy access to customer support if required.
Top 10 Best NFT Marketplaces in Australia
OpenSea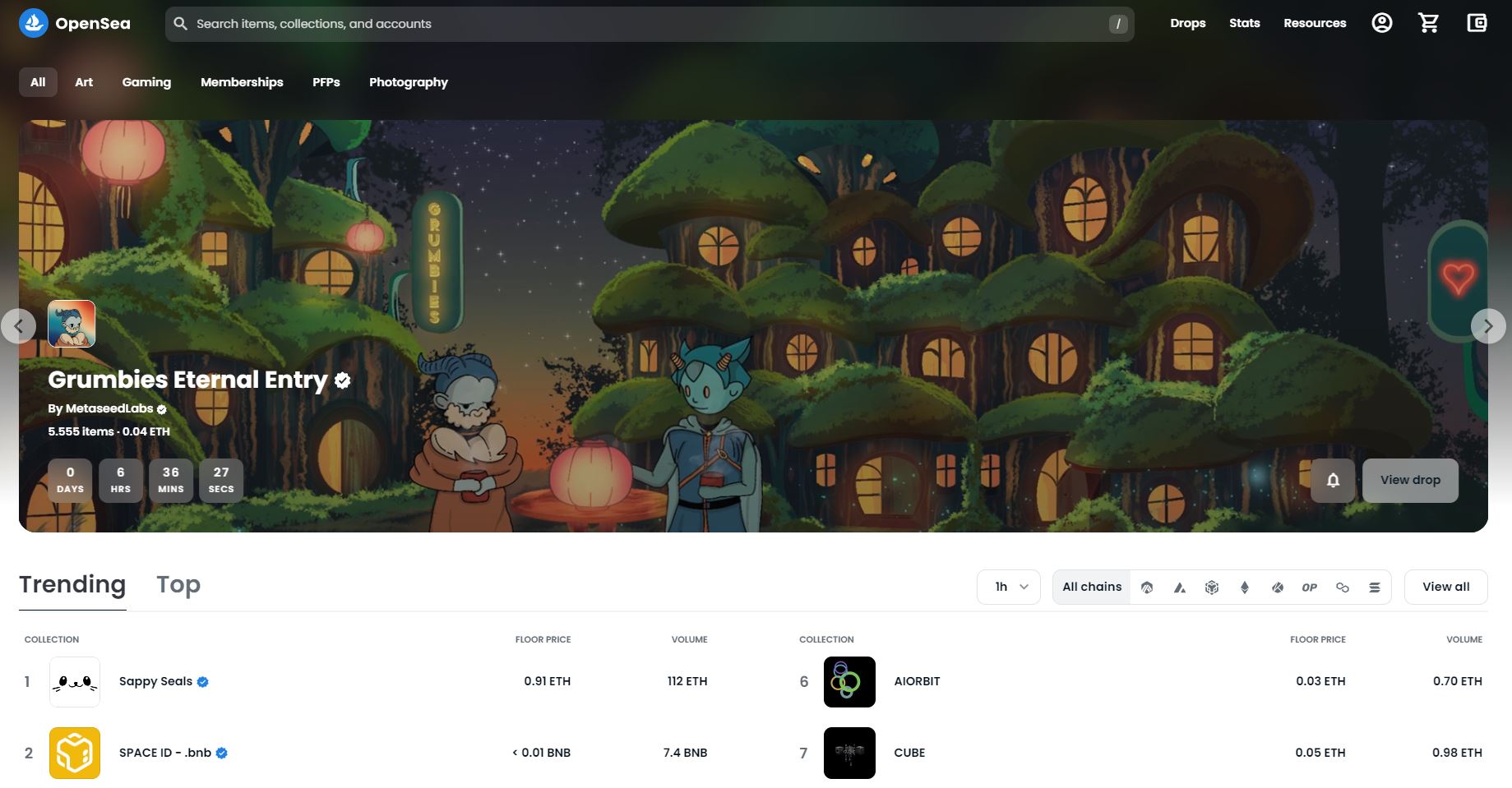 OpenSea, established in 2017, claims to be the world's most significant NFT marketplace, boasting over 300K users and hosting 34 million NFTs across one million collections. With a market valuation of over $1.5 billion, OpenSea is the industry's dominant player.
From novice NFT traders to prominent investors, musicians, and entrepreneurs, OpenSea is the preferred NFT marketplace, with famous users being Mark Cuban, 3LAU, Tim Ferriss, and Ashton Kutcher. OpenSea is well-stocked with the most sought-after NFT collections and projects.
Creating and selling NFTs on OpenSea is a simple and user-friendly process. You can set up your wallet, add your NFTs, create a collection, and list them for sale. OpenSea supports popular wallets such as MetaMask, Coinbase Wallet, TrustWallet, and Portis, enabling easy registration and payment for NFT art and creations.
To list anything on the OpenSea Market, you must pay a one-time account initialisation fee. Once you've initiated your account, you can mint and sell NFTs. Gas fees apply to different transactions, including accepting an offer, transferring or buying NFTs, cancelling a listing or a bid. Gas fees fluctuate by the minute, and you should check the current gas fees before completing any transaction to avoid high fees.
CoinSpot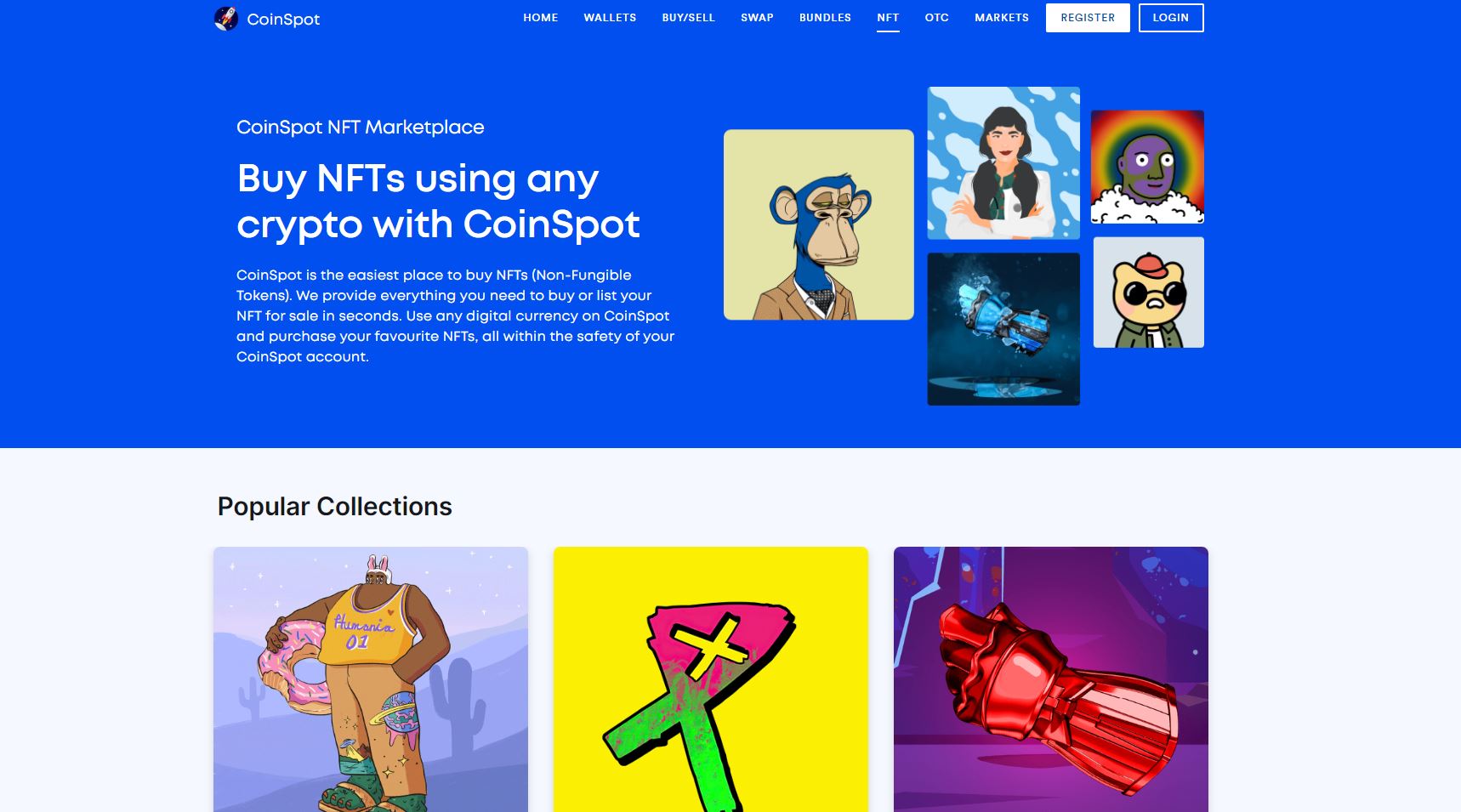 CoinSpot is an ideal NFT platform for Australian investors seeking a secure and user-friendly onramp to digital collectibles. This integrated NFT Marketplace is linked to OpenSea, and any tokens listed on its exchange can be used to trade digital assets. 
CoinSpot's NFT Marketplace offers a range of popular collections, such as Bored Ape Yacht Club, Azuki, and Invisible Friend. Although it currently does not support credit or debit card payments, users can easily add Australian dollars from their card to their CoinSpot wallet.
CoinSpot claims to be the NFT marketplace with the lowest fees in Australia, with a flat service fee of 0.9%. However, gas fees may apply depending on market activity. 
CoinSpot provides real-time information on floor prices, the volume traded, and changes in various NFT collections, empowering users to make informed investment decisions. Besides, its user-friendly interface, extensive cryptocurrency options, and 24/7 customer support make it the go-to platform for Australians entering the NFT market.
Rarible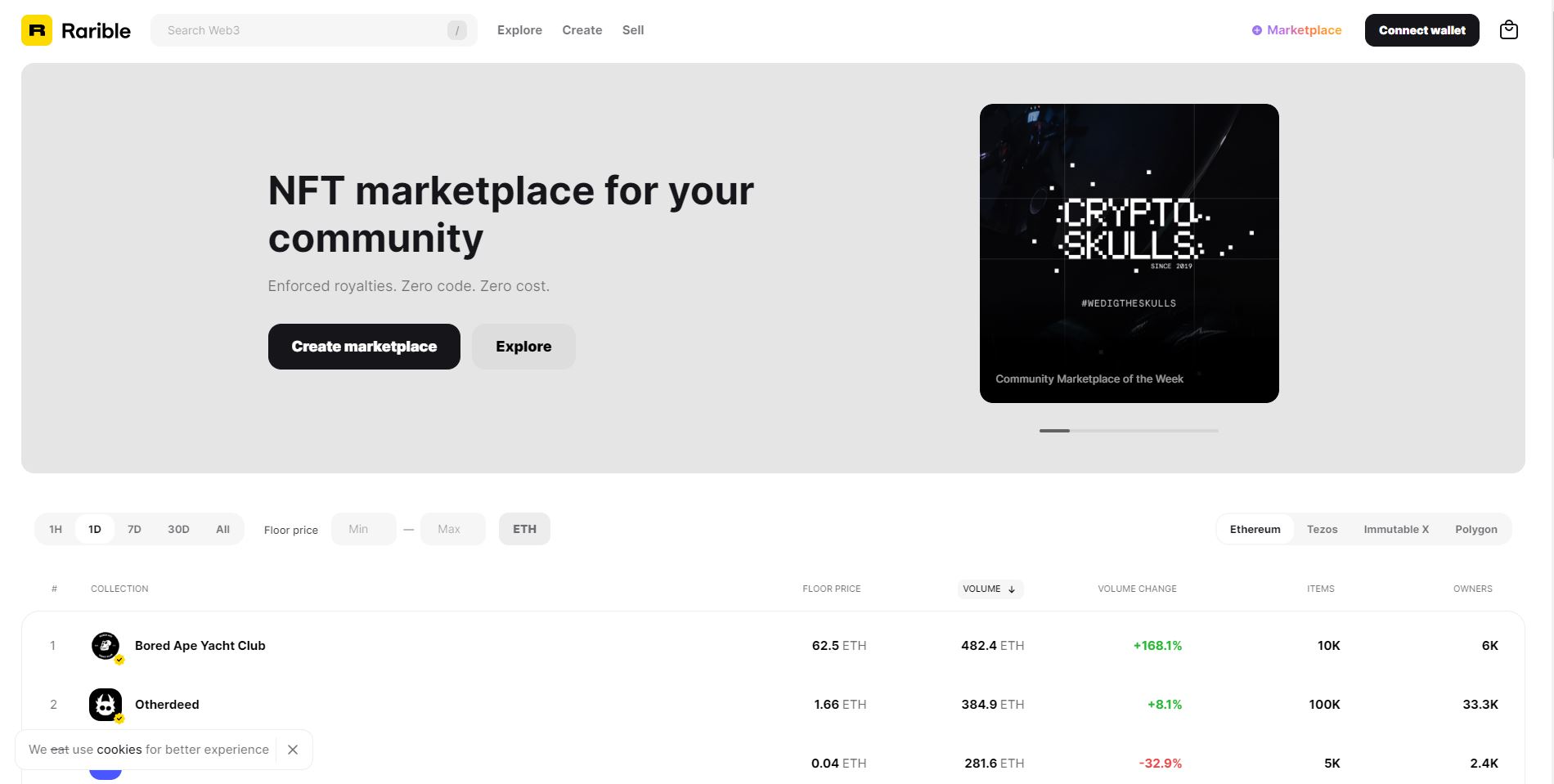 Rarible is rapidly emerging as one of the leading decentralised NFT marketplaces worldwide. The platform operates on its native cryptocurrency, Rarible Token. It was introduced in 2020 as an open-source platform for users to buy, sell, and mint various digital assets, including crypto art, memes, metaverse, and domain names. Rarible has some of the newest and most popular collections, several of which have sold more than $100 million in the last 30 days.
All transactions on Rarible happen on the Ethereum blockchain, so users can trade ownership of items directly with each other without an intermediary. Seven different wallets, like MetaMask, Torus, Portis, My Ether Wallet, Formatic, and Coinbase Wallet, can be used to buy and sell on the market. Once you have chosen your preferred wallet, you can begin buying, selling, and minting NFTs on Rarible.
Rarible features its cryptocurrency, RARI, allowing users to propose and vote on platform upgrades. Buyers and sellers receive airdrop tokens weekly based on their network transactions.
Magic Eden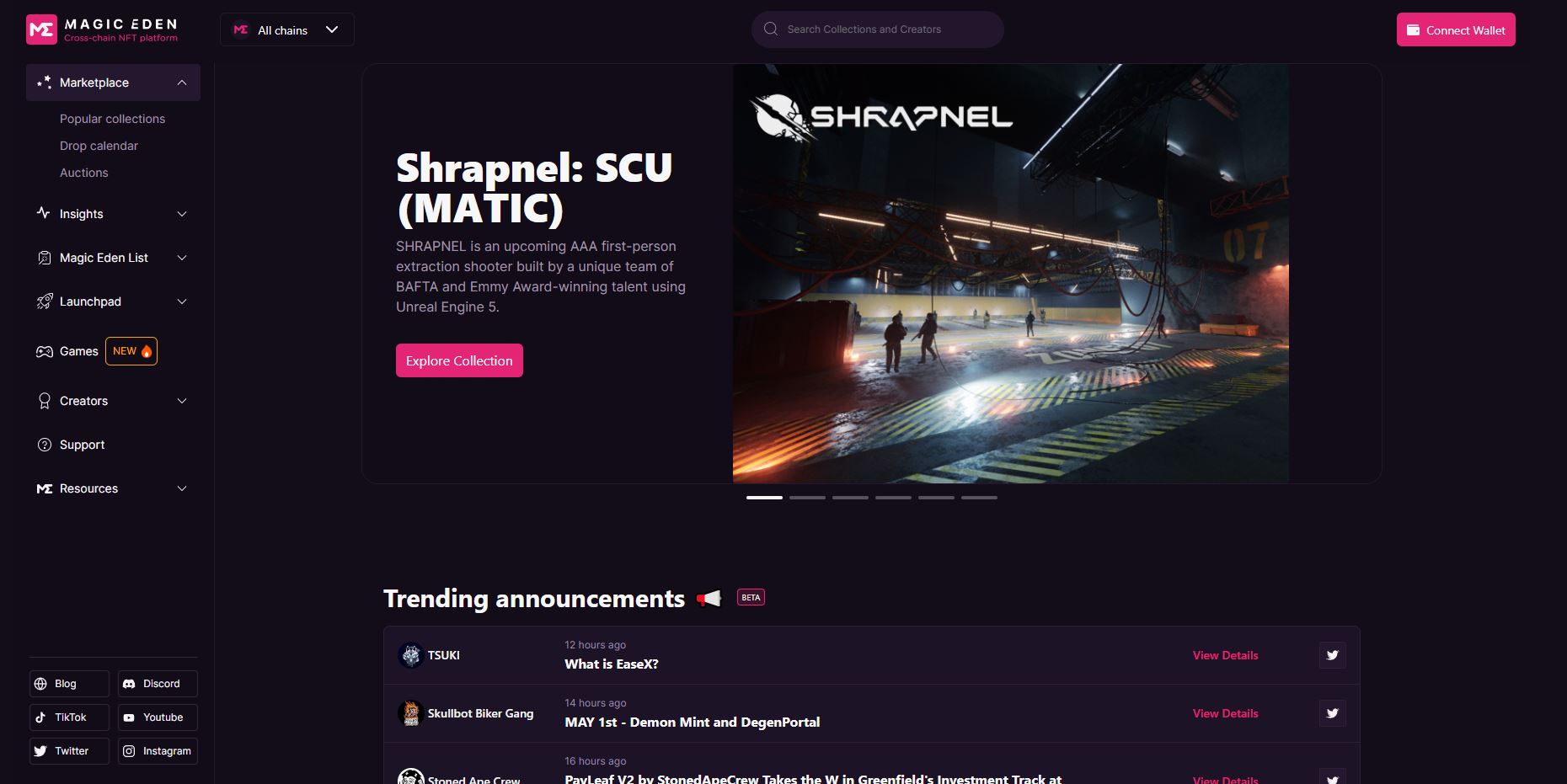 Magic Eden is a new NFT marketplace founded by three Australians in 2021, and it has quickly made a name for itself. The platform's impressive performance has been reflected in its $1.6 billion valuation just nine months after its launch. This was thanks to a $130 million Series B funding round co-led by Electric Capital and Greylock Partners. According to Magic Eden's website, the marketplace boasts over 8000 collections and a secondary trading volume of $1.9 billion.
Magic Eden operates on the Solana blockchain and is considered the leading marketplace. When purchasing an NFT, users can connect their external crypto wallets. At first, the marketplace only accepted wallets built on the Solana network. Now, however, it also accepts wallets built on the Ethereum network.
Magic Eden charges a 2% fee on all transactions and honours the royalties set by NFT creators, which are charged to the buyer immediately upon purchase. Anyone can mint NFTs from Magic Eden's launchpad, but creators who want to launch a collection for general minting must submit an application via the website.
Blur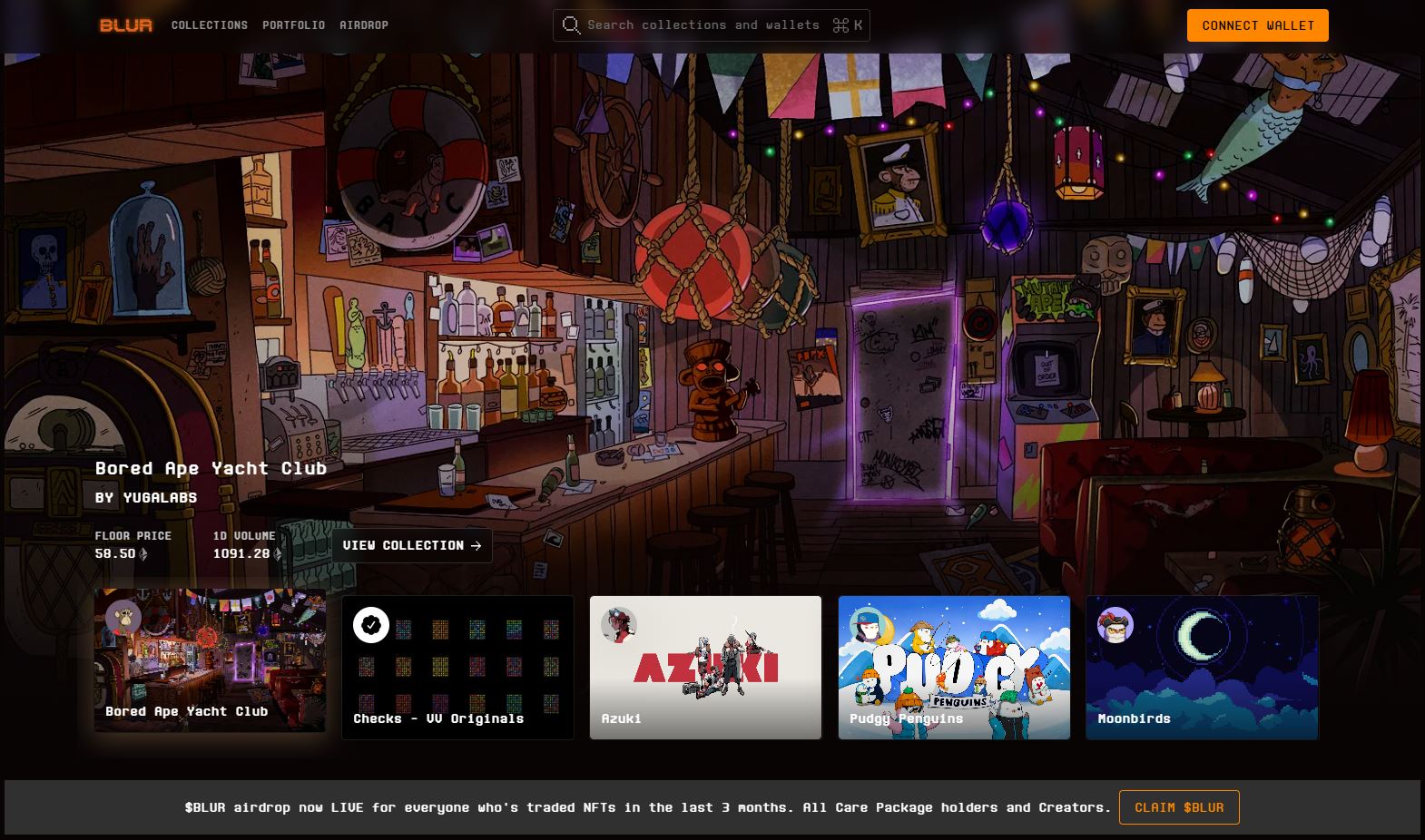 Blur.io is a top NFT Marketplace operating on the Ethereum network. Since its launch on October 19th, 2022, Blur has emerged as the leading platform for NFT trading based on total sales volume. Unlike other marketplaces that cater to everyday users and long-term collectors, Blur specifically caters to professional NFT traders.
It's important to note that Blur does not support 'minting' new NFTs, as its primary focus is buying and selling NFTs. What sets Blur apart is that it does not charge any transaction fees to its users, making it an attractive option for traders.
Regarding royalty payments, which are standard on most marketplaces, Blur suggests that buyers set the rate at 0.5%. This royalty fee can be customised and even set to zero if users prefer to trade without fees.
Blur provides a user-friendly and cost-effective platform for buying and selling NFTs quickly.
NBA Top Shot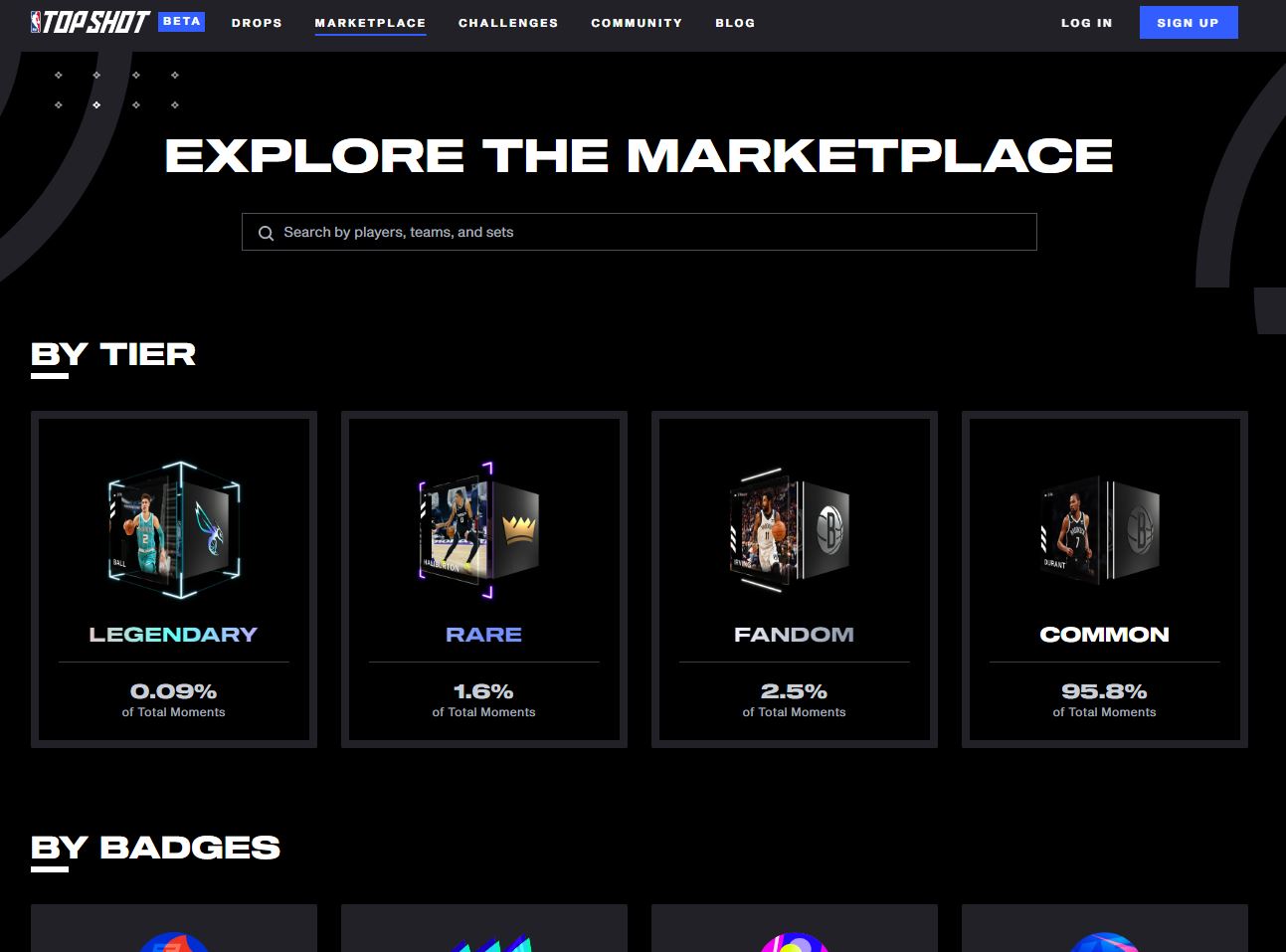 If you're a basketball fan, NBA Top Shot is the perfect marketplace for purchasing NFTs featuring great moments in US basketball history. It offers a vast collection of video clips, play highlights, and artwork from the NBA and WNBA. However, some of these "Moments" have a hefty price tag. In February 2021, a video of LeBron James slamming the ball down during a game sold for a whopping $208,000.
The NBA built and operated this NFT marketplace, granting exclusive rights to these video clips. Additionally, dealing with a well-established and reliable organisation like the NBA offers buyers peace of mind.
NBA Top Shot is only one example of major companies exploring this trend. Others include the DraftKings Marketplace and the Associated Press' NFT marketplace, while GameStop plans to launch its NFT marketplace this year.
Users can buy Moment NFTs using credit or debit cards and select cryptocurrencies like Bitcoin, Ethereum, Bitcoin Cash, DAI, or USDC. Remember that fees will be added to the purchase price, regardless of whether you use a credit card or cryptocurrency to make the purchase.
Nifty Gateway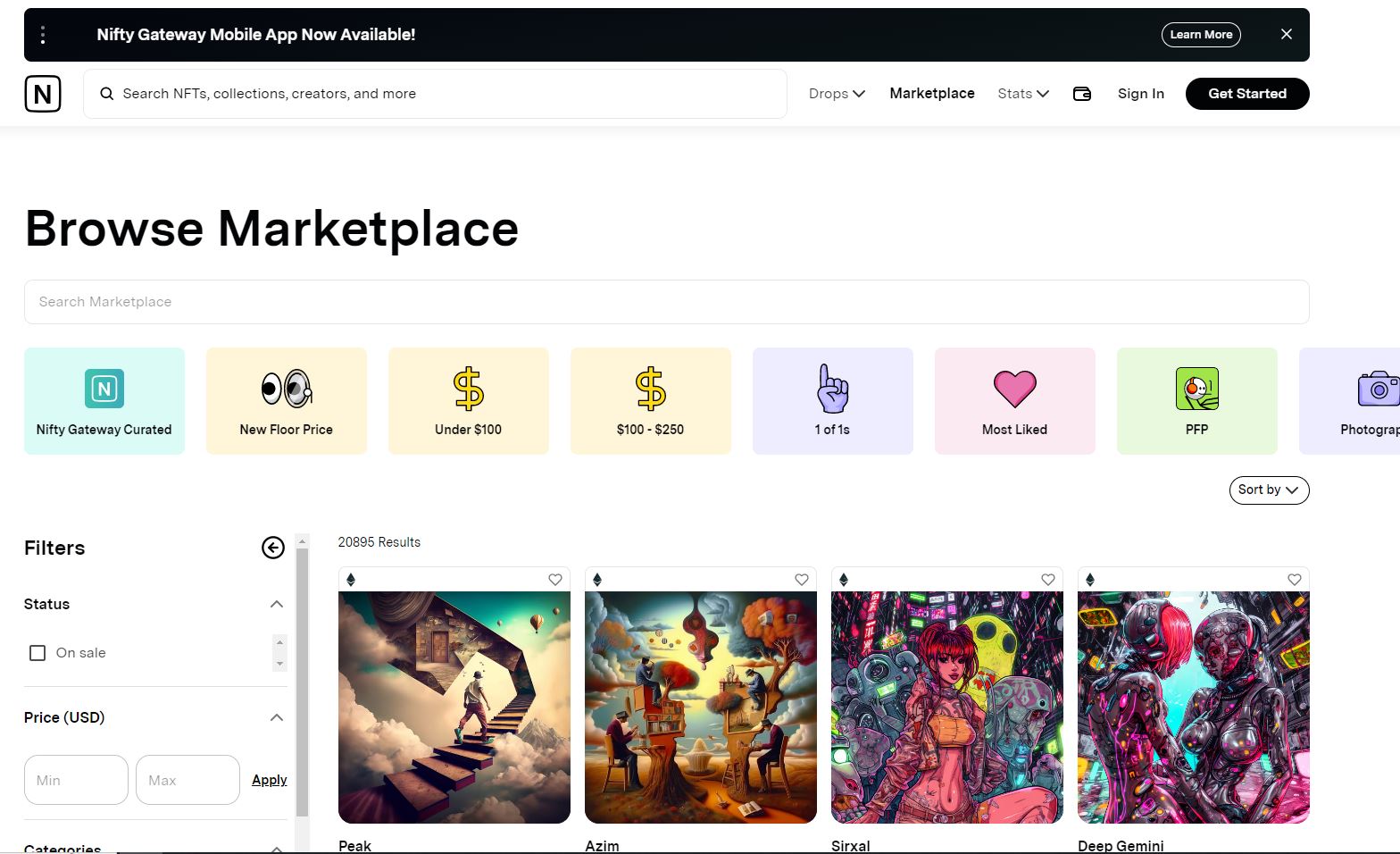 If you're new to NFTs, Nifty Gateway is an excellent place to start. Powered by Gemini, one of the world's top crypto exchanges, this Ethereum-based platform has partnerships with many leading artists and brands. Collections are available for a limited time, with drops occurring every three weeks. Once the NFTs sell out, they are only available on the secondary marketplace.
Renowned digital artists such as Beeple use Nifty Gateway to sell their exclusive artwork, and famous musicians like Deadmau5, Grimes, and Steve Aoki also release NFTs on the platform. Beeple's NFT, "Crossroad," recently sold for $6.66 million, making it the most significant sale ever on Nifty Gateway.
Anyone can apply to be a creator on the platform, and minting, buying, and selling are straightforward. Credit cards can be used for any transaction on Nifty Gateway, making it easy for cryptocurrency novices to use the platform.
SuperRare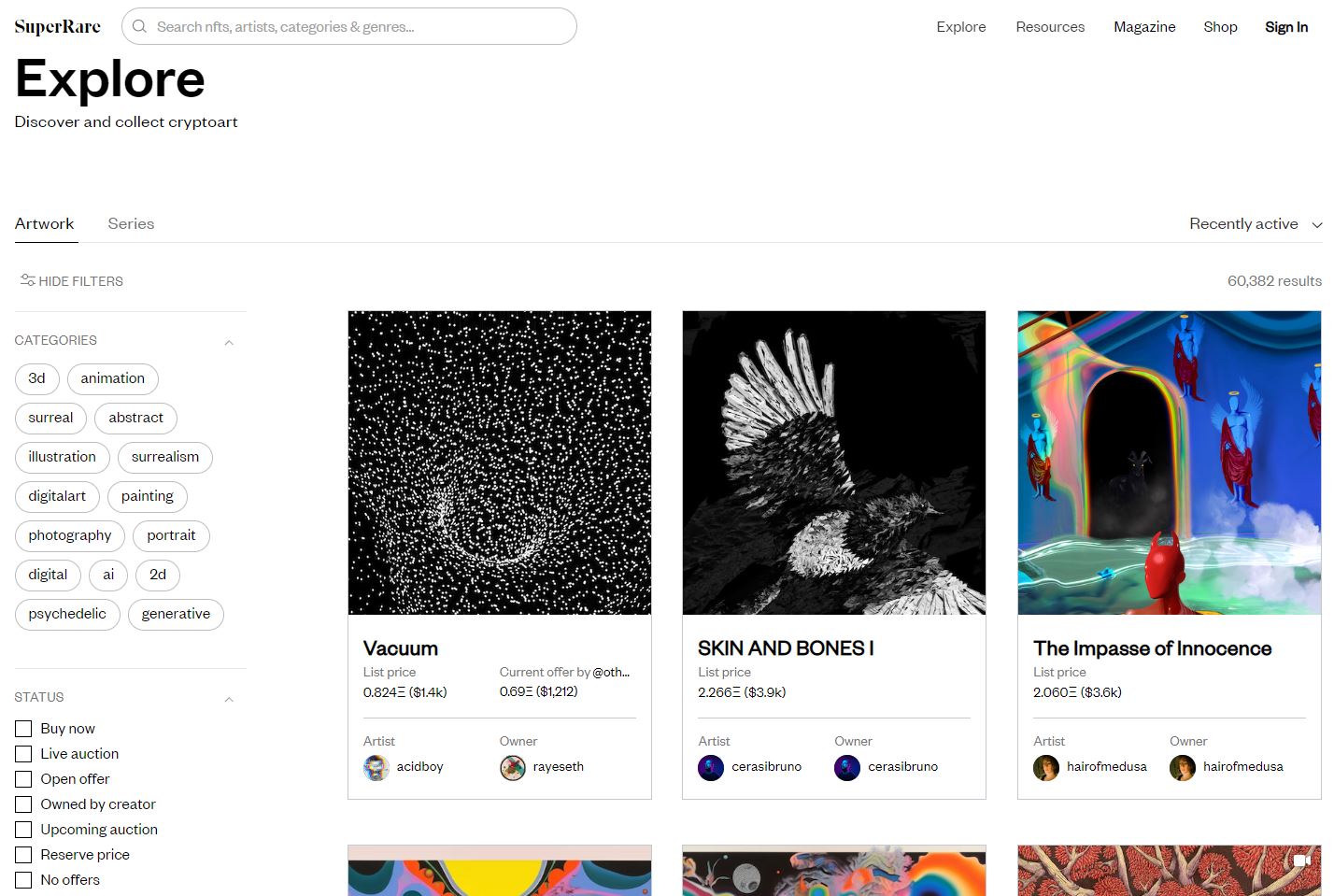 SuperRare has a unique approach to the NFT marketplace, positioning itself as a hybrid between a social media site and an auction house like Instagram meets Christie's. Founded in 2017, SuperRare is known for its limited number of carefully curated artists. 
To be eligible to mint and sell NFTs on SuperRare, artists must submit a portfolio for consideration. This curation process ensures that only high-quality artwork is available for sale. However, anyone can buy and trade NFTs on the platform, regardless of whether they are artists.
SuperRare charges a 15% commission on the sale of any artwork, and artists can receive a 10% royalty on any subsequent sales, making it an excellent option for residual income. The site's social networking features draw much attention to the artwork on offer and can help users assess the value of NFTs on the platform.
SuperRare operates on the Ethereum network and requires a valid wallet to mint, buy, and sell NFTs and artwork. Buyers are charged a 3% transaction fee on any transaction. Despite being smaller than OpenSea and Rarible, SuperRare is still a popular place for artists to earn money from their art, with top artists making sales between $500,000 and $3 million.
Foundation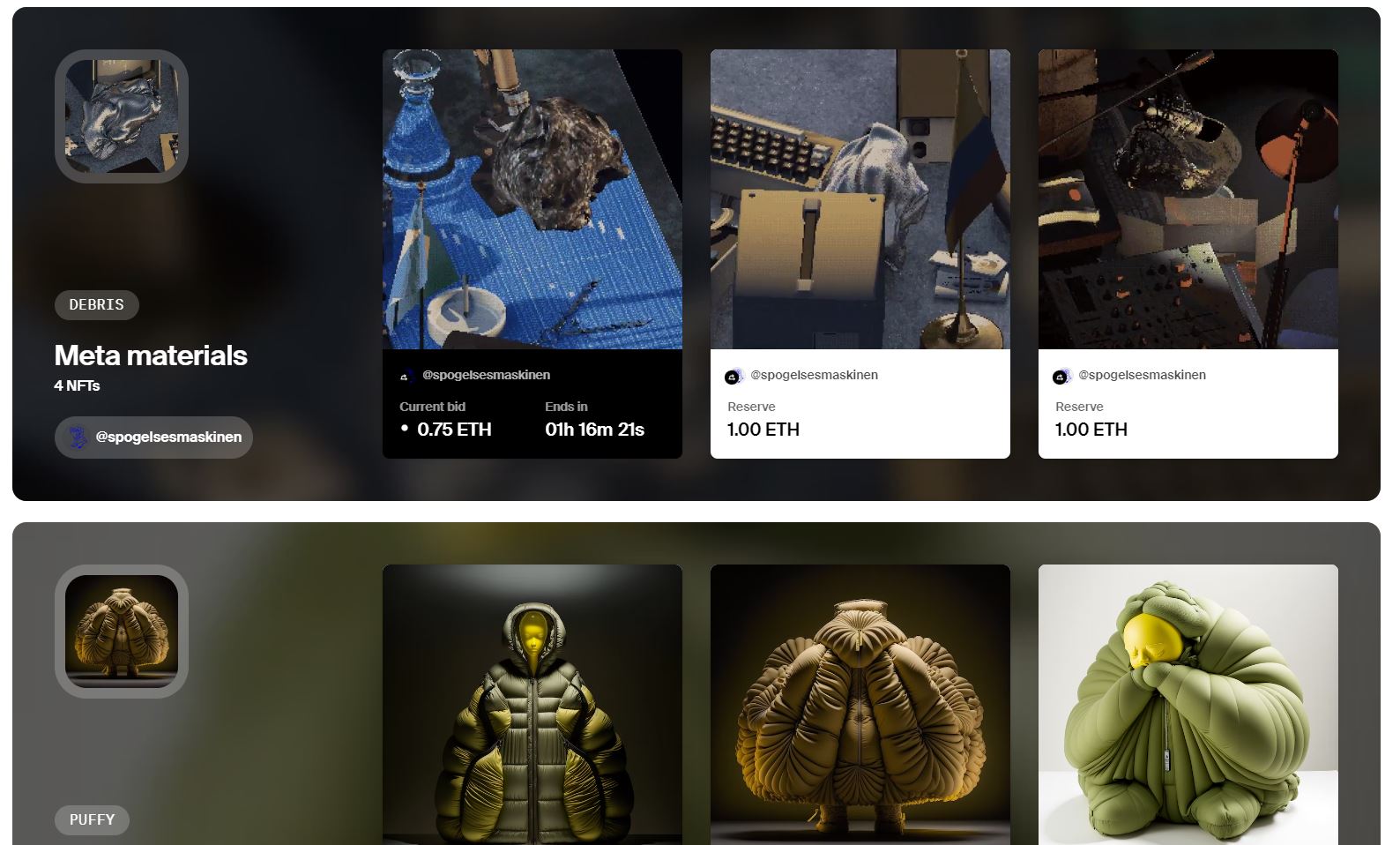 To become an artist at Foundation, you must be invited by a current community member. Once you receive an invitation, attach your MetaMask wallet, and you can start minting NFTs and auctioning them off. Artists on Foundation receive 85% of the auction sale price and a 10% royalty on any secondary sales of their work on Foundation or OpenSea.
While artist accounts are exclusive, anyone can join Foundation to buy and sell NFTs. Transactions on Foundation are conducted on the Ethereum network, ensuring safety and security.
All artwork on Foundation is set up as an auction with a reserve fixed price, and once a bid is placed, a 24-hour countdown begins. To prevent auction sniping, any bids placed in the last 15 minutes of the auction will extend the auction for another 15 minutes.
Since its launch in February 2021, Foundation has reached $124 million in sales. The platform strives to be a cultural home and a platform for art on the Ethereum network, fostering interactions between creators, collectors, and developers.
MakersPlace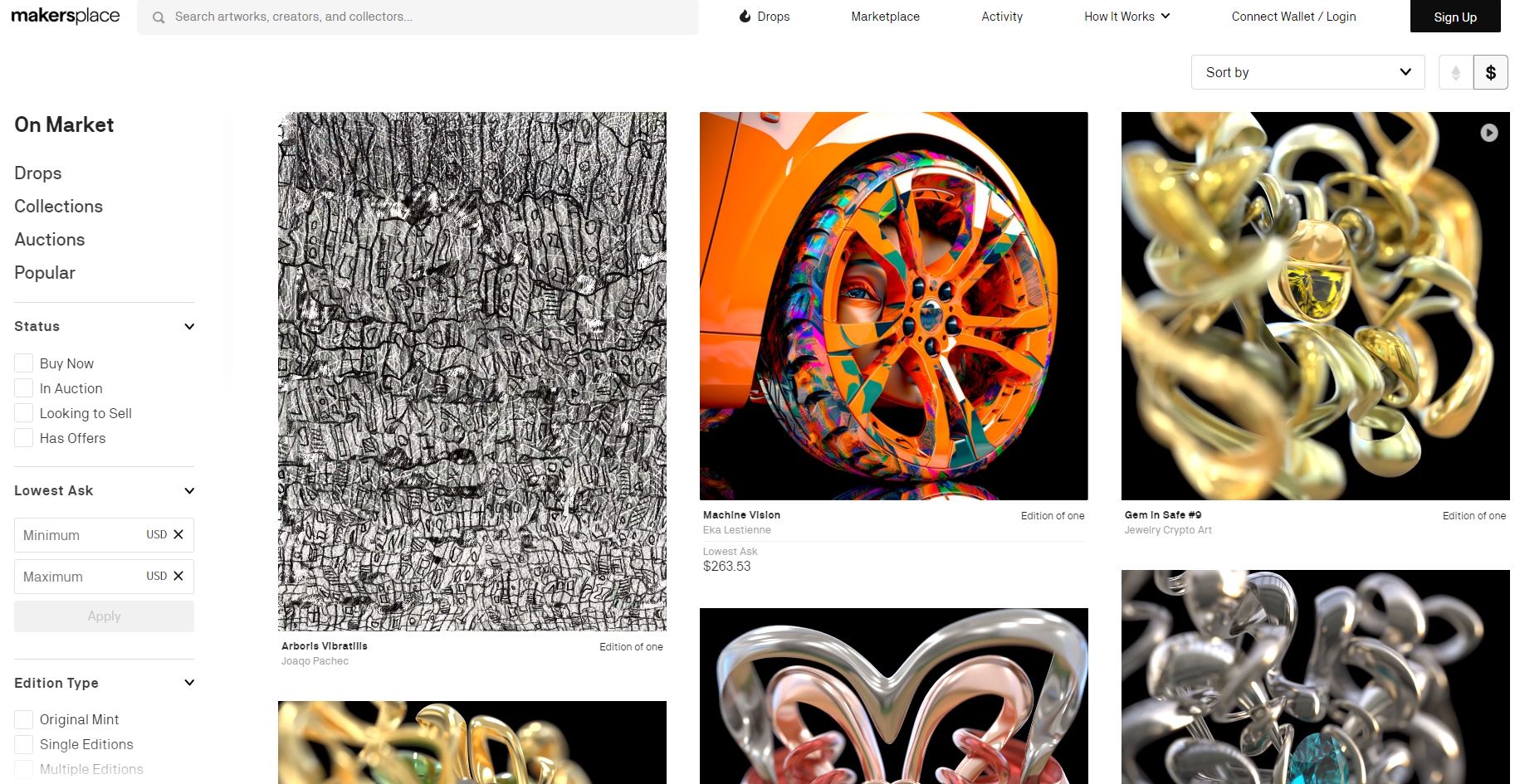 MakersPlace is a curated marketplace that exclusively deals in digital artwork and NFTs. To become a member of this platform as an artist, you must fill out an application, which MakersPlace will then review. The site operates on the Ethereum network and requires a blockchain wallet for all transactions, so you'll need one before using the platform.
MakersPlace values authenticity and uniqueness in the digital creations that they offer for sale. They create scarcity by providing limited editions and ensuring authenticity by permanently recording and verifying transactions on the blockchain. All transactions require cryptocurrency and a third-party wallet such as MetaMask or Coinbase.
MakersPlace is free for all members, but fees are charged for any interaction on the blockchain. The platform charges a 15% commission on successful sales, and if you use a credit card to purchase an NFT, an additional fee will be charged through your credit card. Creators on MakersPlace will earn a 10% commission on any resold NFTs. Note that MakersPlace is an invite-only platform, meaning you'll need to apply and be accepted to become a member.
Frequently Asked Questions (FAQs)
Is NFT investment legal?
Most jurisdictions allow NFT investing, but a few countries have restrictions. For instance, NFTs in the United States are subject to securities laws, and exchanges must be registered with the SEC. On the other hand, China has banned NFT trading altogether. It's crucial to verify the legal status of NFTs in your jurisdiction before investing in them to avoid breaking any laws.
Are NFT marketplaces safe?
Even though NFT marketplaces are generally secure, it's crucial to keep in mind that, like any online transaction, there are potential risks to consider. Unfortunately, scams are among the most significant threats in the NFT industry. Furthermore, since NFTs are irreversible, there is a risk of fraud when sending NFTs to others. As a new and evolving technology, glitches or issues with the networks are always possible.
Are NFTs a good investment?
Digital art is one of the most common and clear use cases for NFTs. Similar to physical art, the value of NFT art depends on the artist and the artwork. Not all art is valuable, just as not all NFTs are valuable. The potential resale value of NFTs is determined by their supply and demand, similar to cryptocurrencies and traditional investments such as stocks. NFT collections like Bored Ape Yacht Club (BAYC) and CryptoPunks have become very popular, which has pushed up their floor price by a lot. However, this does not guarantee that there will always be demand for these assets. If people lose interest in these particular digital assets, then their value will begin to decrease. Thus, conducting thorough research on the NFT market to uncover any intrinsic value before investing in them is extremely important.
What is the best place to buy NFTs?
OpenSea is currently the largest NFT marketplace worldwide and is home to some of the most renowned NFTs. But if you don't want to set up a MetaMask wallet, you can easily buy NFTs through centralised exchanges like Binance and Crypto.com, which have NFT markets built into their platforms. Australia's biggest exchange platform, Coinspot, lets you buy a variety of NFTs by connecting to OpenSea, so you don't have to do transactions by hand.
What is the biggest NFT marketplace?
OpenSea has experienced significant growth since its inception in 2017 and currently boasts impressive statistics, such as over 300,000 users, 70,000 daily transactions, and 34 million NFTs for sale. OpenSea's volume totals a remarkable $4 billion. While Rarible is the second-largest marketplace, with over 29,000 users and 100,000 minted items, it's clear that OpenSea maintains a significant lead in size. For those seeking to sell their NFTs on the largest platform, OpenSea is the way to go.
The Final Thoughts
In conclusion, to enter the NFT market, you must choose a reliable marketplace. With so many options available, determining which platform best suits your needs can be challenging. Our rankings of the best NFT marketplaces above may help you decide. However, it is crucial to recognise that while NFT marketplaces are generally secure, risks such as scams, fraud, and potential network issues still exist. To ensure your NFT transaction is safe and profitable, stay informed, be careful, and only buy from reputable sources.
___
The following review is for informational purposes only and should not be construed as financial or investment advice. It is important to note that cryptocurrency is a highly volatile and speculative market, and there is no guarantee of profit or loss. This review is based on the author's personal experience and research, and individual results may vary. The author is not affiliated with any of the exchanges mentioned in this review and does not receive compensation for their mention. It is recommended that readers conduct their own due diligence and consult with a financial advisor before making any investment decisions.
The information regarding performance may be different from the time of publication. Past performance does not guarantee future results. While we believe that all content was accurate at the time of posting, it is possible that some offers included in the content may no longer be valid.