Arbitrum, the biggest participant in Ethereum's layer 2 scaling landscape, announced on March 23 that community members would get ARB, the new Arbritrum token, for free.
According to the Arbitrum Foundation, ARB will mark Arbitrum's official transition into a decentralised autonomous organisation (DAO). ARB holders can vote on key decisions governing Arbitrum One and Arbitrum Nova networks that facilitate faster and more affordable transactions on Ethereum.
The Arbitrum Foundation stated that Arbitrum DAO could control key protocol-level decisions, including how the chain's technology is upgraded and how revenue from the chain can be used to support the ecosystem.
Although the Arbitrum Foundation intends to distribute 44% of tokens to investors and core contributors, the creator of Arbitrum, Offchain Labs, claims that the ARB token will make the Arbitrum ecosystem more decentralised than other scaling chains.
"For me, the most exciting part is the decentralisation—the fact that Offchain Labs will no longer have any control over the future of this chain," stated Offchain Labs CEO Steven Goldfeder. "We will be a service provider, and if the DAO calls on us to build software, we will."
Layer-3 blockchain Arbitrum Orbit
In February, Arbitrum worked with the crypto analytics company Nansen to take a "snapshot" of user activity to determine who should get ARB tokens, how many transactions you have performed, what applications you utilised, and how long you have been using them. Goldfeder said that Arbitrum One and Arbitrum Nitro were used to decide who was eligible.
Arbitrum users can find out if they are eligible for the airdrop and how to get tokens by going to gov.arbitrage.foundation. Users are advised to exercise caution when claiming their tokens, as fraudsters frequently use airdrops to conduct phishing attacks via spoofed websites and other schemes.
The cumulative dissemination of ARB will reach 10 billion copies. The Arbitrum community will hold 56% of these tokens; the airdrop will distribute 11.5% of the total supply to eligible Arbitrum users and 1.1% to DAOs operating within the Arbitrum ecosystem. The remaining community tokens will be transferred to a treasury managed by the new Arbitrum DAO, allowing ARB holders to vote on how the funds will be distributed.
The remaining 44% of ARB will be distributed to investors and employees of Offchain Labs, the company that built Arbitrum. CEO Goldfeder says these tokens will be subject to lock-up periods and vesting schedules. However, the proportion of ARB reserved for insiders is somewhat higher than similar projects (Optimism, Arbitrum's main competitor, rewarded 36% of its OP tokens to investors and core contributors, for example).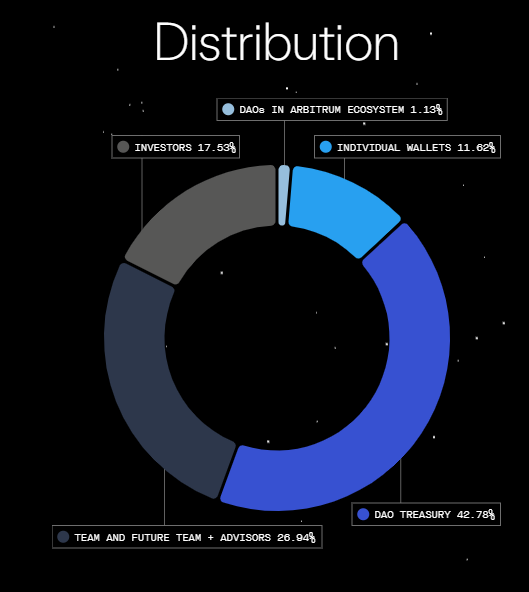 Unlike ether (ETH), used to pay fees on Ethereum and Arbitrum, the ARB token will only be used for protocol governance. The governance process of the Arbitrum DAO will be self-executing, meaning that votes can be used to modify Arbitrum's core code directly.
Code modifications will be subject to a delay (to allow time for audits and other safety considerations). Nevertheless, a 12-person security council run by the Arbitrum DAO will be able to fix issues more quickly.
ARB's introduction was timed to coincide with the launch of Arbitrum Obit, which will enable third-party applications and protocols to create new "layer 3" blockchains atop Arbitrum's low-cost infrastructure.
Why now?
Wen? Now. 🧑‍🚀💙🧡 pic.twitter.com/CysJ9nPP3Z

— Arbitrum (💙,🧡) (@arbitrum) March 16, 2023
Arbitrum has $3.69 billion invested into its Ethereum rollup network, Aribtrum One, making it the market leader in fiercely competitive blockchains. L2 Beat, a website for layer 2 analytics, reports that Arbitrum possesses 55% of the Ethereum Layer 2 market share.
As one of the largest untokenised crypto initiatives, Arbitrum's token has been eagerly anticipated since the network went live in 2021.
Prior to its transition to DAO governance, Optimism, the primary competitor of Arbitrum in the Ethereum scaling space, released its OP token nearly a year ago.
Optimism and Arbitrum One are both so-called Optimistic rollup networks. They are blockchains that operate in tandem with Ethereum, combine large groups of transactions, and then post those transactions in masse to the Ethereum ledger, thereby reducing the fees required to execute these transactions individually.
Regarding the delay in launching its governance token, Goldfeder stated that the technology came first. And according to our technical road map, the time was right. According to Goldfeder, Arbitrum has attained certain technical milestones, such as functioning fraud proofs (the technology that underpins the security of Arbitrum One), that its primary competitor has yet to reach.