Decentralised autonomous organisations (DAOs) are becoming a new instrument for organisational management and scalability for Web3 initiatives. DAOs derive their value from the concept of the "global village," or the capacity to coordinate on a global scale trustlessly. 
At the topmost level, there are three categories of DAOs.
Capital allocation DAOs bring together groups of people to provide liquidity, vote on how the equity is distributed, and give back rewards to the community.
Social DAOs are organised around a token and offer the community companionship, networking, education, and collaboration.
Governance DAOs are built around important financial applications, and owning a token automatically gives you "membership" (voting rights) in the DAO and the power to change the direction of the protocol.
In their names, several DAOs position themselves as decentralised or at least intend to become completely decentralised. The underlying technology of a DAO is decentralised, but it does not mean its organisational structure should also be.
In this hyper-focus on comprehensive decentralisation, many DAOs are "DAOing" it wrong.
"DAOing" It Wrong
Traditional organisations are limited in their capacity to distribute leadership effectively. The lack of transparency and concentration of power hinders innovation, creativity, and diversity of thought.
In contrast, DAOs can leverage decentralised networks and distribute leadership in an open, dynamic, and timely manner in response to emerging requirements. Members who contribute to the organisation are rewarded with influence and voting power, resulting in a flexible leadership structure that grows with the organisation.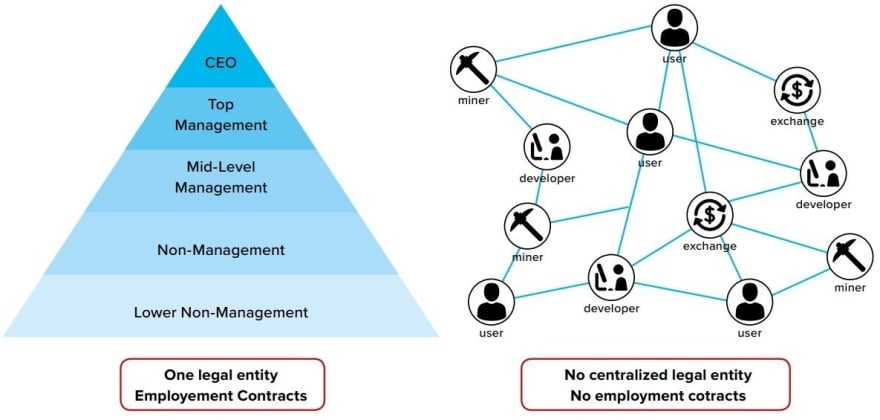 This model scales leadership but only necessitates its complete decentralisation.
Many DAOs assert that decentralisation is the ultimate objective, conflating system decentralisation and organisational decentralisation. The former refers to the technological systems that DAOs are founded on and employ, while the latter comprises the DAO's social and cultural characteristics. System decentralisation should be pursued doggedly, whereas organisational decentralisation should be regarded with prudence.
An organisation that decentralises at the wrong time or for the wrong DAO risks becoming mired in disorder and inefficiency, stifling innovation like that of centralised entities.
Instead of decentralising for the sake of decentralisation, DAOs should ensure that the decentralised architecture of their token and voting facilitates efficient decision-making and scalable leadership. It necessitates a shift in perspective, with decentralisation as the starting point rather than the final result.
DAOing it right
There are examples of how to organise and run DAOs in the current DAO landscape efficiently. Emerging best practices demonstrate decentralised technology's effectiveness when applied to effective management and scalable leadership.
Progressive decentralisation is the process of delegating progressively more decision-making authority to the community over time while ensuring that key contributors retain governance during crucial periods of early development.
Tribute Labs pioneered legal clarity to DAOs, paving the way for DAOs to be constructed using decentralised technology while retaining the advantages of conventional organisations.
Voting innovations like Ethereum Naming Service's robust token delegation and Gitcoin's quadratic voting have enabled communities to exercise more nuanced control. In reality, complete decentralisation of an organisation is not always the most effective course of action.
Meanwhile, the rapid adoption of artificial intelligence (AI) is already influencing how some DAOs make or inform decisions. By analysing data, identifying patterns, and making predictions, AI will assist DAOs in making better and more timely decisions. As DAOs are online-native organisations whose entire governance process is recorded on-chain, interactions can be analysed algorithmically.
Companies move quickly when they have robust and recognisable leadership, but they endure the longest when they have a flourishing community, engaged contributors, and ample opportunity. DAOs provide both opportunities: decentralised technology can still be supervised by defined hierarchies, and others can contribute, develop, and scale without permission.