The United States securities regulator's attempt to conceal records of its internal discussions has been denied, marking a significant victory for Ripple and the crypto community. The denial comes after former director William Hinman delivered a speech in June 2018, asserting that Ethereum's native token, Ether, should not be classified as a security.
On December 22, the Securities and Exchange Commission (SEC) filed a motion to seal internal emails, text messages, and expert reports that followed Hinman's speech. The SEC argued that their mission outweighed the "public's right" to access documents deemed irrelevant to the court's summary judgment decision, among other justifications.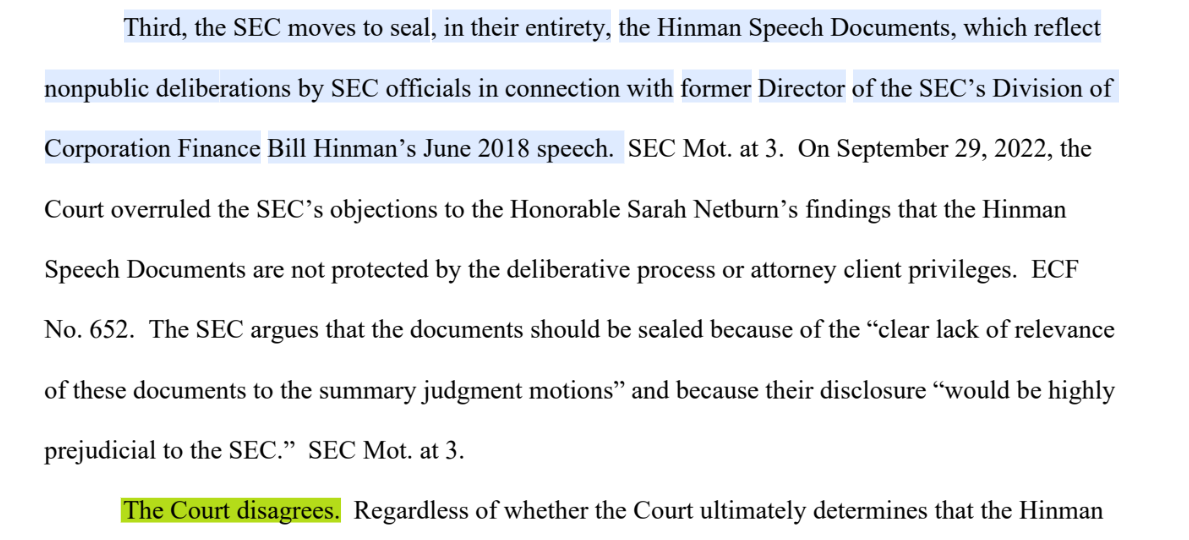 Nonetheless, Judge Analisa Torres of the U.S. District Court ruled that these documents are considered "judicial documents" and are subject to a strong presumption of public access.
According to Judge Torres, the Hinman Speech Documents can reasonably impact the court's ruling on a motion. She dismissed the SEC's argument that sealing the documents is crucial for maintaining transparency and honesty within the SEC, stating that the deliberative process privilege does not protect the documents as they do not pertain to an agency's position, decision, or policy.
While the court has ordered the disclosure of the Hinman Speech documents to the public, it has granted two other requests made by the SEC. These requests involve redacting the names, identifying information of SEC experts and XRP investor declarants, and the defendant's personal and financial details.
Hinman Speech docs will not be sealed; p.5. Judge makes clear they should be open regardless of their impact in a decision. States it neither stifles SEC deliberation nor is the SEC's "prophylactic" concern it could be priveleged in the future convince.https://t.co/tCS5cpgsQO pic.twitter.com/73YXhZszNY

— WrathofKahneman (@WKahneman) May 16, 2023
On the other hand, the court has rejected various sealing motions made by Ripple, which included references linking Ripple's revenues with XRP sales and the disclosed amount of compensation provided to trading platforms, among other matters.
Ripple considers the speech to be a crucial piece of evidence in its ongoing legal dispute with the SEC, which accuses Ripple's XRP sales of violating U.S. securities laws. After this news, the price of XRP experienced a surge, with an increase of approximately 2.6%. Currently, XRP is being traded at $0.43.