Former President Donald Trump has launched a collection of 45,000 non-fungible tokens (NFT), as revealed via Truth Social, the social media platform he created last year, on Thursday.
The Trump Digital Trading Cards show photographs of the president in a format akin to collectible baseball cards. The tokens, issued on Polygon, may be acquired with ether (ETH) or fiat cash for $99 each.
At the end of the checkout procedure, buyers are invited to select the quantity of Trump Trading Cards to buy. The screenshot shows that the pop-up advertises a guaranteed invitation to a gala dinner with Trump for purchasing 45 NFTs at once. This would cost the client $4455.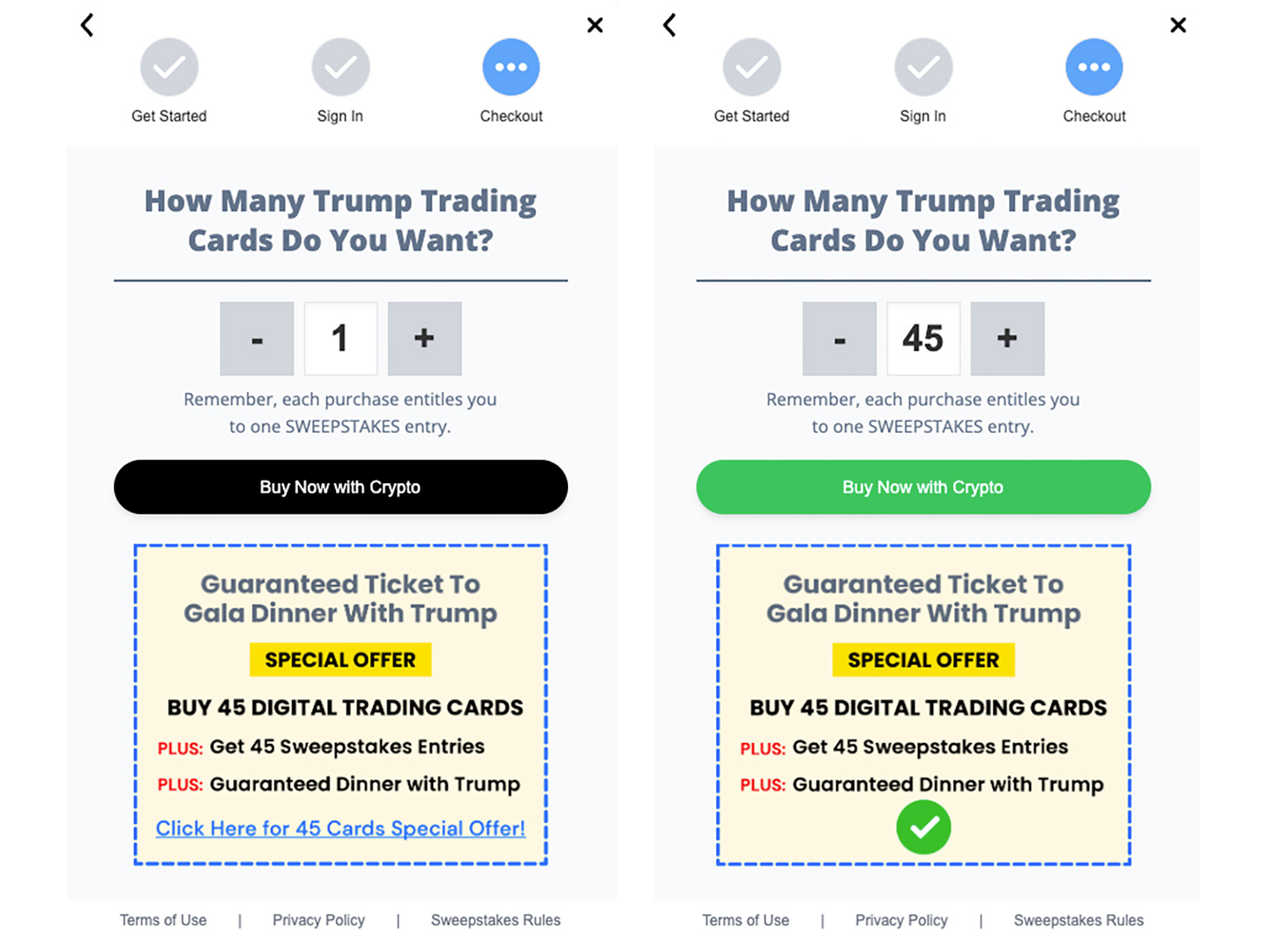 Collectors who purchase one of the digital trading cards will be placed into a "sweepstakes" to win experiences with Trump, such as a zoom call, a dinner in Miami, or a cocktail hour at Mar-a-Lago. The trading cards' rarity will range from one-of-a-kind to standard "2, 5, 7, or 10 copies. No Trump Digital Trading Card will exist in copies of more than 20.
Although Trump stated in July 2019 that he was not a fan of cryptocurrencies, he looked eager to market his new collection. 
The website also includes a promotional video in which Trump declares: "Each card comes with an automatic chance to win amazing prizes like dinner with me. I don't know if it's an amazing prize, but it's what we have."
Donald Trump announced his new NFT collection with a commercial.

Here it is: pic.twitter.com/yBLpn1Zb0f

— unusual_whales (@unusual_whales) December 15, 2022
Initially, the effort came up against criticism on Twitter, with some users dubbing the collection a scam. Others cited earlier stories of his dubious fundraising attempts for his 2020 campaign and charges of shady spending.
Trump's "major announcement" turns out to be a series of $99 NFTs that are ugly even by the usual NFT standards. pic.twitter.com/f6r80q2PgB

— Will Sommer (@willsommer) December 15, 2022
After the news, shares of Digital World Acquisition Corp (DWAC), a particular purpose acquisition company that entered into a planned merger agreement with Trump's social media firm, declined by almost 7%.
While this is President Trump's first official NFT initiative, the previous First Lady, Melania Trump, debuted her NFT collection "Cobalt Blue Eyes" about a year ago.
At the time of publication, Collect Trump Cards, the website behind the project, has not responded to our request for comment.