Bitcoin (BTC) appeared to be on its way to the promised land above $30,000 on Easter Monday when a large portion of the global workforce was off.
The largest crypto by market capitalisation, which had hinted at a run towards this threshold three weeks ago, surpassed $29,744 in the afternoon, its highest level since early June, as investor optimism surged. However, it required time to determine the reason for the transfer. It was trading at $29,616 at the time.
Between 10 a.m. and 11 a.m. ET, bitcoin ascended by approximately 4%. It had been hovering around $28,000 since mid-March when concerns about conventional banking institutions began to subside.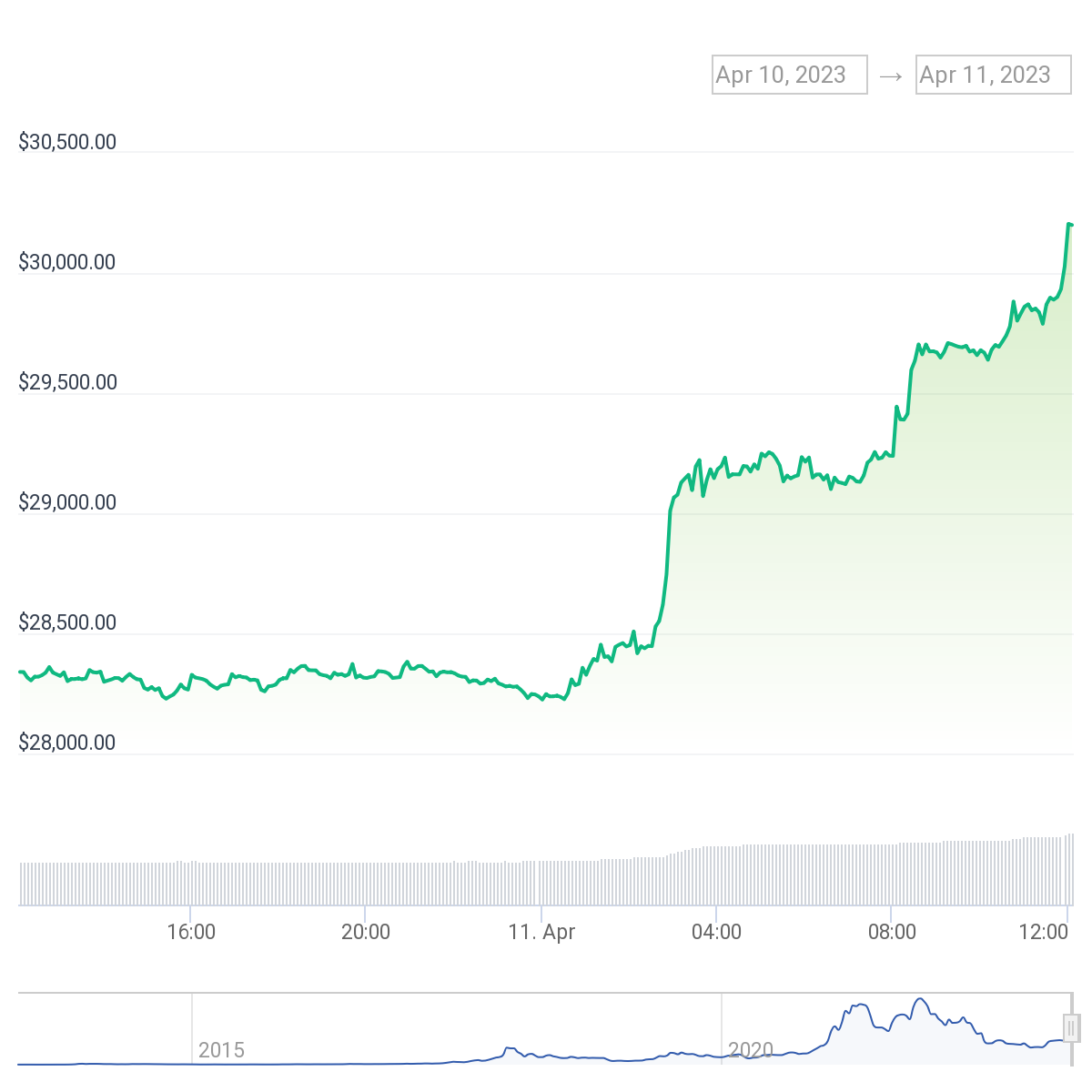 According to senior market analyst Edward Moya, there is no clear catalyst for this spike. However, he speculated that buying from crypto traders who voiced frustration on social media over a one-sided New York Times article that criticised bitcoin energy consumption may have contributed to the increase. The rise also occurred when news emerged that the Federal Home Loan Bank was giving out less debt, which showed that the banking crisis was improving.
Ether (ETH) also increased, surpassing $1,900 before retreating. It has risen approximately 1.7% since 24 hours ago. ARB, the token of layer 2 blockchain Arbitrum, has recently increased by over 2.8%, while XRP has increased by approximately 1%. The CoinDesk Market Index, a measure of the overall performance of the cryptocurrency market, rose 2.3% in recent days.
The S&P 500 and Dow Jones Industrial Average rose a few hundredths of a percentage point, while the tech-heavy Nasdaq Composite declined 0.03%. The cryptocurrency exchange Coinbase (COIN) and the corporate bitcoin depository MicroStrategy (MSTR) gained more than 7.5% on a historic day for crypto-related equities.
This week, markets will scrutinise the March Consumer Price Index (CPI) report for indications that inflation is continuing its recent decline. In February, U.S. inflation slowed to 0.4% from 0.5% the previous month and to 6% annually from 6.4% the last month. Bitcoin surpassed $26,000 on March 14 following this report.
The impact of a prolonged decline on Bitcoin is uncertain. Recent bank failures in the U.S., which made people worry about the traditional financial system, boosted crypto. Investors transferred their focus to assets that retain value regardless of the economic climate.
Investors will also look at the first round of quarterly earnings from big banks like JPMorgan Chase, Wells Fargo, and Citigroup. Analysts anticipate a dismal quarter, particularly in the severely impacted financial services industry.
Richard Mico, the U.S. CEO and chief legal officer of Banxa, said, "BTC is also being seen as a reliable store of value that lacks the issues that come with storing your money by way of a third-party intermediary or a bank. This is further supported by the decreasing correlation with the equity markets since 2021 – BTC is now properly starting to be perceived as a risk-off asset."
Joe DiPasquale, CEO of BitBull Capital, a company that manages crypto funds, was cautiously optimistic about how long Bitcoin's rise on Monday would last.
DiPasquale noted that Bitcoin is likely to encounter resistance at $30,000. According to technical analysis, the current price action represents a retest of the range high established in March after the initial surge from below $20,000. The price of Bitcoin would reach $30,000 if this test is successful, but it would fall to $25,000 and then $23,000 if it fails.
Nevertheless, he added, "The current price is also testing the lows of July 2021, where the market bounced back into another big rally."