Binance CEO Changpeng "CZ" Zhao and his cryptocurrency exchange have jointly filed a motion to dismiss the lawsuit brought by the United States Securities and Exchange Commission (SEC). In a filing submitted to the United States District Court on September 21, both Binance Holdings and Zhao argued that the SEC had exceeded its authority in pursuing the lawsuit against them.
In their comprehensive 60-page petition, Binance and Zhao's legal representatives accused the SEC of failing to provide clear regulatory guidance for the cryptocurrency sector before initiating legal action against the exchange. Consequently, they contended that the SEC was attempting to assert regulatory control over the crypto industry retroactively. As stated in the filing, "The SEC pursues these novel theories retroactively, seeking to impose liability for sales of crypto assets that occurred as far back as July 2017, before the SEC provided any public guidance concerning cryptocurrency."
The legal team for Binance also asserted that the SEC had fundamentally misinterpreted securities laws and their applicability to cryptocurrency assets. The filing states, "In attempting to claim regulatory power over the crypto industry, the SEC distorts the text of the securities laws."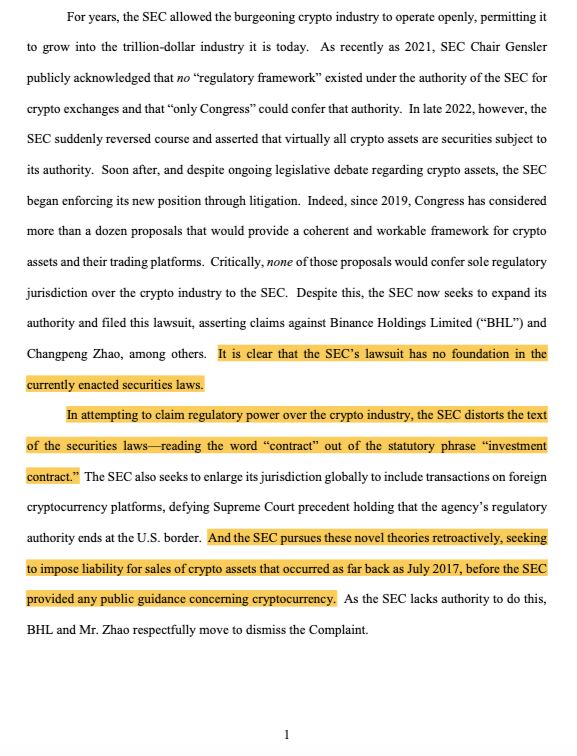 In addition to Binance and Zhao's petition, Binance's American branch, Binance.US (legally known as BAM Trading Services Inc.), also sought the dismissal of charges in a separate 56-page filing submitted on the same day.
The SEC initiated legal proceedings against Binance and its affiliates on June 5, alleging that Binance had offered the sale of unregistered securities and had operated unlawfully in the United States. This action followed a similar move by the Commodity Futures Trading Commission (CFTC), which had sued Binance three months earlier for failure to register and for non-compliance with regulatory guidelines.
The ongoing regulatory scrutiny has significantly impacted trading activity at Binance.US, with daily trading volumes plummeting by over 98% since September 2022. On September 13, Binance.US announced a 30% reduction in its workforce, and its president and CEO, Brian Shroder, also departed the company.