The Ethereum development team has launched a developer network to test validator staking withdrawals, a capability that is presently absent from the network. Following the news, ETH price has increased by 10% to over $1,200 in the last day, showing signs of rising momentum.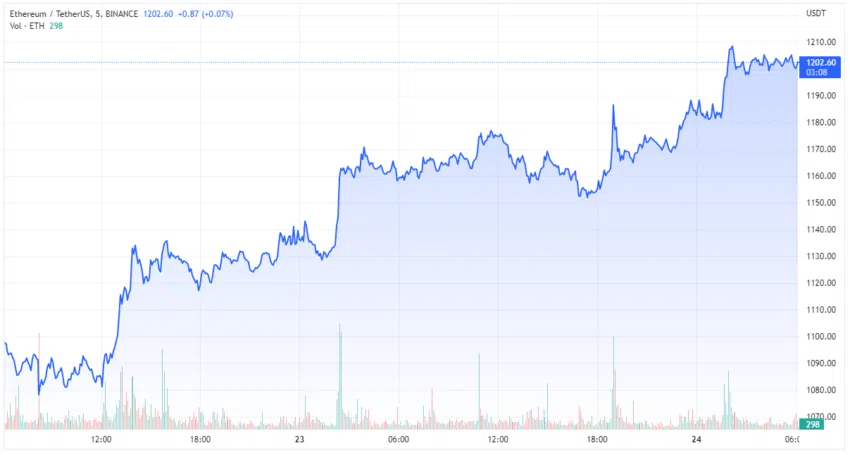 Ethereum engineer Marius Van Der Wijden stated that the devnet would assist in preparing Ethereum to enable validator staking withdrawals in 2019 with the Shanghai upgrade. After Ethereum transitioned to proof-of-stake consensus, this functionality's absence generated concerns regarding centralisation threats.
It is the first devnet to permit withdrawals on all these implementations and represents a significant advancement.
We are relaunching the Shandong Testnet in the next days with EIP-4895 "Beacon Chain Withdrawals" enabled.

Stay tuned. 👀 https://t.co/eJdPSnmfQr

— EF JavaScript Team (@EFJavaScript) November 22, 2022
Van Der Wijden stated that Ethereum clients, organisations that provide validator software, are testing staking withdrawals in preparation for Shanghai and to identify any potential flaws.
The current devnet mainly focuses on withdrawals, and Shanghai-specific features have not yet been tested.
Why are staking withdrawals so crucial?
The move of Ethereum to proof-of-stake consensus, commonly known as The Merge, required users to stake or pool assets on the network. They might stake ether personally or outsource it to businesses that provide staking services, with the latter being more convenient.
Once enough ether was staked, however, a difficulty arose: customers could not withdraw from staking providers, as the withdrawal mechanism had not yet been developed.
After The Merge, staking businesses, including Binance, Coinbase, Kraken, Staked.us, Bitcoin Suisse, Figment hold a substantial amount of deposited ether in validator nodes and make decisions on behalf of stakers. Since a small number of companies presently control most network stakes and validators, experts in the Ethereum community have previously voiced worry that the network is now vulnerable to centralisation threats.
When ether withdrawals are reopened, users can remove their stake from validators they disagree with, alleviating some of these worries. Van Der Wijden stated that six client teams participate in the devnet, including Lodestar, Teku, Lighthouse, Nethermind, and Geth.