A step in a smarter direction
Bitcoin is the first and largest peer-to-peer electronic cash system, and that's exemplified in its gargantuan $1.326 trillion AUD market cap. But in spite of its value, its main use case is typically just to transfer money from A to B. 
Therefore Bitcoin has been relegated to the side by cryptocurrencies that provide more functionality, like borrowing & lending, trading liquidity, and securing agreements between users without intermediaries (smart contracts).
The launch of Bitcoin's Taproot upgrade on November 15 was the first step in remedying this. Taproot is what's called a soft fork (the last was SegWit from 2017), an important type of upgrade that influences projects building on top of Bitcoin. Taproot allows the blockchain to process very complex transactions, widening Bitcoin's use, and making it even more attractive than its competitors in the smart contract world (specifically Ethereum).
This is only the beginning, as Bitcoin has a wide slew of other soft fork updates possibly in the works, many of which will allow it to better compare against the functionality of novel cryptocurrencies.
Future Bitcoin upgrades explained
SIGHASH_ANYPREVOUT
SIGHASH_ANYPREVOUT, an updated version of SIGHASH_NOINPUT, is a proposal for a new type of signing option when signing a transaction (ergo sighash), allowing a user to sign a transaction in a specific manner, which for starters will improve flexibility.
This proposal also acts as a solution for a number of technical problems, including those facing the Lightning Network, a second layer technology applied to Bitcoin that increases transaction scalability and speed and decreases costs.
Covenants
Covenants (also known as spending constraints) are a category of proposed changes to Bitcoin's code that enforce where a user can spend their funds. An example of this would be restricting the spending of Bitcoin to a few whitelisted addresses.
They're a very useful smart-contract primitive, allowing the implementation of 'vaults' where users can still get their funds back even if a thief gets possession of a private key. Covenants can also help with congestion control and channel factories, further boosting the scalability of the Lightning Network.
Sidechains & Drivechains
Sidechains are alternative blockchains on which coins are pegged to Bitcoin. They allow users to 'move' Bitcoin across blockchains where they are subject to different protocol rules, allowing for greater transaction capacity, more privacy and other benefits. 
Drivechains makes use of sidechains in order to provide better Bitcoin functionality in two ways. The first is hash rate escrows, which lets miners "move" coins from the Bitcoin blockchain to a variety of pegged sidechains and back, thanks to the bidirectional transferability.  The second is blind-merged mining, which removes the validation process for miners, which is effectively taking away a typically required difficulty check.
Cross-input signature aggregation
Cross-input signature aggregation (or CISA) is a potential Bitcoin soft fork that reduces transaction weight. Currently, multiple inputs require multiple signatures. The idea behind CISA is to combine multiple signatures into a single signature, thereby providing only a single signature per transaction even if there are multiple inputs. It will make transactions a bit less expensive while boosting scalability. 
Implementing CISA is now easier than ever thanks to Taproot introducing Schnorr signatures (the key to combining multiple signatures). 
Impact of upgrades on Bitcoin's long term growth
A paper by Morgan Stanley discusses Bitcoin's significant traction in institutional adoption, analysing public interest, use trends and factors affecting price.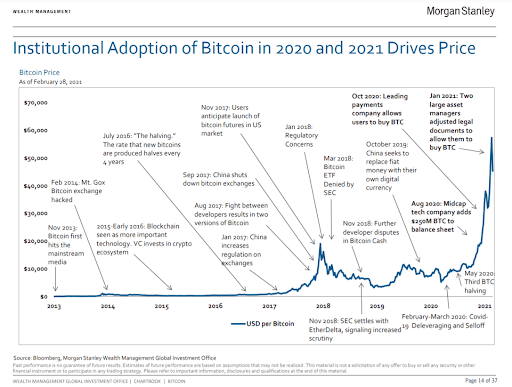 Source: Bloomberg, Morgan Stanley
The conclusion is that as Bitcoin matures (through the rollout of more upgrades), it will encourage institutional adoption, and said adoption will in turn boost BTC's price. High-impact upgrades like Taproot will be key in achieving this and will catalyse a sustainable and impactful growth for Bitcoin over the long term.