Introduction to the Lightning Network
Since its inception, Bitcoin has faced a major issue: the speed and cost of the blockchain network it's built upon. It is secure, no doubt, but unfortunately, it lacks the speed and cost-efficiency required for a day-to-day payment system. In turn, this has kept Bitcoin primarily as a store-of-value and investment opportunity. The Lightning Network is the solution that is seeking to change this.
To keep it brief, the Lightning Network (LN) is a second layer protocol on top of the Bitcoin blockchain that enables faster payments & lower fees while retaining the security and trustlessness of the base layer of Bitcoin. Whereas the blockchain can typically only handle 7 Bitcoin transactions per second, the Lightning Network will be capable of handling millions to billions – which is on a completely different level than even VISA's 65,000 tx/s.
Bitcoin Lightning Network's 2021 growth
2021 has undoubtedly been a huge year for Bitcoin's Lightning Network. The number of active nodes on the Lightning Network (which essentially represents a user) has seen immense growth over the past year, surpassing 27,000. Just a year ago, this number was only 7,800. 
While the Lightning Network has grown consistently for years, this steep upwards trajectory has been most prevalent this year. In just the span between September 3 to December 3, Lightning nodes surged 23.13%, with the addition of 3,534 nodes. The upwards trajectory is very likely linked to the plethora of news this year about the network, including El Salvador's introduction of Bitcoin as legal tender and Twitter's rollout of a worldwide tips function via the Lightning Network.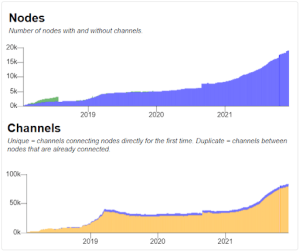 Source: BitcoinVisuals
The number of channels and Bitcoin housed on the network have doubled and tripled, respectively: 38,000 to 77,000 channels; and 1,500 to 3,200 Bitcoins. These figures were all within a year, representing fast improvements to the infrastructure and heightened demand for the Lightning product.
Source: DefiPulse
Ultimately, more nodes and channels means an increase in capacity for transactions, and the more the Lightning Network increases in capacity, the faster it can increase its use case as a day-to-day payment system.
Trillions of Lightning transactions yearly
As mentioned before, the Lightning Network is a solution that will allow people to send bitcoin at near-instant speeds, for a fraction of the cost, all without compromising security. 
These benefits of the Lightning Network are critical in emerging markets, creating a much-appreciated medium of exchange in countries with poor banking access, inflated national currencies, high reliance on remittances, and a strong dependence on the US dollar. Elizabeth Stark, CEO of Lightning Labs, says the following: "Lightning is already enabling people to send money instantly via internet-native global transactions, with immense opportunities in emerging markets. We believe in solving real problems for real people and are at the cusp of bringing Bitcoin to billions with Lightning."
Arcane Research, a Norwegian crypto research firm, has done extensive research on this. They state that poorly banked countries have a combined population of 850m; therefore, if just 10% were to adopt BTC before 2030, that would result in 50 million more Lightning users.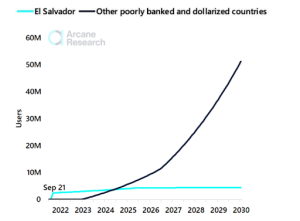 Source: Arcane Research
Their research concludes that should this growth level be met, there could very well be hundreds of trillions of Lightning transactions yearly by 2030, which will be huge, not just for Bitcoin but for the cryptocurrency landscape as a whole.