According to Yassine Elmandjra, an analyst at Ark Invest, the United States is facing the risk of losing its leading position in the global crypto ecosystem to countries like the United Arab Emirates, South Korea, Australia, and Switzerland. Elmandjra expressed these concerns in a note on Monday.
▪️Regulatory Uncertainty Around Digital Assets Puts Innovation In The United States At Risk
▪️What's In Store For Meta's Ad Platform?
▪️The FAA Has Grounded Amazon's Drone Delivery Ambitions, As Peers Soar

Read this week's ARK newsletter here. https://t.co/pPwio5qTkV

— ARK Invest (@ARKInvest) May 22, 2023
In the note addressed to ARK Invest clients on May 22, he highlighted the recent pullback of trading firms Jane Street and Jump Trading as early indicators of a broader response to uncertain regulation within the United States. Elmandjra stated that the once-thriving crypto ecosystem in the U.S., once populated by reputable and established institutions, now faces a void likely to dampen interest among other institutional investors.
Citing data from CoinMetrics, he points out that the country's bitcoin trading volume has plummeted by 75% from $20 billion per day in March to a mere $4 billion last week. The bitcoin price on Binance.US was $600 higher than other exchanges, indicating weakened price discovery within America.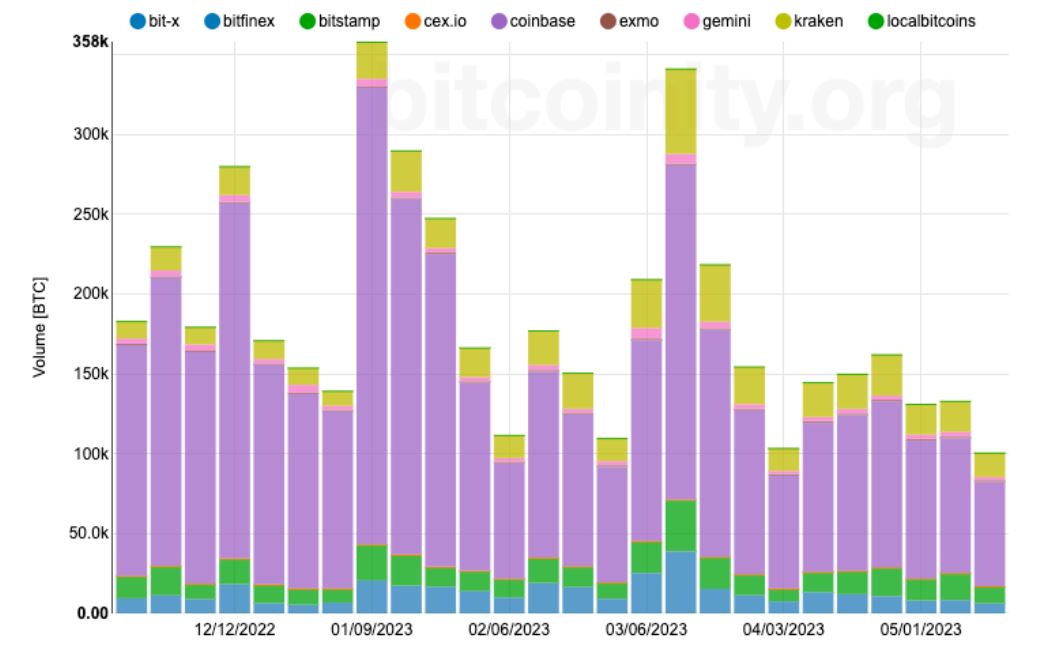 In addition, the analyst further highlighted the impact of regulatory uncertainty, which appears to discourage both existing companies and new entrants in the U.S. crypto space. In the U.S., regulatory uncertainty discourages existing firms and new entrants in the crypto space.
Coinbase, a prominent crypto exchange, expressed discontent with U.S. regulators and recently visited the United Arab Emirates. The company acknowledged the UAE's potential to become a strategic operation hub. Meanwhile, Coinbase is suing the U.S. Securities and Exchange Commission due to the lack of regulatory clarity on cryptocurrencies and is now considering the UAE as a potential strategic hub.
The UAE has also garnered attention from mining companies, with Marathon Digital announcing plans for the first large-scale Bitcoin mining operations in the Middle East, specifically in Abu Dhabi. Fred Thiel, CEO of Marathon Digital, stated that the proposed tax on miners proposed by President Joe Biden would compel firms to explore opportunities outside of the United States.