Grayscale Investments, a digital currency asset management, revealed on November 1 the results of a new nationwide survey investigating how Americans perceive the current health of the economy, cryptocurrencies and the 2022 midterm election.
The survey found that 52% of Americans (including 59% of Democrats and 51% of Republicans) agreed with the statement, "cryptocurrencies are the future of finance," with 44% saying they expect to include crypto in their investment portfolio in the future. The Harris Poll conducted the online survey on behalf of Grayscale Investments from October 6-11, 2022, among 2,029 adults in the United States.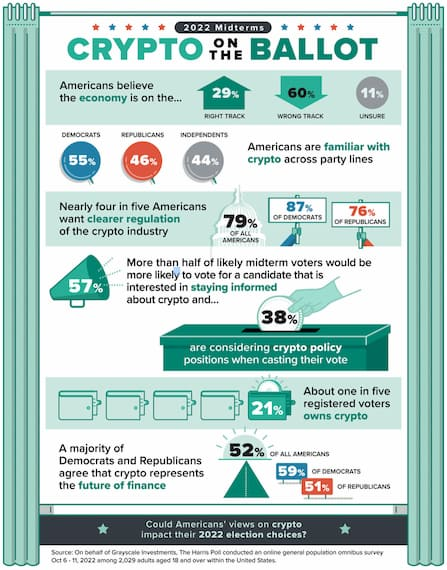 CEO of Grayscale, Michael Sonnenshein, stated:
"As we approach the midterm election, US voters are considering the intersection of cryptocurrency, traditional finance, and the state of the economy. This survey reinforces that crypto continues to generate diverse, mainstream investor interest and engagement."
He added:
"As Americans consider their financial future, policymakers and regulators have an opportunity to protect investors through greater regulatory clarity and guidance, while allowing market participants, like financial advisors, to enable access to well-informed crypto offerings."
A difficult economy increases interest in cryptocurrencies.
The current unstable status of the economy may have stimulated Americans' interest in the non-stock market and non-mutual fund investments. 25% of Americans believe that rising costs and the situation of the economy have increased their interest in cryptocurrencies.
According to the survey, there appears to be a correlation between the acceptance of cryptocurrencies and interest in the asset, particularly among younger investors from diverse backgrounds. 34% of those who identify as Black, 32% as Hispanic, and 37% of those under 45 reported that the current economic climate had boosted their interest in cryptocurrency. Less than one-third of those who are Black (30%), Hispanic (32%) and younger than 45 years old (33%) in the United States currently own cryptocurrency.
Support from both parties for precise crypt regulation
More than a third of voters (37%) consider the candidates' positions on bitcoin before casting their ballots. 81% say that the bitcoin industry should be subject to clearer rules, including 77% of Republicans and 88% of Democrats.
81% of Republicans (81%) and 82% of Democrats agree that a consumer-first approach to regulation is essential, allowing individuals (rather than the government) to determine how to invest in cryptocurrencies by providing relevant information about different products while developing a regulatory framework that ensures everyone has access to crypto.