In a series of court papers in Delaware, the new CEO of FTX, John J. Ray III, criticised Sam Bankman-Fried, for extraordinary mismanagement.
Ray, who has overseen financial catastrophes such as Enron in the past, chastised top management' lack of expertise and the use of corporate assets to acquire real estate in the Bahamas.
In a court declaration filed on Thursday, Ray stated that he had never witnessed such a total collapse of corporate controls and a complete absence of trustworthy financial information. This situation was exceptional as a relatively small group of inexperienced, naive, and potentially corrupted persons had full control.
Ray seeks to unravel a tangled web of hundreds of organisations that have disregarded corporate standards.
FTX did not maintain sufficient books and records or security controls" for its digital assets, used insecure shared email accounts to access secret keys, and couldn't furnish a list of its employees as of November 11 to this day, he claimed.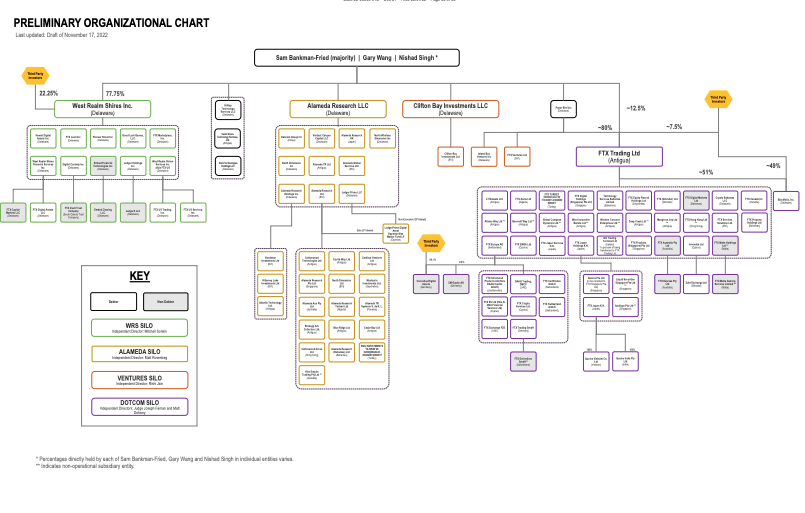 Additionally, Ray criticised the use of software to conceal the misuse of corporate funds, the failure to reconcile blockchain positions daily, and the lack of independent governance between Alameda and FTX – all of which led to the demise of the empire. 
In the Bahamas, FTX Group company funds were used to acquire mansions and other personal things for workers and advisers, and assets were handed to personnel without documentation that they had to repay a loan.
Those hoping to salvage something from the complicated network of dozens of entities are currently embroiled in a convoluted jurisdictional struggle.
Liquidators from the Bahamas contended that the firm was managed from there and that the U.S. side of the affairs should be treated as a subsidiary matter in a New York court under Chapter 15, another provision of the U.S. bankruptcy code that addresses cross-border failures.
A subsequent statement on behalf of what remains of FTX Trading, the Antiguan business that filed for bankruptcy in the U.S., stated that having two bankruptcy courts address similar problems makes no sense. It would likely result in contradictory viewpoints, duplication of efforts, and wasteful expenditures.
"In terms of the celebrity of Mr Bankman-Fried, his unconventional leadership style, his incessant and disruptive tweeting since the Petition Date, and the almost complete lack of dependable corporate records, these Chapter 11 Cases are unprecedented."