Despite the recent surge in popularity of the decentralised social media app Friend.tech, industry executives assert that the journey is far from over. Numerous obstacles persist, with many platforms struggling to entice users to join and remain engaged.
Within the burgeoning decentralised social (DeSo) media, two prominent executives shared that 99% of users stepping into the DeSo realm for the first time inevitably abandon the venture. Reasons for this range from a cumbersome initial experience to a lack of connections within the platform.
Ed Moss, the Head of Growth at layer-1 blockchain firm DeSo, highlighted newcomers' complexities. Acquiring cryptocurrencies from an exchange, transferring them to a wallet equipped with a Chrome extension, and subsequently incurring high gas fees for on-chain or cross-chain transactions is time-consuming and financially demanding for novices.
"We've found that 99% of mainstream users will drop off at that first step, so simplifying this flow is mission critical," explained Moss, emphasising the paramount importance of frictionless onboarding.
Nevertheless, challenges manifest even before this point, as Suhail Kakar, the creator of the DeSo app Onboard, elucidated. Users' need to acquaint themselves with concepts like blockchain, smart contracts, and wallets before registering often dissuades them from taking the plunge.
"A party where you don't know anyone."
Closing the gap on the extensive network effects wielded by Web2 social platforms such as Facebook, Instagram, and X (formerly Twitter) is no easy feat. Kakar maintained that DeSo apps must invest substantial effort into cultivating their communities, likening the endeavour to navigating a social gathering where faces are unfamiliar.
He speculated that the tide could turn as renowned creators and influencers migrate to the platform, potentially triggering a tipping point as users flock to where superior content is accessible.
Comparing April statistics shows that Facebook, Instagram, and Twitter boasted 2.98 billion, 2 billion, and 372.9 million monthly active users, respectively. In contrast, the decentralised social media network Odysee averaged a mere 5.3 million unique monthly users between January and April, as reported by CoinGecko.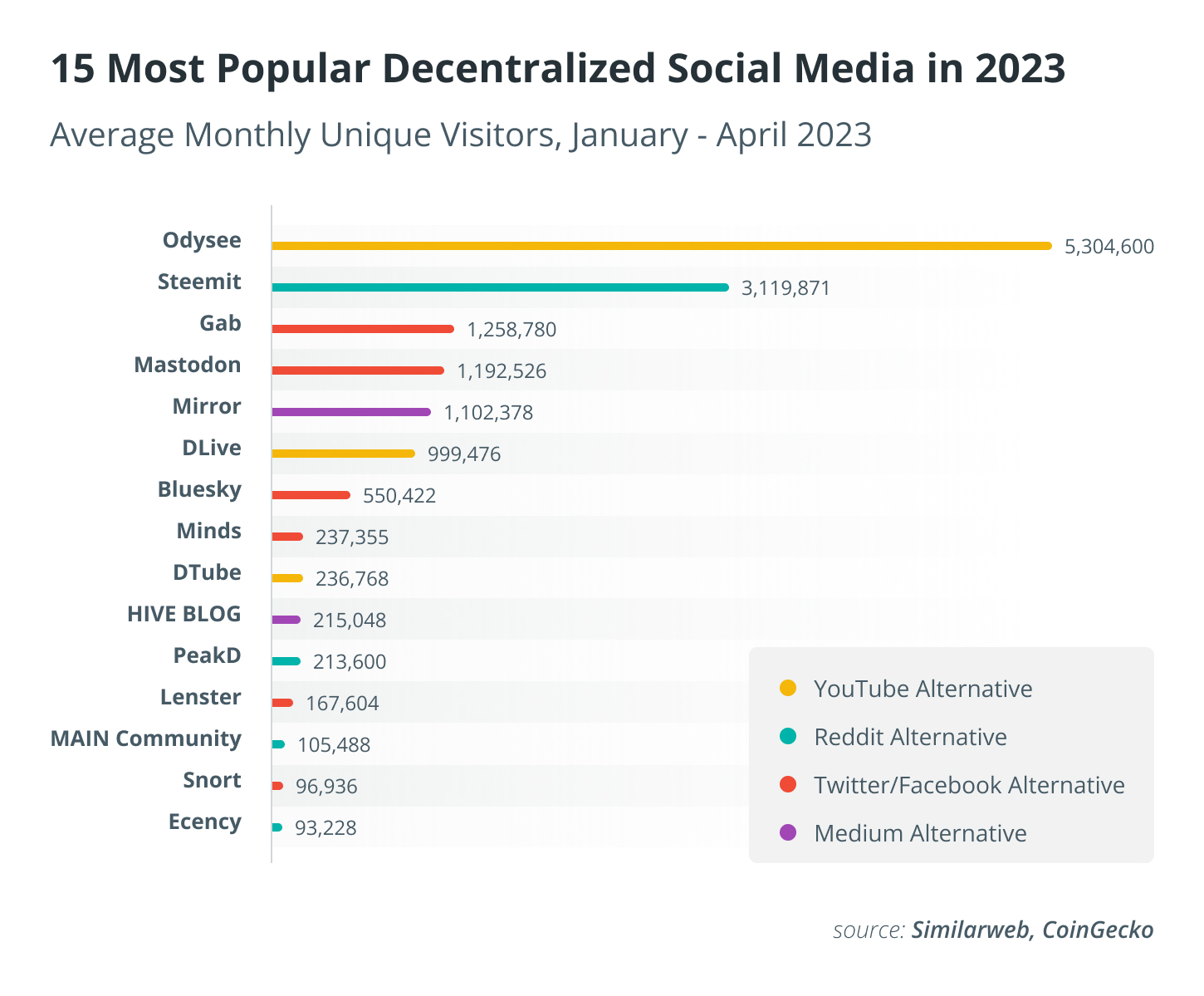 Moss argued that the dearth of mass adoption for decentralised social media stems from Ethereum and other smart contract platforms' inability to support such applications on a large scale. The remedy, he proposed, lies in devising a "storage-heavy" or "infinite-state" blockchain capable of cost-effectively storing and indexing extensive data, thus enabling complete decentralisation free from corporate or governmental control.
The absence of such a solution, Moss contended, could prevent end-users from ever truly owning their content, identity, and social connections.
Amidst the Waves: Friend.tech's Unique Trajectory
Amidst this landscape, Friend.tech, a base-powered social platform, has exhibited remarkable growth in recent weeks. The platform's innovation lies in creators connecting with their audience through tokenised attention, wherein a creator's influence translates to shares or keys that grant access to exclusive private chat rooms.
CoinGecko data reveals that Friend.tech has drawn in over 85,000 users from over 127,000 wallets, generating over 630,000 network requests since its launch earlier in the month.
Nevertheless, other industry experts express scepticism, viewing the model as a fleeting six-to-eight-week trend or suggesting that its momentum has already begun to wane.
Projections from Future Markets Insights anticipate sales revenue from decentralised social media networks to reach $12.1 billion in 2023, soaring to an estimated $101 billion by 2033 at a compounded annual growth rate of 23.6%.
Among the tapestry of decentralised social media networks are Jack Dorsey's Bluesky, a decentralised alternative to Twitter, alongside Mastodon and Lens Protocol.