Cryptocurrency-related search terms have been among the most popular ones, as Google's Year in Search 2021 revealed.  
Crypto terms sought-for in search engines
A popular trick used by marketers to identify current or future trends is to look up Google Trends and see what's hot in their industry. Equally, prediction markets have long utilised the popularity of Google searches to identify possible trends.  
Thus, when crypto terms are ranked among the most popular search terms in 2021 by a Google report, it counts for something. Google's Year in Search is a report on the top trending searches every year, and crypto was right up there. "Dogecoin" topped the list for crypto-related searches, which is understandable given that 2021 was the year memecoins rose. Although Dogecoin was later briefly overtaken by Shiba Inu, another dog-themed crypto that started out as a copycat but soon emancipated from the OG "dogcoin", the original Dogecoin is the one that started it all, in no small part thanks to Elon Musk.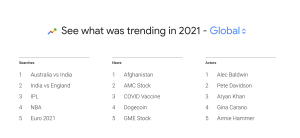 Source: Google
Another crypto-related search term that made the top 10 for news searches was "Ethereum price," indicating that Ethereum is slowly but surely overtaking Bitcoin in retail investor appeal. Although there were non-financial related searches like "Georgia Senate Race," "Hurricane Ida," and "Afghanistan," many financial terms dominated the list, such as "AMC Stock," "Stimulus Check," and "GME." 
Crypto topping utility-related searches too
When looking at "where to buy" searches, the picture becomes even clearer. Dogecoin and Shiba Coin topped the list, followed by Safemoon in 4th place, XRP in 6th, NFT in 7th, and Baby Doge in 8th. Funnily enough, N95 Mask only came fifth, which may be an indicator that people (at least Americans) cared more about how to get their hands on money than on a mask. 
Although the "how to be" query did not include any crypto-related searches per se, "how to be eligible for a stimulus check" topped that list, and probably more than just a few people googled Dogecoin next…
What are people going to search for in 2022?
So, where does that leave us? Is the next iteration of dogcoins going to clean up next year's search results as well? Or is crypto going to see a pullback amidst stimulus coming to an end and rising inflation?
The truth is: no one knows. Millennials and Generation Z, though, are increasingly buying crypto, stimulus or not. Don't expect that trend to reverse any time soon. While the memecoin craze may be temporarily or permanently halted as the world economy enters stormy waters, young people are adopting technology at ever faster rates. Predicting what is going to trend exactly is impossible. Still, we do know the macro forces likely to spur such a trend: increasing digitalisation, a rise of remote work, and discontent with the status quo.  
When checking in for Google's Year in Search 2022, you may want to check back with this article and see whether some of the most popular search terms came from these buckets. There is a good chance some of them will.