On Tuesday, Binance Australia experienced a drop in prices for Bitcoin and other crypto assets compared to local rival platforms.
At 1:10 pm, Bitcoin (BTC) was trading at A$34,863 ($22,670) on Binance Australia, which was A$7,516 ($4,913) lower than the average price on other exchanges such as BTC Markets, Coinjar, and Independent Reserve. Similar discounts of around 20% were observed for other assets like Ether (ETH) and Solana (SOL).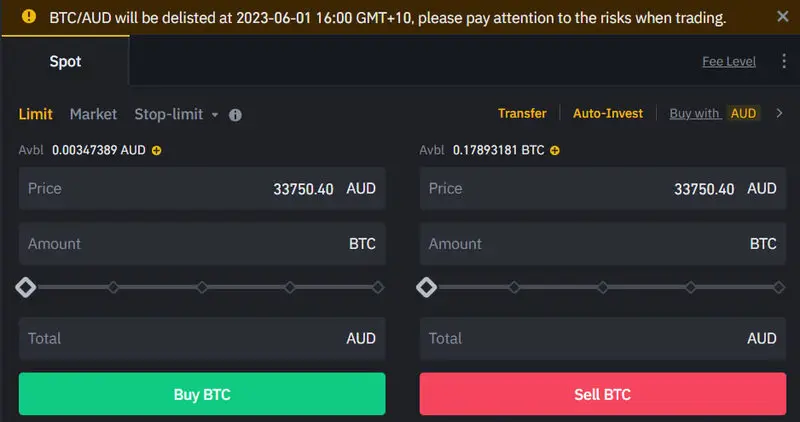 These price disparities could be attributed to users trying to quickly liquidate their positions before a local withdrawal route is discontinued. Binance Australia recently informed its users that they would no longer be able to withdraw fiat to their bank accounts via the popular Australian PayID service after 5 pm on June 1, 2023. The exchange cited a decision made by its third-party payment service provider and stated that it was actively seeking an alternative solution.

Coinciding with this announcement, Westpac, one of Australia's major banks, prohibited its customers from transacting with any cryptocurrency exchange, including Binance Australia. Westpac's ban is part of a trial aimed at combating scams and preventing the loss of millions of dollars to fraudulent activities. The bank's analysis revealed that a significant portion of scam payments was funnelled directly to crypto exchanges, leading to this decision.
Binance Australia has encountered several challenges in recent times. Last month, the exchange had to wind down its derivatives business in Australia due to regulatory issues with the Australian Securities and Investments Commission (ASIC), which revoked its license while reviewing its local operations.
A spokesperson for Binance Australia stated that after June 1, users would have the option to convert their Australian dollar balances into Tether USD (USDT) to facilitate trading until the exchange finds a new provider to resume deposits and withdrawals.