A Goldman Sachs report shows that Bitcoin outperformed all capital markets in 2021, including equities and gold.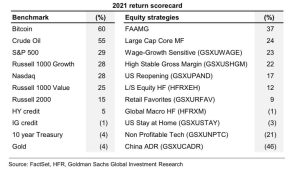 Bitcoin crowned the best investment in 2021
Legacy investment banks like Goldman Sachs do not get a good rap in the cryptocurrency space. They (rightfully) often face criticism for being skeptical of new investment classes. Still, when Goldman Sachs publishes data reports, even crypto bulls pay attention.
They will likely be pleased with the latest Goldman Sachs report comparing 2021 returns across the major capital markets. Bitcoin, once again, provided the best returns, even though it "only" returned +60%, a fairly modest increase compared to some of its best years. Crude oil came second with a 55% increase, while the S&P 500 returned 29%. Investing in FAAMG (Facebook, Amazon, Apple, Microsoft, and Google) would have slightly outperformed that at 37% but still fell short of Bitcoin's return. Gold, a favourite of Bitcoin critics like Peter Schiff, actually decreased 4% in value, probably much to the chagrin of its famous investor. This also adds to the narrative of Bitcoin as "digital gold" that is more popular with younger generations than its physical counterpart.
Can Bitcoin do it all again in 2022?
Of course, compared to some of the outsized returns in altcoins, a "mere" 60% will leave crypto investors disappointed. But lest we forget, no other cryptocurrency is as liquid as Bitcoin, and when you are an institutional investor, market size matters.
That being said, crypto bulls were feeling much better about their prospects two months ago than they are now. Not only has Bitcoin seen a hefty price correction from all-time highs in recent weeks, but the market sentiment has taken a considerable turn for the worse. The Fear & Greed Index went from Fear to Extreme Fear in the recent weeks and many investors are asking themselves whether the crypto bear market has already begun.
2022 could thus be a mixed year for the world's biggest cryptocurrency, but it certainly kicked off the year in a worse climate than one year ago. Yes, adoption rates are growing, and countries like Australia are looking at favourable regulation for cryptocurrencies. NFTs are popular as ever and show no sign of going away, as is DeFi. But macroeconomic worries have taken a toll on the price of Bitcoin, and regulations in the United States are still up in the air.
Although equities have retraced from all-time highs as well, cryptocurrencies have suffered much more, a sign that investors are nervous and ready to dump risk-on assets like Bitcoin at the first sign of trouble. Much of the investment returns in the altcoin markets have come from rotations between different coins, a sign of a sideways market that is waiting for new macro impulses to get fresh capital in. With interest rates scheduled to go up in 2022, capital will become more expensive, and crypto could suffer as a consequence.
Thus, Bitcoin investors are bracing themselves for a year of more uncertainty, but surely not less action as Bitcoin continues to permeate the mainstream.