Invesco has officially launched its first European exchange-traded product (ETP), which is backed by physical Bitcoin. Being a US investment firm managing $2 trillion AUD in assets means this is nothing minor for the crypto space. On top of that, CoinShares (Europe's most notable digital asset investment firm) is also partnering in this venture as a sponsor and execution agent. The ETP is listed as BTIC on the Deutsche Börse Xetra, Germany's stock market for equities and ETFs.
This news comes after Invesco withdrew their application for a Bitcoin futures exchange-traded fund (ETF) in the US, likely due to regulatory constraints increasing costs for investors.
What does BTIC offer?
BTIC will make it easier and cheaper to gain exposure to crypto. This is all thanks to it being physically backed by Xetra, which gives it access to the CoinShares Bitcoin Hourly Reference Rate index, allowing the new ETP to deliver the performance of Bitcoin without the usual fees. 
This product is undoubtedly directed at institutional investors, offering a more convenient investment vehicle to access the $45bn AUD worth of Bitcoins being traded every day – with less than a 0.99% total expense ratio.
Cutting fees isn't the only advantage either. Custody services will be handled by the FCA-registered Zodia, which has rapidly risen as one of the top trusted crypto asset custodians across Europe. Along with this, Northern Trust (one of the largest UK banking institutions and co-founder of Zodia) will act as the administrator for BTIC. Finally, BTIC has been centrally cleared via Eurex Clearing, which greatly reduces risks for investors in settlement of transactions.
According to Gary Buxton, head of EMEA ETFs and indexed strategies at Invesco, BTIC has been in the works since mid-2018. In an interview with ETF stream, he comments: "In the last two to three years, we have been trying to structure a product that looked, from an institutional point of view, as close as possible to a traditional ETF like our gold structure, and that has been the driver of BTIC's timeline."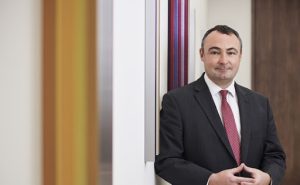 Source: Investment Week
He further explains that most discussions Invesco has with clients have been about ways to get exposure to Bitcoin and how to be comfortable with its valuation. This is no doubt remedied (or at least partly) by the introduction of BTIC. "Really, one of the strengths of ETPs is as an access vehicle," says Buxton, "Physical Bitcoin is a more observable marketplace."
BTIC and ETPs going forward
Allen & Overy recently announced that they would be advising Invesco in this venture. A&O is an international law firm that has played a key role in other cryptocurrency-related ventures, including advising on European Investment Bank's digital bond issuance on the Ethereum public blockchain.
The leading law firm has also announced plans for 2022 to augment its services in Australia further. Given A&O's active engagement in the digital ecosystem, this will likely be a big positive for the Australian ETP & ETF scene in the coming years.
However, back to the topic at hand, BTIC is simply another addition to an increasing array of exchange-traded projects in the space. Europe is an especially large benefactor, from the Iconic Funds' Physical Bitcoin ETP to the WisdomTree Bitcoin ETP. Outside of Europe, we have Fidelity's recent ETF to consider as well. 
Overall, 2021 has been a large year for the credibility of cryptocurrency, and it'll certainly be interesting to spectate the impact these additions have on institutional investment.