The Australian crypto market is expanding rapidly, and various exchange platforms are available. Some are geared toward novice investors, while others are for seasoned financiers. You may encounter Independent Reserve Review while searching for the best crypto exchanges in Australia. If you're unsure whether the Independent Reserve best meets your needs, here's a comprehensive overview to help you decide.
Below is a quick summary of Independent Reserve:
| | |
| --- | --- |
| Official Website | https://www.independentreserve.com |
| Founded in | 2013 |
| Coins supported | 30+ |
| Supported countries | New Zealand, Australia |
| Fiat supported | USD, AUD, SGD, NZD |
| Deposit methods | PayID, OSKO, EFT, SWIFT, TT, FAST, crypto |
| Minimum Deposit | $5,000 |
| Deposit fees | $0.99 processing fee, free withdrawals, 0.5% trading fee |
| Mobile app | Yes (Android, iOS) |
| Customer Support | 24/7 via email, call, FAQs, & more |
Independent Reserve Overview
Independent Reserve is a legal cryptocurrency exchange in Australia that offers 30 of the most popular digital currencies, including Bitcoin (BTC), Ethereum (ETH), and Tether (USDT). The exchange was established in 2013 and has since expanded its services to accommodate crypto investors in New Zealand and South East Asian countries such as Singapore.
Since the exchange's inception in 2013, it has gained the trust of over 200,000 individuals and 8,000 SMSF accounts that have used Australian Dollars (AUD), New Zealand Dollars (NZD), United States Dollars (USD), and Singapore Dollars (SGD) to purchase cryptocurrencies. A summary of Independent Reserve's pros and cons is listed below.
Pros
Fully compliant and AUSTRAC-licenced exchange
0.5% trading fee that reduces with higher volume
Great advanced trading features for expert users
Exceptional 24/7 live support and tax tools
Cons
A limited list of coins supported
A little outdated advanced Exchange
Lack of 24/7 live chat/phone support
Supported Currencies
Independent Reserve only supports 30+ digital assets, which is limited compared to other exchanges such as Swyftx, CoinSpot or Binance.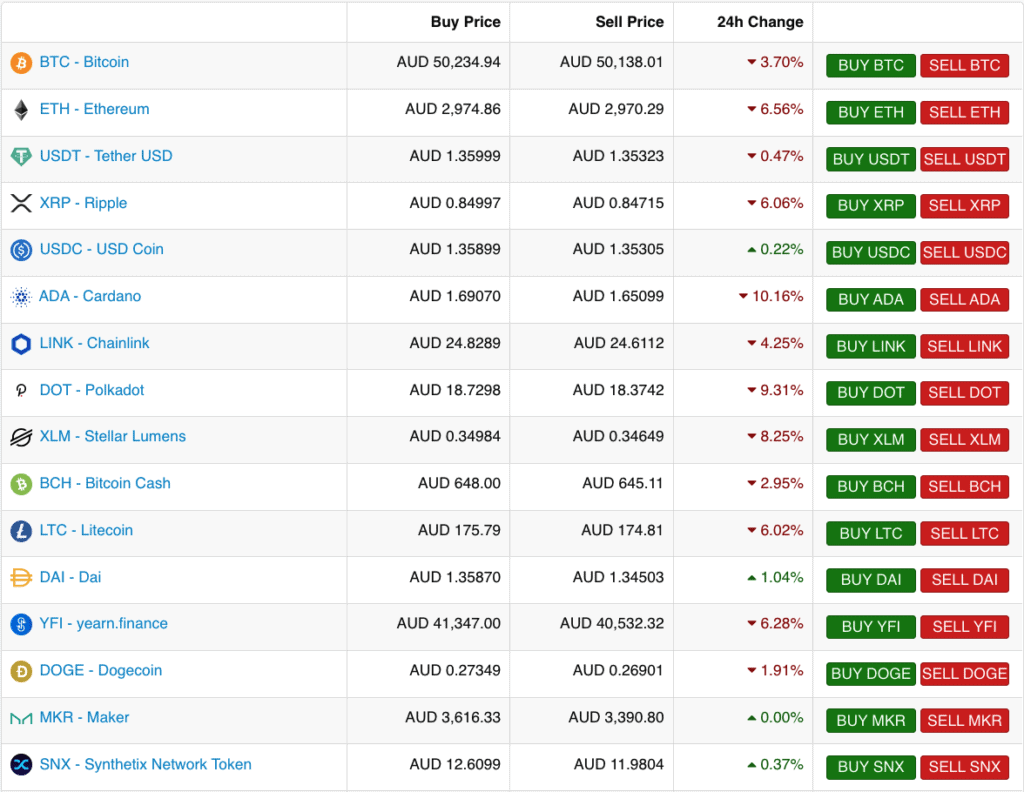 Rather than listing coins/tokens with low market capitalisation, Independent Reserve supports most major digital assets. Independent Reserve is unsuitable for crypto investors because of the limited number of supported digital assets. For example, the Shiba Inu meme coin (SHIB) is not listed. Therefore, if you want to trade more coins, you can opt for alternatives such as CoinSpot, Swyftx, Binance and Coinbase.
Payment Methods
Independent Reserve offers numerous deposit methods. The ability to deposit funds via wire transfer enables customers to begin trading without holding cryptocurrencies in their retail investor accounts. It also allows non-Australian clients to deposit funds via SWIFT bank transfers into their performances at the exchange.
The exchange does not accept credit card payments, and only Australian traders can use ETF or Electronic fund transfers. SWIFT transfer deposits can be made by non-Australians, like US investors depositing in NZD or USD. The process resembles online banking with the addition of SWIFT codes.
PayID/OSKO can also be used to deposit up to $20,000 each day.
Please be aware that fees may be incurred depending on the payment method and the deposit amount.
User Interface
Independent Reserve features an intuitive and well-organised user interface for buying and selling digital currencies. First-time Bitcoin shoppers can easily navigate the platform using the menus along the top. The 'Markets' page features a TradingView control that enables high-fidelity charting and analysis for individuals experienced with technical analysis.
The default interface of the Independent Reserve consists of a simple visual chart, market depth profile, and recent trades. Many users say that adjusting the time frame on Independent Reserve charts is cumbersome, and there is no option to draw trend lines or add technical indicators.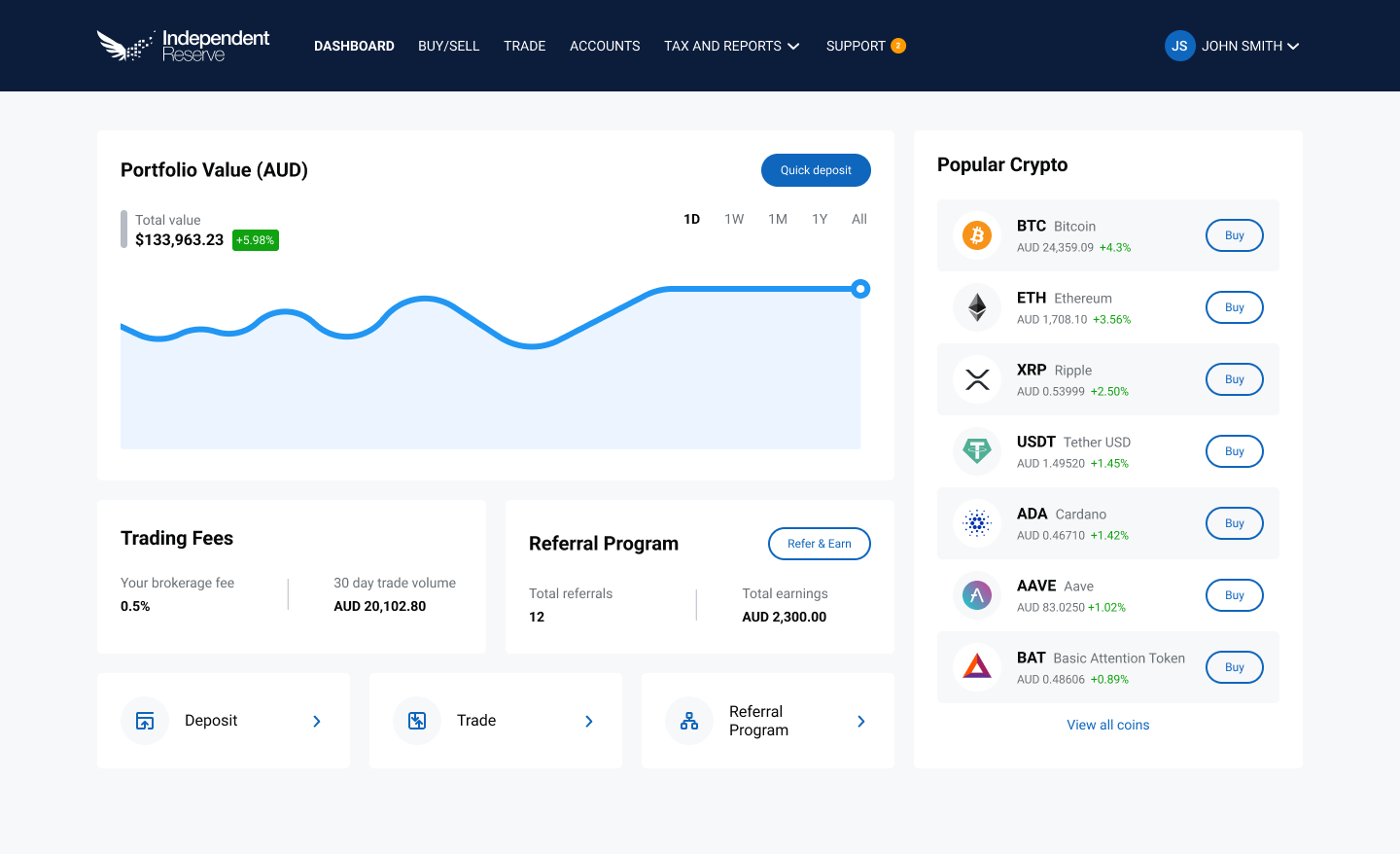 Adjusting the slider and zoom to examine the exact time frame to analyse candlestick patterns can be tricky and annoying. If you rely on technical analysis, you may wish to combine Independent Reserve with another crypto charting service (to make the most of the low trading fees).
AutoTrader
If you understand how DCA works, AutoTrader should be your choice. This is the take of the Independent Reserve exchange on DCA and other prevalent trading strategies. You can opt for one of the three modes.
AutoBuy:

Purchase coins/tokens at the price you specify whenever you deposit to your account. It's a great function for those wanting to buy digital assets solely at reasonable prices.

AutoSchedule:

Essentially a DCA, AutoSchedule buys your selected crypto at regular periods, eliminating the need to "time" the market.

AutoBasket:

Like 'crypto bundles' by other trading platforms such as CoinSpot, AutoBasket automatically purchases cryptocurrencies at once using your funds. You can specify the proportion of assets in a package.
Independent Reserve Fees
Trading Fees
Independent Reserve adopts a flat fee model, as opposed to other cryptocurrency exchanges that give both makers and takers a flat 0.5% trading charge based on the trading volume over the previous 30 days. As trading volume increases, the trading platform lowers the trading fees to as low as 0.02%.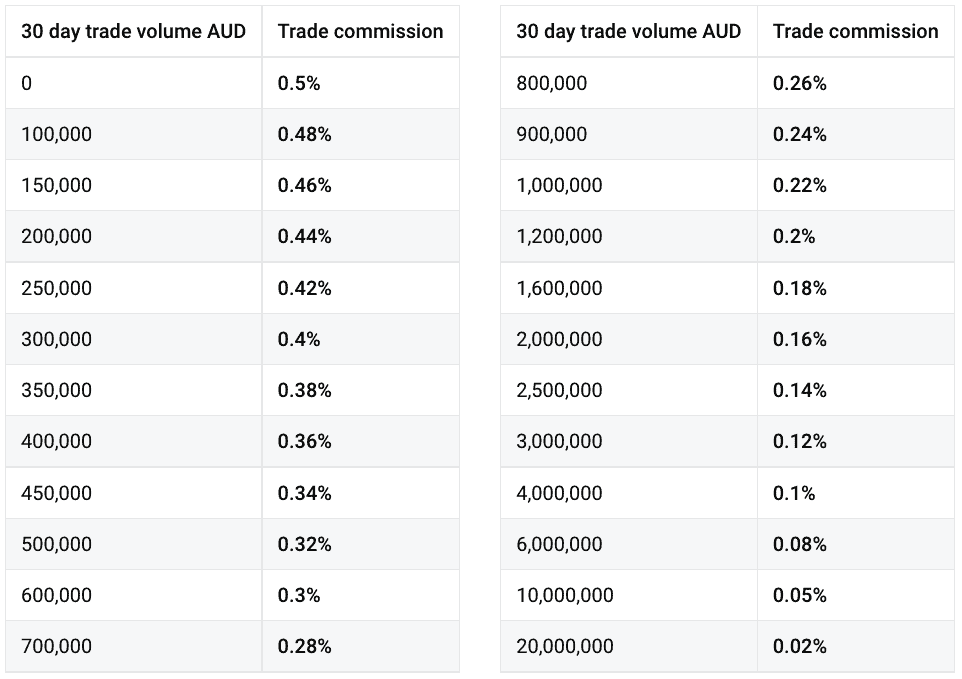 In addition, the exchange offers discounts to investors with high trading volumes. The fee structure of Independent Reserve appears to be intended for high-net-worth and SMSF investors who spend substantial sums of money to receive a lower trading fee. The 0.02% trading charge is likely out of reach for novices.
Withdrawal Fees
Withdrawals in Australian dollars are free of charge. However, the Independent Reserve imposes a $20 fee for overseas withdrawals of funds. Withdrawals from SDG are more expensive, at 0.55%. The fees associated with crypto withdrawals vary based on the coin withdrawn.
Independent Reserve's Bitcoin withdrawal fees are 0.0003 BTC, which is much cheaper than the global industry average compared to other exchanges. It is also worth noting that crypto withdrawals incur a network fee based on the blockchain's load.
Deposit Fees
Independent Reserve does not charge fees for deposits to its trading platforms, such as SWIFT payment or network fees. However, it does charge processing fees, listed below.
| | |
| --- | --- |
| DEPOSIT METHOD | FEE (AUD) |
| POLi | $3.30 |
| EFT | $0.99 and free if you deposit more than $100 |
| SWIFT | $15 and free if you deposit more than $5000 |
| PayID/OSKO | $2.50 and free if you deposit more than $1000 |
| Cryptocurrency | Free |
All of the rates above fall roughly within the global industry average. You can learn more details about the Independent Reserve fee structure at https://www.independentreserve.com/help/fees.
Security Measures
Independent Reserve uses a dynamic cold wallet system to store most digital assets. The cold wallets are safeguarded by multi-layer encryption and held offline using digital hardware storage devices. 
Independent Reserve leverages remote core servers securely located at data centres. This enables the exchange to synchronously duplicate all data in real-time, ensuring that no data is lost in an exchange attack. Independent Reserve uses a fail-over environment to sustain service in case of a data breach or infrastructure breakdown.
Two-Factor Authentication, which can be activated to safeguard your account from illegal access, allows you better secure users' login and account access. Device Whitelisting, which needs further authentication for new devices, is also available to users. By default all users are secured via smart IP and withdrawal address whitelisting.
Customer Support
The trading platform claims to provide great customer services by responding to nearly all inquiries and rapidly resolving any issues of customers. You can contact the support team via email or their help page. The latter is only accessible when logged in. You can also reach out to them on Facebook, LinkedIn, Twitter, and their subreddit community.
However, based on some consumer feedback, it seems that Independent Reserve provides inadequate customer support. Customers who have not subscribed to the Premium Account function can only communicate with an exchange agent via email. In addition, there is no 24/7 Live Chat support as provided by other major exchanges such as CoinSpot.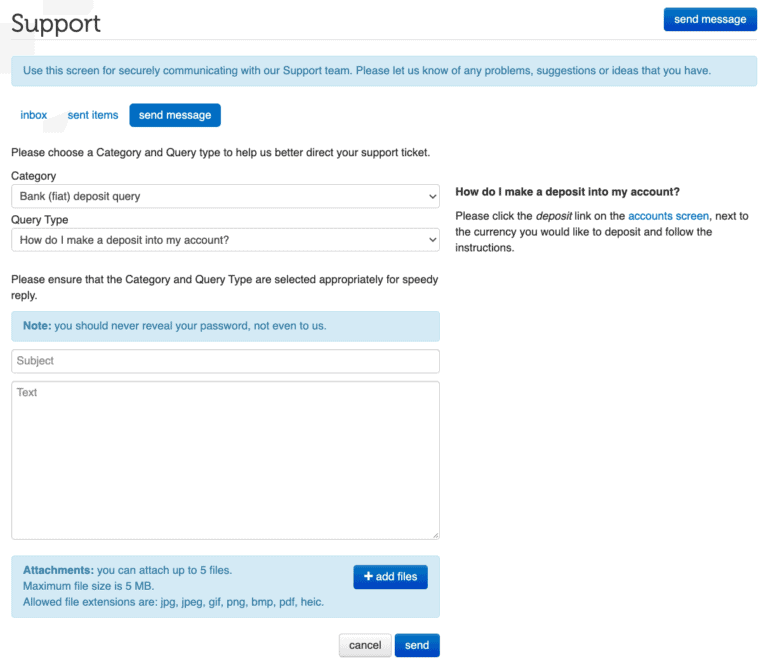 Independent Reserve Alternatives
Independent Reserve is a highly regarded crypto exchange in Australia that offers a variety of options to accommodate high-net-worth people and SMSF investors. However, the overall trading experience is not optimal for beginners. Here are several alternatives to Independent Reserve.
CoinSpot. CoinSpot is a safe exchange with over 2 million members nationwide. It can be a great alternative to Independent Reserve due to its instant buy and sell functionality, variety of coins, security and customer support. You can read our

CoinSpot review

to learn more about its features.

Swyftx. Swyftx is an Australia-based exchange famous for its user-friendly platform and mobile app. The overall trading experience is good, yet the customer support is not up to par. You can read our

Swyftx review

to know more about its features.

Digital Surge. This crypto trading platform offers up to 250 digital currencies. Its best features are quick account verification, a wide variety of supported cryptocurrencies, instant deposits/withdrawals, and low spreads.
Easy Crypto. Easy Crypto is a safe and secure broker that distributes acquired assets immediately to a specified wallet address. The user interface is easy for both novice and seasoned investors.
Cointree. Cointree is another popular Australian exchange for buying and selling cryptocurrencies. The trading fees are slightly higher than Independent Reserve, but the platform is easier to use overall.
Frequently Asked Questions
Is Independent Reserve legit?
Independent Reserve is a legit exchange located at Level 26, 44 Market St, Sydney, Australia, 2000. It has more than two hundred thousand members and is closely regulated by Australia's financial industry to ensure proper conduct and operations.
Does the Independent Reserve support SMSF?
Independent Reserve provides a Self Managed Super Fund (SMSF) service that enables over 8,000 ordinary Australians to participate in cryptocurrencies. To learn more about SMSF in Australia, you can read Self Managed Super Fund (SMSF) 101: The Beginner's Guide.
Is there a mobile app for Independent Reserve?
Independent Reserve provides mobile apps for Android and iOS that enable the majority of desktop functions. It supports more than 30 digital currencies with AUD, USD, SGD, and NZD. However, certain functions, such as simple graphing, are not supported.
You can read our review for more details about the best Australian crypto apps.
Does Independent Reserve require KYC?
Before trading and withdrawing cash from Independent Reserve, you must go through Know Your Customer (KYC) requirements. New users will be required to upload identity documents to raise their limits. This is required by law to protect the exchange and investors from anti-money laundering and counter-terrorism financing.
Does Independent Reserve support leverage margin trading?
Independent Reserve does not support margin trading. You can instead engage in spot trades with over 30 cryptocurrencies, including BTC and ETH, using AUD, USD, NZD, and USD as the basis of fiat currencies. If you wish to trade cryptocurrencies with leverage, you can opt for top-rated Australian margin exchanges.
Conclusion
Independent Reserve is a reputable and safe Australian digital currency service with hundreds of thousands of consumers. The exchange gives value for money to traders and investors due to its cheap costs.
However, there are specific areas Independent Reserve should improve, such as:
Better charts with advanced tools and functionality to perform technical analysis

Trading app for mobile devices and the opportunity to monitor real-time crypto exchange pricing

24/7 customer support and phone call feature for users to contact in case of urgent help.