The Solana price forecast is negative because the SOL/USD pair cannot break over an immediate resistance level of $21.60. Since November 6th, the SOL token's value has fallen by more than 70% to $11.50.
However, lower US CPI numbers and technical signs led to a positive pullback, maintaining SOL 60% higher than its bottom on November 9th.
Several possibilities were proposed as the decline continued, but the tie to FTX's imminent insolvency persisted. The Solana group has stated to the press until now.
The Solana (SOL) team has, according to crypto influencer DrProfitCrypto, postponed the start of the staking unlock period by two days. On the other side, SOL token holders might continue to access and sell their SOL holdings.
Solana, what a big scam. Peoples coins will be suddenly unlocked in two days instead of today, now after devs were able to unlock their own! + Shutting down website

A slap in the face for those who believed that altcoins are truly decentralized.

Only #Bitcoin is decentralized pic.twitter.com/dV96urj14t

— Doctor Profit 🇨🇭 (@DrProfitCrypto) November 10, 2022
Lock-in for Solana's staking was scheduled to conclude on November 9th or 10th. Following the end, there will be 18,000,000 SOL tokens available.
Solana Foundation Delays Plan to Unstake Tokens
On Thursday, a record 31 million Solana blockchain SOL tokens were unstaked from the blockchain's security mechanism after a warning that some investors would attempt to redeem holdings as the value of digital assets fell.
When the Solana Foundation stated it would delay a plan to unstake around 28.5 million tokens, the price of SOL jumped on digital asset markets.
Thursday marked the end of the "epoch 370" staking lockup period on the Solana blockchain, at which point 63 million SOL might be unstaked, according to the Solana Foundation.
On 11/2, Hetzner removed many of Solana's independent validators in connection with a change of Hetzner's policy. As a result, the Solana Foundation began the process of unstaking 28.5M SOL delegated to those validators as part of the Solana Foundation's Delegation Program…

— Solana Foundation (@SolanaFndn) November 9, 2022
On Wednesday night, it announced that about 28.5 million SOL tokens scheduled to unstake due to a policy change by cloud service provider Hetzner on November 2nd have been re-staked.
As part of a delegation project, the Solana Foundation has staked tokens it truly owns.
Given the recent events surrounding the FTX collapse and Solana's ties to the FTX, the technical outlook predicted a double-dip for SOL due to the sudden supply increase.
18 mil #SOL about to hit the market within 24h. 👇

Those with a lot of coins locked in staking are about to join the liquid supply.

This will represent a second wave of selling.

The lesson from Terra was to never lock your coins. You may regret it. pic.twitter.com/WBZ7tAUZBH

— Duo Nine | discord.gg/ycc (@DU09BTC) November 9, 2022
The creators of Solana have been granted additional time to sell their SOL tokens at the current price before the token's value decreases due to the delay in unlocking that has kept the SOL price relatively steady.
However, the bankruptcy of FTX increases the selling pressure on SOL.
Solana Has Ties to FTX
The SOL token, among the hardest hit digital assets this week amid a sharp selloff triggered by the rapid FTX collapse, fell further on Friday after FTX filed for bankruptcy.
In 2021, Solana attracted a diverse collection of private investors, including Alameda Research, who contributed $300 million to the firm's native token sale. Andreessen Horowitz was the leading investor in this financing round. Fried's Financial Services has maintained a connection with the Solana blockchain.
The current state of the (unofficial) FTX bankruptcy proceedings. pic.twitter.com/RZcLSNEMQM

— Dylan LeClair 🟠 (@DylanLeClair_) November 11, 2022
This week, the price of SOL reached a new low of about $12 before soaring as much as 26% to a high of $19 on Thursday. Friday, after the news of FTX's bankruptcy, the price again fell to about $16, a 6.4% reduction for the day.
In the previous week, 50% of SOL's value had been lost. Crypto specialists, blockchain developers, and executives have lingering questions about the future of the blockchain and the severity of its possible impact from this week's ramifications due to the rising volatility.
Solana Price Prediction
SOL currently trades at $14.93, and its 24-hour trading volume is $1.8 billion. Solana has lost more than 12% in the past 24 and 56% in the preceding seven days. CoinMarketCap is now ranked thirteenth with a live market cap of $7.9 billion. The quantity of SOL coins in circulation is 362,631,755.

Until $21.85, Solana has witnessed a 38.2% Fibonacci retracement, and closing candles below this level demonstrates that the bearish trend will continue. The SOL/USD pair continues to trade below its 50-day moving average, extending resistance near $26.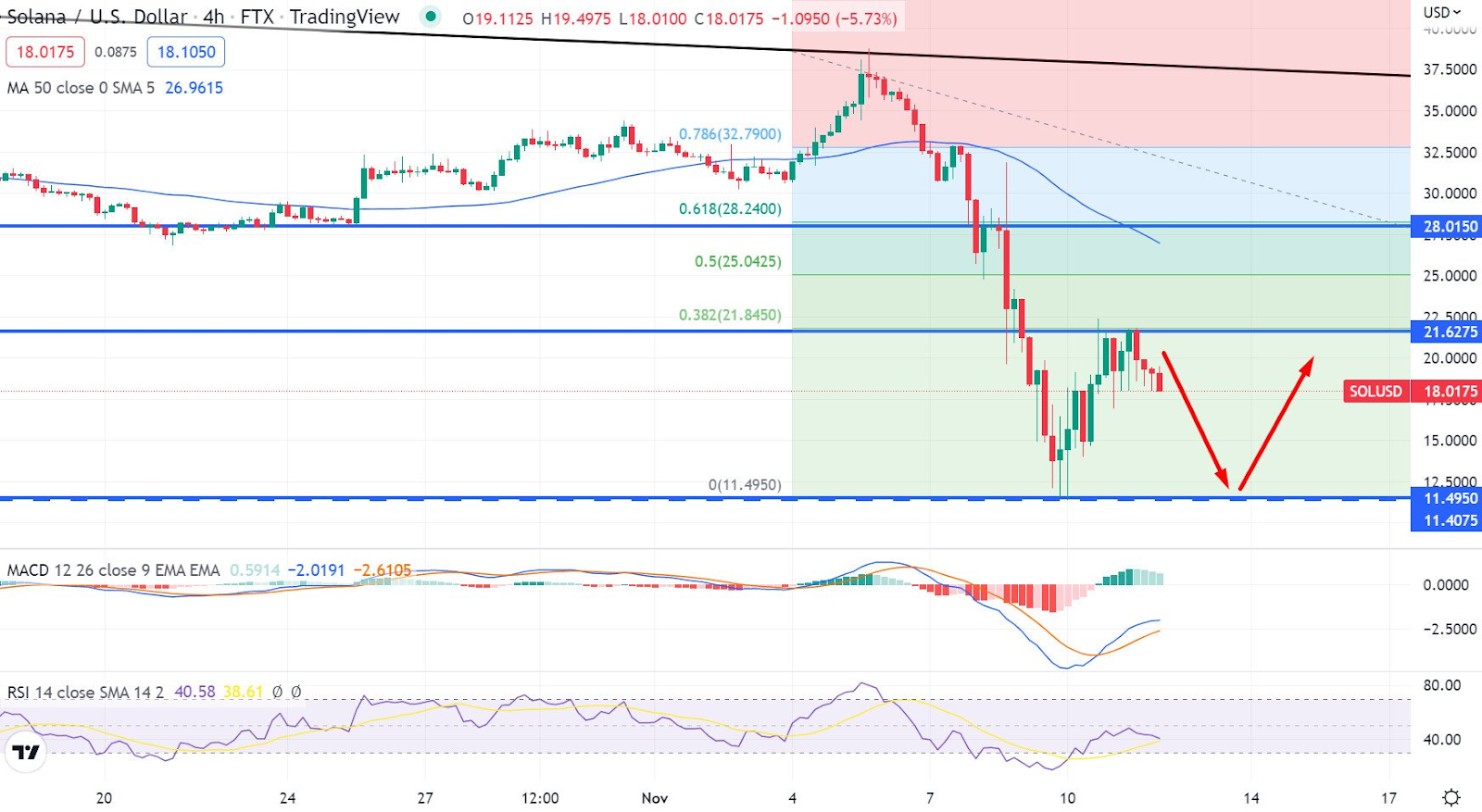 Since Solana completed a bearish engulfing candle below the $21.85 level of resistance, the decline will likely continue.
If sellers drive SOL below its immediate support at $11.50, it might collapse to $5.50.
Top 3 Alternative Coins
Due to the Solana decline, the market has adopted a risk-averse stance, pushing the broader cryptocurrency market down. Currently, the market is centred on the top three presale coins.
Dash 2 Trade (D2T)
Dash 2 Trade is an Ethereum-based trading intelligence platform that gives traders of all experience levels real-time analytics and social data, enabling them to make better decisions.
It launched its token sale three weeks ago, has raised over $5.9 million, and has confirmed its maiden CEX listing on the LBank market. The current value of 1 D2T is 0.0513 USDT, which is anticipated to increase to $0.0533 USDT in the next sales phase and $0.0662 USDT in the final stage.
Calvaria (RIA)
Calvaria is a new crypto game project likely to dominate the play-to-earn gaming business. The inventors of Calvaria have identified two key obstacles to widespread Web3 gaming adoption.
Users do not see the potential of Web3 games, unlike investors. The presale of Calvaria is gaining momentum, with the project already at stage 4 of 10 and receiving over $1.6 million in investment.
Investors are attracted to the fast-expanding GameFi project as the price of the native RIA token steadily surges with each presale round. In stage 4, the token price is $0.025, but by stage 5, the price is $0.03, and by stage 10, it is $0.055.
RobotEra (TARO)
TARO is another project that can alter the gaming community and virtual environment. Although the asset's presale has only just begun, there is already a great deal of buyer interest.
The platform's primary coin is TARO, a blockchain-based metaverse where users can build avatars and explore digital worlds. In RobotEra, players may purchase land, construct it, and extend their territories with diverse infrastructures.
The objective is to build a metaverse in which everyone feels secure about their property. In RobotEra's shared metaverse, people may participate in various activities, including sports, concerts, and competitive events.
The initial round of TARO's presale has begun and is selling out rapidly.