Thirteen years and counting
With the beginning of 2022, so too arrives the 13th birthday of Bitcoin (BTC). While October 28, 2008, was the date that the Bitcoin white paper was originally released by Satoshi Nakamoto, many agree that January 3, 2009 (the day the first BTC was minted) is the official birthdate of the cryptocurrency.
On this day, there was no party, no press release, no celebration. Outside of a very niche cryptography community, the minting of the first Bitcoin was an event with minimal fanfare. In fact, it was a day shrouded in intense skepticism about whether decentralised digital money could even be viable. But little did anybody know, with the exception of a few such as Satoshi and Hal Finney, that Bitcoin would go on to become one of the most defining and impactful hallmarks of modern cryptocurrency.
From the jaws of skepticism to becoming a trillion-dollar market value asset, this is the tale of Bitcoin's exhilarating 13 year journey.
Milestones over the years
While it's difficult to list out every single milestone that Bitcoin has gone through over the past decade-plus, we've compiled several notable Bitcoin events to remind and inspire.
2009 – 2013
2010 – Bitcoin Pizza Day:

Anybody that's been in the crypto space has heard of the infamous Bitcoin Pizza Day. May 22 would mark the first transaction made using Bitcoin, in which Laszlo Hanyecz, a Florida programmer, paid 10,000 bitcoins to get two pizzas delivered from Papa John's. Little did Hanyecz know, this relatively inconspicuous day would be celebrated and remembered by crypto enthusiasts worldwide over a decade later.

2010 – Bitcoin reaches $0.09:

On July 17, just several months later after the infamous pizza event, the price of Bitcoin would rise up to $0.09, a record high for the infant cryptocurrency.

2011 – BTC's first Major Price Surge:

For two years after its inception, Bitcoin's price would be essentially $0. It would see its first major price surge in the February of 2011 when BTC price reached $1.00. During this year, the price would continue to soar as high as $30 – and despite it falling back down to $5 by the year's end, it still marked a momentous occasion for enthusiasts of the cryptocurrency.

2012 – Bitcoin Foundation launches:

This was the year that the Bitcoin Foundation was launched by Gavin Andresen, Jon Matonis, Patrick Murk, Charlie Shrem and Peter Vessenes. Officially announced on September 27, the Bitcoin Foundation was a nonprofit corporation with the mission to accelerate the global growth of bitcoin.

2013 – Year of The Bitcoin: 2013 was the year in which investors and media attention began viewing Bitcoin with more enthusiasm and optimism, and for good reason, given BTC was trading at all-time highs of $1,700+ AUD (albeit briefly). The attention was also influenced by the Cyprus banking crisis in March 2013, in which people in the affected countries rushed to put money into a medium that governments could not touch: Bitcoin.


2013 – World's First Bitcoin ATM in 2013:

In October 2013, the first-ever Bitcoin ATM was installed in Vancouver, Canada. This machine was first installed in a Waves coffee shop and would allow patrons to convert cash into BTC. 
2014 – 2017
2014 – Mt. Gox loses 744,000 Bitcoins:

In early 2014, news of Mt. Gox having lost over 700k bitcoins shook the crypto world. Estimated losses at the time were upwards of half a trillion AUD, and would set Mt. Gox as the target of a multitude of billion dollar claims and lawsuits, causing the exchange to halt all bitcoin withdrawal services.
2014 – More Tech Giants accept Bitcoin:

In spite of the controversy spurred on by Mt. Gox, 2014 was a year in which many notable tech names started accepting Bitcoin: including Dell and Microsoft.
2015 – Acceptance grows past 100,000:

By February 2015, Bitcoin was now accepted worldwide by over 100,000 merchants. 
2016 – Japan passes pro-FinTech bill:

On March 4, 2016, The Cabinet of Japan approved a set of bills that would recognise virtual currencies (such as Bitcoin) as having a function similar to real money. 
2016 – Increased global academic interest:

Worldwide, Bitcoin has also been increasing in influence, with the number of published Google Scholar articles mentioning Bitcoin growing exponentially from 83 in 2009, to little over 400 a few years later, and then 3580 by 2016. 
2017 – Record-breaking highs at the time:

Amidst other developments (such as Bitcoin Cash as a result from a hard fork), Bitcoin also grew massively during this year – reaching its highest price yet of $25,506 AUD. To say that 2017 was unprecedented in growth would be an understatement, given that a year prior on the same day, Bitcoin was only barely over $1000 AUD.
2017 – Officially legal in Japan and Russia:

By the end of 2017, Japan and Russia officially legalised the use of cryptocurrencies as a payment method. While Japan came as no surprise given the bill in the previous year, many in the crypto community were surprised when it came to Russia. Given that just a week prior to this news, Vladimir Putin had dismissed virtual currencies as a "pyramid scheme".
2018 – 2020
2018 – the Bitcoin Crash:

After the unprecedented boom in the previous year, Bitcoin fell to a crashing halt. In less than a year, Bitcoin dropped from highs of $25,000 AUD to $5,000 AUD. This collapse was regarded as even worse than the dot-com bubble crash, and the price of BTC would not return to its 2017 heights until many years later in 2020.

2019 – Surpassing 400 million transactions: In April 2019, Bitcoin passed a major milestone of 400 million transactions.


2020 – Major adoption by the mainstream:

By 2020, Bitcoin was already widely known – even among people who weren't particularly invested in the crypto space. It was healthier than ever in terms of adoption, and this would only be further cemented through the adoption and support by major mainstream names such as Paypal, Wiener Börse and the Frankfurt Stock Exchange.

2020 – Bitcoin's Return to Glory:

2020 would mark the first year since 2017 that Bitcoin reached an all-time high. However, unlike in '17, Bitcoin's ascent would continue with little resistance, not halting until Q2 of 2021, at a record price point of $83,200 AUD. It goes without saying that this was truly an optimistic period for Bitcoin enthusiasts, and in fact, for most, is still a recent memory.
2021 – Now and Future
Last year was without a doubt, one of the biggest years for Bitcoin, filled with impactful developments, positive and also negative. From China banning Bitcoin (yet again) to its massive volatility (50% drop in the span of three months). In spite of these setbacks, 2021 is still quite truthfully one of the best years for Bitcoin yet. Let's take a look at some of the biggest events of this past year, and everything we can expect in 2022 and beyond.
February 8th:

Tesla purchases $1.5bn of Bitcoin, spurring a massive growth spike.

February 19th:

Bitcoin reaches $1 trillion in total market value for the first time.

March 17th:

Morgan Stanley provides their wealthy clients access to BTC funds.

September 7th: El Salvador adopted bitcoin as legal tender.
October 19th:

SEC approves

Bitcoin Futures ETF.

November 8th:

The price of bitcoin hit an all-time high of $91,363 AUD.

November 14th: Taproot: the first bitcoin upgrade in four years was activated.
November 15th:

CoinBase raised $2.5 billion, a sum which will be invested into the firm's flagship fund along with budding cryptocurrency companies worldwide.

December 12th:

90% of the total bitcoin supply has been mined.

December 23rd:

Bitcoin

processed 60% more transactions

than PayPal in 2021.
2022 and Beyond
Going forward we can expect Bitcoin to become a more integral part of the mainstream economy, rather than a speculative tool aimed at quick profits. El Salvador's adoption of bitcoin is already an early signaller of this, tying into the goal of the Bitcoin Standard. 
Granted, it's not without its obstacles. Despite rapidly increasing institutional adoption, there is still avid hate against Bitcoin (and crypto as a whole) among various communities on the internet. This was made especially obvious during the hugely unsuccessful crypto.com advertisement campaign featuring Matt Damon, in which outraged netizens took up arms on platforms like Twitter.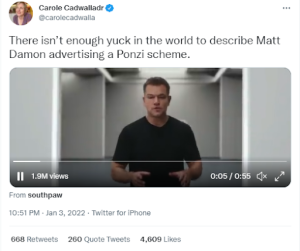 Source: Twitter
Bitcoin has undoubtedly made tremendous leeway in terms of adoption, be it by investors or institutions. However, even after thirteen years, there are still hurdles left to overcome. Whether it be solving Bitcoin's environmental concerns (as the PoS transition is doing for Ethereum), or something else entirely, there's still a ways to go before the Bitcoin Standard can truly be realised on a global scale – but if the past thirteen years has taught us anything, it's that Bitcoin will take on these hurdles in stride.