The Federal Reserve Bank of San Francisco seeks a software engineer to assist in developing and implementing systems associated with a central bank digital currency (CBDC).
On Feb. 18, the San Francisco Fed advertised a job posting for a "senior application developer – digital currency." The applicant is anticipated to assist the Federal Reserve in creating and deploying CBDC research. The post read:
"Given the dollar's important role, Federal Reserve System seeks to further understand the cost and benefits of the potential technologies for central bank digital currencies and how the system better understands this emerging field."
Main tasks include building systems connected to CBDCs, minimising risks, and improving the system, to mention a few. The employment location is in San Francisco, California, with a basic pay range from $110,300 to $176,300.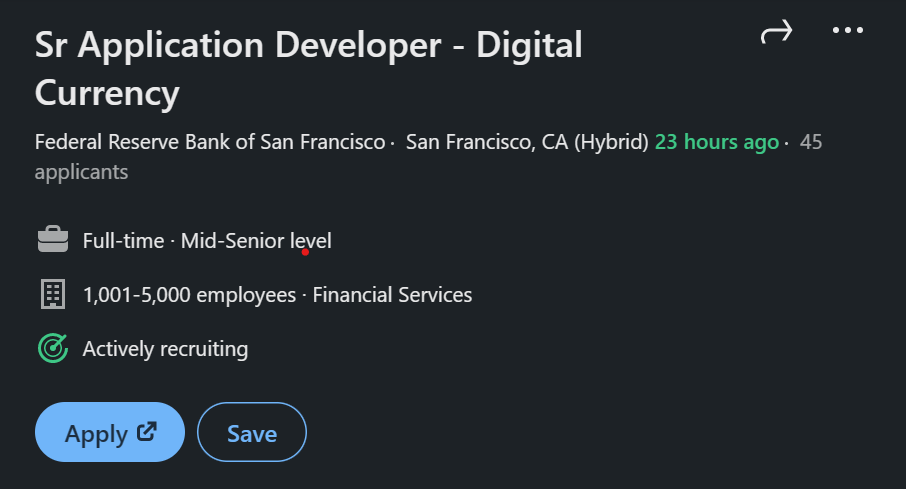 At the time of writing, 45 candidates were interested in joining the federal government to develop an in-house CBDC.
According to the job posting, the software engineer works directly with management, other developers on the team, development operations teams, and suppliers to ensure that the Federal Reserve is well-positioned to design, build, and install technology to support a CBDC, as needed by the Board of Governors.
As major global economies test CBDCs, India onboarded 50,000 consumers and 5,000 merchants to test its newly-launched digital rupee CBDC.
Rabi Sankar, the deputy governor of the Reserve Bank of India, emphasised that the government intends to conduct CBDC tests as efficiently as feasible. He said:
"We want the process to happen, but we want the process to happen gradually and slowly. We are in no hurry to make something happen so quickly."
India's CBDC initiative is now operational in five cities, with an additional nine cities possibly joining the pilot program soon.