PancakeSwap, the decentralised exchange operating across multiple blockchain networks, has broadened its "buy crypto" offerings by integrating Transak as a new service provider, according to a September 21 announcement. This addition makes Transak the third provider in this category, alongside Mercuryo and MoonPay.
PancakeSwap, a multichain decentralised exchange (DEX), operates on eight distinct blockchain networks, including BNB Smart Chain, Ethereum, Base, and Polygon zkEVM. With over $1.3 billion in crypto assets secured within its contracts and a daily trading volume exceeding $150 billion, PancakeSwap ranks as a significant player in decentralised finance (DeFi), as reported by crypto analytics platform DefiLlama.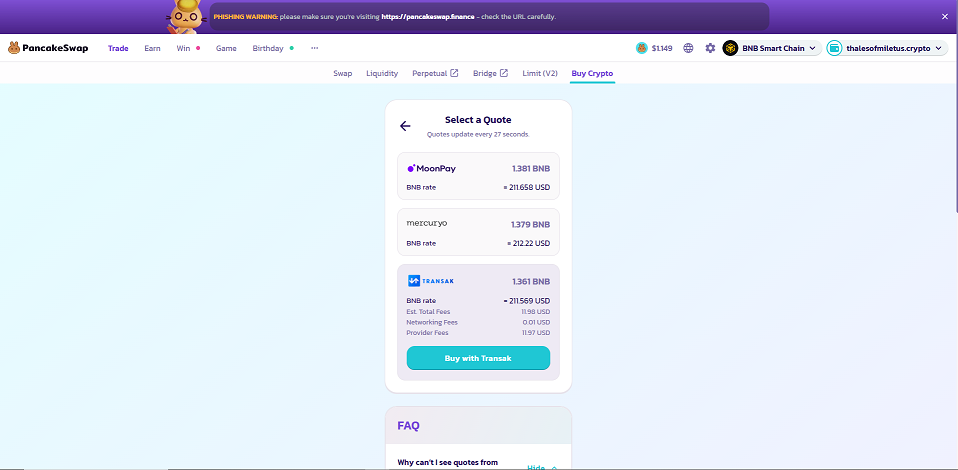 Being a DEX, PancakeSwap doesn't facilitate fiat-to-crypto conversions directly. Users must already possess cryptocurrency in their wallets to use the exchange. To address this limitation, the development team recently introduced the "Buy Crypto" feature, allowing users to onboard using third-party providers like Mercuryo, MoonPay, and now Transak. Notably, Transak boasts integration with more than 350 Web3 applications, making it one of the most accessible crypto onboarding services.
Transak's offering includes "over 20 different payment options based on global needs," encompassing debit cards, Google Pay, Apple Pay, bank transfers, and more. Additionally, it provides access to nine different cryptocurrencies across seven blockchain networks for PancakeSwap users.
PancakeSwap's anonymous leader, head chef Mochi, emphasised that this integration simplifies decentralised finance protocols, stating, "Entry points must remain simple yet robust. Transak's expertise in fiat on-ramping and PancakeSwap's platform capabilities promises an era where diving into decentralised finance is intuitive and barrier-free for all."
In a related development, PancakeSwap introduced the web3 game "Pancake Protectors" on May 30, offering extra benefits to CAKE token holders, the governance token of the DEX. Notably, a governance vote in April had already reduced the token's inflation rate to 3% to 5%.