According to its most recent earnings report, MicroStrategy (MSTR) recorded a digital asset impairment charge of $197.6 million related to its bitcoin (BTC) assets in the fourth quarter, up from $727,000 in the third quarter.
Bitcoin's value has dropped since the corporation bought it. Thus, the company has written down the value of its digital assets. Digital assets, such as cryptocurrencies, must be recorded at their cost under generally accepted accounting principles and only changed if their value is harmed or decreases. However, price increases are not shown in the books unless the item is sold.
Bitcoin's price fluctuated between $19,100 and $16,500 during the fourth quarter, with the latter being the average for the quarter and the year.
By the end of the quarter, MicroStrategy had acquired 132,500 bitcoins at a total cost of almost $4 billion after making some (before announced) minor net acquisitions of BTC. By year's end, the tokens were valued at around $1.84 billion.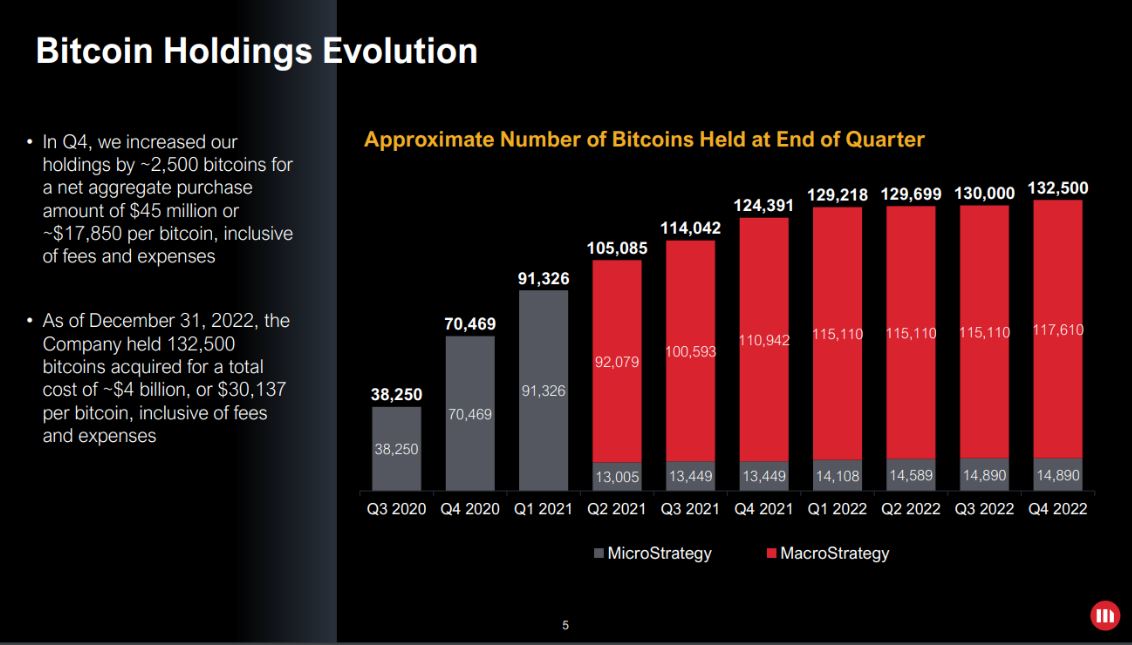 So far in 2023, bitcoin's value has increased significantly, up over 50% to a little under $24,000. Shares of MicroStrategy, which dropped by 35% in 2022, have quadrupled this year, keeping pace with the cryptocurrency's massive increase.
Chief Financial Officer Andrew Kang reaffirmed the company's "long-term strategy and belief" in buying and hanging on to bitcoins.
The firm reported a loss per share of $21.93 for the quarter on revenue of $132.6 million, above analysts' expectations of $131 million.
MicroStrategy's Executive Chairman Michael Saylor remarked on the results call that despite bitcoin's tough patch, the business's stock has performed better than the main indexes and mega-cap tech giants Google, Apple, Microsoft, and Amazon since the company began buying bitcoin in August 2020.