There has been harsh competition in the NFT sector in 2023, given the increasing number of marketplaces fighting for collectors and creators. 
Since its launch in late 2017, OpenSea has taken the lead and continues to dominate in the NFT space. Last week, as data analytics platform Nansen reported, this NFT marketplace recorded a trading volume of around $56 million with more than 34,000 ETH. However, it's worth noting that the marketplace and aggregator Blur has begun to attract significant momentum among JPEG since its launch in October last year. 
Blur has swiftly become the second biggest NFT marketplace within a few months, thanks to its zero trading fees and market floor-sweeping. Last week, its NFT volumes were more than 9,200 ETH, valued at around $15.2 million, equivalent to over 25% of OpenSea's volume.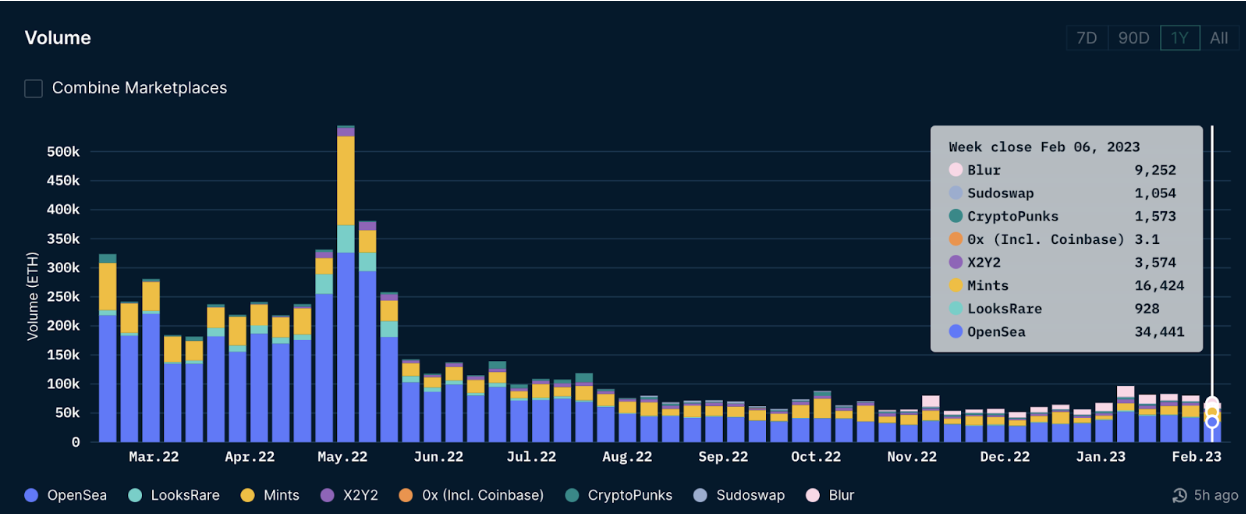 Market Overview
The top 5 NFT projects on OpeanSea in the last month include Sewer Pass, Memes by 6529, Bored Ape Yacht Club (BAYC), Mutant Ape Yacht Club (MAYC) and Checks – VV Edition. By contrast, Sewer Pass, Memes by 6529, Bored Ape Yacht Club (BAYC), Mutant Ape Yacht Club (MAYC) and Checks – VV Edition were the top 5 NFT projects by volume on Blur. 
While the two big names in the NFT space share some overlapping NFT projects, namely BAYC and MAYC, the average market cap for OpenSea's top five is 94,400, while the figure for Blur is three times higher, at 270,109 ETH. This indicates that more professional NFT markets currently prefer to use Blur.
Nansen's "Simian Psychometric Enhancement Technician" Andrew Thurman said to CoinDesk over Telegram, 
According to Nansen's technician Andrew Thurman, Blur defeats OpenSea in some high-volume collections, such as Apes and derivatives, and dominates with Azukis. Meanwhile, OpenSea has more extensive reach with new collections like the Sewer Passes.
Sales and wallets
Bur has achieved over a quarter of OpeanSea's volume, but the sales figures and wallets on Blur decrease compared to OpenSea, showing that NFT traders with enormous holding favour Blur's no-fee marketplace.
Nansen data shows that the number of sales on Blur was 20,603 for the week ending February 6th, or about 9% of OpenSea's total sales, around 228,000. Similar patterns emerge when considering the number of wallets used to transact with each of the two NFT exchanges: OpenSea is far superior to Blur, as the number of wallets communicating with OpenSea is 11 times as high as the number of wallets connected to Blur.
According to Thurman, large-budget whales trying to flip more expensive pieces are taking their business to Blur, while retail traders continue to favour OpenSea.
Blur has announced that its BLUR governance token will be released on February 14th after months of constantly airdropping BLUR tokens to users for various degrees of participation.
A representative from OpenSea declined to comment, while Blur did not respond to a request for comment in time for publication.